Reviews
4.9 out of 5 rating
Quality of service

4.8 out of 5 rating

Average response time

4.9 out of 5 rating

Professionalism

4.8 out of 5 rating

Value

4.9 out of 5 rating

Flexibility

4.9 out of 5 rating
98%
Recommended by couples
4 User photos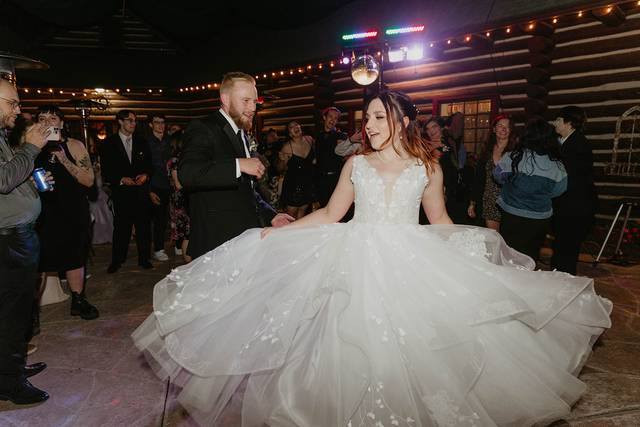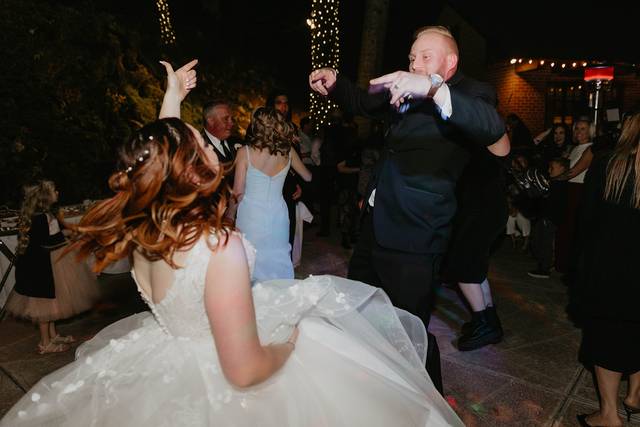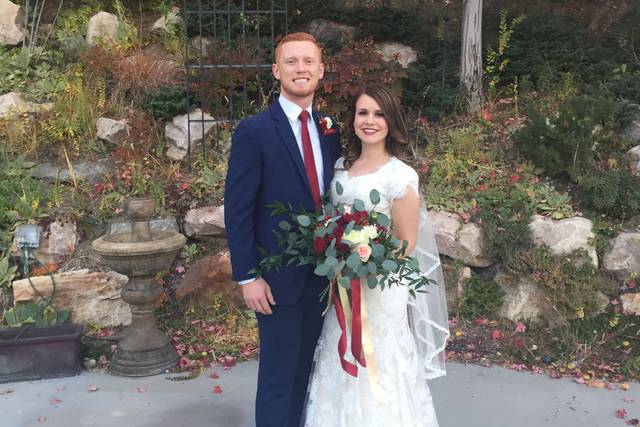 Kassidy S.

Married on 07/15/2023

Best Wedding DJ Ever!!

We used Kevin for our wedding on July 15th, 2023 in Heber City Utah and he was absolutely amazing!! Kevin's communication was top-notch, as was his song list and dance floor set-up. Kevin met over zoom with my husband and I (as we live in Idaho) multiple times to go over our itinerary and what we were envisioning for our wedding. He helped keep everything running smoothly and effortlessly. We really appreciate everything he did for us. He made sure that everything we wanted to happen during our wedding would happen without us having to worry about it, which made it so we didn't have to stress or plan during our own wedding. The music he played was perfect and our our guests partied on our dance floor for hours!! He even had the idea to do a sparkler tunnel halfway through dancing which added another amazing memory to our wedding day. He also stayed past our previously agreed on time to end the dancing with our request, which we are extremely grateful for as it gave us more time to dance with our guests!! Kevin went above and beyond to make our wedding perfect and we cannot recommend him enough!!

Britanie H.

Married on 06/24/2023

Wedding DJ

Kevin was professional, helpful, and knowledgeable. Also patient and had an excellent listening ear. We got what we asked for and more!

Mallory P.

Married on 05/25/2023

People Refused to Leave The Dance Floor

We had people dancing throughout the whole night. It was so fun. Song after song was a banger. The setup was very nice and super accommodating. Whatever we needed he made it happen. We needed a projector and a screen to play a video during our first dance and Kevin made it happen. He played two traditional Greek songs and the guests erupted into dance. Every song played perfectly into each other. Kevin's experience at Log Haven was invaluable because he knew where to set up his equipment and the best way to do it without interfering with the ceremony. I would recommend him to anyone, especially if they're getting married at Log Haven.

Are you interested?

Send a message

Morgan A.

Married on 04/22/2023

Very professional and organized.

Kevin was very professional and organized. He kept us in the loop 100% of the time and never left us in the dark. We thought having a DJ would be very stressful and confusing trying to mix it in with the ceremony, but it was quite the opposite. I'd highly recommend Kevin to anyone looking for a DJ!!!

Justin Z.

Married on 03/22/2023

Loved the soundtrack and vibe they helped us create for our wedding

We had an incredible experience working with Public Opinions. We shared our ideas on what we wanted for music and timeline. They worked with our other vendors and helped us stay on time and on schedule. Thank you!

Jan C.

Married on 03/03/2023

Loved these DJ's - this was our 4th wedding in our family and by far the best DJ! They did such a great job with the time line and dance music!

Would highly recommend this company!!!! Our guests loved the dancing, music, and sparkler send off. Very professional and attentive to all the details!!!

Melinda H.

Married on 02/02/2023

Professional, on time, and easy to work with. I loved that they kept everything running on time and gave me a heads up on the time line!

I would hire Public Opinions again. They made our night go smoothly and our dance party was so fun!

Teresa M.

Married on 10/14/2022

Awesome Dj's

We worked with Kevin a lot, but both guys were super professional and cared so much about making our day as special as possible.

Amber C.

Married on 07/22/2022

Beyond my expectations!

We DIY-ed a ton of my daughters wedding and i'm so glad we hired Public Opinions instead of trying to do it ourselves. It was way more than just music. The professional equipment and lights were amazing. But the best part was how fun he made the night. Garrett spent the time going through huge play lists my daughter sent and created a playlist perfect for the night and all the events. He also helped the night move along and made the cake cutting, bouquet toss seamless. The dance party at the end was perfect, they got all the special dances they wanted and then everyone was on the dance floor dancing hard! Garrett even orchestrated a sparkler send off, he had all the supplies and got all the people lined up with directions to help the photographer get the best shots. I got so many compliments about how great the DJ was all night! after the bride and groom left the guests didn't want to leave! It was such a fun night and Garrett is a huge reason for our successful reception! Thank you Garrett!!

Shanda M.

Married on 06/24/2022

Garrett was great

Garrett was great to work with. He was helpful with song choices and helping us understand when we would need music. He let us make our own lists and send them to him. He was a fun emcee and kept the night flowing well. They also offered a sparkler send off. We loved that. We did not have to plan anything for it.

Merrilyn H.

Married on 06/04/2022

Excellent DJ

Wow! It's all I can say! Kevin and Garrett provided the music for our daughter's wedding ceremony and reception on June 4,2022. Kevin was great to work with. He responded quickly to any inquiries i had before the w wedding day. He met with the bride and groom beforehand to discuss schedule and activities for the event. He and Garrett arrived on time to the venue and dressed appropriately. They took charge of the schedule and got the guests involved. They played my daughter's and her husband's play list as well as took a couple of requests. They were even flexible when we decided to end the reception a little early. I would highly recommend Public Opinion Soundstage for your wedding or any other event.

Nathan F.

Married on 05/05/2022

Excellent to work with

They did great work as DJ for our wedding , providing multiple sound set ups, microphone, and provided all of the specific music we asked for.

Claire G.

Married on 06/19/2021

Kevin is amazing!

I've never seen a more patient man in my life. Kevin met with my fiance and I twice prior to the wedding itself to get to know us, review schedules, itineraries, etc etc. I also loved being able to build my own playlist for the event. And he took such good care of us, kept things moving, and was so thoughtful. Perfect wedding DJ!!!

Melanie D.

Married on 08/07/2020

Matt and Sydney Ockey - Wedding Dinner & Wedding Reception

Garrett and Kevin of PUBLIC OPINIONS SOUNDSTAGE did a totally AWESOME job assisting us to host our magical wedding weekend! We enlisted their services for BOTH our wedding dinner AND our wedding reception. The wedding dinner event was on Fri July 19 - they arrived promptly at the appointed time to set up their equipment in the backyard of the groom's home - they provided background music for this outdoor event as the 120 guests arrived and mingled and seated - following the dinner they moved around through the guest tables providing the microphone to each guest who chose to stand and offer a tribute to the wedding couple - it was so valuable to have the microphone provided for each guest who was speaking so they could be heard and not a single detail of their tribute message was missed - we appreciated being able to just relax and enjoy this special evening while Garrett and Kevin attended to all the details. The next day on Sat July 20 they arrived promptly at the reception venue to again set up their equipment - when the wedding party arrived following the ceremony we were welcomed by their music and found ALL the details we had outlined in our preparation meeting were completed - Garrett emceed our reception event announcing timing and details as they unfolded: cake cutting, bouquet toss, dancing, sparkler sendoff. EVERY detail was managed professionally and according to our predetermined plan - it was a perfectly magical wedding weekend! We are so grateful to Garrett and Kevin for their contribution as the thread that tied everything together - they were attending to look after and execute all the details so we as the wedding party could just relax enjoy and soak in the memories of the moment with our guests!
I would highly recommend PUBLIC OPINIONS SOUNDSTAGE for your upcoming event -
Melanie Durrant

Megan D.

Married on 05/22/2020

We danced seriously all night!

We had Public Opinions Soundstage DJ our wedding and it was a great experience! They helped us with our schedule, but let us do our own thing and dance all night! We would seriously recommend our DJ to anyone looking!

Kim P.

Married on 08/17/2019

Setting a fun tone for a wedding reception!

Hiring Public Opinions Sound Stage is among the best vendor choices you can make while wedding planning. From romantic ceremonies to wild dance parties, they are so easy to work with. Having a professional work the music, sound system, and act as the emcee throughout the day is something that shouldn't be overlooked. It creates a stress free environment where the couple and families can just enjoy the moment. Public Opinions Sound Stage creates the best dance parties with fun lighting by allowing the bride and groom to create the playlist, and by going over all details at the venue beforehand. Every bride should have public Opinion Sound Stage be part of her big day!

Bill R.

Married on 07/27/2019

Professional

Exceeded our expectations, great music choices and did a send off not originally planned. Very flexible.

Kaitlyn B.

Married on 07/13/2019

Professional, Accommodating, fun!

Public Opinions Soundstage was such a great DJ! Kevin was super helpful in meeting with us to discuss exactly what we wanted. He offered great suggestions based on experience. On the wedding day the 2 DJ's that were there were so great! They were professional and everything went so smoothly! They played all of the music that we wanted. They let us know what was coming next and made sure we were ready. Microphones and speakers were setup so our outdoor mountain wedding was perfect! Highly recommend!

Andy

Married on 02/23/2019

Awesome, professional, attentive!

Extremely professional, attentive, and flexible to our needs as we had a winter wedding we had a number of things that needed to adapt on the fly due to the weather conditions. They did an amazing job pulling it all together and staying on top of our needs throughout the evening.

Heather

Married on 08/18/2018

Took plenty of time to chat before the wedding to make sure it was exactly as we wanted. They helped us throw a great party!

Lauren

Married on 07/07/2018

Kevin was so great and helpful throughout the entire process; they really helped to make both our ceremony and reception run so smoothly. We really appreciated having them be such a great help on our special day!

Kevin was a great DJ and we are so glad that we hired him for our wedding. Leading up to our day, he met with us and talked to us about the different types of songs and playlists for the wedding. We had asked out guests to pick a song they would like to hear at the reception and he played all of them, which was really awesome. He also was very helpful when we were discussing speeches and the order of the events. He also played a ton of songs that really got everyone involved for the dancing. All throughout the night, guests were telling my husband and I how awesome the DJ was and how they really enjoyed all the songs they played. Kevin is great to work with and we really enjoyed everything that he did for us. We will definitely recommend him to all of our other friends that need any type of DJ services in the future.

Liz

Married on 06/02/2018

We found Public Opinions Soundstage at a Bridal fair when my oldest daughter got married in 2016. Garrett and Kevin were fun and attentive through the entire process of planning. They were supportive of letting us pick the playlist. They were great at incorporating the secret flashmob surprise we planned. I love their quick wit and positive attitudes! They wanted our party to be fun and understand that it is part of their job to make it happen!
Because of the great experience we had, we used them again when my second oldest daughter got married in 2017! Same great service and attention to detail! We love that they are patient when they interact with guests as guests seem to have questions - the first people they would ask was the DJ :)
Keeping up with a yearly tradition, we used them for my retirement party in 2018. It was a different kind of party as it wasn't a wedding, so we were worried if we could get people to dance! I appreciated that I got to choose the playlist. After teaching dance for 20 years, I had a lot of songs that were important. Garrett took the time to announce info I had provided about the songs and what they meant to the guests. So many people complimented on how fun the music and the dance floor were.
I appreciate the professionalism of Public Opinions Soundstage! They recognize that the events they work are important to customer and they do everything they can to make it a positive experience. I plan to use Public Opinions for future DJ needs!

Allison

Married on 02/10/2018

Kevin was great with helping us come up with a timeline for our wedding reception and directing the flow of the night. We were able to choose the songs we wanted played and what songs we did not want at all. They're really adaptable to what you want for your event!

Jami

Married on 01/01/2018

I used Public Opinions Sound for my daughters 16th birthday party. They were great at finding the perfect music to keep both the teenagers and the mom happy!
Are you interested?
Send a message