Reviews
5.0 out of 5 rating
Quality of service

5 out of 5 rating

Average response time

5 out of 5 rating

Professionalism

5 out of 5 rating

Value

5 out of 5 rating

Flexibility

5 out of 5 rating
100%
Recommended by couples
79 User photos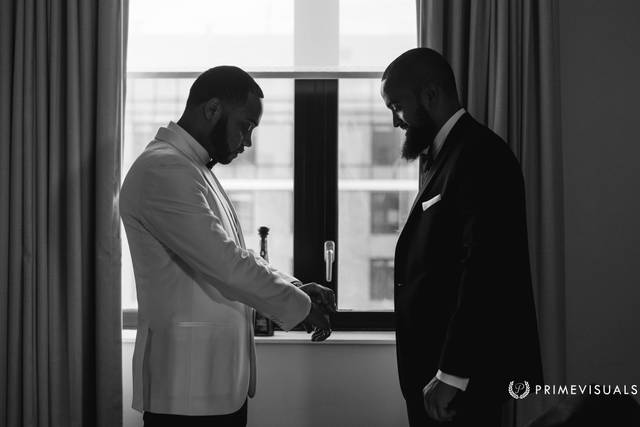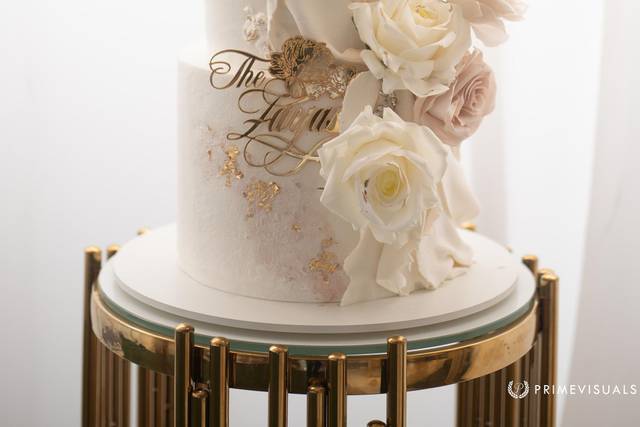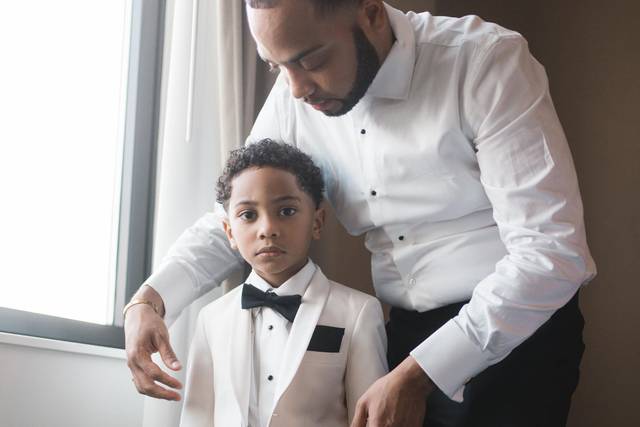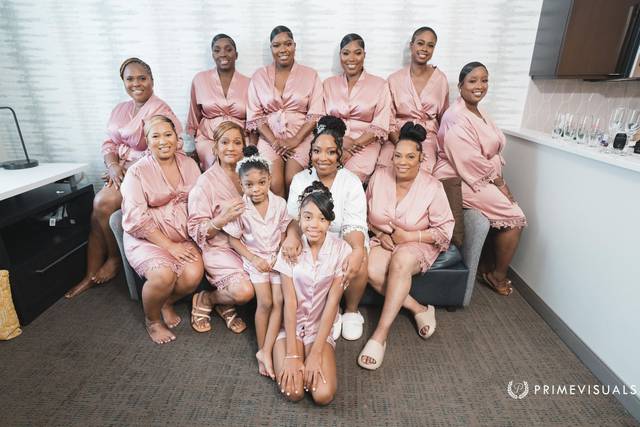 + 75

photos
Stephanie Z.

Married on 09/02/2023

Professional, passionate and great vibes

Vic and his crew did a phenomenal job for our wedding!!! Vic's passion and positive energy was just what we needed with the nerves of our big day. He kept things moving swiftly and has a great eye, making the best out of every space he's in. I didn't get a chance to make a shot list for him, but he didn't need one. He knows what he's doing. Vic and his crew were all around excellent to work with. Even our venue loved them!! Book them, you won't regret it.

Tishania B.

Married on 08/26/2023

Perfection

Prime visuals surpassed our expectations! Tommy exemplified professionalism from beginning to end, so personable, and made the "fake laughs" real ones as he made us so comfortable in front of the camera. Tommy thank you for capturing our special day in every way from beginning to end. Please book Prime visuals!

+ 3

photos

Kristen S.

Married on 08/24/2023

Far exceeded my expectations!

One of the best decisions we made was hiring Vic as our wedding photographer. He was so professional, fun, engaging, and directed my wedding party of 25 so immaculately. I highly recommend Prime Visuals - WE ARE IN LOVE WITH OUR PHOTOS!!

+ 7

photos

Are you interested?

Send a message

Alicia H.

Married on 05/14/2023

Long Island Wedding

My husband and I got the recommendation for Prime Visuals from friends who had used them as their wedding photographers. They spoke very highly of the team and their wedding day experience. We booked Prime Visuals for our engagement shoot and wedding day and never looked back. From the moment we met Tommy we were put at ease with how friendly yet professional he was. He was flexible, punctual, and the photos...amazing! When we got back our engagement photos we knew we made the right choice. On our wedding day Tommy and Victor were on time and made my friends and family feel comfortable during the picture taking process. We shared many laughs with them both as they were so personable and friendly. Tommy made great use of our time and captured many candid shots which we loved. He helped us with posing and made sure we had fun. We got our photos back in record time (
less than a week!) and we were so elated to see how absolutely BEAUTIFUL our photos came out. We enjoyed the whole experience and we will never forget it

Lanesha

Married on 04/14/2023

The Best to do it!!!

Victor and his team were amazingly awesome!!! Best experience ever with any business person/ photographer, my family wanted to kidnap him lol, my mom tried lol and being pregnant with a cast on, he made it all work…

Brittney E.

Married on 02/24/2023

Best photographer

I'm so happy we hired prime visuals for our big day. Vic did an amazing job!! Best photographer ever!!

Joanna P.

Married on 10/09/2022

Wow… amazing!

Vic entered the bridal suite work ready! His team were hands on and allowed the whole morning shoots go smoothly. Ironically the team kept me calm moments before the actual ceremony. I highly recommend this vendor! You will have an experience like no other! This team is not about "pose… pose… okay next" true team is attentive to detail and energy!
Thank you! -Jo (Bride)

Vic and his team welcome me and rest of the groomsmen with jokes that helped set the mood. They were professional and took charge with telling us where to be for the best shots. I highly recommend him & his team. Thank you for everything! - Dan(Groom)

Shenika M.

Married on 07/10/2022

Shenika / Bride

Vic was absolute pleasure to work with in my wedding day. From the start of the day, getting ready in the hotel, he provided guidance and executed my vision. Not only was he professional, but he was a joy and lots of fun to be around. I definitely recommend him!

Lynzi M.

Married on 07/07/2022

Best Team Ever!

I cannot say enough about Vic and his team. From the very start he was incredibly responsive, even taking calls WELL outside normal business hours (my fiancé and I work nights so we keep late hours). He gave us valuable tips and advice before we had even committed to working with him. I didn't elect for an engagement shoot so I was a little worried that I would be nervous/shy once we started shooting on our wedding day but not even. I can't explain it, but Vic and the guys felt like old friends. No nerves, just laughter and good vibes, like you hired your incredibly talented (and extremely professional) best friend to shoot your wedding. And those photos! From the pictures he showed us, PHENOMENAL. He made sure he got every shot, posed us and the family and wedding party with ease, and even made sure to grab us after sunset to get beautiful evening photos by the water. I can't wait to get the proofs back. Vic even staged and directed people's cellphone pictures lol. I'm telling you, that's a man dedicated to his craft and worth every cent. FYI, we opted for two photographers and a videographer.

Sara T.

Married on 05/29/2022

May wedding in Brooklyn

I am so thankful to Prime visuals for their work on our wedding day. Not only were our wedding photos phenomenal, but they also made us feel so comfortable. Us girls felt so at ease and that meant a lot to me on a day that is so high pressure. I would choose them all over again!

Danielle H.

Married on 05/27/2022

We are in LOVE with our photos!

This review is long overdue! If you're in need of a photographer for your wedding day, Prime Visuals is all you need! Just the energy and vibes given by Vic upon arrival was enough. He was prepared to grab all of our items for detail shots without me even asking. He kept everyone laughing and in good spirits. He has visions and poses in his mind and turns around and executes them effortlessly. We had nothing to worry about because we were guided through it all with an unmatched level of professionalism. All of our pictures from candids to portraits are amazing and turnaround time was faster than we expected (Like "highlights within a week" fast). Thank you for the wonderful memories. We're truly appreciative of the entire experience and we'd definitely hire Prime Visuals again!
-The Haywoods

+ 5

photos

Yvener J.

Married on 11/13/2021

patient, punctual and professional

Wow! It's hard to put into words how much I appreciate the Prime Visuals team. I was nervous at first but I quickly learned how easy it is to talk and work with Vic. Vic was able to give me all the direction I needed to make sure my pictures came out magical. He was patient, punctual and professional. I loved his enthusiasm while he worked. That definitely helped increase my confidence. I completely plan on finding a way to work with our photographer again in the near future. The quality and creativity is out of this world! Due to the exceptional work our wedding pictures have been featured on many different platforms and have the potential to be published in a bridal magazine. Needless to say, we have regrets whatsoever!


Nequila A.

Married on 11/13/2021

Just an amazing experience.

Wow! It's hard to put into words how much I appreciate the Prime Visuals team. I was nervous at first but I quickly learned how easy it is to talk and work with Vic. Vic was able to give me all the direction I needed to make sure my pictures came out magical. He was patient, punctual and professional. I loved his enthusiasm while he worked. That definitely helped increase my confidence. I completely plan on finding a way to work with our photographer again in the near future. The quality and creativity is out of this world! Due to the exceptional work, our wedding pictures have been featured on many different platforms and have the potential to be published in a bridal magazine. Needless to say, we have no regrets whatsoever!

Castell J.

Married on 10/23/2021

Incredible service!

Vic was punctual and served as an incredible photographer. Now only did he take amazing photos, he gave the creative direction that our family and I needed.

Ashley T.

Married on 09/04/2021

Talk about beyond my expectation !

I've worked with this team on two events and I have not one complaint . Talk about patience and understanding. Talk about respecting time and professionalism, prime visuals has it .

Allessandra M.

Married on 09/02/2021

Do yourself a favor and book him...

My husband and I were introduced to Victor via our wedding planner. We trusted him and he trusted Victor. After the first 10 minutes of meeting Victor I understood why.

Victor's energy was just what my husband and I needed. We can be awkward picture takers. Victor made the process of taking pictures fun and easy. His direction, kindness and understanding made us feel comfortable and made us want to continue to take more pictures. Victor's attention to every single detail was amazing too. Not a picture went by where he didn't picked up on my husband's shifted tie or a hair out of place, all to make sure the perfect shot was captured.

Everyone that attended our intimate wedding had great reviews and feedback on their experience with Victor. He was a great addition in making our wedding day special and we couldn't be more grateful to him.

Shakia R.

Married on 07/11/2021

The Lejeune wedding

If your looking for an amazing and professional photographer please look no further you are in the right place. Where do i begin from the time of booking we knew we made the right decision.
With the onset of covid happening we had to postpone our wedding which put us a year behind in tying the knot. Also during that time we had to do a venue change due to our venue selling and closing down. When i tell u prime visuals reassured us our day would be perfect boy was he right.

Fast forward to the morning of the wedding.
Our photographer arrived on time and went straight to work. Both the bridal party room and grooms room were side by side so it made for easier access to both rooms for pictures. Vic made me feel at ease at all times giving me drinks when i needed them to make sure he got the best shots.
I've never felt as beautiful until being photographed by Vic.
Turn around time is super on point i received my highlight reel within 2 days of our wedding and wow the pictures exceeded my expectations. I can not stress enough how much you should use prime visuals for your wedding day you can't go wrong your doing yourself a disservice if you go anywhere else

Duwhite P.

Married on 07/10/2021

This is the only review you need to read!

Listen, listen, listen!! I'm not even into taking pictures—I mean truly! But I decided to do this thing, like big WEDDING thing, and thought to myself, "I guess I'll like something to help me remember it." I did pay all that money, might as well act like I'm trying to preserve the moments and all that—you feel me?!

So in comes Vic our photographer. At first I was like, here we go, I ain't even trying to have this dude tell me what to do. I was already getting ready to marry a dude who was going to try and tell me what to do for the rest of my life—I'll be damned if I had someone I paid do the same.

But y'all!! Like honestly truly, screenshot this review and send it to friends. Make this review your FB status, or IG post. Let's make the ridiculousness of my experience go viral. And by ridiculousness, ya boy means UTTER BLISS. Wow, what an experience it is to have a photo taken by Vic. I don't know how he fairs in other environments. I have never hired him for a birthday, or coming out party—I only know his work through the heated anxiety of a wedding, but I am here to tell you, Vic shows up!!!

It is a humbling experience to be asked to sit still and pose on a day where it feels like your entire body, mind and soul are running laps through time. There is so much life to contemplate on your wedding day. So much childhood to unpack, so much future to daydream about, so much present to file through, but somehow, in the midst of all that seemingly astral projection, Vic's lens found us.

And it wasn't just his lens, but his presence. It was his eager desire to laugh with us. His calming reassurance of "we're going to get the shot." I didn't know that getting your picture taken was supposed to "feel" like anything. Usually, it's a very numb experience for me. But that day, under the sturdy guide of Vic's brilliance it was as if I felt every frame.

What a joy it is when a stranger becomes a friend in any circumstance, but for it to happen on your wedding!!? For the person you paid, to someone how transform into a loved one you invited to share in your joy—is a gift not to be taken lightly.

It is an energy not easily conjured or recreated. What I learned after having my nuptials is that weddings are all about vibes. It's all about the cosmic colliding, and mercury in micro-braids type issh, and knowing that means, there exists a responsibility to protect that energy.

There are so many people who take parts in your wedding that you don't know at all. There are so many chances for a caterer or venue owner, or waiter to insert a spirit into your day that is anti everything it is you wish to build. It is a treacherous assignment to put such a spectacle together and leave with higher vibrations than you started.

But please, in all seriousness, believe me when I tell you, that this photographer is only interested in adding to every good. I can truly say that Vic lifted my wedding experience with both his talent and his personhood—and damn what a gift that would be on any day, let alone on your day.

Stop playin and hire him.



Ivonne R.

Married on 06/26/2021

Photographer and videographer

Wow truly amazing and friendly these guys did there thing the day of my wedding I truly appreciate all they did. I highly recommend.

Raquel S.

Married on 05/16/2021

Amazing wedding photographers!

Tommy, Victor and the rest of the Prime Visuals team were wonderful! Our pictures are BEAUTIFUL and we have been getting endless compliments. They were prompt, responsive, professional and flexible. We moved the date of our wedding several times due to COVID and Prime Visuals were always happy to work with us and make it work. It was difficult having planning a wedding during COVID but having vendors like Prime Visuals helped make the process a lot easier. The entire team was fun to be around, had great energy and made all of my family and friends feel comfortable. We would HIGHLY recommend the Prime Visuals team. Thank you Tommy and Victor!

https://www.nytimes.com/2021/05/21/style/raquel-smith-gavin-hall-wedding.html

+ 3

photos

Stephany V.

Married on 09/20/2020

Amazing. I had so much fun shooting my wedding photos.. any event I have.. he's my first choice in photography

100 % Amazing.. he captured everything and more that I wanted to capture on my wedding day..

Charnele N.

Married on 08/14/2020

Best Photography Service

Vic was amazing! He went above and beyond for us on our big day. And the pictures were breathtaking. Everyone loved Prime Visuals at our wedding from the wedding party to the mother of the bride to guests. We would recommend them to anyone!

Camille

Married on 05/22/2020

Professional and personable!

We hired them for our ceremony. They definitely had great energy and kept us laughing and smiling.

Kareema E.

Married on 09/19/2019

Remarkable!!!

Working with Prime Visuals was an unforgettable experience. The photographer was helpful and made my fiancé and I feel comfortable during our engagement shoot. He pushed the envelope and gave us the most memorable portraits that we will cherish for a lifetime. And the price was definitely right!!! #Serviceapproved #greatquality

Astrid

Married on 08/22/2019

Excellent!!

My fiancé and I could not have chosen a better photographer. Our engagement pictures are so beautiful, it makes me cry every time I look at them. He captured all those little meaningful details during the photoshoot that was unexpected. Not only was his work amazing; he went out of his way to make sure we were comfortable and stress-free the entire time! We are so very grateful and can't wait for our upcoming wedding to be shot by Prime Visuals.

Are you interested?
Send a message