343 Reviews
Recommended by 99% of couples
Quality of service

5 out of 5 rating

Average response time

5 out of 5 rating

Professionalism

5 out of 5 rating

Value

4.9 out of 5 rating

Flexibility

4.9 out of 5 rating
96 User photos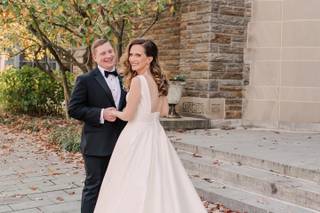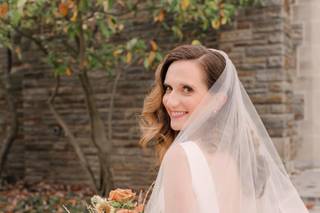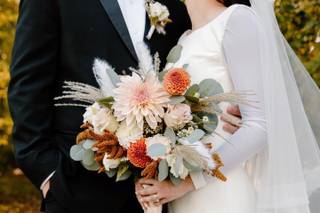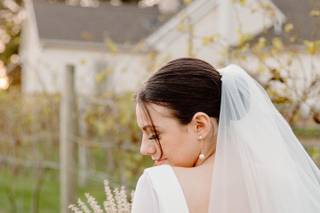 + 92

photos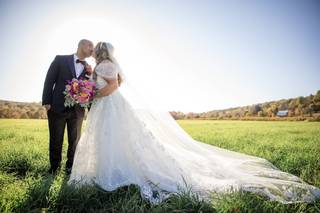 Alicia G.

Getting married on 10/08/2023

Best Wedding Dress Experience!

When I started my day wedding dress shopping, I was very nervous. I am a fuller-figured woman, so I was apprehensive that shops wouldn't have anything for me to try on. Posh Bridal is highly knowledgeable and helpful. They listened to what I wanted, and I even found a dress that surprised everyone. I had initially scheduled a Gold appointment. Little to my knowledge, my fiancee contacted the owner Janell and upgraded my appointment to Platinum. So the whole shop was just for my girls and me. We had a lovely spread of finger foods to eat. We did a drawing contest to see who could determine what my dress might look like. It was a lot of fun! It made the whole experience much more enjoyable. Posh Bridal had plenty of dresses for me to try on. I knew going in that I try on sample dresses so they won't fit me perfectly, but the consultant and Janell still made me feel very comfortable in my skin. I had said yes to the dress that day, and they created a fun "party" for us to celebrate with champagne. I just got a call that my dress is in, and I will try it on soon! I am utterly excited and cannot wait. I would recommend anyone to go to Posh Bridal!

Lauren L.

Getting married on 10/05/2023

Great experience to work with the team at POSH.

POSH has a unique selection of dresses. Each dress that I tried on was beautiful. Additionally, it was nice to have dresses pulled for me prior to arriving. I worked with Maddie and she gave me her honest opinion when I asked her, which I appreciate. If you are looking for a timeless, classy and unique look for your wedding day, I highly recommend that you visit POSH.

Melanie W.

Getting married on 06/10/2023

10/10 Recommend

The ladies were so fun and helpful to work with! The owner is so warm and knowledgeable about dresses, accessories, timelines, etc. They were super responsive and answered all of my questions. They helped me find the perfect dress for the big day!

Are you interested?

Send a message

Allie M.

Getting married on 05/26/2023

finding my dress

POSH BRIDAL was my 4th wedding dress location my mom and I visited in my search, I was losing hope that I was not finding a single dress that got me excited, nor could I picture myself in on my wedding day. My appointment that day was with Janell, the owner of POSH. The power was actually out this day in the studio which now makes this story special. I shared my visions with Janell, which included a slim fit dress with little to no lace. She then pulled some options for me and helped fit me (in our dark dressing room lol) and finally, I started to envision myself on my wedding day in these beautiful dresses. I was trying to narrow down to the dress that would be "the one" when Janell pulled a new dress out, different from my original vision and asked if I would like to try it on. The dress was fitted with a mesh top and a lot more lace than I could picture myself in. However, I tried the dress on and-wow- I couldn't stop admiring myself in this beautiful dress in the mirror. I looked over at Janell and my mom, with tears in her eyes, admiring the dress on me as well. At this point I knew I had found my dress. Janelle paired the dress with shoes and a veil and helped me put the whole picture together. We finalized our order and before leaving I gave Janell a hug, I felt so grateful for her. She has so much vision and expertise she is truly a professional and has a passion for what she does. I don't think I would have tried on a different dress if it wasn't for her. Janell helped me find my dress, when I was losing hope, in a dark studio , on a rainy friday afternoon. My mom and I will never forget our experience at Posh finding "the dress."

Megan F.

Married on 11/12/2022

Got my dream dress!

I had a wonderful experience from start to finish working with Janell at POSH for my wedding dress purchase and alterations! POSH was the only boutique I went to and was very happy with my decision. Janell is clearly an expert at what she does!

Kelly R.

Married on 10/30/2022

Adjusted my dream gown and it's gorgeous!

Oh my goodness! Working with Janell and the team at Posh Bridal has been the most amazing experience!
I had a very specific style of dress that I wanted from the beginning, but I'd never tried one on so I wasn't sure if I would find it. But I did! I tried on several during the first appointment, but only this "miracle dress" left me feeling confident, rather than self/conscious, in my body.
I got a bit concerned a few fittings ago when my dress was a bit tight at the waist and my girls were overflowing, but Janell was able to fix it all and it looks better than I could have imagined!!!
My big day is in a week and a half and I can't wait to see my partner's face the first time he sees me in it.

Colleen

Married on 10/15/2022

My dream wedding Dress

Janell was a dream to work with! When I first came in, I told her I wanted a big dress and I wanted sparkle! She showed me some dresses, but she knew I wanted more sparkle so she gave it so me and we decided to make a custom dress and make one dress out of 3 different ones! My dress was everything and more I could've ever dreamed of, I felt so beautiful on my wedding day! She did a great job with alterations as well and made any adjustments I wanted or she saw fit! I'm so happy I went with Posh, it was so fun from start to end, especially the style of the aisle event where you get to try on your dress again but with veils, necklaces, earrings and more! Other stores do not do this and this makes the wedding dress shopping experience that much more special! Thank you Janell and the entire Posh team for helping me find my dream dress!

Tori D.

Married on 10/15/2022

Love love love!

I could not have had a better experience at posh bridal! Janell is amazing and went above and beyond to help me with my dress. I got my dream dress and the entire process was fun and efficient, from the shopping to the fittings, I could not have been happier with my experience!! I would recommend Posh to anyone in search of their wedding dress!

Meg T.

Married on 10/14/2022

Janell Berté is the fairy godmother of dress making!

Due to the terrible war in the Ukraine, the original wedding dress I purchased -from a designer in the Ukraine not Posh Bridal- was no longer a possibility.

With a very tight time frame I was able to find an amazing dress at Posh and work with Janell to make it into the dress of my dreams. She added sleeves and back button detailing taking the dress from beautiful to truly one of a kind stunning. Janell's attention to detail and eye for artistry makes her a master of her craft.

However I would be remiss in my review if I did not also mention Lily. Lily was in charge of my initial appointment and she was fabulous! She listened to my wants, budget, and over all aesthetic and managed to find me multiple dresses to try on that I ended up loving. She made the whole experience feel fun, magical, and just everything you could want from bridal dress shopping.

Do yourself a favor and go here. They are simply put, the best.

Hannah P.

Married on 10/05/2022

Absolutely amazing!

Posh Bridal was absolutely amazing! Not only is this boutique beautiful, but the workers were beyond pleasant. Working with our tight schedule, they were extremely helpful in ensuring that my dress would be here in time for my wedding. Even though this was the first I've heard of this lovely boutique, I was impressed with the beautiful selection of dresses. For all future brides, GO TO POSH! I cannot speak enough for how great my experience was at this boutique. Thank you ladies for everything!!

Lauren M.

Married on 10/02/2022

The team at Posh is amazing!

I could not recommend Posh more highly! My sister got her dress here 10 years ago and it was such a lovely experience that I knew we would be back when my turn came. I shopped around multiple places before my appointment so I would have a decent idea of what I was looking for and the appointment at Posh was just an unmatched experience. Janell is a joy to work with. She really listens to what you want, notices how you feel in each dress and works with you to find you the perfect one. Since Janell is a designer herself she takes care of the alterations and the work is flawless.

Samantha C.

Married on 09/24/2022

Samantha C.

I had the BEST experience at POSH! The entire staff was excellent and made me feel welcome and beautiful throughout the whole process. Janell was SO knowledgeable and kind and fun to work with! Everything about my experience was incredible. I would give them more than five stars if I could!!!

Jenna K.

Married on 09/24/2022

Great service & environment!

Absolutely loved working with Janell and her team! She is extremely talented, knowledgeable, and will go the extra mile to work with you. She also offers extended sizes which is such a breath of fresh air. Couldn't recommend Posh more!

Ashlinbabie

Married on 09/22/2022

Posh posh POSH!!!

The ladies over at posh bridal are absolutely precious to me. They made picking my dress so easy. Lily is the sweetest person ever and deserves a Big shout out. She was only doing the job for a few months when I had my first appointment but she was so professional and personable you couldn't even tell. Thank you so much for the giggles and smiles. Highly recommend!
Also Posh would not be Posh without Janell 😩💞 from my very first phone call with Janell I felt loved and valued. She actually cared about my ideas and was very excited for changes I had for my dress. This is not just a job for her and it shows. If you had told me that Janell had other clients other than me I would be so surprised. She was always available and remembered the littlest of detail of our wedding. Every sister and friend that came with me to my appointments always left smiling because Janell always made you feel comfortable and loved. Like I said the Posh girls are ABSOLUTELY PRECIOUS to me and will forever be a core memory of my wedding experience.

Alexa H.

Married on 09/18/2022

Great little spot with beautiful dresses

If you are looking for an intimate and highly personalized dress shopping experience, POSH is just the place. Upon entering for the first time almost a year ago I was immediately greeted with warm smiles and champagne! The dress selection is wide and each dress was beautiful and timeless, something I don't often think when walking into wedding boutiques. When I was on the fence about if the dress was "the one" I felt absolutely no pressure or push to make any decisions. When I did say yes to the dress I was celebrated and guided through the steps to pull the entire look together according to my vision. I felt like the most beautiful bride in the world on my magical day and I have POSH Bridal and Janelle to thank for that. I highly suggest you check this place out, it might just have the dress of your dreams!!

+ 2

photos

Brittany S.

Married on 09/18/2022

Treated like royalty!

The moment I walked into Posh Bridal, I felt so special! They treated me with excitement and energy! All the staff were very professional and the whole experience felt like we were all best friends. It was very personal....not like other Bridal shops where you feel like a number. I brought my sister and mother along. We all received a goodie bag and had delicious drinks! After choosing my perfect dress, we celebrated with champagne. I could not recommend Posh enough!

Jenny C.

Married on 09/09/2022

Highly recommend

Janell and her team are truly the BEST in the business. When I made my first visit, I knew Posh was the bridal salon where I would find my dress. The experience of saying yes to my dress was so fun and made me feel like a Bride! I traveled from Philly to Posh, and I HIGHLY recommend if you're in the area or not, you consider going to Posh if you want the best service and dresses!

Amanda K.

Married on 09/08/2022

Best Bridal Dress Vendor!

Janell and Maddie were absolutely fantastic to work with!
They reached out prior to my appointment and were well prepared with their options for me. They provided a fun, personal, and professional atmosphere and I couldn't recommend anyone more!

Ayanna C.

Married on 08/12/2022

Loved My Custom Gown

The Posh Bridal Team was an amazing team to work with. This bridal shop was the first store I visited to begin my wedding dress shopping journey and after my visit, there was no need to keep looking. After seeing their selections and discussing my budget, we went with a custom dress designed and created by Janell Berte, which really complemented our garden wedding.

I had 3 fittings with Janell and they were great. She took my feedback and would make changes and we would discuss details like the fit of my dress to the length. In addition, her bridal shop hosts weekends where they allow you to shop for accessories and because I currently live out of town she would be flexible with my arrival times and I purchased my veil and bridal accessories from her store. I truly appreciate her for helping me feel amazing on our wedding day which was located in Nashville, TN. Overall, I look forward to continuing to cherish and preserve my beautiful custom gown which was made possible by the Posh Bridal Team.


Neanndra H.

Married on 06/18/2022

Perfect and unique!

Posh Bridal from beginning to end I couldn't have asked for more. The day I came dress shopping my girls and I had the whole place to ourselves. You served us wine and finger foods, and already had dresses pulled for me when we got there. After I picked a dress you provided us with a champagne toast, played music, and put the cork in a special box for a keepsake!! Then I added my thumb print to the "family tree". It was honestly like a celebration! By the time the alteration appointments were done we had so many conversations and I hated for the whole experience to end and I can honestly say I miss coming in lol. My dress was beautiful and it fit perfectly! My veil, jewelry, and shoes tied it all together together and everything was just perfect! I can't thank you enough.

Jenna C.

Married on 06/18/2022

The Dress of My Dreams!

The entire team at Posh did a fabulous job helping me to find and create the dress of my dreams! When I started the process of trying on my dress, my stylist listened to all my feedback and applied it so I could find the perfect dress for me while making me feel absolutely beautiful throughout the entire process (even when trying on dresses that weren't my perfect fit :)). During alterations, Janell fit my dress to me perfectly and listened to my vision to add just a little lace to the deep V to make me feel more confident on my day. She also did a beautiful job with my bustle - it wasn't too overpowering for the dress despite my "longer than typical" train :). I loved that I got to try on accessories at the Style on the Aisle event, and I ended up choosing accessories that I didn't realize would look perfect with my dress until I tried them all together. Overall, Posh made me feel absolutely amazing and special on my wedding day - how every bride deserves to feel!

+ 6

photos

Brittany H.

Married on 06/10/2022

The most perfect gown for the best day of my life

I walked into Posh bridal with my mom one day just to look around and see some styles of gowns. Little did I know I was about to have one of the happiest experiences of my life. I tried on about 8 gowns, and all of them were absolutely stunning, but I fell in love with one in particular and ended up saying yes to the dress. Janell and her team were incredible every step of the way. Shortly after I ordered my dress, I moved to New Orleans. Janell went out of her way to make sure I could be seen for fittings during my quick trips back home. During their "Style down the aisle" event, I found ALL the perfect accessories, including the most comfortable, gorgeous shoes that I was able to wear for the entire day and night of my wedding (if you know me, this is a big deal as I live in sneakers). I would absolutely recommend Posh to any bride. They deliver a top tier experience start to finish. My mom, aunt, and I loved Janell so much we started asking WWJD when we were wedding planning. She truly is the best in the business!

+ 3

photos

Posh Bridal's reply:

Dearest Brittany, You won me over with chocolate, what can I say? Out of town(state) brides like yourself is no issue for us. We want to make the journey easy for you because in turn it makes it easy for us! Yes, Those Angela Nuran shoes are magic. It's why we not only believe in them but all the designers that we carry at POSH. They each have a special "sauce" that they bring to the bride! I now remember you leaving shouting WWJD when you were at SOTA! You make me laugh. You are too sweet. I'm honored that you were a POSH bride and can't wait for your return with a friend so we can visit all over again! Best wishes

Amanda C.

Married on 06/03/2022

Awesome Experience!

Posh Bridal was so nice to work with. They made dress shopping so easy. The in-house alterations made the process a breeze. I highly recommend Posh Bridal!

+ 3

photos

Posh Bridal's reply:

Amanda, You look so amazing. Thank you for including photos from Winterthur. We loved working with you to. You made everything a breeze too! All the best!

Ahnastasia A.

Married on 06/03/2022

Ahnastasia - Posh Bride

When it comes to finding your perfect wedding dress, look no further!! My entire experience from start to with Janell was effortless. She went above and beyond to make my day perfect! I must admit I don't take making big decisions lightly. I've model several wedding dresses in the past but I felt when it finally came to my own, I would have to look at several venues before I found "the one". With my parents in the industry (the owners of Excelsior Lancaster) I felt it was my duty as their daughter to check out local vendors first. This was by far above and beyond my expectations. Your dress is what builds your confidence on the day of your wedding. The showroom dress you try on vs. the actual dress you wear on your wedding day, goes through so much detail. From adding things like bustles, padding or buttons, to shortening your train. Over that entire time you build a relationship with your designer. Janell has your back through the entire process. Her eye for design adds an additional quality to whatever you choose. I absolutely loved both of my wedding dresses and my now husband, loved every detail of both of them as well. Visiting Posh Bridal will be the best choice you make for your wedding day, hands down!

+ 5

photos

Emma S.

Married on 05/27/2022

Biggest Blessing

Highly recommend to all brides!! To say Posh Bridal gave me the best experience possible feels like an understatement. From the beginning when I first went to look for a dress Janelle was beyond fantastic. I was unsure of myself and if I would be decisive, but Janelle had confidence in me that made me feel comfortable & I found my dream dress! The amazing experience didn't stop there. First off they are so detail oriented in a way that targets the bride to make her feel the most special. When you find your dress, which is already so special, they make it even better. Every time since finding my dress that I've gone back, it still continued to be an amazing experience. They truly set the bar so high to make sure us brides get the best possible. Style on the Aisle was so fun & it was really cool to see all the accessories and get to try on my dress with my hair all done. Every fitting since was always amazing! Honestly I cannot recommend going here enough if you're a bride. If you want to feel special & want to have an amazing positive experience, look no further and go to Posh!!!

Posh Bridal's reply:

Awwww Emma, You are making us blush! We truly love to love on our brides. We feel the same about you. You were/are an amazing POSH bride. Have a great wedding and new adventure!
Are you interested?
Send a message