216 Reviews
Recommended by 96% of couples
Quality of service

4.8 out of 5 rating

Average response time

4.8 out of 5 rating

Professionalism

4.8 out of 5 rating

Value

4.8 out of 5 rating

Flexibility

4.8 out of 5 rating
100 User photos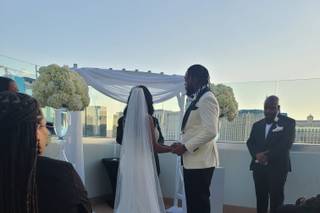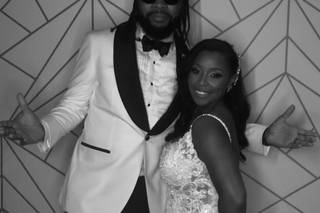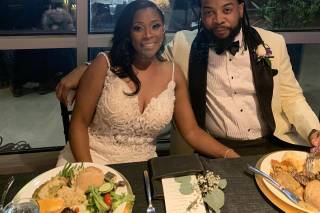 + 96

photos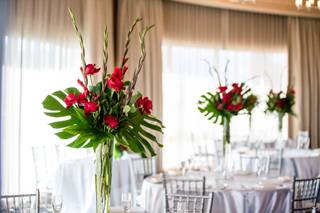 Featured

Shaisley C.

Married on 06/26/2022

Exquisite Wedding Venue

Our wedding at the Platinum Hotel was nothing short of amazing. With the guidance and support from Emma and the partnership provided by Larry made for an incredible experience. From the first encounter with Emma I knew this wedding journey would be special. We were traveling from Houston to Vegas with a guest list of 104 people. I reached out to Emma about having our wedding at Platinum and she provided me with answers to all of my questions and offered her help in anyway she could to make the process easy and accommodating. We held our ceremony on the rooftop of the Misora and we had our cocktail hour and reception in Kilawat. We were nervous about the space in Misora which we originally booked for the ceremony and reception, but with the flexibility from Emma, she made last minute changes for us without any hesitation. She assured us that our day would be beautiful and that it was! I would highly recommend this venue to anyone who is looking for a beautiful intimate space with amazing Vegas views and an amazing staff that will help create the wedding of your dreams! Emma and Larry you two are the best!

Feroza A.

Married on 04/22/2022

Perfect dream wedding!

Emma, her entire crew and their preferred vendors were all amazing! They made sure everything was flawless and exactly the way I envisioned it!! The food, flowers, decorations, photographer, DJ and wedding staff were all perfect!! I would refo it the exact same way!!!

+ 3

photos

M. Morris

Married on 05/15/2021

Excellent Venue and Experience

Shakera and the entire Platinum Hotel staff made our wedding a day that we will never forget. The preparation was easy and enjoyable, the food was delicious and the package we chose didn't break the bank. Best place in Vegas to host your wedding, hands down.

Are you interested?

Send a message

Leslie

Married on 10/17/2020

The event was perfect. I had a bit of worry, since we had an unorthodox wedding ceremony. The planner did a great job providing us a beautiful and seamless evening. The food was incredible.

Breann

Married on 10/16/2019

Amazing Experience

Our wedding at the Platinum Hotel was absolutely amazing! Our ceremony and reception were both held outside on the Misora Terrace. The views were incredible. We had our ceremony of the side overlooking the high roller during sunset and it was gorgeous. Everything from booking, planning, and the day of was incredibly easy. Sandra and Rhiannon were so amazing to work with. I truly have no complaints. The day was completely flawless with no hiccups or stresses! We travelled from Canada so I was worried that it wouldnt be exactly how I envisioned having to communicate over email and phone but Rhiannon nailed it! We went with the Platinum Package so everything was taken care of for us and it honestly made the day so enjoyable to not have to worry about a single thing. All the staff at Platinum were so amazing. Our bartender Tony was so friendly and upbeat! The DJ was awesome! He played all our requests and was even able to change our songs the day before with no issues. Our photographer Matt was awesome! All my guests commented on how great he was! I honestly couldnt have asked for a more perfect day! I highly recommend choosing Platinum for your wedding! You won't regret it.

Platinum Hotel's reply:

Thank you so much for your review! We appreciate you taking the time to share with the world your positive experience with our TEAM. You and the entire family and friends were such a pleasure to work with. We hope you return for your 1st anniversary for a second toast! Wishing you a lifetime of happiness.

Warm Regards,

The Platinum Hotel Weddings TEAM.

Conor L.

Married on 09/19/2019

Great experience

Staff were very helpful and welcoming, views were outstanding and all guests thoroughly enjoyed they're experience. Good food, great music and good bar man made for an unforgettable night.

Nadine

Married on 09/12/2019

Professional, accommodating, friendly and responsive

Huge thank you to Sandra and Rhiannon who were both amazing from start to finish, very professional, friendly, accommodating and went above and beyond. Attention to detail and organisation was impeccable, everything was perfect and Rhiannon did an awesome job with decorating the Misora Terrace space where we held our wedding reception. If you are wanting a professional, friendly service and the best strip view in Vegas then this is the place, it is unbelievable, you will not be disappointed!

Toni K.

Married on 07/27/2019

Perfection!

The moment we met Wendy and Sandra we knew we made the right choice. They were so professional! You always hear about crazy wedding stories but they made the whole entire process very easy smooth. We wanted a sunset wedding and they timed it perfectly. Wendy is great at what she does. She made sure we stayed on time and everything flowed effortlessly. I was told we'll have iPhone hookup for music and surprisingly they had someone to do the music
For us! They even found us a photographer the day before the wedding! The timing of everything was so perfect! There's not one thing I would change. It was perfect! I felt like I was a celebrity with the treatment they gave us! Nothing and I mean NOTHING went wrong.

+ 4

photos

Nicole B.

Married on 06/22/2019

Great Wedding!

All staff was great and very helpful. Our wedding was beautiful and exactly what we wanted! Great value for the price!

Cortney

Married on 06/15/2019

Wedding ceremony and reception

This venue was more than I could have ever expected. We had an amazing experience, so easy and also so beautiful! The food was amazing the coordinator made everything perfect! Highly recommend them!

Sara J.

Married on 06/15/2019

Wedding for my son and daughter in-law

Since the beginning till the end everything was done with attention to detail and professionalism.
We all had fun and nice place to have a reception.

Justine R.

Married on 05/11/2019

Amazing, couldn't have asked for a better experience. Our wedding was perfect!

We had the best experience with The Platinum Hotel! Our wedding was perfect! We couldn't have asked for a better day! All of the staff was extremely helpful in ensuring our day went as planned! Anyone interested in a Vegas wedding I would recommend The Platinum. Our guests loved it as well. The food was great! The venue looked amazing! We have no complaints!

Erin

Married on 03/30/2019

Wedding at The Platinum

From the vendors, to the actual venue, to Rhiannon our wedding coordinator, everything was flawless and above and beyond our expectations!

Michela P.

Married on 03/04/2019

Two terrific events

I had my dream wedding at the Platinum Hotel in Las Vegas in April of 2018 followed by a surprise 1-year Anniversary dinner for my husband this past April. Simply put, both events surpassed my expectations. Sandra Cambray was our event coordinator and proved to be nothing short of brilliant throughout the planning process. She was responsive, flexible, and her creativity made for two memorable experiences from start to finish.

Becky

Married on 03/02/2019

Amazing Wedding Day!

We had our ceremony and reception at the Platinum Hotel and Spa on the terrace and in the Misora Lounge on the 03/02/2019. We are from the UK and had already seen the venue but if you are from abroad and can't view the venue first please do not worry! The venue is beautiful with incredible views of Las Vegas. The ceremony was beautiful at sunset. Wendy our wedding planner/coordinator was incredible and couldn't do more to help us plan our perfect day. Nothing was too much trouble for her! We chose a sit down meal for our guests and the food was delicious and the service was impeccable. Our stay was lovely and we were treated with such kindness by all the staff. We used nearly every vendor they supplied and those used were a pleasure to work with. You will not regret getting married here!!!!

+ 7

photos

Platinum Hotel's reply:

Dear Becky, I want you to know how much I appreciate your review! Wendy and Team Platinum are so lucky to have made your wedding come true. We are glad everything turn out incredible for you!Your attention to detail, great communication skills, and ready smile made the experience even better than expected. We appreciate you so much and we look forward to celebrating your 1st anniversary at the Platinum! Cheers!!!

Katarína V.

Married on 11/28/2018

Wedding 28.11.2018

We chose the best hotel for our wedding! Staff were very helpful and nice. If you want to have the most beautiful memories of your big day, choose Platinum Hotel.

Denise

Married on 11/23/2018

Great Venue and excellent Planners

The venue was beautiful and I could not ask for better wedding planners than Sandra and Rhiannon

Tiosha F.

Married on 11/18/2018

Better than we expected, beyond grate it's all worth it I

We couldn't ask for more the platinum gave a great deal we trust them to the core and they came through Sandra is the best .Our wedding was well put together ran smoothly, food, dj venue perfect we had a wonderful time my guest are still talking about it thanks for making our special day special platinum

C. Calia

Married on 10/18/2018

Wedding Perfection

From the moment we booked our wedding and reception, to the time we said " I Do ", The Platinum Hotel and Spa made planning our wedding the most enjoyable experience! We were truly blessed to have such a wonderful coordinator, chef, photographer and DJ to make our wedding one we will cherish forever. Thank you to Sandra Cambray and her whole team for making us feel so special on our big day!

Linda C.

Married on 10/17/2018

Wedding dreams came true!!

The entire staff at the Platinum Hotel was a delight to work with, always responded in a timely manner and was very accommodating. Our wedding was everything I wanted and more!

Marcy

Married on 09/29/2018

Not enough space to say how happy I am with my wedding at The Platinum!

We wanted a Vegas wedding & having visited at least once a year for the past 9 years, we know the strip fairly well. I contacted the big hotels for prices & was depressed with the info. While it would have been beautiful, the ceremony alone would be a few thousand $$ USD (we're Canadian, so it's immediately more with the conversion). And it would have been up to us to figure out the reception. Some offered additional packages in the hotel's restaurant but I wanted somewhere that we could dance! Some gave a giant list of EVERY little thing to pick from (dance floor sq. footage, how many spotlights & couches, etc.) along with the price for each, and you had to piece everything together. Some had options to use their ballroom. I was adamant that if we're doing a wedding in Vegas, I want it to feel like a wedding in Vegas. If we're in a ballroom, then we might as well do our wedding at home. I joined groups on different social media platforms & talked to people who had DIY'ed their weddings; renting a suite at a big hotel with a view, and sneaking in their catering/guests/etc. Some got away with it, some got warnings from security, & some got shut down early. I was also warned if you book one of the giant suites in a hotel, they reserve the right to bump you to a different room if a celebrity/high roller is in town. I didn't want the stress of having to deal with any of that on top of trying to plan the wedding itself! I came across The Platinum and was SHOCKED when I received the pricing. We could have our Vegas wedding on a rooftop with a view of the strip at sunset AND within our budget! (They have several options so we could've easily had our wedding for less or even more $$ than we did.) And with the package we picked, everything was included! I brought a few of my own decorations but we could have just shown up with our guests & wedding outfits and nothing else! Staff: Everyone is SO nice! You really feel like they want your wedding to be as perfect as you do! Unlike some of the other hotels that pump through 4+ weddings a day, The Platinum only does 1 per day per venue (there are 2 separate rooftops with amazing views of the Vegas strip) so you aren't rushed in/out. I was lucky enough to have Sandra helping us & I cannot recommend her enough! This woman is amazing at her job & you can tell she really enjoys it. She has been in the industry for a long time & has done thousands of weddings. She has the knowledge to help guide your wedding be the best it can & the authority to help keep everything (& everyone) running smoothly. She is also very funny, easy to talk to, & super sweet. I miss her already! Food: The food was amazing, all of our guests raved 7 some said it was the best food at any wedding they'd been to! Hotel & Rooms: Everything was clean & everyone loved the rooms! We had a few guests come down with their babies (6 & 9 months old) so having a full kitchen and separate bedroom was very convenient. The hotel is close enough to the strip that you don't feel isolated, but it's far enough back that you also aren't having to navigate through huge crowds. Other Vendors: Our package included vendors for the flowers, DJ, photography, etc and while they don't work for The Platinum, they are contracted by them and were all amazing!

TL;DR – The Platinum is a hidden gem & if you want a wedding that is memorable & affordable then why are still reading this? You should be contacting them now to book your wedding! Go go go!

Rebecca

Married on 09/19/2018

Amazing, Sandra Cambray is a dream - she's so good at her job x

We got married 18th Sept 2018 at the misora rooftop. Our wedding was truly breathtaking, from the views to the atmosphere it was truly gorgeous. Sandra was our co ordinator and there is no better person for the job, she is so patient and organised. She really is on the ball. She completely took all the wedding planning stress away from me, planning from the UK I was worried I would forget things. She didn't let me, she knew what I needed before I knew myself. Our minister again organised by Sand was just lovely, Pastor Pete - our photographer & videographer our based in the UK they are called The McHendrys and have shared our video & pics - feel free to take a look.

The food & drink at this venue is second to none, you get such good value for money. If you havent already booked your wedding then you should now!

+ 16

photos

Perfect Day

I couldn't had wished for a more perfect wedding, everything went smooth, the food was delicious, the minister was funny, photobooth was a must have, the DJ was AWESOME and the dance floor was never empty (and we only had 32 guests)! Our guests loved it and the only complaint I have is it went too quick!!
This wouldn't had been made possible without Wendy and Sandra's help at the Platinum hotel!

Takisha Y.

Married on 08/31/2018

Perfectly Perfect

We cannot rave enough about how absolutely amazing, easy, stress-free, and perfect our wedding was! Everyone at the Platinum Hotel were so friendly. The vendors amazing! Doing a destination wedding can be overwhelming but it was not at all. We picked our package, vendors emailed us, we made our selections, and showed up. Sandra and the photographer were amazing, holding our son so we could eat. It was affordable and the VIEWS...the photos show that you were married in Las Vegas! We loved it so much, we have discussed having other events there in the future; birthdays, etc.

Anne

Married on 06/23/2018

Our wedding was absolutely breathtaking! The views alone were worth every penny. Our guests had a wonderful time and all of our vendors did a phenomenal job making our wedding dreams come true!
Are you interested?
Send a message