22 Reviews
Recommended by 100% of couples
Quality of service

5 out of 5 rating

Average response time

5 out of 5 rating

Professionalism

5 out of 5 rating

Value

5 out of 5 rating

Flexibility

5 out of 5 rating
Awards
1 User photo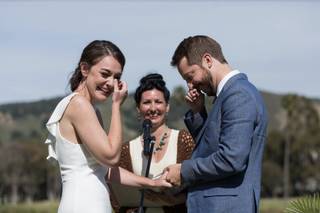 James

Married on 05/05/2017

We could not have selected a better officiant for our wedding than Stacy. She performed a lovely ceremony that was exactly what we were hoping for. Her process for getting to know us was extremely thorough involving a meeting and detailed questionnaire. Stacy knew all the right questions to ask and quickly picked up on the direction we'd like the ceremony to go. Then, she provided us with a draft of what she'd like to say well ahead of time so we could review and make any final edits or comments (this is optional of course). During the ceremony, Stacy delivered her words wonderfully, and really captured the moment and spirit we hoped to create. Afterwards, our family and friends couldn't stop raving about what an amazing job she did and how much they loved the ceremony. If you're looking for a perceptive officiant who will really get to know you individually and as a couple and will create a ceremony that represents what is important to you, Stacy will make an excellent choice. We are thrilled to highly recommend her. Thank you Stacy!

Alysia

Married on 09/03/2016

We were so pleased with Stacy and her services. She was able to accommodate our wedding day only three weeks in advance. She was prompt, professional and very friendly. She listened well during our interview because every note taken was used to tailor the ceremony to make it very personal and special for us. Stacy did an exceptional job on creating/writing the ceremony and it really added that special touch for us and our guests. I would highly recommend Stacy if you are looking for a reliable and super thoughtful officiant for your very special day.

I don't think that I can say enough good things about Stacy!

We searched around a bit for an officiant before deciding, but we feel that out of everything relating to our ceremony day, Stacy was the best. From our very first meeting (phone) she really tried to get to know us and find out what we wanted for our ceremony. She incorporated our ideas, made suggestions as needed/ requested, and made our ceremony unique to us and our families.

We had a non-traditional ceremony in a way as neither my husband nor I are particularly religious, but our families are. She took stories from Tony and I about how we met and fell in love, added some readings/ blessings (which we had a choice in) and organized everything from the sage cleansing, to the stories, to the vows and ring exchange, and the handfasting perfectly. Stacy sent us a copy of the ceremony in advance for us to look over and make any changes to it that we felt that we needed to. She was wonderful to help us be true to ourselves, but respect our families traditions all at the same time.

We had a few snafus (I was late and we were missing some items) and Stacy was abundantly patient with us. She was a calming energy in the midst of chaos. Several people mentioned that the vows and ceremony were the most beautiful (and fun!) that they had experienced. She provided us with a printed copy of the ceremony and a keepsake copy of a marriage certificate.

We highly recommend Stacy.

Are you interested?

Send a message

Lan

Married on 07/27/2015

We had an out of town wedding and so thankful to have found life celebrant STacy Mitchell. She met with us when we were in town, corresponded to us via email when we were out of town and helped us to build a beautiful wedding ceremony that reflected us. She had a detailed eye and asked all the right questions. She is very calm, very collected and easy to get along with. On our wedding day she wore something that blended in well with the wedding and really complimented our theme. A couple people commented on this aspect actually. Overall we had a wonderful experience with Stacy Mitchell and would highly recommend her.

Teresa

Married on 04/18/2015

Stacy created for us a dream wedding ceremony. Stacy took the greatest parts of our relationship and turned them into a story that could be shared with everyone present at the ceremony. Her work is nothing short of amazing, and her professionalism is without equal. During the whole process I felt like I was in great hands and never for a second worried about the ceremony, and for those of you planning a wedding you know just how great a gift that can be.

Stacy has a true gift for seeing the love two people share and translating that into a story unique to the couple that can be not only told, but more importantly felt by everyone. The questionnaire Stacy provides is well worth investing time and energy into, as the more honest you are the better the result.

I highly recommend Stacy to anyone looking to be married. She has a true talent for this, and on a day as important as ones wedding, you can't afford to have anyone less than perfect officiating. =)

Lara

Married on 10/04/2014

From the time we began planning, Stacy was everything we were looking for in an officiant. She was so down to earth and easy to talk to and flexible to any changes we wanted to make. She really listened to us and in the end, Stacy created a ceremony that was exactly what we hoped for. She really captured everything we wanted to on that day. We still get compliments from guests that it was one of the best ceremonies they'd been a part of. Not too short, not too long, not too cheesy...just right. We couldn't be happier with how our ceremony turned out and the guidance from Stacy that made it that way.

Julie

Married on 02/08/2014

We had a very intimate wedding ceremony in Pismo Beach. We were concerned about our arrangements because we live out of the area. Stacy did a fantastic job. She designed and delivered such a beautiful ceremony that truly reflected our personalities and maintained our desire for a personal, intimate wedding. Thank you so much for all your beautiful work!

Clay

Married on 09/28/2013

Stacy was wonderful in every way. She took the time to really get to know my fiance and I and drafted multiple versions of our ceremony, tailoring it until it fit us perfectly. Nearly everyone in attendance laughed and cried at some point. She was so fun and easy to work with, I can't recommend her enough.

Nicole

Married on 09/28/2013

Stacy was an excellent officiant. She really listened to us and cared about how we wanted our wedding to feel. She wrote a personalized ceremony for us and even took our feedback for a total of three drafts. So many of our guests have said that ours was the most unique ceremony they've seen, and that it was perfect!

Veronica

Married on 09/02/2012

We loved Stacy! We got married in Shell Beach on 9/2/12. Our ceremony was everything we wanted plus more. She did a fantastic job! All of our guests had nothing but wonderful things to say about our ceremony.

Amy

Married on 10/22/2011

Stacy officated at our wedding on October 22, 2011 in Avila Beach, CA. She did the most amazing job!!!! I found her here on wedding wire and am sooo grateful I did. Stacy is really in tune to finding out exactly what type of ceremony you are dreaming of and making that dream come true. She is truly a blessing and we are soo happy we got to have her officate at our wedding.

Nicole

Married on 09/30/2011

Stacey help make our wedding day truly special, and I highly recommend her to anyone getting married. She was very professional, easy to work with with and very supportive on our wedding day when I was nervous. My husband and I are very particular and we had a clear vision of what we wanted for our marriage ceremony. Stacey gave us a uniquely romantic service that was truly beautiful. Stacey creativity and experience gave her the ability to build us the perfect wedding vows that included all of the aspects we asked for and much more. Stacey even thought to asked me what she should wear to the ceremony so she would match in with the wedding colors.

Anne

Married on 09/25/2011

Stacy officiated at our wedding in Paso Robles. As background I want to note that we felt that choosing the celebrant was one of our most important wedding decisions. We had been to a handful of weddings in the previous year, and although the celebrants all did well, we knew that the right celebrant for another couple might not be right for us, and vice versa. We also did NOT want a friend or relative to marry us because we had been to several ceremonies at which the celebrant (a friend of the groom) spoke more about the groom than the bride, and that seemed out of place. We also wanted someone who would make the ceremony unique and personalized, and not just have us select from a "menu" of choices.

So, we started by sending email inquiries to a handful of celebrants and met face-to-face with the three whose responses we liked best. We had provided our wedding website in our initial email inquiry and when we first met with Stacy, it was clear she had spent time reading over our website. (And, both my husband and I like to write, so there was LOTS to read.) She definitely made more of an effort to prepare for our meeting than the others had and seemed genuinely interested in getting to know us. We felt that her warmth and her interest in hearing our story would likely result in a more personal, meaningful ceremony, and it absolutely DID. In addition to talking at length at our first meeting, she later had us answer (in writing) quite a few questions about our relationship and about each other. Using our meeting and our written answers as the backdrop, she wrote the ceremony and provided it to us in writing, word for word.

The end result was WONDERFUL: a very personal ceremony, one that was unique to us and our relationship. It wasn't just about the generalities of marriage and relationships; it was about us. It truly was the perfect tone, fitting us and our view of our marriage and our wedding day beautifully. She even allowed us to edit the draft as much as we wanted and she also allowed us to incorporate our own ideas.

So, we highly recommend Stacy if you are looking for someone who is professional and experienced and very good at what she does. She will listen to you and get to know you, and create a personal ceremony that fits both you and the tone of your wedding. She will guide you and inspire you, but will give YOU ultimate control over your ceremony. (For instance, this might sound unimportant, but she even showed us several options for her attire and let us pick what SHE would wear. When you consider all the photos that are taken during a wedding ceremony, what a celebrant wears DOES matter.) She was also responsive to emails, reliable about providing drafts when she said she would, and she was on time for our first meeting, our rehearsal, and the wedding.

We are SO very glad that we selected Stacy!

Adrienne

Married on 09/26/2009

We were so pleased with having Stacy involved in our wedding. She was everything we hoped we would find in our celebrant. I really feel that she listened to what we had to say and really knew us as a couple and that showed in what she put together for us. The ceremony was beautifully put together and everything she chose was amazing, personal, and very suited to both my husband and I.

Kelly

Married on 06/07/2009

The experience we had with Stacy was wonderful! She was extremely helpful and caring. She truly made a difference with her guidence. She's such a lovely person!
Our wedding day was so special!

Theresa

Married on 05/30/2009

Stacy was the perfect person to officiate our wedding. My husband is agnostic and I am Christian, so forming the perfect ceremony that blended both beliefs was one of the major obstacles of planning our wedding. I am so glad that I found Stacy. Without her, our wedding would not have been as perfect as it was. She took ideas from both me and my husband and formed a beautiful ceremony around them that accurately portrayed our love for each other and our differing religious views. She was wonderfully responsive to our requests for the few revisions that we wanted, as well as an unexpected last minute addition to the ceremony. We also received many compliments about the ceremony from our guests. I could not see anybody but Stacy officiating our wedding. She's amazing!

Tina

Married on 10/11/2008

My fiance and I were having an out of state wedding in Missouri. We were getting married at HaHaTonka State Park, and needed an officiant who was willing to travel and work with us even though we were not local. Stacy did a wonderful job of getting to know us over the phone and by email. She wrote a ceremony that was personalized for us and was absolutely beautiful! We could not have been more pleased with the results!

Susan

Married on 09/29/2007

Stacy was great. She was very flexable with what we had in mind and was creative in suggesting details that we had not thought about. Our wedding was beautiful with Stacy's help. I would not have chosen any other officiant for that day. She is great at what she does. If we ever renew our vows, Stacy will be the one to do it.

Christine

Married on 09/22/2006

An amazing officiant! Stacy Wilhoit made my wedding celebration absolutely beautiful. The ceremony was unique and was perfectly suited towards my husband and I. Stacy sat down with us, gave us questionaires and truely tried to figure out who we were. In doing this, she was able to create our perfect ceremony. My family and friends all commented on the wonderfully unique style that Stacy brought to the wedding ceremony. Not only do I have the perfect day to remember, but I will always treasure the actual typed script as a momento of my day. I would highly recommend Stacy to any engaged couple looking for a unique experience that will be perfectly taylored towards them.

Francine

Married on 04/22/2006

Stacy really listened to what I was wanting in a service - she took a lot of time to help me write and prepare the ceremony. She was wonderful in every way. She is a caring person who truely wants to make the dreams of her clients come true. She is an excellent listener and has the ability to turn your dream ceremony into a reality. I cannot express enough what a wonderful job she did and how comforting it was to have her as my officiant. She is a remarkable person.

Stacy was a great choice to conduct our marriage ceremony. As one of the most important events in a person's life, how do you go about finding someone perform the ceremony? My fiancé and I looked at a lot of websites trying to gleam as much as we could. There was something about Stacy's that made us call her first. After we met with her we knew that she would do a great job--and she did!

Catherine

Married on 06/16/2007

Stacy took the time to get to know us as a couple and helped us figure out what we wanted for our ceremony. She listened to our ideas and suggested content that she thought might fit our needs.
Are you interested?
Send a message