Phyllis Lynch Officiant & Music Services Reviews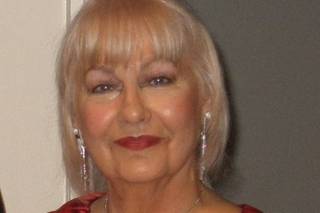 Phyllis Lynch Officiant & Music Services
Greenwood, IN
View more information
11 Reviews
Recommended by 88% of couples
Quality of service

Rating 4.3 out of 5

Average response time

Rating 4.6 out of 5

Professionalism

Rating 4.4 out of 5

Value

Rating 4.4 out of 5

Flexibility

Rating 4.3 out of 5
Awards

Laura

Married on 06/09/2012

Music was wonderful and just what I had wanted. Very reliable and a great value! You should pick Phyllis for your event music!

Audrey

Married on 10/01/2011

The duo of violins which performed at our wedding ceremony was beautiful! They took my requests and played them, as well as similar music, to ensure that there was no dead time. It was elegant, and beautiful!

Ginger

Married on 12/13/2008

Phyllis played Classical Guitar for our Ceremony and the Jazz-Plus Combo played our Dinner/Reception. Fantastic from beginning to end. We didn't have a Wedding Coordinator and Phyllis provided the itinerary (which we were allowed to change) but her guide gave us all the details and cues. The Ceremony went flowed smoothly and the guests commented how they enjoyed the music. The Reception Band played like background music for dinner, then went to upbeat afterwards. All styles of music. Our guests were really happy and stayed to the end. Rah! Rah! to Phyllis and her friends.

Donald

Married on 02/22/2008

Phyllis and Friends took care of all of our music: ceremony, cocktail hour, reception and they were GREAT to work with. We didn't have a Wedding Planner and they guided us, made suggestions, and we had the most perfect wedding. We used a Piano/Violin Duo for the ceremony and Cocktail Hour and The 4-pc Jazz-Plus Band. They did all the songs we wanted. Their vocalist was stupendous, Trumpet like Chris Botti, very accomplished Bassist, and a very versatile Pianist. I strongly recommend them.
Donald James

Chaunna

Married on 08/18/2007

Very Professional String Quartet. They were way above our expectations. We had so many positive comments from our guests. Definitely a class act. We have already recommended them to our friends.

Riley

Married on 06/14/2007

I highly recommend Phyllis. She played everything beautifully and the music flowed as her timing was perfect. She knew exactly what we wanted (more than we did). I didn't have a wedding coordinator and she printed out all our instructions for us. She's a real pro!

Amy

Married on 05/02/2009

Phyllis and Friends did such an beautiful job with our wedding 5/2/09. All of our guests have complimented the string trio we had and reiterated how beautiful the music was at the wedding. Kathryn Schilling did an amazing job helping with the arrangements, and keeping everything flowing smoothly. My husband and I agree that it made our wedding ceremony extra special! Kathryn even went above and beyond to order new music for us when she didn't have a few of the songs that I had liked (Vivaldi) - she was GREAT - so helpful with recommendations (as I'm not aware of all of the classical music out there) and was very flexible.

I don't think we could have asked for a greater trio! They made our special day so beautiful - so you should definitely consider Phyllis and Friends. You'll be in GREAT hands! Ask for Kathy Schilling!

Mary

Married on 01/12/2008

First Class! The Jazz-Plus Band provided exactly what we wanted. We wanted music from many decades since our guests spanned generations. They played while we danced and played thru dinner. Their volume and selections were very appropriate to what was happening. Not too loud, not too soft. All of the musicians were very accomplished. The vocalist was smooth like Tony Bennett, the Trumpet was like Chis Botti, and Phyllis was like many rolled into one. They really helped to make it extra special. Highly recommend them.

Sarah

Married on 05/17/2008

The ladies in the string quartet for the ceremony were very professional and the music sounded great! The band for the reception sounded wonderful, as well, but we had the leader of the band do our announcements and he seemed to struggle a bit. We were told that he had been the MC for other weddings, but that didn't seem to be the case. Other than that, everything was great! All of the musicians sounded wonderful and were very professional and courteous!

I can't remember the exact cost for the services, so I may be off.

Wendy

Married on 10/17/2009

Phyllis is a kind woman who knows music well. I "rented" a string trio for the day of the wedding and was so pleased with the quality of music. However, I was turned off by the rudeness of one particular instrumentalist. When you pay $300 an hour for musicians I would expect them to be flexible (and as a musician myself I know I would be). The group refused to play outside in our heated tent for the duration of the wedding because one musicians ankles were cold. This was, of course, after we sealed off the tent from any extra wind they may sneak in. We also made sure the musicians were next to the heater.

Again, the musicians were talented and did play in the tent for a good hour. I was just disappointed with the sour attitude one particular woman gave off.

Phyllis Lynch Officiant & Music Services's reply:

This was for a reception, not a ceremony. Our contract states, and it is verbally stressed to our clients, that they must have alternative arrangements in case of inclement weather and that musicians will NOT play outdoors below 60 degrees (which it was). The Cellist's instrument touches the ground and is also subject to the heat of a heater so this contradiction affected her tuning. Also fingers have a difficult time playing "cold" especially classical music, because of fine muscles and rapid movements and over extended periods of time (3-hours). They did play outdoors for one hour, until they couldn't deal with it anymore. This was explained before hand and also included in bold type in the contract.

Christa

Married on 03/10/2007

I do not recommend this place, the owner Phyllis played the classical guitar for my ceremony and it sounded like it was the first time she had picked up that instrument. It was horrible. There is a reason she has cheaper prices than others, DO NOT BOOK HER!! I found out the hard way!

Phyllis Lynch Officiant & Music Services's reply:

Things were fine for the Prelude music. My sound guy had fixed the settings on my sound system and left. Then the client, wedding party, had some people recording the music when the ceremony started and plugged in to my amp which caused major feedback and the space allocated to me was so small that I couldn't get any distance from the amp. I'm not a technician and couldn't figure what adjustments needed to be made and they wouldn't unplug so I had to turn down my volume to hardly audible.