Reviews
5.0 out of 5 rating
Quality of service

5 out of 5 rating

Average response time

5 out of 5 rating

Professionalism

5 out of 5 rating

Value

4.9 out of 5 rating

Flexibility

5 out of 5 rating
99%
Recommended by couples
49 User photos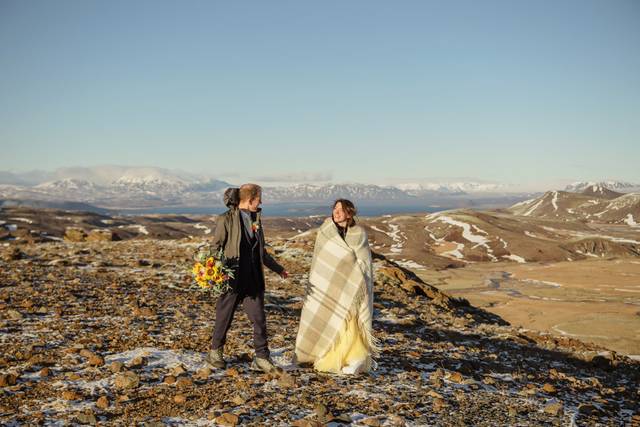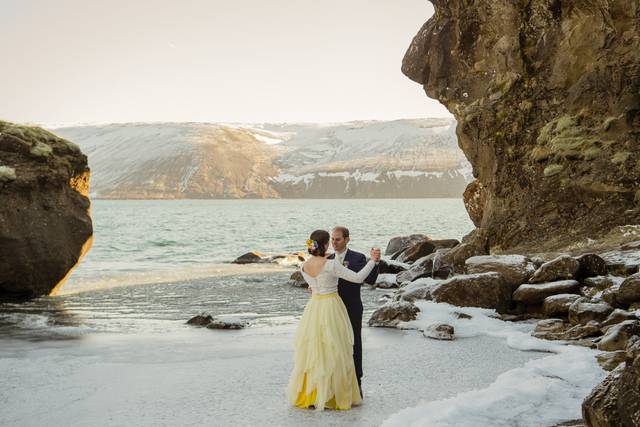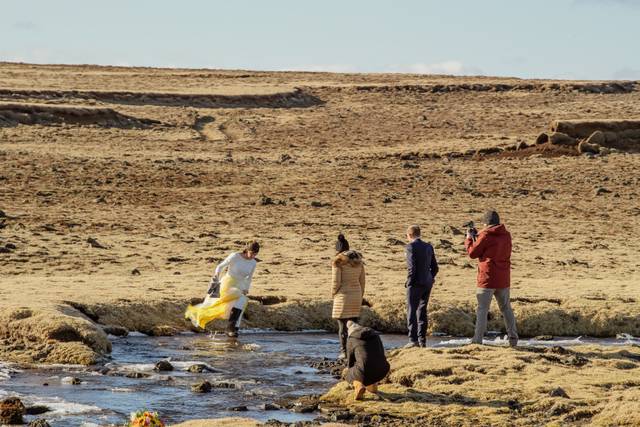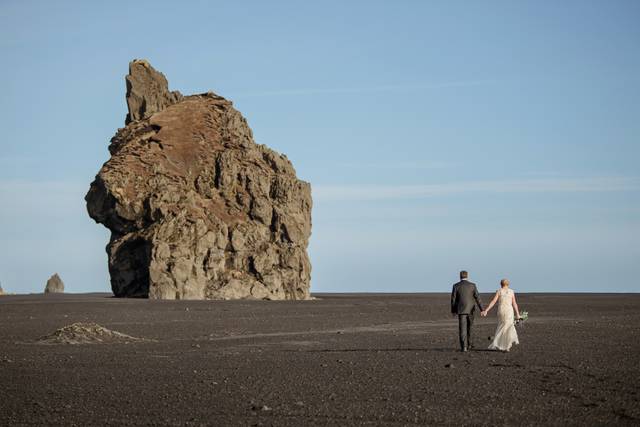 + 45

photos
Caitlyn

Married on 03/06/2019

Incredible, amazing, magical adventure elopement

Scott and I are incredibly grateful to Ann and her team for ensuring we had the elopement of our dreams. From our first interaction, Ann was responsive and engaging, approaching everything we brought to her with a high level of professionalism and a can-do attitude. The quick turn around of our complete album was nothing short of astounding, and the quality was second to none.

Our day was nothing short of incredible, and every time we look at our stunning photos we are flooded with special memories - from exchanging vows in a private ceremony, to our first dance on a frozen lake, to watching whales from the sea cliffs, to hiking across untrodden snow, to discovering new locations and feeling the Icelandic wind in our faces as we looked to our future, to an intimate dinner in front of the fireplace, to seeing the northern lights for the very first time on the night we got married.

Ann guaranteed us a memorable day, and she absolutely delivered on that promise. There were definitely times when we were freezing and felt every gust of wind cut right through us - an adventure wedding is not for the faint of heart! - but it was worth it to have those private moments in such incredible landscapes and for those priceless memories.

At the end of our day, we were happy, relaxed, and basking in the glow of our adventure - and every time we look at our photos, or watch the videos our talented videography team gave us, all of those feelings come flooding back.

If you are considering eloping, I urge you to do it. If you have a love of adventure, we'd happily recommend Ann and her team.

I keep asking my husband on which anniversary we get to go back and do it all again...

I've attached some "behind the scenes" style photos - For more mindblowing photos and a better showcase of her abilities, please see Ann's blog post: https://icelandweddingplanner.com/2019/05/28/getting-married-in-iceland-caitlyn-scotts-elopement-story/

Jill S.

Married on 02/27/2019

Awesome Adventure

Ann and her team are awesome! Always quick to answer questions and so patient. Ann had every detailed planned out, so there was no stress on us. We were able to enjoy our special day! It was a true adventure from our first Skype meeting to the final shot under the Northern Lights. Ann's work is amazing, you won't be disappointed! Such a fantastic experience - you'll want to get married over and over again!

+ 3

photos

Josephine T.

Married on 12/17/2018

She's the best in Iceland, period.

Ann is amazing!! We live in the US and she helped coordinate our mid-December wedding in Iceland. From start to finish, Ann was responsive, knowledgeable, detail-oriented, and completely focused on making sure our day went smoothly. Not only did her schedule work out down to the *minute* and despite unpredictable Icelandic winter weather, but the photos were fantastic! She also got our photos to us within two weeks of our wedding, which has to be a record for a wedding photographer. Her fee is super reasonable, and we definitely felt she was worth it. It is really nerve-wracking to hire a wedding planner in another country that you don't meet until the day before the wedding, but Ann was so on top of everything, our wedding ended up being a stress-free and actually FUN process. She also used really great vendors, our super jeep guy Gudjon was wonderful, as were her hair and makeup stylists. Lastly, Ann went above and beyond to help us craft pre and post wedding itineraries.

Are you interested?

Send a message

Billy B.

Married on 10/17/2018

Best Wedding EVER!

Ann and her team gave me and my wife the best adventure wedding ever! After scouring the internet for months to try and find a suitable elopement package, Lauren came across 'Your Adventure Wedding' and I can't imagine a more incredible day with anyone as amazing as Ann and her team. There was something different about her photos that really stood out and it was love at first Skype!
Ann had everything planned down to a T and the itinerary was more than perfect. We saw things and went places we never dreamed of with no stress or worries at all!
We got amazing photographs of the best day of our lives, and an experience we'll never forget. Me and Lauren cannot recommend them enough.

+ 2

photos

Zach L.

Married on 10/13/2018

Ultimate Iceland Wedding Experience

Iceland Wedding Planner is the way to go when considering a wedding in Iceland. My wife and I have been talking to Ann since 2017 when we first contacted her. We then got married in October of 2018. Along the way, Ann took care of pretty much everything. She is very organized and made sure we knew exactly what we were getting into from a financial and experience standpoint. She took care of the most intimidating part, the paperwork for getting married in Iceland (we live in the US). During the planning phase, she made sure we would hit all the locations we wanted to and gave us a lot of options. As for the wedding day itself, there is no experience that can compare.

Let me tell you about our day. We got up nice and early to get ready then drive to our destination. Once there we hiked up a mountain. There we got married on the mountainside. After that, we drove around all day making many stops at amazing locations. Often hiking 10-30 minutes to get to the ideal location. Props to my wife for doing all of this in a wedding dress. After dinner, Ann took us out into the cold night to get some amazing Northern Lights pictures.

We knew a "traditional" wedding wasn't for us and Ann made our dream a reality.


+ 2

photos

Laura L.

Married on 09/11/2018

Organised, professional and amazing

We used Ann and her team to plan an elopement and it was the best decision we ever made. From the first contact she was professional, responsive, understanding (particularly of the late night panic emails) and super knowledgeable about the whole process. She made the legal marriage bits easy to navigate, and the planning fun.
Our wedding itself ran like clockwork, nothing was stressful or felt rushed, everything just seemed to flow from one part to the next. We barely saw another person all day which was just what we were after and the places she took us to were gorgeous. The local knowledge of the area was great and at times it felt a bit like we were getting our own private tour of Iceland.
She also looked after all the small details which we hadn't thought of, and just made things extra special.
The photos we got afterwards were stunning, and delivered really quickly (with a couple of cheeky previews before that to keep friends and family happy in the meantime). Overall we had the best day, and it was thanks to Ann and her team, and we would definitely recommend her to anyone looking to get married in Iceland, and wants to have an experience off the beaten track which they will remember forever

Josalyn J.

Married on 08/18/2018

An Epic Day in Iceland

With so many positive things to say about Ann and her team it's difficult to know where to begin. We first contacted Ann two years prior to our wedding date and weren't sure about hiring a wedding planner. BEST DECISION EVER! Ann's attention to detail was above and beyond our expectations and with the many questions that came up along the way she was always prompt to reply. We could not have asked for a more perfect day that played out seamlessly. We were fortunate to have amazing weather but Ann was prepared for anything that mother nature could have thrown at us. The locations that she took us to were beyond our imagination...amazingly beautiful and super private! Her bubbly personality is infectious and so much fun....and her level of energy - crazy! Everything that she does makes for an unforgettable experience that you won't find anywhere else.

Sarah

Married on 05/26/2018

Matthew and I had a wedding that was beyond perfect. We knew we were wanting to do something intimate, unique and memorable, but Ann and her team delivered that and so much more. My husband and I cannot be more thrilled with our wedding. The sites that were planned were gorgeous, the food was perfect, and the super jeeps were so much fun. I could rave for days, but the bottom line is Ann is the perfect wedding planner. She's friendly, organized, extremely talented and so easy to communicate with. If I could do it all again, I would do it exactly the same, rain and all! Ann and her team were able to take us to parts of Iceland that a normal tourist would not be able to experience or think to visit. So, she made it very cool, adventurous and such a special way to get married. We also absolutely love our photos that came in a manner that was so fun! Every guest that made the trek to Iceland with Matthew and I are still talking about how magical the experience was and how we all want to go back!

Jacalyn

Married on 04/24/2018

My husband and I cannot speak more highly of Ann and Iceland Wedding Planner/Your Adventure Wedding. We knew immediately that we wanted to work with her: her personality is bubbly and infectious! She is so knowledgeable and makes you feel completely at ease from the very beginning of the planning process. Planning a wedding abroad is a daunting task, but Ann took ALL of the stress away. We corresponded countless times over a year and a half of planning, and she always responded to our exhausting list of questions promptly. When it came time for our wedding day, Ann was flawless in execution. She corralled the two of us, our videography team, and both sets of parents without breaking a sweat! She ensured that our day was absolute perfection – from 5am to almost 10pm. It truly allowed us to relax and take in the magic of the entire day. Her photography style is absolutely stunning, and it was fun to watch her in her element all day. She has such a great eye for detail, I loved the moments when we would stop the van and run out for 5-10 minutes of pictures just because the light was perfect. I cannot begin to express how grateful we are to Ann, her team, and all that was done to ensure an EPIC wedding day!

Ashley

Married on 03/14/2018

Ann and her team went above and beyond to give us the most epic wedding day. We were initially bummed that some of our locations were compromised due to insane but typical Iceland spring weather (50+ km/h winds, snow, sleet, and rain). Ann's positive attitude and flexibility got us through it and we couldn't be happier with the results. She really will do whatever it takes to get the perfect shot and is very professional and prompt with her communication during the pre-planning, wedding day, and post-wedding stages.

Stephanie

Married on 03/12/2018

We had the time of our lives on our elopement in Iceland with Ann and her amazing team! They were super professional and organized like you wouldn't believe! We chose awesome places that we wanted to experience and have our pictures taken. As with the unpredictable weather in Iceland, especially in the winter, there were spots we couldn't get too. Ann and her team had other places "up their sleeves" in case we couldn't go to the areas we chose. These other secret spots were probably more amazing than the original areas! So beautiful! We are so incredibly happy we chose Ann and her team to plan, create and make our Iceland adventure wedding an epic, unforgettable day!

Rebecca

Married on 02/17/2018

My husband and I can't thank Ann enough for making our Iceland elopement everything we hoped it would be: a magical, romantic adventure! She didn't miss a detail and thought of everything that we needed and wouldn't have thought of on our own. She was in constant communication leading up to the big day, providing everything from guidance on legal paperwork to hidden secret sights for the rest of our trip. She and her team are the best. Of course, the photos are just spectacular!

Didi

Married on 10/29/2017

My husband and I went to Iceland on our first vacation and ended up getting engaged. We decided we had to go back and elope in such a beautiful and meaningful place. We did a search and of all the planners we found, Ann stood out the most. Her website was comprehensive and she did an artful job of showcasing her wedding/elopement photography. We changed our mind several times before we finally decided on a package and she was very accommodating and never made you feel rushed or like you were wasting her time. The actual adventure elopement was better than any traditional "tour" you'd go on in Iceland. It was just my husband and me, Ann, and our awesome driver. We drove through rivers, up mountains, on the beach while jumping out at every location to take pictures. Touring the country while getting married was the best experience and I'm so glad Ann captured it all for us. When I look at my pictures to this day, it takes me back to each moment as if it happened yesterday. Choosing anyone else would not do that day the justice that Ann did it.

Crystal

Married on 10/07/2017

Ann was fantastic, simply put- she made sure we didn't have to worry about a think and could truly enjoy our wedding. She took great pictures (stunning, absolutely stunning pictures), all while coordinating everything and I mean everything (food, transportation, essentials, venues, celebrant, etc.). When my groom got a rip in his suit (seriously a rip down the back of the suit the first time he put it on...), she was like no problem I can sew it now or fix it in photoshop. She took care of everything. When we got home and reminisced about our adventure, both thought that working with Ann was one of the best decisions we made for our wedding.

Mark

Married on 09/27/2017

Our wedding was the most magical and fun day imaginable and provided us with unforgettable memories of a beautiful ceremony on a mountainside in Thorsmork in the misty rain, followed by exploring some of the most beautiful places in Iceland – stunning waterfalls, vast and intimate canyons and rugged beaches of black pebbles.
Ann and the Iceland Wedding Planner team don't offer a formulaic experience. She provided options for itineraries and information and images of various destinations and from this we chose where we wanted to visit and created our own tailored experience. Ann also provided options for the wedding details (celebrant, hairdresser, flowers and wedding cake) so we could create exactly the feel we wanted.
Ann just doesn't bring creative flair to the wedding. She is the consummate professional who manages all of the administrative issues and scheduling with detail and precision. We had a few issues in getting some of the paperwork required by the Icelandic authorities but Ann helped manage this process to ensure there were no unexpected issues.
As a result, every part of the day was meticulously planned by Ann so all we needed to do was enjoy every moment. On our wedding day Ann exuded warmth and made everything fun and enjoyable. She also chooses her service providers to ensure they provide the same combination of friendliness and assurance that everything would go smoothly.
Ann's photos are just extraordinarily beautiful and perfectly capture the magic of the day. Ann is a very accomplished photographer and has the ability to craft amazing images using the light and the natural landscapes. We now have several pictures hanging on the wall and they stand alone as works of art – with the added benefit of constantly reminding us of our wonderful wedding day.
So, if you are considering an adventure wedding in Iceland, don't consider anyone else. Ann and the Iceland Wedding Planner team will provide you with the best experience.

Sonia

Married on 09/23/2017

Working with Ann was a pleasure. She was always professional, creative, and full of positive energy while we were planning our elopement. As an added bonus, she is an absolute joy to be around. Even though we eloped, we genuinely feel like we spent our wedding day with good friends (her assistant was also a delight).
We wanted to get married in Switzerland, a location photosbymissann had not previously ventured to. We decided to take a leap of faith by booking an inaugural trip with Ann and boy did it pay off. Ann took our input and managed to find beautiful locations, totally nailing our vision. We love our pictures, not only because they capture the beauty of the surrounding landscapes, but because our personalities and love for each other really shine in our photos. The little moments she managed to capture, coupled with epic shots, do not feel not contrived in any way.

Taylor

Married on 09/08/2017

What an incredible experience! From first deciding that we wanted to have an adventure wedding through the wedding day, Ann was absolutely fantastic to work with. We started with our Skype meeting to discuss what we wanted our wedding day to look like and for her to learn more about us. From there, she put together multiple itineraries with so many breathtaking locations to visit throughout the day. I appreciated the variety and ended up loving locations from all of the lists she sent us, so she helped us create a new itinerary with all of our favorites and a couple of new locations she scouted. Ann was so helpful with getting details arranged in Iceland like hair, make-up, and the officiant (Pastor Egil is such a wonderful man - we couldn't have asked for a better person to marry us!). Then the day of our adventure wedding, the whole team she created was great. Ann was very thoughtful with her processes, coaching us through our photos, and making sure we were comfortable throughout the day. It was incredible, but so exhausting! We started the (windiest!) day at Thjofafoss and spent the rest of the day super-jeeping through Southern Iceland to a glacier, a canyon, a couple of caves, and waterfalls. Our day ended back at our hotel for a private reception for two and the surprise of the Northern Lights! I can't put into words how much we loved this experience. It was a perfect way to get married and have this day truly be about us and spending our lives together. Thank you to Ann for the most memorable and perfect day we could have asked for.

Cameron

Married on 08/28/2017

I wish I could give Ann more than 5 stars!! I contacted her about planning our Iceland wedding, and about 8 months later it was a reality! Ann was great with communication and answered every single little email I wrote almost immediately. We had a small, family-only wedding (the 2 of us and 9 guests) and Ann made it more amazing than I ever could have dreamed!! She has connections to private locations, which is so necessary now that the top sights in Iceland are visited by so many people each day. Our ceremony was held in front of a secret waterfall and we had our cocktail hour in a private cave -- not a single tourist in sight! On top of that, she delivered stunning photos of our perfect day. I would recommend Ann to anyone wanting to get married in Iceland!! Video of our wedding day: https://www.youtube.com/watch?v=W_u9Xdmw-qM

+ 2

photos

Michelle

Married on 08/12/2017

Ann was GREAT, she was exactly what we were looking for. My husband and I came from Canada to have our adventure wedding in Iceland. We spent days choosing our locations and then a huge storm forced us to change all of them the night before, but Ann still delivered on great locations and kept the stress levels down. She listened to the kinds of photographs I wanted and delivered amazing results. Communication was easy and prompt and it felt like I barely had to do anything, just make a choice on something and Ann would get it done!

Rachel

Married on 08/10/2017

Honestly, I am not sure where I can even begin. My (at the time) fiance and I were repeat customers for Ann. Our first trip to Iceland was 2 weeks after our engagement. I searched and searched for a local photographer which was difficult so last minute.. but then I found Ann. She was fantastic. We are not picture people and were scared it would be awkward and it was the complete opposite. We had the BEST time at locations we never would have known about if not for her. Hands down our best day on that first trip to Iceland and our engagement photos were out of this world. So naturally, a year later when our 100 plus people wedding had gotten out of control and too far gone from what we wanted.. going back to Iceland to elope with Ann's help was a no brainer. Let me start by mentioning.. this was pulled together in LESS THAN A MONTH'S time. Our at home wedding got so out of our reach that we last minute decided to escape for a few days just weeks before our wedding in order to get married on our own terms. Ann was up for the challenge and helped us get everything we wanted without skipping a beat. To say it was the most incredible experience and day of our lives would be an understatement. Her whole team was professional and helpful and honestly just downright FUN. There was not a single detail left out or missed. Our only complaint is that it is over. Luckily our photos are the most breathtaking remembrance of such a perfect day. If you are looking to get married in Iceland look no further, you really cannot find anyone better than Ann and her team! Deciding to elope in Iceland was the best decision we have ever made and it would never have been possible without Ann- her enthusiasm and love of adventure are infectious. We are forever grateful for our most perfect day.

Petra

Married on 07/07/2017

Your adventure wedding. Promised and delivered.
Our wedding was a year in the planning. And from beginning to end a most exciting and memorable occasion. Ann helped with paperwork which all went easy and smooth.
We are so happy to have chosen and met you. You and Your team are fabulous.
Thank you for making our wedding the most memorable of all weddings ever.
We shall treasure your photos, your spirit and your help forever.
"With a smile" you deliver.
"With a smile " you left us
"With a smile " we can recommend you as the most flexible, most adventures, most helpful wedding planner and photographer.
Thank you for being you
Petra & Jan

Emily

Married on 06/23/2017

Simply Amazing

My husband and I used Iceland Wedding Planners for our wedding last year, and we cannot say enough good things about Ann and her team! From planning all of the logistics ahead of time to the day of the wedding, Ann made sure everything went just the way we hoped it would without any stress. We thought getting married in Iceland would be amazing, but Ann made it even better than we could've imagined. And her pictures were stunning. They captured the beauty of Iceland, tender moments, and laughter. They were everything we hoped for. We can not recommend her enough!

Jodi

Married on 04/14/2017

Ann is absolutely the very best!! We were so fortunate to find her to be our wedding planner and photographer. We knew we wanted to elope to Iceland and get married but had never been to Iceland and had no particulars in mind. As soon as we saw Ann's website and her idea to have your wedding be an adventure wedding in Iceland, we were sold! And she was fabulous! From the moment we had our first Skype session with her, through the planning phase, the days before the wedding day, the UNBELIEVABLE & AMAZING WEDDING DAY, to our honeymoon in Iceland which she planned for us; she was there to answer any and all questions and give us a unique beautiful meaningful adventurous wedding day that we will never ever forget. And her photos are absolutely STUNNING! We cannot give Ann enough kudos so if you are thinking of getting married in Iceland and you want a unique experience then we highly recommend Ann and Iceland Wedding Planner. Jodi & Patrick

Stacey

Married on 03/15/2017

Stacey & Aaron 15th March 2017
Country - Iceland wedding
Location - Little black church Budir and then an adventure of the surrounding area

After we decided on the beautiful location of Iceland we researched Iceland photographers and Ann's work kept catching our eye. We got chatting to her, she was extremely friendly, enthusiastic and attentive. We sent Ann a photo that caught our eye of Budir church with the surrounding area being a burnt orange/yellow colour and a white snowy mountain backdrop and asked her 'What time of year is this?' She replied "it's Iceland it could be anytime of the year. Every day is different and unpredictable but thats the magic of Iceland, no wedding is ever the same'. We absolutely new what she meant and decided on the month of March with an open mind that we could face any weather conditions on the day. When the day arrived it was cold crisp morning, it had snowed the night before so there was a thin layer of snow on the ground. The grass was a burnt yellow/orange colour, the sky was moody and the mountains were white, It was perfect for the photos. The ceremony was super early in the morning meaning we had the rest of the day to go on what was the best adventure of our lives". Ann really packed our day with adventure and fun, we visited lava fields, black volcanic beaches, explored Snaefellsnes Peninsula, crossed rivers and hiked to secret waterfalls. If the day couldn't get any better we then explored Vatnshellir Cave which is an 8000 year old lava cave. We followed the path of the lava flow, about 200 meters into the cave and 35 meters below the surface to see amazing colors and lava formations. We were the first couple ever to do so on our wedding day. It was truly spectacular.

Ann is incredible photographer and a daring adventurer, we would highly recommend her.

Jasmon

Married on 02/17/2017

We engaged Ann to plan and photograph our elopement in Iceland. She provided many options for the locations and guidance of the documents required to register our marriage in Iceland. She even helped us with our itinerary for the rest of our trip. We had the craziest day of our lives and it was only possible because of Ann and the energy she brings with her. We love the secret waterfall (her idea) where we registered our marriage and although the weather turned rainy in the middle, Ann was able to change locations, always asking if we're doing ok and running by us the options we have for the rest of the day. The day felt just right, neither too long nor too short, making us felt accomplished. Even after the actual day, she continues to follow up on our documents to make sure we received them back home. Absolutely glad we gone with Ann for our elopement.
Are you interested?
Send a message