94 Reviews
Recommended by 99% of couples
Quality of service

5 out of 5 rating

Average response time

5 out of 5 rating

Professionalism

5 out of 5 rating

Value

5 out of 5 rating

Flexibility

5 out of 5 rating
14 User photos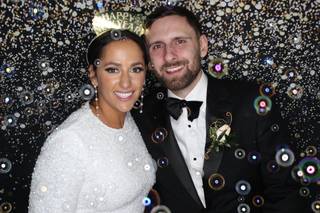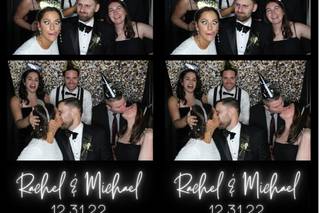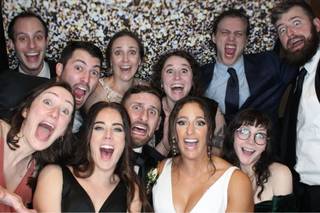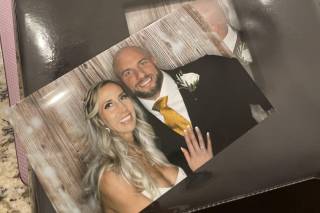 + 10

photos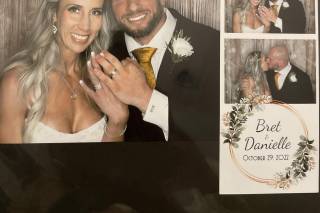 Rachel

Married on 12/31/2022

Perfect Photobooth Experience

Working with Greg was an absolute joy. During the planning process he was transparent, communicative, and worked with us the whole way through (by email and even text). On the day of the wedding, the photobooth was the hit of the night (and our wedding was on NYE!). We ended up choosing the enclosed booth and it was perfect for our space. After the wedding, Greg was quickly in touch to get us our guestbook and prints. The pictures are amazing and you can really tell how much fun everyone was having. Before booking Greg, I thought all photobooths were created equal but I could not have been more wrong. I will be recommending him to anyone and everyone!

Jennifer W.

Married on 11/11/2022

Our guests loved the photobooth and Greg was great!

Greg was very responsive and answered my several questions quickly. The bride and groom were very happy and thanked us for choosing him! The scrapbook really made the choice for me as none of the competitors offered that.

Danielle P.

Married on 10/29/2022

Amazing Photo Booth - and must have book!

I was at a previous event with Photo Booth Events and loved it so much I decided to hire them for my own wedding! Greg is attentive, professional, and tons of fun. My guests and I enjoyed the photo booth and the guest book my husband I will cherish forever. This is a MUST to capture the special moments at a wedding or any event!!!!

Are you interested?

Send a message

Courtney S.

Married on 08/20/2022

A wedding must have!

Do not even hesitate to hook Greg for your wedding or big event! His service and product cannot be matched. Booking him was one of the best decisions we made for our big day. From the quality of photos, to the wide variety of props, our guests were absolutely thrilled with this photobooth. He even took the time to compile a photo album with everyone's pictures from the night along with a message. We are so happy we booked him!

Scott W.

Married on 08/12/2022

Amazing Guest Book!

Greg was extremely responsive and pleasant to work with. The guest book he created with the photos was fantastic and absolutely worth it! Absolutely recommend

Allison

Married on 06/18/2022

Greg is the man!

So many people had so many good things to say about the photo booth. I never imagined that we'd find a photo booth vendor who was such a nice guy. Greg was genuinely excited to work with us and his energy made the photo booth an absolute hit! We are so looking forward to seeing the included photo book that he made sure everyone participated in creating!

Kasey M.

Married on 02/19/2022

Must Have for your Wedding or Event!

We hired Greg for our wedding and it is one of the best decisions we made! He was wonderful to work with - kind, affordable, responsive, and professional. Our guests are still raving to us about how fun it was and how much they love their pictures! We were so thrilled to get a book of all photos and messages, a USB with all the digital files, and plenty of prints for us to keep! Our guests were thrilled to get their pictures printed on the spot and get to take them with them. An absolute must-have for your day! So so happy we went with Greg :)

Alexandra M.

Married on 11/13/2021

A must have!!

Choosing this vendor for my wedding photobooth was one of my best choices during the planning process! Greg was incredible and all the guests are still raving about him. He made everything so fun and wanted to include everyone. We can't wait to see how everything turned out!

Jessica B.

Married on 09/25/2021

Great time

I am so happy with my experience with Photo Booth events. From the beginning Greg was almost immediate in responding back to me which was so helpful. We met via phone the week of to work over details and he was so good at asking what I wanted but also guiding to what he has experienced and worked well in the past. I didn't have to worry at all about him getting there or getting set up. It was a blast having him there to pull people in and encourage them to write something for our book. I cried when the book arrived because it has so many great memories with the people I love. He even put our guest book together and sent it with extra copies and a USB of all the pictures. So many of my wedding guests talked about how much fun the booth was and how much fun Greg was. Thank you thank you thank you!

+ 2

photos

Chelsea A.

Married on 04/24/2021

Book with Photobooth Events !

Our experience with Greg and Photobooth Events was amazing ! Greg was very responsive and soo accommodating ! literally the day before our wedding we had a few change in plans and Greg handled everything with no problem ! Our guests had an amazing time and were even asking us after the wedding for Greg's info to book for their future events. We love the different photo options he had available and the photo book he made us with all the guests photobooth pics and their personalized little notes to us will be something we forever cherish ! We can't thank greg enough for making our wedding day so much fun, 10 out of 10 highly recommended !

Lawrence H.

Married on 11/10/2020

First Rate Service

Greg was tireless all night at my daughters wedding and the pictures came out great. Would highly recommend his company to anyone.

Lindsay M.

Married on 10/10/2020

Amazing experience!

From the beginning, Greg was so great to work with. He was easy to communicate with and made the entire process seamless for our big day. Everybody raved about the photo booth from my friends (ages 25-35) to my parents friends (50+). Everyone loved how the photo booth had fun props and was able to accommodate a larger crowd of people because Greg was controlling the camera. It was definitely a major highlight for myself and all of my guests that night!

Brian

Married on 10/19/2019

October Wedding

My wife and I were looking for a photo booth for our wedding, and we got so lucky with Greg! He absolutely made the photo booth - he has a great personality, is fun and engaging and makes all the guests have a great time! He brought a ton of props to use with the photo booth as well. Would highly recommend!

Kristin

Married on 09/29/2019

Greg was so much fun!

I haven't even received my Photo Booth book yet, but I have nothing but great things to say about Greg and his booth! He went from table to table to let everyone know to come to the booth. I was busy for most of the reception, of course, but when I finally got in there with my friends, there were plenty of Photo Booth shots already taken for the book! While we were in the booth, he was hilarious and got some real laughs out of us! He was such a pleasure! HIGHLY RECOMMENDED!

Judy M.

Married on 08/18/2019

Pure Fun for our Happy Event

Using Greg from Photo Booth Events was the perfect choice for our children's wedding. The high quality of the pictures made me want to keep going back for more. They are the first photo booth type pictures that I have framed and my friends tell me they did the same. Greg was a pleasure to work with. He was responsive, kind and helpful. The book he made for our bride and groom is adorable and pure fun to look at. It is a happy reminder of our very happy day! I have gotten rave reviews from our happy guests!

Alison L.

Married on 08/18/2019

Amazing Experience!

Greg is the best! From the initial contact to after the wedding, he was amazing. Communication was always clear, and during the wedding he was non-stop! He also made sure to introduce himself to me, which I found very professional and nice. Everything came out amazing, including the guestbook which comes with the package! My husband and I loved looking through all of our guests pictures and messages, and it came quickly after the wedding! I would recommend Greg to everyone and anyone!

Photo Booth Events's reply:

Alison!

Thank you so much!! It was a pleasure to be a part of your special day. Thank for your the incredible review!

Sam D.

Married on 04/13/2019

Was busy all night!

Greg was awesome! From the moment we contacted him he let us know that he didn't need too much from us until a few weeks before the wedding and then checked in with us again. He kept it easy and made our custom fonts/date for our big day and explained all aspects of the photobooth. The day of the wedding he seemed to be pretty busy all night!! The thing we appreciated the most is that near the end of the night he checked in and made sure we got final pictures of just us. We really appreciated that since we hadn't really had a chance to enjoy the photobooth the way all of our other guests were! Greg was super awesome after the wedding as well and contacted us for the guest book to make sure it was sent to the right place and that we got everything we needed! Can't recommend enough. Plus after the wedding we had a bunch of people ask us about Greg and how they could contact him, so clearly a sign that Greg was awesome and did a great job!

Photo Booth Events's reply:

Thank you so much Sam! It was such a pleasure to work with you and your guest! We had a fantastic time and sincerely appreciate the great review!!

Sarah A.

Married on 03/30/2019

Highly Recommended!

Working with Greg was super easy! He was extremely responsive and professional. The photos turned out great and we're so happy with the book that we got to keep with everyone's messages!!

Photo Booth Events's reply:

Thank you so much Sara! We had a blast at your reception. So happy to be a positive part of your special day! Wish you guys all the best! Thank you again!

Erin

Married on 09/15/2018

GREG IS THE BEST ! I have never seen anyone work so hard, and we got compliments on this guy all night!! I know Greg is hurting after our wedding with approximately 220 guests - he worked non-stop all night - but people COULD NOT stop talking about how great he was! (Note: we had a SURPRISE HOT AIR BALLOON giving RIDES to our guests during cocktail hour - and he was STILL the busiest man in show biz and the most talked about part of the reception (aside from us of course).) Even before the big day, Greg was obviously the best of the best. He came down to meet us in person in our own neighborhood, customized fonts for us, and was responsive and excited about the day. The props were great, he got made sure everyone signed our photobook (which was our guest book), and the pictures I've seen so far are incredible; he made sure every photo was perfect – literally directing people from the outside of the booth. I can't say enough how much Greg helped make our day absolutely amazing, and I can't wait to see all of the pictures and our guest book(s). THANK YOU!

Photo Booth Events's reply:

Erin! It was truly a pleasure working with you! It was great to meet you guys before the big day...that really makes it more fun for me - to better know the b&g - I always give it my best but knowing you personally makes me give it that little bit extra. Thank you again and I'm so sorry I didn't get on that hot air balloon!! Amazing day!

Kristin

Married on 08/25/2018

My husband and I found some extra room in our budget for a photo booth and we are SO happy to have found Greg. From the moment I contacted him, he was responsive, professional, and super nice. The room provided by the venue for the photo booth was a little awkward, but Greg was able to work with it. During the reception, he checked in with us to give sneak peeks of some pictures and even to remind us to get in there. Every one of our guests had a blast, and the finished photo book really reflects this. We had so much fun going through the book - which looks amazing! - and were happy to also receive some extra photos and usb drive. Additionally, the photo booth is wheelchair accessible, which meant that ALL of our guests could get silly in the booth.

Thanks, Greg! You helped to make an amazing day even more memorable.

Photo Booth Events's reply:

Kristin! Thank you so much for the incredible review!! I greatly appreciate that. Yes! It's a plus to be wheelchair accessible and have tons or room for those huge group shots. I'm so happy you love the book! Sadly, every reception ends...but the book is maybe the most important part. It gets extra attention from us. Thanks so much!!!

Sue

Married on 05/12/2018

Greg was at my daughter's wedding early, was easily accessible, and our guests went back again and again!! The props were hysterical! And we used the blackboard paper photo album instead of signing a registry or picture! Well worth the value and would highly recommend Greg's services! Sue Villarini


Photo Booth Events's reply:

Sue! It was a pleasure working with you! Yes I remember - I think it's great that you guys choose to use our photo book as your guest book - you know why!?! Guest books are ALWAYS missing guests and the photos make it that much better! Great idea!!! Thank you Sue! It was a pleasure working with you and your guests.

Kate

Married on 03/22/2018

We just received our photo guestbook from our wedding and all I can say is...pure awesomeness. Not only was Greg great to work with but he put up with our crazy family and friends for hours! The pictures are incredible and I'm so happy we'll have them to look at and reflect back on for years to come. Thank you for making our special day extra special, Greg! FIVE STARS!
Kate & Andrew
3/23/18

Photo Booth Events's reply:

Kate! Thank you so much! To my brides viewing this review - are you seeing a trend?!? Photo book - photo book - photo book!!! It's FAR from all we do - but it IS all you have after the big day - and we do it like no other! It gets special attention. Kate! Thanks so much for allowing PBE to be a part of your special day!

Eric

Married on 01/12/2018

Greg was absolutely amazing start to finish and the booth was great. He was so inviting and created such a fun atmosphere that every single wedding guest got their picture. He was quick with email, called to solidify plans and very professional. The best part was getting the book a month later and seeing everyone's pictures and their notes to us. Truly special. I highly recommend. -Eric and Annabel 1/12/18

Photo Booth Events's reply:

Eric and Anna, it was such a pleasure working with you! Thank you so much for allowing us to be a part of your day. We are sincerely happy to be a positive addition. So happy you guys love the book!! Thank you!

Doug

Event on: 11/17/2017

THIS IS THE PHOTO BOOTH YOU WANT...!!! I found this photo booth service by doing a simple Google search. What prompted my call to Greg was the photos from the website and the "vintage style" of his booth. Greg answered my call quickly and was very accommodating to our requests. The night of the event, our Corporate Sponsored Photo Booth was "the hit" of the entire evening! I did not have the pleasure of meeting Greg in person before our event, but Wow! ...this guy is like a local Jimmy Fallon! Seriously, he was outgoing...got everyone involved and made it memorable. I highly recommend this company if you are seeking a photo booth for your event.

Photo Booth Events's reply:

Thanks Doug!
Haha this is one of my favorite reviews ever!! Doug - your the man. Looking forward to working with you again this holiday season!
Jimmy Fallon is a stretch but thank you. Lol.

Casey

Married on 11/04/2017

If you're in need of a photobooth, Photobooth Greg is your guy. I recently hired him (Sept 2016) for a friend's wedding and could not have been happier. Greg was extremely responsive to my calls and messages from the very start and was clearly passionate about his work. The venue for the wedding was a friend's house/farm, so certainly not a standard situation for a photobooth. Greg was so flexible and willing to talk through all the options to find a way to make it work. The booth itself is perfect, very large to accommodate bigger groups and easy to use. And the photo quality was AMAZING. On top of all of that, the professionalism, the quality, he is so absurdly reasonably priced. I priced different companies for a while before coming across Photo Booth Events and Greg's prices were significantly better than anyone else I had contacted AND he provided more prints/better quality prints than the other companies as well. The guests loved it, and the bride and groom were so, so happy with the experience and the photos.

Long story short, Greg is nothing short of a photobooth wizard. I cannot give enough praise for the service we received. If you're looking for a photobooth, look no further.

Photo Booth Events's reply:

Photo booth wizard! Is that url available?! Casey thank you so much for allowing us to be a part of your special day.

Thanks so much for an amazing review. It was a pleasure working with you Casey!
Are you interested?
Send a message