39 Reviews
Recommended by 100% of couples
Quality of service

5 out of 5 rating

Average response time

5 out of 5 rating

Professionalism

5 out of 5 rating

Value

5 out of 5 rating

Flexibility

5 out of 5 rating
13 User photos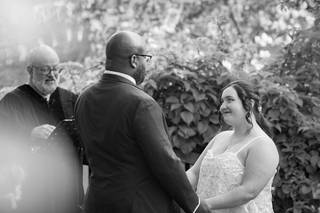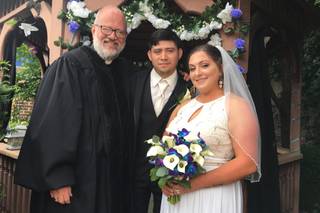 + 9

photos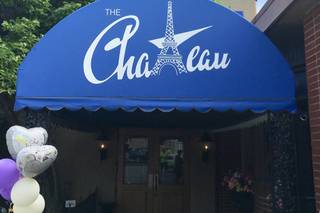 Sloane G.

Married on 11/05/2022

Beautiful Ceremony

I loved how Philly Wedding let us pick and choose our ceremony to be our own! It was beautiful and really focused on our love. Thank you, Patrick!

Emily R.

Married on 05/13/2022

Amazing Reverend

Reverend Loftus was very professional and our HERO!
He was able to step in the officiate our wedding with less than a week's notice. After our previous officiant (through a different company) dropped out last minute, we contacted Philly Wedding Co and Reverend Loftus was able to step in and quickly agreed to officiate our wedding. He did a great job at quickly putting our vows together and made us feel at ease despite the chaos of the wedding week. Thank you again Reverend Patrick!

Sintana M.

Married on 08/13/2021

Professional and Attentive

Rev Joe was an awesome officiant at my wedding. He was very professional, outgoing and very understanding, thank you for my making my day perfect.

Are you interested?

Send a message

Amy B.

Married on 04/25/2021

Reliable, helpful, and flexible

We worked with both Reverend Joe and Reverend Patrick for our wedding. They were both very quick to respond and help us with whatever questions we had regarding our ceremony, marriage license, and logistics. They were very flexible with us, and when circumstances changed, they made sure we had what we needed and were happy. We got comments from family & friends about how beautiful and complete our nonreligious ceremony was; they included everything we could have wanted and we could not be happier with how our ceremony turned out.

Patricia D.

Married on 04/08/2021

Micro Wedding

Rev. Joe Sheridan did a fantastic job officiating our small wedding ceremony

Christopher R.

Married on 10/25/2020

Takes a extra load off prior to and during wedding

Easy to work with. Articulate during ceremony.

Celina

Married on 09/12/2020

Reverend Joe Was Spectacular!

Reverend Joe was amazing! He was alway super responsive, even as I lost my mind wedding planning. He dealt with horrendous record-setting temperatures with a smile, knew when to grab the mic and podium and skedaddle for my I Do kiss with my husband, and was super go with the flow and easy to work with. Would always recommend Reverend Joe!

Cindy M.

Married on 08/23/2020

Great experience

Rev joe was great, he understood what we wanted and helped us customize a beautiful ceremony.

Mallory H.

Married on 08/22/2020

Fantastic!

Rev. Joe was exactly what we hoped for when we were looking for a wedding officiant. We wanted something simple and yet still meaningful for our backyard wedding. We were able to meet with Joe beforehand on the phone and he had several script options for us. He was easy to contact, great to work with, and very responsive. I cannot recommend Joe and Philly Wedding Company enough -- our ceremony was everything we hoped for and Joe showed up early to walk us through everything. Do not look elsewhere, the Philly Wedding Company are perfect for any officiating you may need!

Lindsay D.

Married on 08/10/2020

It went Great!

He was great and professional! He was able to preform our ceremony on short notice and was very flexible when we were trying to find our venue and time to work with. He worked with us on our vows and how we wanted to perform them. I was very happy with how it all turned out :)

Rachel C.

Married on 02/09/2020

Very personable, friendly & flexible!

Joe was awesome to work with! Being a covid-19 bride we had to change our wedding day to during the week. Joe was super flexible and ensured us he would be there to marry us no matter what! Our ceremony was absolutely perfect, can't thank Philly Wedding Co & Joe enough!

Greta X.

Married on 11/02/2019

Reverend Joe was awesome!

Rev Joseph Sheridan was awesome from the start! He showed us many options for the ceremony and told to pick and combine whichever we liked. Rev Sheridan was on time at the rehearsal. The ceremony was perfect!

Elizabeth

Married on 09/21/2019

Professional and Kind

We worked with Reverend Joseph Sheridan for our wedding and I have to say that my husband and I could not have been happier! Joe was so kind and friendly from the initial meet all the way through to the wedding day. He made us feel so at ease with what we wanted for our wedding day, as we wanted a rather short ceremony (both families are Catholic, but we do not practice), were others we felt a little more pressured to make it longer. Thank you so much again Joe for making our ceremony beautiful but in our own unique way 😊

Kyle

Married on 09/07/2019

Excellent!

Philly Wedding Co. was excellent to work with. Rev. Joe was exceptionally responsive and communicative. He allowed us to customize our ceremony in exactly the way we wanted it, providing guidance and suggestions where we needed some. We couldn't have asked for a better officiant.

Danielle

Married on 09/07/2019

Philly Wedding Co.

Reverend Joe officiated our wedding on 9/20/19 and we couldn't be more pleased! After our first phone encounter we knew with found the perfect person to officiate our wedding. Joe is easygoing, attentive, and professional. Rev Joe also helped us customize our ceremony and even accommodated last minute requests. We did not have the pleasure of meeting Joe until the day of the ceremony, but he made sure we knew what to expect and even took the time to speak with us after the Ceremony to explain the process of obtaining our marriage license. If you are looking for a reliable and affordable wedding officiant look no farther! Thank you so much Joe & Philly Wedding Co

Megin

Married on 08/25/2019

Hire them, you won't be disappointed!

I had such a hard time finding the perfect officiant for our wedding and the moment I spoke to Joe on the phone for the first time, I knew Philly Wedding was the one we wanted to hire. I wanted someone who was affordable and made me feel at ease about the whole process and they were it! We worked with Joe to create our perfect ceremony, he was also the one who officiated or wedding, and I couldn't be happier with the outcome! Thank you Joe!!!!

Jasmine

Married on 07/20/2019

Couldn't dream of a better wedding ceremony!

It was such a pleasure hiring Philly Wedding to marry my husband and I. Reverend Patrick did an amazing job. He was on time and just good positive energy. His energy helped ease the wedding day jitters and just the whole process of choosing the vows for the wedding, they made sure was one less stressful thing I had to worry about for our special day.

Jamie K.

Married on 07/04/2019

Great experience!

Rev. Patrick officiated our ceremony, and we couldn't be happier with how it went. We did not meet him until immediately before the ceremony, but you would think we'd known him for years. He understood how busy and tightly scheduled our day was, so he took care of business quickly and efficiently, which we appreciated.

We worked with Rev. Joe to customize our ceremony, creating the perfect setting for us to marry. When I reached out at the last minute with a couple of special requests, Rev. Joe was happy to accommodate. Truly an easy and enjoyable experience.

Thank you both!

Kristen P.

Married on 06/08/2019

Amazing, trust worthy, helpful!

Joe officiated our wedding this past Saturday and he was so great to work with! He was very attentive during our wedding planning process and even let us customize our ceremony script down to a T. He was super responsive, flexible, and affordable! We definitely recommend hiring him- Thanks Joe!!

Debbie R.

Married on 05/26/2019

Manager of The Chateau... Philadelphia

As manager of The Chateau Caterers in Philadelphia, I have had many positive experiences with Philly Wedding Co.. Reverends Joe and Patrick have always been very service oriented and also very professional. Several weeks ago, The Chateau Caterers was approached by a future bride and groom who needed to be married asap but had a very limited budget. I called Philly Wedding Co and explained the situation to Rev. Patrick. Without hesitation, Rev Patick agreed to do the wedding service free of charge. How can you possible give enough kudos to a company that puts the happiness of the couple above the cost of the wedding????. The wedding service was first class and the bride and groom couldn't be happier!!! Thank you Rev. Patrick and Philly Wedding Co... you are the best of the best!!!!

Megan W.

Married on 11/28/2018

Philly wedding co

Philadelphia wedding co hosted the mass wedding with Preston and Steve, at the campout for hunger. My now husband and I were lucky enough to be a part of it. We weren't quite sure what to expect but the day was absolutely perfect.

Rev joe and his team were so nice and the service was quite beautiful. We would recommend them to anyone!

Kevin G.

Married on 11/28/2018

Great experience

We had and amazing experience with Philly Wedding Co. officiating Preston & Steve's mass wedding. My wife and I couldn't have asked for a better wedding.

Allyson P.

Married on 11/28/2018

The best day

The Philly Wedding Company is the best! Couldn't have been nicer. So so so happy!

Patty M.

Married on 11/28/2018

Awesome....awesome.....awesome

My fiancé and I were part of Preston and Steve Hungry for Love mass wedding on 11/28. We just one of probably 70 couple who were to married that day. We had expected total chaos. What we found was complete calm and exceptional professionalism. Philly Wedding Co, Rev. Patrick, was the perfect example for all us nervous couples. He was calm and collective even under the pressure he must have been feeling. Every couple was made to feel as though they were special. There was nothing " mass produced " about the day. I felt as though Philly Wedding Co was there just for me alone. I can't say enough about the team of Rev Patrick and Rev. Joe!!! Well done gentlemen!

John S.

Married on 11/28/2018

Spot On! Greatest Wedding Ever!

Our situation was much different than the usual folks heading down the road to marital bliss. We got married in front of the world.
WMMR radio has an annual promotion to fill the larders of a local charity serving hungry members of our community, Philabundance.
Its a week long event called Camp Out for Hunger. Show hosts Preston and Steve have an energetic live broadcast from the parking lot of the Xfinity Center in South Philly.
Philly Wedding Company, I learned, had only weeks before inquired of the radio station if they were interested in having a live, on-air mass wedding to support the effort. WMMR folks were interested. The event promotions began. We signed up.
Time was short and of the essence. With three weeks to figure it out Philly Wedding Company and WMMR put together a remarkable event.
Joyce and I had talked about getting married for some time. We were both married before, we have adult children and have become pretty comfortable in our life together. This opportunity looked like just the thing to put the questions of when and where we would marry to rest. But the concept had some curious features, and some interesting details that looked like it was going to be either great fun or a disaster.
Thanks to Patrick and Joe, and the team at PWC, it was indeed Great Fun! All the pieces were in place, 60 couples getting hitched would be well taken care of. All the vendors and the venue staff were polite, courteous and helpful.
Philly Wedding Co. folks were on top of their game squaring away the last minute paperwork matters while maintaining a level of calm in a room full of excited couples, and their families, who showed up before the crack of dawn to do something they could not have anticipated a month earlier.
Rev. Patrick throughout the entire day was the smiling, fatherly face we all needed. His calm voice and his broad smile gave us reassurance this new thing was going to turn out well.
His sincerity and wit maintained the right decorum for the gravity and grace every wedding requires, even with the endless banter of a couple jocular morning radio characters, a squad of local team mascots, including Gritty, a live rock band, Steven Singer and a bevy of cheerleaders all packed into the big tent with the charged hopes and dreams and aspirations of loving couples swirling about in the frosty November air.
So, I can't imagine any event with so many moving parts running as tight as this one did. I credit Team Philly Wedding Company with setting the tone and maintaining the dignity and solemnity demanded of such an occasion. Everybody was having a great time and The Man in Black Robes conducted beautifully. Bravo!

Are you interested?
Send a message