Reviews
5.0 out of 5 rating
Quality of service

5 out of 5 rating

Average response time

5 out of 5 rating

Professionalism

5 out of 5 rating

Value

5 out of 5 rating

Flexibility

5 out of 5 rating
100%
Recommended by couples
45 User photos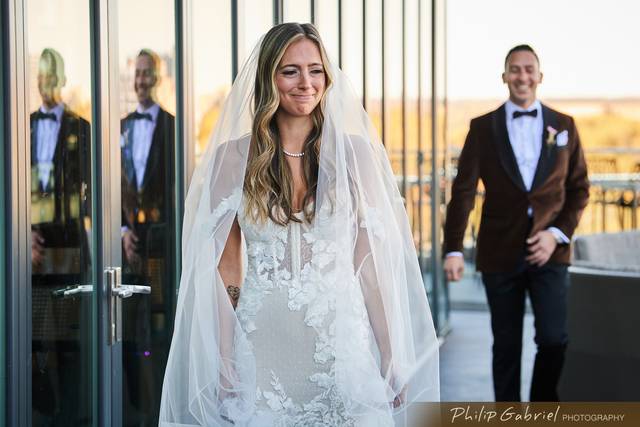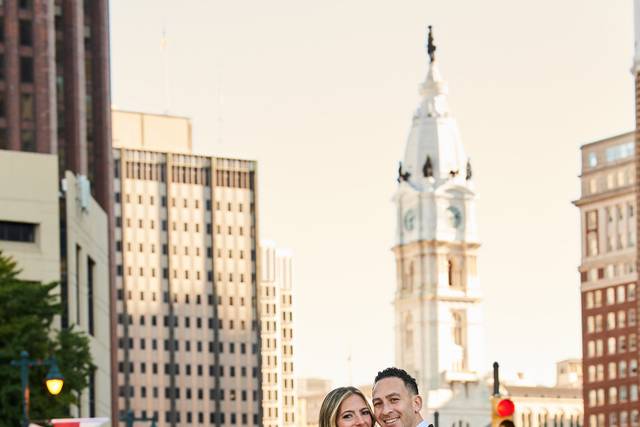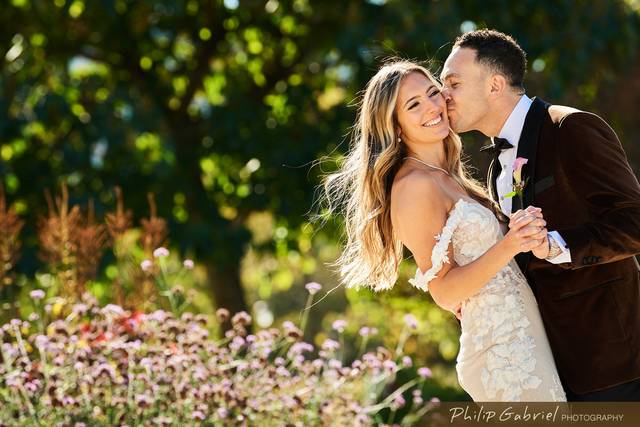 + 41

photos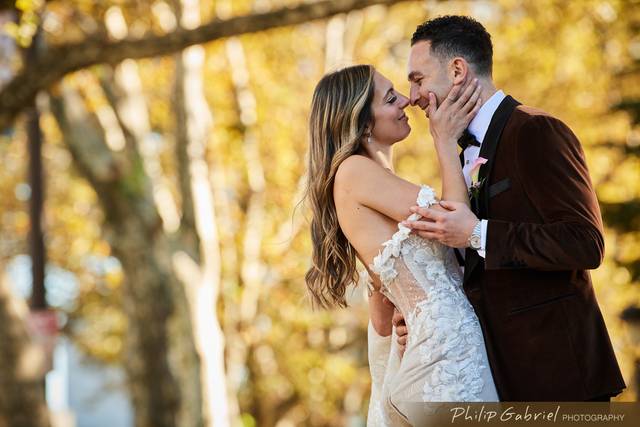 Featured

Victoria M.

Married on 09/05/2020

Gabe is the best!

Gabe and his team are truly the best and we cannot recommend them enough if you want the most beautiful, flawless photographs of your wedding day! We discovered Gabe through one of my closest friends and since the moment we met him, his passion for the art of photography was evident. We scheduled our engagement photos with him and not only did we get gorgeous shots, we had the best time taking them! Even my husband enjoyed being photographed for an hour and we couldn't stop laughing the whole time! On the day of the wedding, he made our bridal party feel so comfortable and confident and had us all laughing the entire time. We recently just received our preview from our wedding day and were truly blown away by Gabe's artistic talent and the moments he captured. We have gotten the most compliments on these photographs and have had so many family and friends ask for his contact information! We know we will be using Philip Gabriel from now on for all of our future photography needs!

Allie M.

Getting married on 12/31/2023

Dreamy, Best in the Biz

MVP of our wedding???

Despite the bride and groom bringing their A game, Gabe's performance was exquisite. Meticulous, organized, creative and charismatic throughout, Gabe and his team did such a beautiful job capturing our big day and making it that much more special. All the while doing it with a smile, getting his hands (and body, literally, this guy was facedown on the Philly streets in order to get the perfect lighting and angles) dirty, and cracking up everyone along the way. Gabe's work is brilliant and his personality is infectious. His team (Virginia and Phil) also were all-stars, assisting with ANYTHING (the veil, train, suspenders, etc.) and ensuring we got the exact other shots. In closing, the pictures are dreamy, more than we could've asked for or imagined, and we'll be using Phillip Gabriel photography for years to come.

+ 7

photos

Megan M.

Married on 06/24/2023

Couldn't imagine booking with another photographer!

We chose Philip Gabriel to photograph our wedding at the Franklin institute because their previous work had spoken so much about what they are capable of. From our first phone call, and up to our actual wedding they were the most compassionate and reliable vendor we had booked. They truly take the time to get to know you and what's important to you so that they can get the most perfect pictures. I can't imagine our wedding day without Gabe and his team. He really held us together, made sure everything went smoothly and it was perfect. They go above and beyond, you are not just getting photographers when you book Philip Gabriel you are getting photographers who know what they are doing and know exactly how to make you feel confident and important. There is nothing that they wouldn't do to make sure your event is captured perfectly.

+ 7

photos

Are you interested?

Send a message

Matthew H.

Married on 04/01/2023

Fantastic to Work With!

Philip Gabriel Photography was fantastic to work with! They are very professional and have great attention to detail. They did the photography for our wedding and Gabe, Sean, and Kate were all wonderful. They setup a beautifully coordinated first look for us, made sure we got all of the shots we were looking for, and were always in position to capture the candid moments! Gabe even went as far as laying down in a puddle to capture a shot at the angle he wanted! Highly recommend!

Anna

Married on 04/01/2023

Dedicated to going above and beyond

Philip Gabriel had an incredible team to work with for our wedding. They went and above and beyond for every shot and we couldn't be happier with the sneak peeks we've gotten. I don't have a single regret choosing them and highly recommend them to anyone on the fence!

Lindsey D.

Married on 10/22/2022

Philip Gabriel photography is the best of the best!

Philip Gabriel photography is the best of the best! They were so enjoyable to work with and the photos from our wedding were amazing!!!! Gabe Fredericks has the best personality, makes you feel so comfortable and guides you through every shoot! He is so creative and knows how to get the perfect photo. I high recommend Philip Gabriel photography to any couple getting married!!!!

Kathy G.

Married on 09/04/2022

absolute pleasure

The selection of Philip Gabriel Photography crew, consisting of Gabe, Jeff and Lia, were the best choice and an incredible joy for us. They not only photographed and documented our event, but shared in the joy with us. They worked tirelessly and became friends in the process. Their resulting pictures produced magical works of art. We will have these memories forever thanks to their talent. I cannot recommend them highly enough.

Mary

Married on 04/30/2022

Wonderful team to work with!

My husband and I cannot recommend Philip Gabriel Photography enough! This company is organized, responsive and made wedding day photography run smoothly AND on time! When we didn't have a location in mind for bridal party photos, they had wonderful suggestions for outdoor photograph locations near our venue that worked perfectly. This crew is friendly, fun, professional and goes to incredible lengths to capture the the most special and memorable shots.

+ 4

photos

Julianna

Married on 04/30/2022

Truly the best at what they do

Gabe, Sean, and Lia are true professionals and we had such a great time with them at our Philly wedding. We knew that we wanted to book them as soon as we saw their photos. From the first consultation to the actual wedding day there was consistent communication to ensure every detail and timeline was taken care of. Gabe is very familiar with our venue and knew all of the best surrounding areas for pictures, making that process effortless. We had asked for several rounds of larger family shots and Gabe was so accommodating and kept everyone comfortable and laughing. The team blended right in throughout the whole day and went out of their way to get the best shots. The attention to detail was incredible and the team was always on top of timing to make sure the day stayed on track. They made the entire day so easy and I can't thank Gabe and team enough for the beautiful pictures and memories!

Nikki

Married on 04/23/2022

Nothing short of amazing!

This team is 100000% worth it! My husband and I loved every second working with Gabe and the team from the moment we started screening potential vendors and our first consultation with Gabe. Gabe knew our venues, other teams we'd identified we'd like to work with, recommended (but never pushed) other vendors for us to work with, and overall was a pleasure. Just getting our sneak previews during our honeymoon (well before we expected any photos) and we already know the full set will be breathtaking. So happy with our choice, and I'm sure you will be too!

Marley A.

Married on 03/19/2022

Look Nowhere Else!

If you need a photographer for literally anything you need to hire the Philip Gabriel team. We worked with Philip Gabriel for our engagement shoot and for our wedding. I knew we hired the A Team. Our photos are fabulous and the experience working with such a professional team was wonderful. Plus Gabe and his crew have the best sense of humor and fun that makes you feel comfortable in front of the camera.

Janine C.

Married on 01/07/2022

Amazing staff and so fun!

Philip Gabriel Photography was amazing for our Philly wedding! Gabe (G2) puts in quality. hard. work! He was dedicated to making sure we relaxed and had fun both at our engagement shoot and on our wedding day! His creative eye got great shots and truly captured candid moments between me and my husband. The timeline for our wedding day was spot on and we did not miss a beat. Julia and Jeff were great on our day as well! So helpful, attentive to detail, and great at reading our energy. Everyone was so nice and accommodating. Would definitely use Philip Gabriel again for other events and would highly recommend!

Susan T.

Married on 12/31/2021

Bellevue Hotel and Grand Ballroom

We were so fortunate to have Susan Beard and her team from Philip Gabriel Photography photograph our daughter's wedding. The pictures are breathtaking. They captured every moment from bridesmaids and Dad's first looks to the gently falling snow as we rang in the new year at midnight. Susan's kind attention to the bride and groom is something every mother could hope for. Weddings last only a day but these pictures will be treasured a lifetime. At the end of the night, I was sad to see her go.

Jordyn B.

Married on 11/27/2021

A Dream Team

Philip Gabriel Photography is the best of the best. We used Gabe and his team for our micro wedding in 2020, and for our rescheduled wedding in 2021. Gabe and his team are full of positive energy, laughs, and a feeling of ease. I can say that after the experience we had with them, and seeing the finial results, I don't plan to ever use another photographer again, and would recommend Philip Gabriel Photography to anybody who asked.

+ 2

photos

Lauren F.

Married on 11/13/2021

Philip Gabriel - The best photographer in Philly!

Philip Gabriel was an absolute dream to work with for our wedding. From start to finish (including a postponement) they made everything seamless and were so incredibly accommodating. In addition to being amazing to work with, we are blown away by our pictures from both our engagement session and wedding. I highly recommend Philip Gabriel!

Mary M.

Married on 08/28/2021

The best wedding photo team!!

Gabe and team did a phenomenal job - we couldn't recommend them more highly!! The team was amazing to work with from start to finish - very detail oriented in the planning process to establish our photo shot list and create a timeline for the day, but was also amazingly flexible on the day of when some rain derailed our original plans. Gabe C came up with a great back up plan for photos under cover during the rain and was able to sneak in more shots that we really wanted outside when the rain cleared later in the day - they all turned out beautifully! Gabe C was very fun to work with too and kept everyone laughing throughout the day. Thanks PG team!!

Thomas G.

Married on 08/14/2021

Wedding Photos

We heard about Philip Gabriel from one of the Cescaphe University parties we attended. From the moment we met Gabe (G1), we knew we were in good hands. The passion he has for photography is unmatched. So we booked G1 for our engagement photos along with our wedding. Unfortunately, like many couples getting married during the pandemic, we had to postpone a handful of times. However, each time we made that phone call to Philip Gabriel to inform them of the decision, they quickly turned the conversation from a negative point of view to a positive one and highlighted all the exciting photo opportunities there were for our new date. So fast forward to our second wedding date, when we received the news we could no longer have our reception, we decided to move forward with our marriage and postpone the reception. Like prior, when we informed G1, he was quick to tell us how special and magical our wedding day will be. Not only did he map out all the exciting photo opportunities he was thinking of for January, but he then started laying out all the spots we could shoot for in August when we planned to have the reception. When we finally were able to have the reception, we got to work with the other Gabe (G2). G2 has that same fiery passion for photography. So if you truly want amazing, blown-away photos, you have to book Philip Gabriel Photography. On top of receiving the best photos, the experience you'll have with Philip Gabriel is top-notch. Their whole team was fantastic to work with from top to bottom and made the entire process so enjoyable.

Philip Gabriel Photography's reply:

It was so amazing working with you both not once but twice!! We were so honored to capture your wedding celebrations this year and truly appreciate your kind words about our team!!

Kelly T.

Married on 05/23/2021

Best of the best!!

Gabe and his amazing team made our wedding day so special from start to finish! Gabe is a family friend of my parents and extremely well known in the wedding scene throughout the Philadelphia and greater Philadelphia region. We knew right away we wanted to book Gabe and his team without a question.
They did not disappoint. From the moment I met with Gabe, it was like we had known each other for years, and funny enough, he had taken photos of an event I worked a few years prior. My now husband and I performed aerial acts at the 21st street Armory and Gave had photos to show us! Small world.
After sticking with us through 2 postponed wedding dates, our day finally arrived and it was a HOT one. 93 degrees to be exact. Gabe and his team did not complain once and did everything in their power to make sure they got the best shots. From Olivia pinning my veil in, to Gabe laying flat on the floor of the church and Broad Street, to helping wipe makeup off of my husbands jacket, they were just incredible. In moments where I could have panicked, they eased the mood with their calm presence and professionalism.
We had a very large wedding party and with a large wedding party comes some chaos when trying to take photos. Gabe knew exactly what to do and where to position everyone in a timely manner (and how to get some boisterous groomsmen to cooperate ;)) His patience with us was amazing!
From beginning to end, Gabe and his team were perfect. We recently got a sneak peak of our shots and I'm IN LOVE!! Cannot wait to see them all. All of the thanks and praise to Philip Gabriel Photography!! Book them now!

Philip Gabriel Photography's reply:

Thank you so much for your wonderful review!! It was such an honor to document your wedding day and we are thrilled you love your photos. Gabe had a wonderful time working with you, Teddy and your whole family!!

Amanda J.

Married on 05/22/2021

Best Wedding Photographers Ever

Monica and Lauren were unbelievable photographers. They were personable, low-key, and had a great eye during the entire wedding day. They were both very familiar with our wedding venue and did an incredible job capturing candid moments as well as staged photos that were magazine worthy. We did a micro-wedding and they managed to capture every important moment throughout the day without us even knowing they were there! My husband and I were both blow away by how easy and enjoyable the day was, and much of it was due to their professionalism and good-natured personalities. Monica also did our engagement photos which turned out amazing as well! We will absolutely be using them in the future. I couldn't recommend them enough.

Catherine C.

Married on 05/15/2021

This team is MUST HIRE! Amazing.

Gabe is a "10/10 would-recommend-must-hire" type of vendor. I mean this with sincerity: he completed our day. His photos are absolutely stunning and capture the most special moments. He makes you SO comfortable in front of the camera and the comfort level allows you to look your best and most real self in every photo. He brought so much fun to our day it was unimaginable. He made us laugh until we nearly cried, boosted our confidence for different poses, kept everything running smoothly and on time, and even went as far as to talk the Philadelphia police into a police escort for us to arrive at the reception on time when we got stuck in the middle of a protest. What photographer does that??!! The number of comments we received from guests about how much they loved our photographer during our wedding was absurd - he was engaging with all the guests and never sat still. Whether he was laying down on the street to get the best angle or sprinting over to a candid moment, he was on his game the entire time (as was the entire rest of his team!). He took the time to understand who our immediate family was so he could capture their best moments. He made our grandparents feel like movie stars, made us as the bride and groom feel relaxed and at ease, and captured all the best shots of all of our loved ones. I would highly recommend that anyone high Gabe and his team for their event. We can't say enough good things and can say with confidence that booking him was one of the best decisions we made through all of wedding planning.

Meghan S.

Married on 02/27/2021

MUST HIRE! The best of the best

Gabe and his team are absolutely incredible! I cannot express how professional, talented and organized they are. Our original wedding date was 2/27/2021 but with covid we had to push our celebration back a year. Philip Gabriel Photography was so easy to work with and super understanding. They took the stress out of replanning a wedding! On our new wedding date 2/19/2022, Gabe and his team exceeded our expectations. They stayed perfectly on schedule and knew exactly where to shoot throughout the city. Gabe made everyone feel relaxed and we had a blast even with crazy cold and windy weather. The pictures are gorgeous! If you are looking for a wedding photographer, look no further!

Emily N.

Married on 11/07/2020

Would 10/10 recommend

Absolutely amazing team! We've had multiple shoots with Gabe and he always makes you feel extremely comfortable in addition to being an absolutely amazing photographer. His entire team is very responsive and helpful when planning any events, keep things running smoothly and timely. Would recommend him to anyone for any picture needs!

Sari R.

Married on 10/18/2020

They are the best!

I am so happy with our experience. I have seen Gabe shoot so many beautiful weddings and now I got to experience it myself. Not only are the preview photos I've seen beautiful but they also help make the whole morning of the wedding run smoothly and are very good about timing. Can't wait to see the rest of the photos!

Kelly M.

Married on 10/10/2020

Amazing Experience with an extremely talent team

Gabe and his team were absolutely fantastic. They made the entire experience fun, seamless, and easy. From the planning down to the actual day, Gabe and his team nailed every aspect. The pictures are beautiful, my family and I couldn't be more please with the outcome. I am so happy we chose Philip Gabriel and their team for our special day. They truly are the best in the area! Thank you so much again.

Rachel L.

Married on 10/03/2020

Wonderful!

Monica of Philip Gabriel Photography was absolutely wonderful! Her and her team were so easy to work with and took amazing pictures at my wedding! Monica was so sweet and wasn't afraid to get down on the ground to get the right lighting for a shot. Philip Gabriel Photography is the best!
Are you interested?
Send a message