58 Reviews
Recommended by 100% of couples
Quality of service

5 out of 5 rating

Average response time

5 out of 5 rating

Professionalism

5 out of 5 rating

Value

5 out of 5 rating

Flexibility

5 out of 5 rating
5 User photos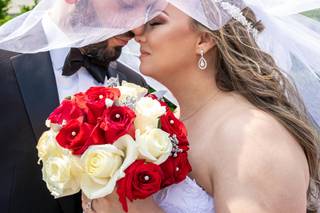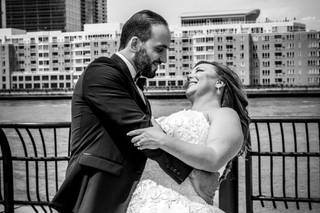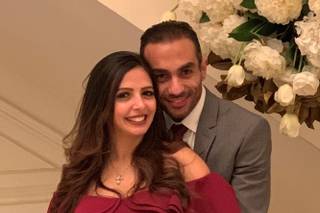 Maria G.

Married on 07/24/2022

The Best Decision we made for our wedding

Let me start by saying that Pharaoh is the best vendor we worked with. Abadir was our videographer and he went above and beyond to make sure he got the the perfect shot every time. We booked the same day edit package and let me say that the same day edit was the highlight of the entire day. If you're thinking of doing it don't even second guess it-you will regret it if you don't do the SDE. Everyone enjoyed it so much and my husband and I were watching it with the biggest smile on our faces the entire time. Not a single detail was missed and needless to say the entire team was so professional and cared so much. It seemed that every vendor had their own agenda but all Abadir cared about was giving us something that will last us our lifetime. We got a video of the entire church ceremony and another one of the reception and it's a memory we'll cherish forever. Mina also made us an Instafilm and sent over some printed pictures. All the members of the team were so personable, professional, friendly, and beyond talented. Pharaoh videography was truly the best investment we made for our special day.

Mena I.

Married on 05/15/2022

Pharaoh Studios is the BEST!

Pharaoh Studios has to be the most professional, respectful, and consistent vendor Rita and I hired for our wedding! Needless to say, their work is outstanding. He captured our most precious moments and didn't miss a single one. If it was not for Mina and the rest of the Pharaoh Team our day would not have been as perfectly captured as it was!!! Thank you to the best! Do not hesitate to call them. If you are considering someone else, I'm sorry!

Shaheerah P.

Married on 10/11/2021

Amazing from beginning to end

I would like to start this new year off by reflecting on how grateful we are for last year! Our wedding was 10/11/21 and our videographer Mina was outstanding! Mina was responsive, professional, and is extremely skilled and talented. Our wedding video captured all of the best highlights of our day and was fluidly translated through the lens. Mina is so kind and passionate about his craft and it transcends beyond the camera. He was attentive to the details and worked effortlessly coordinating with our photographer. We knew we wanted a videographer from the start but our choice to have Pharaoh Videography has exceeded our expectations and has left us all enamored! I would recommend Pharaoh Videography to anyone considering a videographer. After viewing his videos you will know he's a must have!

Are you interested?

Send a message

Dina

Married on 09/15/2021

Literally amazing

Absolutely amazing work. This team is so passionate, creative, friendly and so patient. Our videos came out amazing!!!!! Book this team, you will not regret it. All of our guests loved all of the videos. Everything was perfect and the videos are amazing quality!! Thank you pharaoh videography!!!!

Kathy M.

Married on 09/05/2021

Absolutely Amazing!!!

Wow!!! That's all I can say. It was a great experience working with Mina. He directed me and made me feel comfortable around the camera. He is so professional you can tell he's very passionate about his work. I will definitely recommend him hands down! Thank you Mina!!!


Joseph R.

Married on 08/06/2021

Hollywood Level Production!

It is honestly hard to tell that they aren't straight out of Hollywood their work is that amazing. On our wedding day they not only made me and my wife feel like celebrities by the way they treated us but they have the footage to back it up too! The production quality on their film is unmatched and I have never ever seen any wedding videos come close to the work they do. Dynamic cinematic swooping shots, epic slow motion action shots, aerial shots from the drone you name it I am sure Pharaoh Videography has it!

I always thought that wedding videos were static boring cameras set up on a tri pod in the corner of the room to simply record the event so you have it captured to remember the day. These guys truly redefine the industry with their attention to detail using state of the art equipment and quite literally climbing over rocks and laying in the grass in order to get the perfect shot! My only regret is that I do not have another big event soon in order to hire them again but I can be sure that I will never have to even consider any other company when it comes to all my video needs you guys are AMAZING!

Sarah

Married on 05/16/2021

Best Videographer on Earth ❤️

First, I'd like to say that I knew how amazing Mina and his team were way before they actually filmed my wedding. The content he posted was always fire and I just couldn't wait to see how he'd capture our day. Week of the wedding, I worked with sweetest most patient girl that listened to exactly how I wanted the day to pan out and took amazing notes. Donia is legit a saint, I've told her so on many occasions. Day of the wedding, the two sweetest guys Abadir and Bishoy show up with the drive to deliver! Boy did they, they did not push at all and let me be the candid bride I wanted to be. Last but certainly not least, MINA ❤️ I have no words for his mastery. He is a genius and an artist and I appreciate him working with me to deliver something that I know I'll cherish for the rest of my life. Remember how I said I knew how amazing they were, THEY'RE ACTUALLY 10x THAT.

Now if you're getting married in the near or far(I don't care when) future and you haven't booked these guys, I'm sorry but you're missing it!!!!

Michael N.

Married on 05/08/2021

Best Wedding Videography

Saying that Pharaoh Videography is amazing or 5/5 stars is an understatement. Working with them was absolutely incredible. Mina and his team are so skilled and so professional while also being so incredibly kind and fun. We felt like we were working with family. Mina was so invested in our special day. He wanted to take advantage of every moment to capture how special this day was. His creativity is unbeatable as he would constantly have us in different poses and activities that when captured on video looked incredible. If you see any of Mina's work it speaks for itself but it doesn't capture how amazing it is to work with him on your big day. He takes all of the stress and anxiety away as he flawlessly directs your day to make sure you have fun and also capture all of the special moments. I would recommend this company to absolutely everyone who is getting married. They are everything you would want. They are professional, skilled, passionate, easy to work with and a lot of fun. Overall amazing company because of the amazing people that work for it. Consider hiring M&R Photo Factory as the photographers to work with this videographer. They work extremely well together at times we forgot that they were 2 separate companies.

Joelle A.

Married on 04/10/2021

They are very friendly

They are professional, and They will make you happy when you see their work.

Sara

Married on 03/11/2021

Thank you to the best videographer!

I do not know where to begin about all the wonderful things you can possibly say about Mina and his amazing team. Absolutely the best videographer out there! Mina is so great and wonderful to talk to, he was helpful enough to do the booking on the phone and made the whole process very easy. He was always there to answer any questions my husband and I had and was very quick to respond, no matter the time of the day. Mina is extremely professional and so talented, and we are so lucky that we had him capture our wedding day. All our families and bridal party had so many good things to say about Mina and his team, he was a pleasure to be around and truly made the whole day go by smoothly. You can tell how much passion and dedication he puts into his work just by watching all of his amazing videos. He was able to capture the most beautiful shots and our wedding video had us in tears. Mina even took the time out to work and edit our video on holiday weekends, that's how much effort and devotion he puts into his work. He really went above and beyond to make sure we can have the most amazing wedding day video. Not enough good things to say about the positivity and grace he brought during our wedding day! Thank you, Mina and the rest of the Pharaoh team!!

Pharaoh Videography's reply:

Sara! You are so kind and it was my pleasure being there on your special day! Thank you so much for this incredible review and look forward to working with you again in the future! -Mina

Nardina M.

Married on 11/15/2020

The BEST videographer

Simply amazing experience, the whole team were very professional and attentive to details. The video came out so beautiful, I'm very thankful I chose them. 100% recommended

Kristina T.

Married on 11/08/2020

The Most AMAZING Videography Team

My husband and I cannot say enough great things about Mina and his work. He is extremely professional while also being personable and friendly. Mina's responsiveness is always instantaneous, and he constantly made himself available even after the wedding to go over a few details that we wanted to include in the highlight video.
The moments that Mina and his team capture are so pure and raw, and he doesn't just position you for a video, but he takes notice of all the little intimate moments and captures those too. Our videos were absolutely incredible and we got emotional watching them. We will cherish them for the rest of our lives and share them for years to come. Thank you SO MUCH MINA. We love you!
https://youtu.be/T9VDEW7a0eE

Maureen S.

Married on 10/25/2020

The best of the best!

Mina did a phenomenal job! Mina and his team captured all the right moments and made us relive the whole wedding again. His professionalism, patience and commitment is beyond amazing and goes a very long way. It was a pleasure having Mina to be part of our big day... Hani and I had so much fun working with him! He's the best of the best :)

Hani

Married on 10/25/2020

Greatest of all time

Mina is great to work with. Mina was very patient with us and directed us to get the best shots. Mina also captured very special moments on our big day.
Maureen and I thank you very much for all your great work!!!

Phyl K.

Married on 10/10/2020

Amazing film maker, amazing friend

I have always been a huge huge fan of Mina's work and his work only gets better. He created a video for my wedding and people still ask to see the video to this day. Mina is willing to go to any lengths to make the client happy. For the quality of his videos, I am surprised his prices aren't higher. He provides A LOT for his clients. He has provided a lot for me and my future wife and I am excited to have Mina record future family events for our new family. :)

Imre

Married on 10/04/2020

Best Videographer ever!

My wife and I don't know where to begin! Mina and his team are beyond amazing! We were very fortunate to have Pharaoh videography team to capture our big day. Mina and his team captured the best moments of our ceremony and venue.Mina has created the most perfect Instafilm,highlight of the wedding and full wedding video. Mina will make sure that his work meets and exceeds your expectations. Mina is talented and very professional. His team is very respectful and reliable.

Mina, it was a great honor having business with you!

Totally recommended 👌
Thank you,
Rita & Imre

Diane G.

Married on 07/19/2020

The BEST of the BEST videographer around

Where do I even begin?! Mina is the definition of TRUE talent! I had a very specific vision for how I wanted my video to be shot and Mina was patient with me throughout the whole process. Mina's videography team is prompt, professional, and very creative. My video came out amazing and my exact vision was brought to life. Don't bother shopping around for a videographer, Mina's company is the total package. Thank you so much Mina for making me cry everytime I watch our wedding video! Paul and I loved every minute of our memories!!!


Pharaoh Videography's reply:

Thank you so much Diane! This really means a lot to the team and I! We definitely put your vision and satisfaction as our priority, and your review reaffirms the hard work we put in every day. Thanks for your kind words!


Carine A.

Married on 05/23/2020

Simply amazing!

Can't say enough good things about Pharaoh Videography. Great communication from day one, and made the process so easy, even when we had to postpone due to Covid.
Their work is impeccable, so creative and just perfection! Our same day edit took our breath away, and our family and friends were thoroughly impressed.
Mina, Makary and Abadir, ya'll are truly the best! Thank you for a fun experience and for such beautiful work!
If you're considering Pharaoh Videography for your event, stop what you're doing, go book them now! 😊

Ghazal D.

Married on 02/08/2020

Thank you to the most talented videographer!

We don't know where to begin with talking about Mina and his awesome videography team! We were very fortunate to have come across his company and beautiful work while looking for a videographer to capture our special day. We completed the consultation over the phone and Mina was very easy to talk to. He answered our questions with grace and created a special package for us that fits our needs. He is a delight to work with.
On our special day, and with little to no instructions from our part, his presence helped run the day smoothly and he was very graceful to have around. When it comes to his talent and work, we were amazed by the same day edit he created for us. He captured the best moments of the day and created an amazing cinematic film that will leaving us in happy tears every time we watch it over and over for the years to come.
If you are looking for the perfect videography team for your special day, then definitely choose The Pharaoh Videography team. Mina will make sure to work with you to meet all your needs and create the best film for your most special memories. His and all of his team members personalities are a delight!
Thank you for your beautiful work Mina, we were so lucky to have you be part of our day!
Ghazal & Majd - Feb 08, 2020

Pharaoh Videography's reply:

Ghazal! Thank you so much for taking the time to leave us this amazing review. This review made our day! Your wedding and day as whole was beautiful so it was very easy for us to capture every special moment! Congrats!

Amanda K.

Married on 11/02/2019

Amazing Work!

Can't recommend Mina and Pharaoh Videography enough! After speaking with Mina and watching his videos, we knew we had to fly him to NC for our wedding. Throughout the entire planning process, he was extremely easy to work with. On the day of, Mina was professional, punctual, and kind. He created the most beautiful video with every single detail captured (not to mention, in super quick turn-around time too). Thank you for being part of Kero and I's day!!

Olivia N.

Married on 09/15/2019

Great great work

I can't say enough good things about Mina and his team. They are amazing and fun to work with, make everyone so comfortable and they're just a joy to be around on the big day because I've already been around them in multiple weddings before and can't wait for them to videograph my own

Pharaoh Videography's reply:

Olivia & Jay, it was so much fun working with you two! Happy one year anniversary and we are so honored you took the time to post a review!

Marina M.

Married on 08/25/2019

Thank you :)

Mina & his team are exceptionally professional, we had a note with all our preferred shots to capture and Mina made sure we took this all!!! ... our recap video was exactly as we asked him ... He & his team went above and beyond to make the whole experience as amazing as it can be ... we definitely highly recommend this company if you wanna capture your special Moments with your beloved ones forever.. Marina & Mina ... August 25,2019
Thank you Mina

Verina

Married on 08/05/2019

Amazing! Exceeds Expectations!

We can not thank Mina and his team enough! They did an absolutely amazing job. Let me begin with the fact that he agreed to drive all the way to Albany and then drive to the Venetians. He took every obstacle and worked with it. We were running late to the venue and tight on time but he did an amazing job working with the time we had. He then pulled off the most amazing, unique, and detailed same day edit! I had not seen anything like it before! .. and neither did my 300+ guests! The number of compliments that my husband and I received from our guests about how amazing the same day edit was, was overwhelming! Hiring Mina and his team for our wedding was the best choice! He did not only meet our expectations, he EXCEEDED them!

Marina G.

Married on 07/28/2019

Amazing videographer!

Mina and his team are very talented, creative and professional. Mina is a phenomenal videographer; he is friendly, understanding and will go above and beyond for his clients to make sure everything is done well and each important aspect of the event is captured. He provided the highlight video in less than a week and we are beyond pleased with his work. Mina, we can't thank you enough for capturing our special day❤️

Loura S.

Married on 06/30/2019

Simply the best !!

Mina and his team are beyond talented and such a pleasure to work with!! I'm so happy we had them capture one of the most important moments of our lives! Mina is very accommodating and listened and delivered on every single one of my requests. He is very responsive and professional and helped me throughout the very stressful process of planning. I got my highlight video back in record speed time which is unheard of and it's so beautiful and well made !!! We received so many compliments on it already! I'm beyond pleased with all the work the team did and so happy I found the team! To anyone reading this, stop searching and book this team now. You get a lot for your money!
Are you interested?
Send a message