30 Reviews
Recommended by 98% of couples
Quality of service

5 out of 5 rating

Average response time

4.9 out of 5 rating

Professionalism

5 out of 5 rating

Value

4.8 out of 5 rating

Flexibility

4.7 out of 5 rating
30 User photos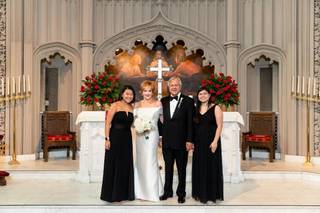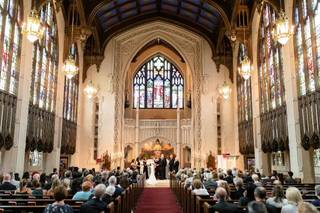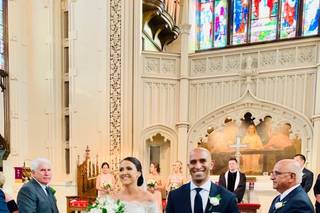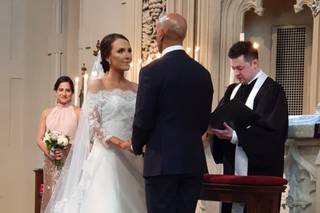 + 26

photos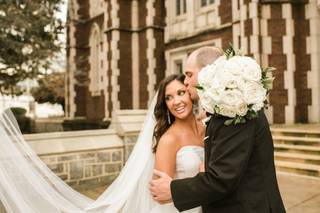 Bob W.

Married on 06/29/2019

Peachtree christian church--the perfect venue

My husband and I married on June 29, 2019. I've been a member of Peachtree Christian Church for years and had visualized myself walking down the aisle in our beautiful and sacred sanctuary to meet my husband one day. The dream came true on our wedding day which was full of memories we'll always cherish due to the sheer beauty of this historical church with stained glass windows and the loving, professional staff. Sylvie Lansdowne was our wedding coordinator--she was there for us throughout the entire planning process and alleviated stress inherent in wedding planning. We had her number on speed dial and she always responded quickly with answers to our questions. She's knowledgeable, organized and thorough with the ability to creatively resolve any unforeseen issues.
We enjoying meeting with Reverend Jim Bell, who in addition to being an absolutely fantastic choir director, has a keen sense of humor. His assistance in music selections, along with our organist, Herb Buffington, promoted an atmosphere of excitement and joy on that magical day.
Reverend Dee Stone met with us for premarital counseling sessions, which due in part to her loving personality, were full of laughter and discussions on healthy relationships and the importance of God in your marriage. She, along with my minister brother, performed the ceremony. Many guests told me that the ministers' special messages, combined with the beauty and sacred atmosphere of the sanctuary was a moving experience for them. We were so grateful to the wedding guild members who assisted us on the day of the wedding. For anyone who is in the process of finding a wedding venue for their marriage, we 100% HIGHLY RECOMMEND Peachtree Christian Church for your special day!!

Amy B.

Married on 03/23/2019

Highly Recommend!

I cannot say enough great things about Peachtree Christian Church. Obviously the church itself is absolutely gorgeous (especially with all the stained glass in the sanctuary). In fact, the sanctuary is so ornate that we didn't even need to bring in any flowers or decorations. But more importantly, the people who work at Peachtree Christian Church are absolutely amazing. Sylvie Lansdowne, the wedding coordinator, is extremely nice and definitely knows what she's doing. She was also very accommodating and made the whole planning process as easy as possible. Furthermore, Reverend Wortman was our minister, and we honestly couldn't have asked for a better minister. He was very sensitive to the fact that my husband is not Christian and tailored the ceremony to what worked for us. We enjoyed meeting with him so much that we are hopefully going to continue meeting with him for marriage counseling. In short, we really couldn't have picked a better Church to get married in!



Wesley C.

Married on 02/23/2019

Incredible Venue & People!

Peachtree Christian Church was the perfect wedding venue. If you are looking for a traditional church wedding setting, this is the place. The staff was incredibly helpful, organized, and professional. Reverend Wortman did an outstanding job leading our premarital counseling, rehearsal, and wedding ceremony. We would highly recommend him for your future ceremony as his message was universally well-received by our guests. The Church was very easy to work with and we had no worries or doubts about anything leading up to our big day. Peachtree Christian is a special place with special people and we could not have picked a better place to get married.

Peachtree Christian Church's reply:

Wesley and Morgan,

Thank you for your kind words. We were honored to be a part of this special day for you and your families. We look forward to celebrating your anniversary month with you every year at our Wedding Bells ceremony when couples who have married at Peachtree return to renew their vows. (It will just happen to fall on your anniversary month each year since it's an annual February event.) We truly enjoyed getting to know both of you and look forward to seeing you again in the future!

Are you interested?

Send a message

Laura A.

Married on 12/31/2018

So thankful for Peachtree Christian Church

We are beyond grateful for our experience at Peachtree Christian Church and for the opportunity to begin our marriage in such a beautiful and holy sanctuary. Our experience with Sylvie was wonderful from the moment I met her to the moment I walked down the aisle. Rev Dee Stone married us and we hope to have a friendship with her forever. She was wonderful to go through our pre-marital counseling with but also throughout our ceremony. I had so many guests coming up to me asking for her information. The church is a bit pricey (I also got married on a holiday) but I will say it was worth every penny.

Peachtree Christian Church's reply:

Blake and Laura Alice, we were so grateful to be chosen to be part of your wedding day. We don't normally do holiday weddings, but were glad that we were able to work it out so that you could forever have a memorable New Years Eve! We look forward to staying in touch with you as you are now part of the Peachtree Wedding Family!

Olivia A.

Married on 12/15/2018

Amazing venue our guests are still raving about!

Peachtree Christian Church was the most incredible place for our Wedding Ceremony. The staff was so helpful and the venue is beautiful. We have no complaints and highly highly recommend anyone looking to get married in the Atlanta area to check out Peachtree Christian Church.

Peachtree Christian Church's reply:

Olivia and Brian,

Thank you so much for sharing your wedding day with us. I truly enjoyed getting to know your family and was delighted to find out that I will get to see you at another wedding next year!

Lauren

Married on 06/08/2018

Peachtree Christian Church is the prettiest church I have ever been in! I love the beautiful stained-glass windows and incredible chapel! It was the perfect church for our wedding ceremony!

Sylvie was our right handed woman that we worked with at Peachtree Christian and she was AMAZING!! She was the sweetest lady and extremely informative! Sylvie is a busy lady, but always responded right away to our many questions along the way and did so with a smile! I truly appreciate her making our experience so personal and special on our wedding day! Sylvie was great from the get-go explaining the rules that the church has in place and was explicit with our vendors too! The weekend of our wedding, I did not have to think about a thing because I filled out a questionnaire ahead of time and she went by that perfectly and took away all my stress!

Reverend Bell was our pastor for marriage counseling and at our wedding and we just adored him! He has been at the church for a long time, and knows the ins and outs of the wedding ceremony songs, details, and how to counsel couples! My husband and I looked forward to our marriage counseling sessions because he made them fun, engaging, and very informative! We shared a lot of laughter and good stories, while also incorporating the important values of marriage and the importance of having God present in our marriage. I know Reverend Bell marries a lot of couples, but he made our rehearsal and wedding ceremony so personal and special! He had all of our guests laughing and made the ceremony very memorable!

Peachtree Christian Church's reply:

Lauren, you and your husband and family were a delight to work with. I'm so glad that you all had the perfect day! We hope to see you back at Peachtree for our Wedding Bells service in February if not sooner! (you don't want to miss Christmas services here, they are beautiful!) Wishing you all the happiness in the world!

Tim

Married on 01/20/2018

Can't say enough about how great all the people are here!

Peachtree Christian Church's reply:

We were so honored to be a part of your special day! Your families were a joy to work with and it was a beautiful ceremony!

Ansley

Married on 11/04/2017

Peachtree Christian Church is quintessential in every way. Boasting one of the finest stained-glass collections in the country, the church is absolutely breath-taking. The ministers and the staff are friendly, warm, and professional. From start to finish, our wedding weekend was flawless. PCC is the best of the best!


Peachtree Christian Church's reply:

I absolutely loved working with your family. The day was beautiful and I'm so glad that you were all pleased!

Mary

Married on 11/04/2017

Peachtree Christian church was a phenomenal church to be married in. I cannot brag enough on how wonderful and professional the staff is. If you are planning your wedding in the metro Atlanta area, please consider PCC! Best choice we ever made!

Peachtree Christian Church's reply:

Thank you so much Mary Katherine! It was a delight to assist you in making your wedding day all you had hoped it would be!!

Jessica

Married on 10/07/2017

My husband and I got married at Peachtree Christian in October 2017. We could not say more good things about this church and the people who go here. We worked with Sylvie and she was the best. She was very responsive and helpful. We started going to church there and actually ended up joining the church because we love it so much!!

+ 5

photos

Peachtree Christian Church's reply:

I'm so glad that you're now a part of the Peachtree famly! You and your family were a delight to work with!

Ebonie

Married on 10/01/2017

October 1, 2017 was the best day of my life and I owe it largely to Sylvie and Pastor Jarrod and the entire Peachtree Christian Church team.

My wedding was simply magical! I found this venue on a whim after my dream venue failed to return my calls. My Plan B was to get married in a catholic cathedral style church that was non-denominational.

After praying for the perfect place and endless hours of research God led me to their website! By the end of our planning process, Sylvie was like an old girlfriend and Pastor Jarrod and my husband were like old pals!

If you are considering Peachtreen Christian Church for your wedding, I promise, you will not be disappointed!

+ 4

photos

Peachtree Christian Church's reply:

Ebonie, thank you for your kind words. I truly enjoyed working with you and your husband, and I'm glad you were able to have the wedding you'd dreamed of here with us. (and you are forever my go-to Baker for all my cake needs!) We hope to see you again at Peachtree soon!

Kevette

Married on 09/17/2017

Peachtree Christian Church made my wedding day absolutely the best. This was the best venue for my wedding. The church is STUNNING. I don't think I could have chosen a better venue.

Peachtree Christian Church's reply:

Thank you, Kevette! We were so honored that you chose Peachtree as the place to begin your marriage!

Suzanne

Married on 08/05/2017

I love working with PCC on weddings. I adore the sanctuary- it's so lovely and not too big. The stain glass is amazing. The staff is incredible professional- it is such a joy to be at PCC.

Peachtree Christian Church's reply:

Thank you! We absolutely love working with you as well!!!

Jeannine

Married on 08/05/2017

Peacthree Christian Church is one of the most beautiful churches for a wedding in Atlanta. Everything from the history, stained glass windows and the size was perfect for our daughter's wedding. The staff is wonderful to work with and so sweet and sincere in helping to organize a perfect ceremony. I would highly recommend this church for a wonderful wedding experience!

Allison

Married on 07/01/2017

Working with Sylvie Lansdowne & her team was an absolute JOY! I am very proud to say that I was married at Peachtree Christian Church (7-1-17) as my parents and grandparents were married here as well. The precision and work that goes into the wedding ceremony here is unmatched. My ceremony ran like clockwork and nothing was missed by these wedding experts. From the music, the beauty of the church, the meaning behind your vows; this church has no comparison in Atlanta. If you are looking for a traditional, breathtaking, Christian ceremony, this is the place for you.

+ 4

photos

Peachtree Christian Church's reply:

Thank you so much for your kind words Allison. What a pleasure it was to be a part of a third generation Peachtree wedding!

Alexa

Married on 03/19/2016

AMAZING. Peachtree Christian church is not only a beautiful venu, but the staff is incredible! Rev Bell was so kind, approachable and fun! They provide you with a wedding guild that assists with rehearsal and day of planning and they are top notch! Sylvie assists with all your needs from start to finish. She is extremely talented, organized and just the most wonderful person. She is quick to respond to any questions and created an environment of peace and comfort. I can't say enough about these guys! Rock star team that quickly turned a church into a family. 5 stars!

Alexis

Married on 01/23/2016

Sylvie Lansdowne (wedding coordinator) and Reverend Jarrod Longbons were beyond incredible. Words cannot express how wonderful our experience working with them and Peachtree Christian Church as a whole was. We were already members at PCC and knew we wanted to get married there, and we are so glad we did!

Sylvie was extremely responsive and knowledgeable throughout our entire 6 month engagement. She helped with everything from program design to ceremony seating. She even stayed during a potential snow storm during rehearsal to make sure our day was flawless. The PCC wedding guild was also phenomenal and extremely professional!

Jarrod is not only the Reverend at PCC but has also become one of our personal friends. He facilitated our premarital counseling and even invited us several times to his home for dinner counseling sessions. He is so knowledgeable and open-minded and really understands the ups and downs of marriage. He's never judgmental, and he and his wife, Colleen, are a ton of fun!

Overall, I really cannot recommend PCC enough. You will not regret having your special day here! If the gorgeous architecture isn't enough (and not to mention loads of free parking), the professional and friendly wedding team should seal the deal! Thank you Jarrod, Sylvie, and the PCC wedding guild- you made our day perfect!!!

Megan

Married on 08/16/2014

Jim Bell at Peachtree Christian Church did our marriage counseling and was our officiant. He is beyond wonderful. He is so genuine, thoughtful and caring. I can't imagine anyone else performing our ceremony. He will forever be such a special part of our lives. The ceremony at Peachtree Christian is also so special and meaningful. Multiple guests raved about it over the past few weeks. I would recommend Peachtree Christian and specifically Jim Bell for anyone looking for an officiant! He is the best!

Jessica

Married on 05/17/2014

It was such a pleasure working with everyone at Peachtree Christian Church. My husband and I loved the process and the ceremony was BEAUTIFUL!

Crystal

Married on 03/26/2010

It was such an honor to have our ceremony at Peachtree Christian Church. Our communication with the church began with Dottie Benjamin - she was SUCH.A.JOY to work with as we planned the details of the ceremony. She answered all of my questions + was always extremely polite. The ladies in the Wedding Guild truly take pride in their church + their role + are genuinely interested in making sure that your day is flawless. Rev. Nancy Oliver performed our ceremony + I cannot say enough about how much of a blessing she was to us. When we met with her before the wedding, it was as if we had known her for years. She even incorporated the Family Mission Statement that my now-husband + I created into our ceremony. Our guests were also blown away by the music - we had Minister Bell and his wife sing two selections...highly recommended!

Jasmine

Married on 03/21/2009

One word, AWESOME! The Sanctuary is beautiful and the Wedding Guild volunteers are extremely helpful! I used their music department for my ceremony music and it blew me and all of our guests away! The organ is huge and fills the Sanctuary and the soloists have the most beautiful voices. For what we paid, we got a great value. April is extremely responsive and very professional. I am so honored to have had my wedding at Peachtree Christian!

Kara

Married on 09/27/2008

This is by far and away the most beautiful church I have ever set foot into! I have never been overseas to the old, historic churches, but I imagine they look a lot like this one. We actually ended up joining the church because we loved it so much. It's a "Disciples of Christ" denomination, but it's bascially a nondenominational church that was built in the 20's...it is truly amazing! And, all the staff is extremely nice and helpful! It's kind of pricey, but it is completely worth every penny!!! I had a beautiful ceremony, and it was exactly as I had imagined!

Rachel

Married on 06/21/2008

Peachtree Christian Church is the perfect place to have a wedding! The church is beautiful and the people there make extra effort to make each wedding a blessed and sacred event. I would highly recommend getting marriend at Peachtree Christian Church!

Jocelyn

Married on 02/13/2016

They have been so wonderful to us! Very welcoming and helpful. Even sent us a CD of the music so we could hear it to pick our perfect songs. Also moved our rehearsal up 5 hours so accommodate for Atlanta traffic on a Friday night. Simply a pleasure to work with.

Mary L.

Married on 05/03/2014

The only reason I give Peachtree a four out of five star rule is that they do have a set of rules that all brides and grooms must abide by. This worked well for us, as we are both traditional, but if a bride or groom is looking for a more flexible environment, Peachtree may not be the best location.
Everyone at Peachtree, from the Pastor, to the planner, to the Wedding Guild, were extremely helpful and gracious at every moment. They truly helped us to understand the beauty of our ceremony and imbued every moment with spirituality.
Are you interested?
Send a message