Reviews
4.9 out of 5 rating
Quality of service

4.9 out of 5 rating

Average response time

4.8 out of 5 rating

Professionalism

4.9 out of 5 rating

Value

4.9 out of 5 rating

Flexibility

4.9 out of 5 rating
98%
Recommended by couples
15 User photos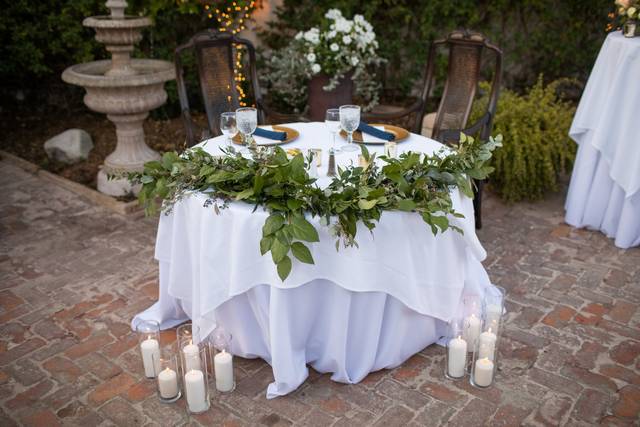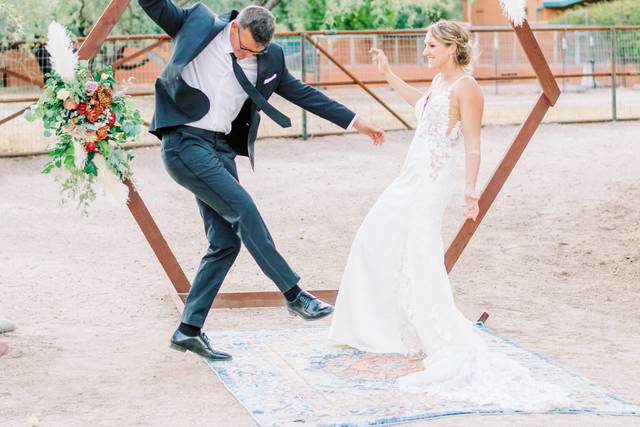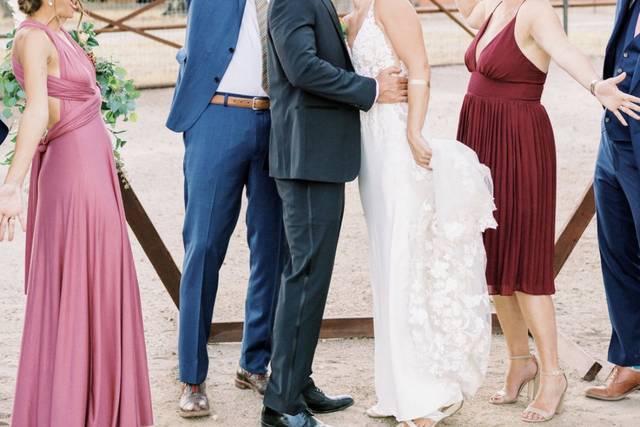 + 11

photos
Payslie B.

Sent on 11/28/2023

I wish I could give Mollee 10 stars!!!

Mollee was an absolute godsend and I'd recommend her without hesitation. I booked Mollee's full service option and I cannot even fathom wedding planning without her. Mollee is the perfect mix of everything you'd want in a wedding planner: she is calm, collected, and ready with creative solutions when you're stressed or unsure; she is just as excited about your special day as you are, which makes planning with her fun rather than stressful; she is well connected and experienced so you never feel lost or overwhelmed; she is efficient and organized, so you don't have to worry about things falling through the cracks; and, above all, she incredibly kind, supportive, and authentic. I had a LOT of ideas (many of them not-so-great) and Mollee worked through the creative process with me. Not only did she help me bring my vision to life, she made me feel so confident and supported the entire time. Plus, she has the best list of recs for other vendors! Even when some of our rentals fell through on the day of our wedding, Mollee found creative (even cheaper!) solutions and implemented them so seamlessly that I didn't even notice until after! Mollee is the real deal and goes above and beyond. Hiring Mollee will be the easiest choice you make!

Molly M.

Sent on 11/21/2023

Real Peace of Mind

Mollee was such a pleasure to work with. Wedding planning can be overwhelming so when I hired a DOC, I was so relieved to realize that Mollee took so much weight off my shoulders. There isn't enough space to write all of the wonderful things about Mollee and her assistant on the day of the wedding. They took care of literally everything on the day of so I could sit back and enjoy the day. If you'd like to actually enjoy wedding planning and your wedding day , hire Mollee! :)

Christina

Sent on 11/10/2023

Mollee is the best!

My husband & I are from Pennsylvania & decided to have a destination wedding in Tuscon. Mollee was recommended to us by the event coordinator at our resort. We wouldn't have been able to do it without her. Mollee is truly a pro for all things wedding. She helped me every step of the way during the planning process & was able to help me pick vendors considering I didn't know of any in the area. My wedding day / weekend was absolutely flawless because of her. She is kind, professional, timely and made me feel relaxed the entire day. She even let me know when it was time to bustle my dress. We got compliments about her by our wedding guests because they even noticed how top notch she was. Anytime I texted her, she responded very quickly which always kept my mind at ease. If you are planning your wedding & wondering if it is worth the extra money to have her the answer is 1000% yes. I can't thank her enough for everything she did for us.

Are you interested?

Send a message

Amelia I.

Sent on 05/09/2022

P.O.M. gives you peace of mind!

Mollee was absolutely fantastic to work with! We hired her to be our day of coordinator and she was incredible. She helped a ton with vendor recommendations and was a dream to work with during the planning process. We don't live in Tucson so she was super accommodating to meet us when were were in town. On the day of, there was no stress because we knew Mollee had everything covered. She went above and beyond for us and we are so thankful we had her on our team for our special day!

Colleen O.

Sent on 04/21/2022

If you need a trusted expert to guide you through this crazy process - book PoM!

If you want to do some planning, but need a trusted expert with great relationships with vendors to help you through the details, meetings & day-of, LOOK NO FURTHER! I highly recommend working with Mollee & Peace of Mind Event Design.

Mollee has a calm demeanor and is very experienced in the industry - two things that helped us feel confident about planning a wedding in a new city with the majority of our guests coming in from out of town. She helped us navigate the many choices of wedding planning, recommended excellent vendors, and was an excellent advocate for our needs to the venue & staff for our planning meetings and on our wedding day.

Chelsee, our day-of coordinator, made us feel at ease and took care of all the details on our wedding day. She worked seamlessly with Mollee to ensure that our day looked and felt how we wanted it, and (at my instruction) made decisions/handled questions from the venue & guests throughout the night for us so we didn't have to. My husband and I fully enjoyed our wedding, thanks to Chelsee & Mollee. Thank you both!

Amber R.

Sent on 04/24/2021

She is everything you need for your special day

I don't know how I would have made it through all the planning a wedding comes with without Mollee. She helped me through every single part of the planning process even giving me the best recommendations for vendors. Mollee is so calm and patient, she's exactly what you need on your big day. And don't even get me started on the day of, she went above and beyond to make sure everything was set up and the day was running smoothly. Her staff was just as great and helpful. So thankful for Peace of Mind. Thank you so much Mollee and staff for making our special day perfect!

Mary F.

Sent on 10/22/2020

Peace of Mind was Excellent

Molly and Veronica from POM events were AMAZING! I talked to at least 10 other event planners and the second I spoke to Molly I knew that's who I wanted to help my wedding go smoothly. Both Molly and Veronica were on top of it every step of the way - especially navigating COVID and all the new protocols and last minute changes. They were amazing and I couldn't have wished for a better wedding planner!

Featured

Aubrey

Sent on 10/21/2020

You definitely need Mollee!

Mollee was an awesome asset to our wedding team, I'm so glad we found her! She helped keep me organized and kept in touch throughout the process. Her list of preferred vendors is the only vendor list I needed, if they're on her list I knew I could trust them and that ended up being crucial to my sanity during planning. Once we got down to a couple weeks out, I didn't have anything to worry about because she kept in touch with all my vendors and coordinated them for me. Then on the day of, she executed my vision perfectly. I literally just had to show up and be pampered, she took care of everything. And I'll tell you, the amount of stress that took of me was everything! You will not regret the money spent on Mollee!

Evelyn L.

Sent on 01/18/2020

Heaven sent!

My husband and I are both from outside of Tucson, so I didn't have a group of people helping me set up my wedding not to mention NO IDEA OF WHAT I WAS DOING! Our wedding was scheduled for November 24th, 2019. In July I had met up with an old friend who has a party business with her husband, she was a wedding coordinator and her husband a DJ, without question I wanted to give the business to a friend! Months went by I received no contract, I would keep check in to make sure we were still on and she would always reassure me that we were on, that she would send me the contract "again," and not to worry. Well, in late September they both bailed on us for personal reasons. I HAD NO IDEA WHAT TO DO! My boss recommended I contacted Mollee who had helped them in their wedding. Mollee is my HERO!!! She got right to work meeting up with us responding to all my questions. She went through everything I had and everything I was missing and needed. Everything was laid out clearly; her prices, her services. My text never went unanswered. The day of our wedding, though still a nervous bride, Mollee put me at ease, seeing her around helping out, making sure everyone was aware of what was going on. THANK GOD FOR MOLLEE AND HER TEAM!!!! Could not have done it without them.

Rachel

Sent on 01/08/2019

Day of coordinator was a must! Totally worth it!

I knew i wanted to book Mollee as my day of coordinator after our first phone call. She had such a sweet and relaxing voice which instantly calmed me down. She was available with any questions that i had during the planning process. There were some unexpected issues that arose for our wedding day and Mollee helped me to remain calm and was able to execute the day better than i could have ever expected. We also had one of Mollee's team members, Veronica help. Veronica was also great and was a HUGE help with taking everything down after the wedding was over. My mother was extremely grateful for Veronica's help. I highly recommend Mollee and her team.

I cannot recommend Mollee Fitzgerald and Veronica Saiz enough! They absolutely changed my wedding for the better and made the whole experience effortless and enjoyable! From the moment I signed them on, Mollee helped me prepare all of the fine details and gave me expert advice/recommendations when I was stuck. She is thoroughly knowledgeable about vendors and saved me tons of money by introducing me to incredibly talented vendors within my budget! During my wedding week, Veronica completely took on all of the stress and details of my wedding. She coordinated the vendors and didn't let me lift a finger! I cried (literally) tears of joy when I walked into the venue and everything was the fairytale I had imagined! She heard every detail and made it reality.
If you want a seamless, flawless, stress-free wedding I HIGHLY recommend POM Events. Thank you guys so much for making my dreams come true!!!

Victoria

Sent on 12/20/2017

Mollee is an amazingly helpful, experienced, professional, connected wedding planner ( and just a generally wonderful person)! My husband and I were planning our wedding from out of state, and I quickly realized I wasn't going to be able to successfully DIY everything at a distance. I opted to hire on a wedding planner late in the game, and I am so lucky Mollee was available! She was incredibly flexible and patient – making calls with me whenever I was in a panic about details, recommending vendors, emailing me updates and putting together a timeline for me. She is so professional and kind in the midst of so many family opinions and demands, and handles all manners with managerial grace! Mollee brought her connections to my wedding to enact my vision, finding colored glasses and getting organza draping for our venue. When my family insisted we have dinner plated, she was able to put together a great waitstaff and handle all the logistics of a more complicated meal. She was so flexible with my florist and decorator when we found out our ceremony location on site would change, only 2 weeks before the wedding! When I walked into my reception, I didn't even recognize my venue – she had gone above and beyond my vision and transformed the place! Above all, Mollee is an optimistic and patient person who is a joy to work with. She not only offers peace of mind, but will also make your dream wedding a reality! Thank you, Mollee!


Mollee was awesome! We couldn't have asked for a better wedding planner. She helped us with all the parts of the planning process and executed our vision for the wedding just like we had hoped for.

Carolina

Sent on 11/07/2017

Hiring Mollee was probably the single best decision we made during our wedding planning process. Our wedding would not have been the same without her! After spending months meticulously planning what I had thought was every last detail, we handed the reigns to Mollee on our wedding day. Not only was our day executed to perfection, but Mollee found numerous tiny ways to make it even better - a little spare drapery here, some candle holders there, even redoing a DIY sign my husband had attempted. Everything was gorgeous and matched perfectly with the decor. She made sure everything ran on time, our glasses were always full, and packed everything up for us at the end of the night. I highly recommend Mollee to all couples, you will not regret it!



Joe C.

Sent on 10/30/2017

Event date: Sept 23, 2017

Mollee...HERMOSA Mollee... I didn't have the opportunity to thank you properly for the beautiful event which you directed, my daughter's wedding.

You can perhaps understand the emotions that a father feels when his little girl is getting married. The beautiful event which you prepared made it so much easier to bear. You are a wonderful person and your personal touch in every aspect was evident everywhere.
Thank you for a wonderful event, thank you for your personal attention at all times, and especially thank you for making this a wonderful event for my daughter and Joe!
I don't know if you know how talented you are, but it was very evident to us all. Please receive a warm and thankful hug.
Carolina's dad!
Antonio Blanco


Jessica

Sent on 07/27/2018

Molly was the best investment in our wedding! She is beyond helpful, enthusiastic, and welcoming! Do not think twice. Book her!

Aubrey

Sent on 03/05/2018

Mollee was the best day of coordinator we could have asked for. She was very supportive of our planning and ideas, offered suggestions/referrals when needed, and helped guide us in scheduling/organizing the day. She had great attention to detail and ran the day of events and vendor coordination without a hitch making it a really stress free day for us and our families/wedding party. We really couldn't recommend Mollee more!

Mollee did a fantastic job taking care of me. I am an event coordinator myself and she understood the importance to all of the details and the day of my wedding executed everything wonderfully. It was very stressful and she was always there for me to even just review the details to ease my mind. Her team is so encouraging and caring and really helped make our wedding be magical.

Kaitlyn A.

Sent on 03/01/2017

Advice to people considering working with Mollee? Do it immediately. Mollee was helpful in more ways than we could have imagined when we first hired her: she helped us plan logistics, with creative ideas and decor, with connections in Tucson, and with general wisdom and advice. Also, not for nothing, she saved us money multiple times along the way. We're pretty sure we were demanding clients, but Mollee was super nice, thoughtful, and responsive throughout the process and--importantly, to us--was very interested in and respectful of our priorities for our wedding -- it was clear throughout that she wanted whatever we wanted, and in the end our wedding ended up exactly as we imagined...but better. One thing we have to mention: we had major communication issues with our caterer at one point (before hiring Mollee), and once Mollee was in the picture she stepped in, took over dealing with the caterer's representatives, and made sure everything worked out perfectly. In fact, we ended up using Mollee's waitstaff services for the wedding, and they were great: everything planned went off without a hitch (at least that we ever had to worry about!), and they went above and beyond handling unplanned tasks (e.g. carrying umbrellas for the wedding party and wiping down chairs in the rain during harried family pictures) too. Mollee also met with us in person and via phone multiple times in the weeks before our wedding, ran our rehearsal the evening before the wedding, and made sure deliveries and clean-up were a breeze (at least for us!). "Day-of coordinator" is not nearly a good enough title for what Mollee did for us -- she was an all-around wedding manager extraordinaire. We're so happy we had her help! (And we actually don't think we could have pulled it off without her. Like actually.)

Celeste

Sent on 12/05/2016

Mollie and her staff are amazing. In particular, Mollie is so sweet and knowledagble and put both my mind and my mother's mind at ease about the details of the wedding. I would recommend her in a heartbeat! I planned the wedding myself but had Mollie staff the dinner staff and bartender, and she organized all the details regarding the food. When I had questions about something, she happily answered, and she even showed up at the wedding to be sure things were going smoothly. Amazing!

We hired Mollee for our day of event planner. She did a phenomenal job and we felt completely comfortable with her. She is very organized, easy to work with, and our wedding was amazing. She thought of many things that didn't even cross our minds. We were very grateful to have had her coordinate our wedding!

Mollee was fabulous she was such a pleasure to work with and made our wedding day stress free. Definitely recommend her for anyone thinking about getting a planner!

Abigail

Sent on 10/25/2016

Hiring Mollee and her staff at Peace of Mind for my daughter's wedding was, without a doubt, THE BEST decision and money spent!!! I wouldn't hesitate to do it again and I highly recommend Mollee and her team to everyone that I know. I can't express my gratitude enough for the opportunity to really enjoy every moment of my daughter's special day without worrying about all of the little, last minute details! Thank you, thank you, thank you Peace of Mind Event Design for such a magical day!!!!

Mollee was absolutely amazing!! She has quite a load with our wedding that's for sure. Although we could never decide on dates or location, she was always there to help relieve the stress. As it came down to the wire of our day, she completely committed herself fully into make ever big to the smallest details absolutely stunning! Wonderful wonderful service. Her helper Veronica was so sweet I am so blessed to have them helping us or I'm sure things would have been a mad hatter disaster haha ???????? Jason and I soul don't say thank you enough!! Thank you so kindly for everything!

Janelle

Sent on 05/05/2016

Of all the money I spent with my wedding planning, the money to hire Mollee Fitzgerald (owner of Peace of Mind Design), was far and away the best! Mollee's advice and connections made planning easier and no matter what I suggested or through of as an idea she had a way to make it happen. The day of my wedding I did not have to do anything. My sister's and Mom dropped off a few last minute things at the venue and Mollee and her team coordinated everything, including two different caterer's, two bartending services, the DJ, a photo booth, photographer, set-up of all the tables and chairs, all the various vendors that we had rented stuff through, and the additional decorations and lighting that I wanted. I spent the day getting my hair and make-up done and sipping champagne because Mollee was on site taking care of everything else. Mollee's connections and experience helped ensure that I had the best possible vendors in the Tucson area as well. And her staff was incredibly professional and accomodating. The only person more grateful to Mollee than me is probably my husband, who's life was so much better once we got Mollee on board!
Are you interested?
Send a message