Reviews
4.9 out of 5 rating
Quality of service

4.9 out of 5 rating

Average response time

4.9 out of 5 rating

Professionalism

4.9 out of 5 rating

Value

4.9 out of 5 rating

Flexibility

4.9 out of 5 rating
98%
Recommended by couples
3 User photos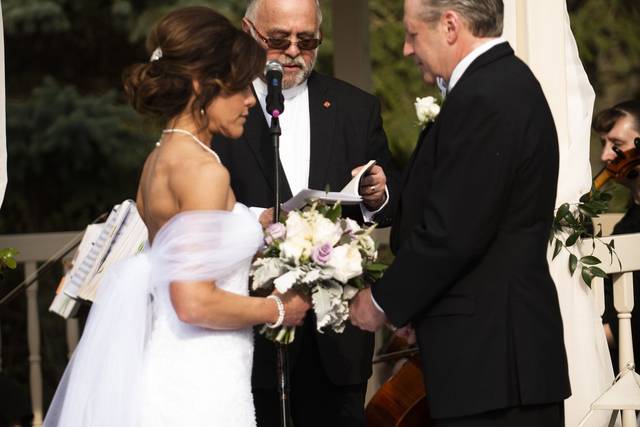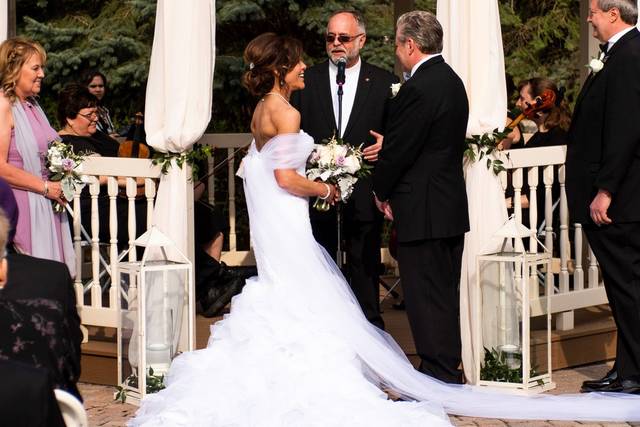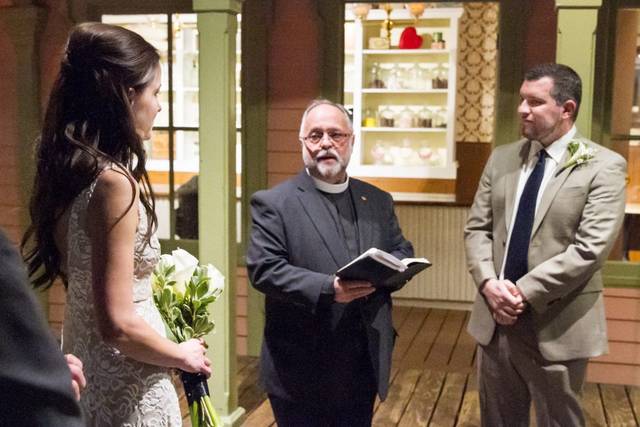 Kaycee H.

Married on 11/21/2020

Very thankful!

My husband and I had Pastor Pat marry us on November 21, 2020. He came highly recommended by the church and we're very thankful that we choose him to marry us! We met with him several times prior to our marriage which put us at ease knowing that the person officiating our marriage knows a little bit about us and our values. He was also always willing to talk us through any concerns or questions that we may have had prior to which made the whole experience as stress free as possible. We plan to renew our vows next year due to COVID impacting our guest list and we plan to utilize him again!

Kari

Married on 09/21/2019

Pastor Pat was kind and very professional

Pastor Pat was great to work with! He is very kind and very professional. He really loves what he does and that love shows in his work!

Rebecca

Married on 08/11/2018

Pastor Pat did a great job for our wedding! We got many complemts from our guests about the ceremony.

Are you interested?

Send a message

Patrick

Married on 05/19/2018

Pastor Pat was an absolute joy to work with. He works with the couple in every way imaginable. Whenever we had a request, he was very prompt at accomidating our request. We would highly recommend Pastor Pat.

Carole

Married on 05/05/2018

When my now husband, Sean, and I met with Pastor Thompson, we knew quickly that he would be the perfect choice for us. One of his very first questions was what kind of ceremony we wanted. When we told him conservative and Christ centered he nodded and said okay and proceeded to give us exactly that on our wedding day! Pastor Thompson is incredibly professional and calming as well as quick to share a laugh and a good story. Sean and I both highly recommend him to anyone looking for an officiant that loves God and loves all people, both conservative and liberal and everyone in between.

Kristin

Married on 03/17/2018

My husband and I chose Pastor Pat as our officiant for our March 17, 2018 wedding and we are beyond pleased with our choice! We received countless compliments from our guests as well. We requested a Christ centered service and he certainly delivered and more. I was a bit frazzled prior to my ceremony and he made sure to seek me out and see how I was doing. We met with Pastor casually to get to know each other a couple times before our day and he was more than accommodating, this also helped to personalize our service. You and your guests will certainly not be disappointed if you choose Pastor Pat, we are so happy we did!

Pastor Pat Ministries's reply:

It was a pleasure serving you. I enjoyed my table companions, and the food was marvelous!

Maegan

Married on 02/03/2018

Pastor Pat made my husband and I very happy at our ceremony! He made it personal to us and made us feel very comfortable. My family and friends said that they loved the ceremony and how true it was to every day life and marriage. I could not have imagined anyone else. So thank you!

Alicia

Married on 11/11/2017

Pastor Pat was amazing! Before our wedding, he met with us twice to get to know us, go over the ceremony, and answer any questions we had. Since Pastor Pat took the time to get to know us, our ceremony was made very personal and was not just your typical scripted service. Our guests even made comments on how much they enjoyed the ceremony because it was tailored to Steven and I. Our ceremony was beautiful and more than I could have ever imagined. Thank you Pastor Pat!

Angela

Married on 09/30/2017

We knew right away Pastor Pat was, "the one." Such a beautiful heart with so much wisdom and knowledge. Gave us the blueprints and guidance for a happy successful, loving, humble marriage! Not just someone that you get married by, but a life long friend!

Kevin

Married on 08/05/2017

Great guy, makes guests feel really comfortable, great speaker, blends marriage and God perfectly

Crystal

Married on 07/14/2017

I am so happy that we had Pastor Pat as our officiant and HIGHLY recommend him to anyone in need of an officiant. He was very helpful and easy going. He led us through the entire process step by step and provided suggestions for ceremony readings. He is very nice to work with! Thank you again Pastor Pat. Our wedding day was amazing and we have you to thank for making our day that much more special!

Bill

Married on 06/03/2017

Pastor Pat was nothing short of amazing! He wed my wife, Catie, and I on June 3rd, 2017. We could not have been more pleased! He was THE perfect officiant for us.

Let me start be giving you our background. I was brought up Catholic, and my wife was brought up spiritual and open-minded (with no formal religious exposure). We wanted to find someone who could make our wedding a sacred affair, but not someone who focused so tightly on a specific religious doctrine. Catie and I also both share a high aversion to judgmental religious figures. We hoped our wedding ceremony would be an inclusive one that made all our guests comfortable.

Any fears or concerns dropped away after we first met Pastor Pat. Pastor Pat is quite knowledgeable on the history of the bible, but you could not find a less judgmental person. Pastor Pat excelled at putting Catie, myself, and our guests at ease. His faithful inclusive caring message at our wedding was one both secular and religious people loved.

As mentioned Pastor Pat is very open minded. He told us that though he has never been hired to do so yet, he would have no problem marrying together a committed same sex couple. We met him a few times, and I was pleased to get to know him.

Pastor Pat is a devote believer in God, but he not the type of person who judges others. His caring way was wonderful. As long as you are comfortable with God being mentioned at your ceremony, I couldn't imagine a better officiant.

Pastor Pat Ministries's reply:

You two were a delight to work with, and the day was truly memorable!

Jennifer

Married on 10/08/2016

Pastor Pat was very flexible to work with and very friendly! He made us all feel at ease with the whole ceremony process and planning the ceremony. Thank you!

Beth

Married on 09/10/2016

I love Pastor Pat he did an amazing job!. Would definitely recommend him! He's the best.

Ashley

Married on 06/04/2016

LOVE him! great service and would use again!

Jessalin

Married on 10/09/2015

Helped out with more things then just being our officiant. On time, clear voice, is a pastor but did a very nice non reglious ceremony for us.

Shaina

Married on 08/22/2015

Pastor Pat was very flexible and great to work with. He is reasonable with his price and passionate about getting to know the couple before the wedding. I would highly recommend him.

Kathleen

Married on 06/21/2015

If you are looking for someone to put you at ease this is your guy. Very approachable and respectful.

Christine

Married on 06/20/2015

Pastor Pat was very understanding and gave us great guidance in the process. He counseled us, prayed with and over us, and made our ceremony beautiful. We wrote our on vows and Pastor Pat was very flexible. We highly recommend him.

Lauren

Married on 06/06/2015

We were very happy with Pastor Pat's professionalism and the care he took to make our ceremony personal.

Lisa

Married on 05/22/2015

Very happy and satisfied. Ceremony was short simple and beautiful

Stella

Married on 08/02/2014

Absolutely perfect! Could not have been better!!

Wendy

Married on 09/12/2009

We had Pastor Pat officiate our wedding nearly 8 years ago. He did an excellent job! He traveled to our venue for the rehearsal and wedding and was professional and down-to-earth at the same time. The ceremony was beautiful (and even entertaining!) and people afterwards commented on how much they enjoyed it. We both would strongly recommend him to anyone getting married!
Wendy & Ryan G.

Kelli

Married on 11/11/2007

Pastor Pat was so wonderful in meeting with us and helping to plan our wedding. He has such a calming presence and it was such a blessing to have him there to guide us through our special day!

Jessica

Married on 08/05/2007

We got married 10 years ago, and Pastor Pat officiated our wedding. Everything went very smoothly, and he did a wonderful job. I would highly recommend him for your ceremony.
Are you interested?
Send a message