75 Reviews
Recommended by 100% of couples
Quality of service

5 out of 5 rating

Average response time

5 out of 5 rating

Professionalism

5 out of 5 rating

Value

5 out of 5 rating

Flexibility

5 out of 5 rating
11 User photos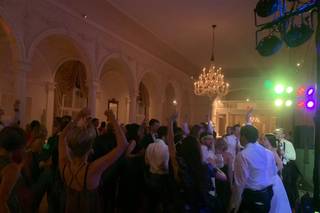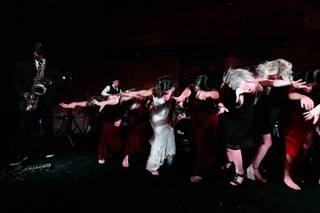 + 7

photos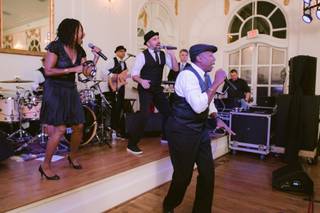 Mary G.

Married on 10/09/2021

Extremely talented

Party Nation is THE BEST wedding band out there! They are SO talented! We first saw them at a friends wedding and then ended up having them play at our wedding two years later. They know how to get the crowd going and are seriously such good entertainers! There was a song I asked them to play towards the end of the night and one of the band members stepped away to learn the song for us and within 10 minutes they played and CRUSHED the song! It amazed me how quickly they were able to learn it. They are extremely talented, we would highly recommend booking them if you are looking for a FUN band that keeps the crowd singing and dancing!

Taylor A.

Married on 05/29/2021

Highly Recommend

Party Nation was amazing! They are very easy to communicate with, have the best song selection, are very high energy, and are all extremely talented. They made sure our reception was just what we wanted, even accommodating last minute additional songs. Since our wedding, all we've received are glowing reviews of Party Nation and how this was the best band they had ever heard at an event.

Party Nation's reply:

Thank you so much Taylor! We had a blast at your wedding and we are thrilled to hear that you and your guests did too! We appreciate you also commenting on the communication with us. We really strive to make everything as easy and fun as possible. We are so excited for you guys and wish you all the best.

Sammy S.

Married on 06/20/2020

Best. Band. Ever.

One of my biggest requirements for my wedding was to have a band that got everybody dancing. Let me just say Party Nation absolutely exceeded expectations on every level. We had people on the dance floor all night long - to the point where they didn't even want to go to the bar for fear of missing the next song!! They were a total hit, and our guests couldn't stop talking about how amazing the band was - everyone said it was the best wedding band they've ever heard! In addition, Party Nation was extremely kind and flexible as we navigated COVID rescheduling in 2020. I would recommend this band to anyone hands down!!! Thank you Party Nation for helping us throw the best party of 2021!!

Party Nation's reply:

Wow Sammy, thank you so much!! It was such an honor to be apart of your wedding! We're so glad to hear that it went exactly how you pictured and dreamed it to be, and the know that your guests had a lot of fun!! We just want to say thank you, again, for trusting us with your big day!!

Are you interested?

Send a message

Amber L.

Married on 11/05/2019

Great music AND great show

Party nation was outstanding! All I keep hearing since my wedding was how great the band was... and it's 1000% true. if you have the opportunity to hire them, do it. You won't be disappointed.

Catherine

Married on 11/02/2019

Great band!

Great band, easy to work with and lively!

Party Nation's reply:

Thank you Catherine! We loved being a part of your and David's reception at the Atlanta Botanical Gardens!!

Mary A.

Married on 10/19/2019

Best band ever!

Party Nation was INCREDIBLE! As a bride, a good band was my #1 priority for our reception. If you're like me and are researching a bunch of bands, look no further. They are very easy to communicate with, have the best song selection, are very high energy, and EXTREMELY talented. Since our wedding, all we've received are glowing reviews of Party Nation and how this was the best band they had ever heard at an event.
We also hired their guitarist to play during our ceremony. As luck would have it, a fire alarm went off literally seconds from me walking down the aisle. The guitarist played during the entire alarm (17 min) and to the BEAT OF THE ALARM. It was both hilarious but also very professional on their part.

I cannot say enough good things about Party Nation!!

Caroline C.

Married on 10/12/2019

Absolutely Perfect

One of the top things we cared about during the wedding planning was the band. We struggled for awhile to find one we liked that was in our price range! The our wedding planner told us to look up Party Nation! We found some of their videos online and loved their energy. And Y'ALL let me tell you, they didn't disappoint! Their energy and fire on stage is unmatched! Everyone at our wedding guests was complimenting them (and still are) and we had multiple people ask for their contact information to hire them for upcoming parties. They kept the dance floor alive the entire night and truly were the party! They are absolutely worth every penny and more! HIRE THEM!

Jennifer W.

Married on 10/05/2019

Best Wedding Band!

I can sum Party Nation up by saying everyone told us they were the best wedding band they'd ever seen. Super easy to work with, they tailored our whole wedding set list to us. They were able to learn all of our requests, and played things by our request as well! SO energetic and fun, it was really awesome having them as part of our day.

Michael M.

Married on 07/27/2019

Highly recommend this awesome group!

Party Nation performed at our wedding in Highlands, North Carolina and was absolutely fantastic. They were engaged in the planning process early on, and then delivered in a big way at the actual event. The music was incredibly high quality, their musical range was impressive across genres, their energy (particularly that of the lead singer) was phenomenal, and they were flexible in the moment (quickly adjusted timing of our 1st dance and performed an impromptu wrap-up song). They got the entire wedding party dancing from the outset, were very engaged with the crowd, and themselves possessed great dance moves which made for a fantastic time. We would highly recommend this group for anyone looking to plan a fun, exciting wedding!

Katie D.

Married on 06/22/2019

Best wedding vendor decision we made!

Party Nation was arguably the best part of our wedding. Their energy and ability to engage our crowd was truly incredible. The talent, the joy, the professionalism, everything- was impeccable. I can't tell you how many people have told us that was the best part of the wedding. Our dance floor didn't stop for 4 straight hours! The best wedding day decision we made was hiring Party Nation, and we're already trying to think of a way to see them play again!

Joseph K.

Married on 05/11/2019

Amazing show

Party Nation performed for our wedding in Roswell and KILLED IT. We were moving tables about 4 songs in because everyone was crowding the front by the band. We got so many compliments from our guests about the band and the set list. I was trying to be all Type-A controlling about the set-list and the band convinced me to give them a list of the bands/songs we liked and they would take care of the rest. They also learned a song for us in like 3 days which is crazy short notice. Seriously, they were rehearsing it before the wedding once they had the equipment set up, and they nailed it. Eddie Money - Take me home tonight - such a great send off.

Party Nation was amazing, and coordinating was easy - Lisa is very communicative. I would recommend them to anyone!

Jenny

Married on 01/12/2019

What a show!

We were beyond blown away by Party Nation. They put on quite a show at our wedding and guests are still asking us who they were and telling us how amazing they sounded. These guys and gals aren't just your typical wedding band. They are true musicians and elite performers. They nailed everything we wanted from jazz standards, to mo-town grooves to dance party favorites. Their energy is contagious and people started dancing even before the main course was served! They were so good that we extended the party an hour because no one wanted to leave!

Party Nation's reply:

Thank you so much Jenny! What a fun reception you guys had at The Fox! We wish you and Stephen all the best!

Daniele B.

Married on 12/07/2018

Party Nation brought the Party!

Party Nation was the perfect fit for our Company Holiday Party. Lisa was incredibly helpful and easy to work with! Dean and the entire band were flexible and met all of our requests! He worked the crowd and got people dancing - which never happens at our holiday parties. We can't wait to work with them again!

Party Nation's reply:

DANIELE! Thank you so much for this glowing review! (Hey I made it in there too! Woohoo!!!) We sure appreciate you!

Hank I.

Married on 11/17/2018

Brilliant - look like a genius - Easy to work with - crowd favorite

I am president of the Margarita Society and have used them for 6-8 years at the Margarita Ball. A number of years ago somebody wanted to use a band they knew that " was just as good as Party Nation" Its hard to beat them - we learned our lesson. Great music, great range, great entertainment. Easy to work with. We do not even discuss the band selection any more. Party Nation hands down.

Party Nation's reply:

Thank you so much Hank for your kind review. We always love being a part of your amazing party every year! We sure appreciate you continuing to trust Party Nation!

Christina

Married on 06/29/2018

This is the BEST band you could possibly hire for your wedding. I am telling you...do it. I saw Party Nation perform at my friends wedding back in 2011 and knew immediately that is what I wanted. We did not have an unlimited budget for our wedding but I would suggest considering to cut elsewhere and spend money on Party Nation. You will NOT regret it. They were hands down the best thing at our wedding. A lot of our guests came from big cities like NYC, LA, London...they were so impressed as well! The energy that this bands bring in undeniably the best in the wedding band market. And as a plus...Dean has the sweetest, most joyful attitude. When we talked during the planning phase, his easy tone actually calmed me down and he gave gentle reminders of what is really important at a wedding. Their execution and performance was flawless. Now I just have to think of another party I can throw to see them play again!!

David

Married on 06/09/2018

Party Nation was such an amazing band!!! They really bring a fun energy to the whole party. Our guests were all talking about their performance for weeks afterwards.

Andrea

Married on 06/02/2018

It truly doesn't get better than Party Nation! I promise you will not find a better band out there. One of my family's main priorities was entertainment, so when I told them I wanted to book a band that a friend had recommended they were quite hesitant since the majority of weddings they had been to usually had DJs. My wedding was about a month ago, and to this day the topic they mention the most was how incredible the band was. We had multiple guests ask for their name for their future weddings, and we've had so many people say our wedding was the most fun wedding they've ever been to because of how great Party Nation was. You will not be disappointed if you hire them. They knew how to read the crowd and keep the dance floor packed the ENTIRE TIME. They were simple amazing and made our wedding so memorable!

Courtney

Married on 05/05/2018

Look no further-- Party Nation is THE ultimate wedding band! You will feel like you're at your own private concert! They bring a tremendous amount of energy to the wedding--its captivating. I attended a wedding 6 years ago where Party Nation played and it was hands down the best band I have ever encountered. I knew I wanted them at my wedding... and 6 years later I got my wish! As soon as I obtained dates from the venue, I made sure Party Nation was likewise available. Lisa was a pleasure to work with and made everything so easy. Prior to the wedding we went over the set list and ironed out a few details. They are reasonably priced and I would have gladly paid more-- they are that good! Our friends and family cannot stop talking about how amazing the band was. I'm still in mourning that the wedding is over. When they played "Forever Young" some people thought Rod Stewart was actually in the room. You cannot go wrong with Party Nation--book them now!

Jordan

Married on 04/08/2018

This band is amazing! Definitely gets the party started!! So energetic! We love them! Highly recommend them to anyone wanting to have an amazing wedding. Dean and Lisa were so easy to work with. They put us at ease from the start and surpassed our expectations the entire wedding!

Laura

Married on 02/24/2018

This band just played at my wedding this past weekend. They worked with my budget and due to distance and cost we had 6 band members instead of 8. They were still amazing and energetic! I had so many compliments on them throughout the wedding and even after about how great they were. I was able to sing two songs with them and they make the key changes happen on the spot and made me feel comfortable singing with them for the first time. They played songs requested and had great music playing during their breaks for people to dance too. They did a trio for the first 45 mins during dinner and played nice background music. Then played 4 hours as a band!

Hillary

Married on 12/16/2017

Booking Party Nation was the best decision I could have made in planning my wedding. Dean and his group were so much fun and kept people dancing on the dance floor throughout the entire reception! I'm still having people compliment the band and asking about them! I can't recommend Party Nation enough. I only hope to have some other type of event where I can book them again!

Jennifer

Married on 08/05/2017

Incredible band! Each member of this band is a true pro. They absolutely made our 50th party a huge success. Everyone loved them! Thank you so much!!

Piper

Married on 07/08/2017

This band is amazing!! They played at my sister's wedding in 2010 and my mother loved them so much that she tried to book them then for my future wedding... even though I was single. Fast-forward 7 years and a proposal and my mom was still determined to have them. In fact, we did not even go to hear them play before booking. I was a little worried they might not be as great as they were in 2010, but they were even better! I had three special requests and two required them to learn new songs and they didn't mind at all. It was one hell of a party and I still have people telling me that Party Nation was one of the best/most fun wedding bands they have seen.

Cate

Married on 06/24/2017

You guys are nothing short of amazing. I danced almost the ENTIRE night away! Of course I missed the piano playing for the cocktail hour since I was still at the church and outside taking pics with Caroline etc, but I heard that was spot on. But beginning with their First Dance (perfection) then "Carolina on my Mind" (- which maybe was better than James Taylor?!) then the entire set list for the remainder of the wedding reception - just WOW… I honestly have no words other than:

*Can't count how many people said that Caroline's wedding was the best wedding they'd ever attended

*SOOOO many people said that you guys were the best wedding band they'd ever heard

*And, most importantly ;0) - you guys KILLED Pit Bull songs for ME, the MOTB! ;) KILLED IT!

Seriously, your band is amazing and MADE the wedding reception! The only regret (not really) is that I was having so much fun dancing at my daughter's reception that I didn't mingle and hobnob probably as much as I should have!

But all worth every minute and every penny spent! Y'all rock (pun intended), and I'd recommend you to anyone.

And getting Caroline and Brian on stage for "Let's Get it Started" was awesome, and the shout out to my brother Brock and Caroline's bridesmaid Laney for their birthdays and having them dance and sing to Beyonce was priceless. Just so much fun.

We'll be talking about the evening forever.

THANK YOU THANK YOU THANK YOU!

Cate Bogue

Susan

Married on 03/25/2017

Best Decision EVER!!!

I wore two hats at this wedding - professional wedding planner and Mother-Of-The-Bride! I have worked with Party Nation professionally multiple times and knew they would be the perfect fit for my daughter's wedding. WOW!!! No exaggeration, EVERY guest I spoke to said they were the best band they have ever heard. I had multiple people ask how far they would travel because they were planning weddings as far away as Texas and California. If you are looking for a band to keep the dance floor packed, with the perfect balance of music and the ability to shift their playlist to suit the crowd, look no further! On the professional side, there is no better band to deal with on the front end (booking, scheduling, etc.) They are professional, reliable, and NICE PEOPLE! Booking Party Nation will be the best decision you make when planning your wedding.

Party Nation's reply:

Wow Susan! Thank you for such a beautiful, glowing review! It was our high privilege to be a part of your family's celebration. Thank you so much for your kind words, and your faith in Party Nation! We look forward to working with you very soon!
Are you interested?
Send a message