140 Reviews
Recommended by 98% of couples
Quality of service

4.9 out of 5 rating

Average response time

4.9 out of 5 rating

Professionalism

4.9 out of 5 rating

Value

4.8 out of 5 rating

Flexibility

4.9 out of 5 rating
32 User photos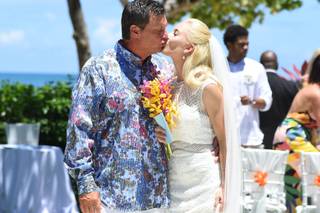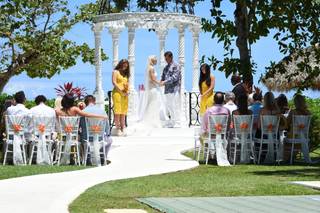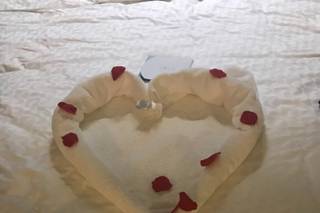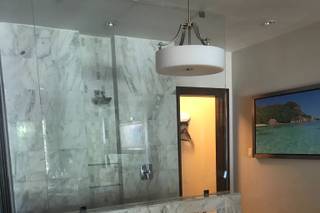 + 28

photos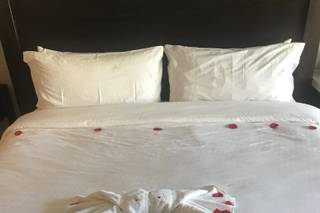 Brian V.

Married on 04/30/2022

Outstanding and Extremely Attentive!

Our wedding trip was nothing short of a dream! Both Paradise Getaways and the Hyatt Ziva Staff went above and beyond to make our trip and wedding stress free and wonderful

Paradise Getaways's reply:

It was my pleasure to assist you and your friends and family with the special occasion. It makes me so happy to hear that your trip and destination wedding planning process was stress-free! Congratulations and best wishes! - Tami

Emma T.

Married on 12/06/2020

Amazing! Tami was so amazing and so responsive to any questions we had!! I've never gone through a travel agent but she made it so incredibly easy!

Tami was amazing!!! Thank you!

Paradise Getaways's reply:

Thank you so much! We appreciate the stellar review and are glad we made your life easier!
Blessings,
Tami and Team ☺️

Mary R.

Married on 06/01/2019

Destination Wedding Made Easy!

My husband and I were 100% satisfied with Tami and her team! She always took care of our every need and quickly answered any questions we had. We enjoyed working with Tami very much and wouldn't hesitate to recommend her to friends!

Paradise Getaways's reply:

Thank you for sharing this review and these beautiful pictures! Your dress was fabulous! Congratulations to you and Chad and best wishes for a long and happy life together!

Are you interested?

Send a message

Lisa

Married on 03/09/2019

Awesome honeymoon!

Tami and her staff are wonderful! She found us an amazing deal and was very prompt and informative with all of my questions. My husband and I will be lifetime customers of Paradise Getaways. Check out their video reviews on YouTube! Thanks so much for finding us the perfect honeymoon room and resort!

+ 2

photos

Paradise Getaways's reply:

Thank you, Lisa! We are so happy for you and hope that you created lasting memories on your honeymoon! Until next time! ;)

Lynzee K.

Married on 02/18/2019

Knowledgable, Professional and Hands-On Planners

After getting lost in the sea of Pinterest, it was actually my *husband* who found Tami and her team at Paradise Getaways. After an introductory phone call with Tami where we described what we wanted in our 'dream destination wedding,' she came back with a recommendation beyond our expectations! The plan for our wedding day checked every single box on our wishlist: 1-Affordable for guests, 2-All-Inclusive, 3-One-of-a-kind romantic getaway, 4-Dense mountainous environment vs. flat sandy beach, and so on... Tami presented us with three amazing options, but without hesitation we chose Las Caletas Island in Puerto Vallarta, Mexico. Everything from that first phone call to our big day spent on the 'private' island was completely turn-key and unforgettable! We worked directly with Tami most of the time, and she was always so polite, professional, accessible and personable. Even when she was out of the office traveling, her team was right there and knew exactly how to handle any request thrown their way! The whole staff treated us and our guests with the utmost respect and professionalism, and we can't say enough about how much they positively impacted our entire wedding planning & travel process! We could not have pulled off such an amazing vacation/wedding without their help! We are truly truly grateful!! - Lynzee & Kevin

+ 5

photos

Paradise Getaways's reply:

Thank you, Kevin and Lynzee! We were delighted to help you and are so happy for you! Congratulations and welcome to your lifelong love story!

Emily

Married on 12/22/2018

Tami and the staff were easy, trustworthy, and professional to deal with. Tami went out of her way to answer my questions in a prompt manner. Tami was diligent in making sure my hair appointment was booked and adjustments to my reservations were secured.

Paradise Getaways's reply:

Thank you, Emily! I'm so glad you enjoyed the wedding and your own mini-vacay!

Inca M.

Married on 11/03/2018

Paradise Getaways was awesome!

Brad DeBoer, at Paradise Getaways, arranged our groups trip to Cancun, and it was flawless!!!! He kept us updated on new and important information about our trip, including safety tips. He reminded us promptly about our payments and information needed.

Paradise Getaways's reply:

Thank you for sharing your experience and this glowing review! ☺️We appreciate your business and enjoyed assisting you and all the wedding guests for this very special occasion.

Gary

Married on 10/30/2018

Paradise Getaways & Tami are the BEST!!

Early 2017 I was in the beginning stages of trying to book a surprise wedding engagement trip for me and my girlfriend. I wanted to do a Caribbean Island, but not sure where to start or how to go about it. As I was surfing the web trying to get some Idea's, I stumbled onto a web site called Paradise Getaways. Being very skeptical dealing with a business online, it turned out to be the GREATEST & PERFECT discovery I could ever ask for!! I set up a phone appointment with Tami (Owner). Tami is a sweet, very knowledgeable and the perfect travel agent you could ever ask for! She's a great communicator answering every question immediately. That's a major plus! Long story short, with Tami's expertise and recommendations, I decide on a destination for October 2017 at the Sandals Grande St. Lucian. With Tami guiding me through every step, and her behind the scenes planning with Sandals, my surprise proposal was perfect with a candlelight dinner on the beach that was absolutely heaven and my girlfriend said YES!!!! The trip was perfect from start to finish! But it was over yet. During my contacts with Tami, she suggested a possible destination weddingmoon in the future. Tami's suggestion quickly had me thinking about making that possibility a reality!!
Fast forward 12 months, October 2018, my fiancé and I got married on the beach at the Sandals Grande Antigua!! WOW!!! Our Weddingmoon was PERFECT from start to finish & the weather was PHENOMINAL!!!! I could go on and on and on!! My wife and I loved every second of our wonderful trip! Our marriage on the beach was so much better than we could have ever expected!! Tami and Sandals knocked it out of the park!! We can't thank Tami/Paradise Getaways enough for all she did making our trips to St. Lucia & Antigua possible with an experience we will NEVER forget!! We WILL be contacting Paradise Getaways for all of our future trips.
Thank you Tami!!!


Paradise Getaways's reply:

Gary - thank you for this wonderful review. It has been such a joy to work with you and Sonia. I wish you both a long, prosperous and healthy life together!
Many Blessings, Tami

Renisha W.

Married on 10/27/2018

Best source for Destination Weddings

Tami and her staff are both experienced and professional. The team walked us step by step from the planning phase up until the wedding. Our special day was made even more special by the support and eye for detail given by Tami and Paradise Getaways. They are hands down the best source for destination weddings.

Paradise Getaways's reply:

Thank you, Renisha! ☺️
We enjoyed being a part of your big day and assisting all your wonderful guests! 🌴

T &

Married on 10/09/2018

Anniversary in Hawaii

Just a quick note to say THANK YOU for organizing a really wonderful anniversary vacation for us! Everything went smoothly and we enjoyed our time away so very much. Hawaii is such a beautiful place! We did exactly what we planned... a great deal of hiking and relaxing. 😊 The helicopter tour in Kauai was unbelievable... and we had front row seats! We also treated ourselves to a meal at The Beach House the night before we left, which was wonderful.

We could go on and on... but suffice it to say that we had an absolutely fabulous time away. Thank you for all that you do...

Paradise Getaways's reply:

I'm so happy to hear you had an awesome time celebrating your anniversary in Hawaii! It was a pleasure working with you both.

Wildamis

Married on 07/14/2018

I had a wonderful experience and felt very well accommodated. They even called me to suggest a better rate and room for me and my family. Very pleased and happy with how my vacation went including the accommodations made before hand. They are very professional, trustworthy, practical and organized. Highly recommended.

Paradise Getaways's reply:

Thank you for your kind review! We appreciate this feedback as our team works diligently to ensure everyone has an amazing experience from beginning to end.

Mackenzie

Married on 07/14/2018

Tami and her team at Paradise Getaways were wonderful to work with from beginning to end. Tami listened to our interests and needs for our Honeymoon and came up with the perfect option of Costa Rica. She guided us through the entire process and would highly recommend her services. It was so nice to have someone research and take care of the Honeymoon planning process. We are very happy and will use Paradise Getaways travel services for any upcoming vacations.

Paradise Getaways's reply:

Thank you for the wonderful review! It was great to assist you on this special vacation. Your honeymoon was the perfect blend of adventure, relaxation and romance!

The entire team at Paradise Weddings was a pleasure to work with. Everyone was responsive and provided a variety of options where needed, especially with regards to suggestions and important tips to keep in mind while away. Communication was exceptional, they made themselves available and easily accessible. Everyone that I spoke with or corresponded with via email was very personable and ensured that I was satisfied. I felt fully prepared for this trip because everything was thorough and well detailed. The team was extremely supportive and resolved issues promptly.

Elzbieta

Event on: 05/08/2018

Tami is great as always!!! Helped my husband and I book our vacation for our anniversary. She helped us find a location we had never been and made travel so easy!! We had a great time and experience!!

Erin

Married on 05/05/2018

Having Tami took away all the worry and stress of my friends and family traveling to and from the wedding, highly recommend!

Paradise Getaways's reply:

It was a pleasure helping you and your friends and family. Hooray for a perfect and stress free wedding day! Congratulations!

Jacklyn

Married on 05/02/2018

Tami at Paradise Getaways has yet to fail my husband and I. She is exceptional at her job! Our favorite part is that she makes planning a vacation effortless. I love that I can just send a quick email with what we are looking for and she replies with several options quickly. I also love that She sends tips and hints (This is our bible when packing and figuring out what to do at the airport). She is responsive, courteous, and very professional! I will always recommend Paradise Getaways!

+ 2

photos

Paradise Getaways's reply:

Thanks, Jackie - it is always my pleasure!

Erin

Married on 04/02/2018

We had such an easy time with our travels thanks to all the leg work you all did! All the connections you made for us, the resort you recommended for us... it was an amazing experience and one we hope to have again!

Paradise Getaways's reply:

Thanks, Erin. It was our pleasure and we look forward to assisting you and your family with future vacations.

Renee

Event on: 02/27/2018

Would definitely recommend to everyone. Awesome to work with. Very helpful and efficient.


Owen

Married on 01/11/2018

Great staff! Good experience.

Paradise Getaways's reply:

Thanks, Owen. It was great working with you on this last minute getaway!

Dina

Married on 12/09/2017

It was amazing! The wedding was beautiful!

Paradise Getaways's reply:

Thank you, Dina. I'm so glad you had an amazing experience celebrating with such a beautiful couple.

Elizabeth

Married on 12/01/2017

Hiring Tami was the best decision we made for our wedding! We planned a destination wedding to Punta Cana, Dominican Republic but we didn't want your stereotypical destination wedding. We wanted it to be a big party (rather than a traditional wedding), held at a private location. She not only found us the perfect wedding location, but found the resort where we stayed with our families prior to the wedding and another resort for our honeymoon.

She was incredibly patient with us throughout the entire process of finding and choosing resorts and went above and beyond! My husband was quite picky and she kept diligently working until we were both comfortable and happy with the resorts we chose. Honestly, every resort she presented was a beautiful location and would have been perfect...and she tailored these resorts to our wants and needs for our families. We couldn't have been happier with the resorts that we chose and our families were so incredibly blown away! In addition, everyone commented how easy working with Tami was to schedule their reservations. It made me feel much less stressed knowing that she was there for them in case a snowstorm hit the east coast.

We really wanted a unique wedding location and she searched high and low for the perfect location. She again went above and beyond for us. At the end, we had three amazing options for wedding ceremony locations (a waterfall in Jamaica, ruins in Jamaica or a beachside location in Punta Cana). Although we didn't want a beach wedding, she suggested it because the venue tailored weddings to each bride and groom's taste, the food is amazing and they provide guests with the kind of party that we were looking for...she knew us well! We actually opted for the beachside wedding venue in Punta Cana and it was everything that we wanted the day to be. The guests said that it was the best wedding that they had ever been to and they are still talking about it weeks later! It would not have been possible without Tami!!!

Paradise Getaways's reply:

Thank you so much for sharing this, Liz - you made my day! It was truly a pleasure working with you and your guests for this special occasion. Congratulations!

Chris

Married on 12/01/2017

Loved the location, great rate, great time! Tami's team was fantastic and make the wedding truly unforgettable.

Paradise Getaways's reply:

Thank you for your kind words! Most importantly, I am so happy that everything went perfect!! Have a great holiday season!!

Lakeisha

Married on 11/20/2017

The resort was beautiful. We enjoyed our stay and plan on returning back. Customers service was excellent.

Paradise Getaways's reply:

Thanks, Lakeisha! I'm so glad to hear you had an excellent getaway!

Jaclyn

Married on 11/11/2017

Tami truly went above and beyond for me without hesitation. She's not just a good travel agent, but ya good person, something that has become rare when dealing with people in terms of business. Tami would respond to all emails in a timely fashion and often at off peak hours which was great for my hectic schedule. If you're looking for someone genuine, who is out to help you have the best wedding than look no further.

Paradise Getaways's reply:

Thanks, Jaclyn! It truly was my pleasure and I wish you all the best!

Tami and her team were wonderful throughout the entire planning process - from identifying the destination, to venue to the last details of our wedding.

Both my husband and I had no idea where to begin when it came to planning our wedding. Tami is the reason that we had the most perfect wedding - beyond what we could have imagined. I truly don't know what we would have done without her.

Paradise Getaways's reply:

Thank you so much - it was truly our pleasure! Best wishes!
Are you interested?
Send a message