36 Reviews
Recommended by 95% of couples
Quality of service

4.8 out of 5 rating

Average response time

4.8 out of 5 rating

Professionalism

4.8 out of 5 rating

Value

4.7 out of 5 rating

Flexibility

4.5 out of 5 rating
Awards
23 User photos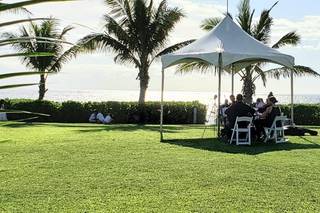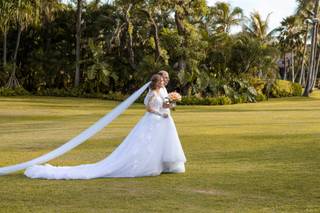 + 19

photos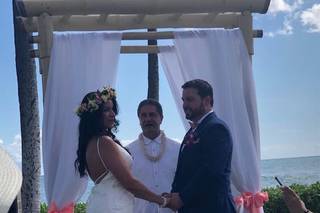 April W.

Married on 07/20/2020

Ease with Aloha

We set up an appt to do a site visit and Camille was their to greet us to show us around and answer all questions we had. We visited many other venues but opted to book the Ocean Garden for our reception. We had numerous questions as things things came up in our wedding planning and Camille has always been quick to respond. Our wedding isn't until summer of 2020 so I'll update again once we've tied the knot! But is far the experience has been very smooth.

Zamira B.

Married on 11/06/2019

Delighted With Our Experience!

We are so glad we had a destination wedding and chose Paradise Cove, Ocean Garden as our venue! Camille was amazing to work with and was extremely helpful throughout the whole process. On the wedding day, they provided staff to assist with a few things. Paradise Cove is beautiful. We had beautiful weather on our wedding day, and the sunset was magical. I highly recommend Paradise Cove!

Paradise Cove's reply:

Hi Zamira and Dimitriy!
Thank you so much for your kind words and for sharing your experience on WeddingWire. It was a pleasure assisting you and Dimitriy with your special day. Please stop by to visit us when you return to celebrate your anniversary in November! :)
Sincerely,
Camille


Denise

Married on 08/14/2019

Absolutely enchanting wedding

My wedding at Paradise Cove was absolutely beautiful! The views were breathtaking, the minister was awesome and the ukulele player was perfect! Ashley was very helpful in organizing and orchestrating my ceremony. I was extremely happy with the turn out and how smooth everything went, and my guests said it was the most perfect wedding they have ever been to.

Are you interested?

Send a message

Ingrid K.

Married on 07/23/2019

Pure Hawaiian Wedding Venue

It doesn't get any better than this location. I worked with Camille day 1 and she was so helpful. It's stressful to plan a destination wedding and she calmed me on numerous occasions. Paradise Cove offers packages that include the photographer/officient/music/cake and reputable vendors to choose flowers and hair/make up from. I had last minute guests and add-ons but it wasn't an issue. They were so professional but yet very personal with all of the details. We were also able to work with Auntie Pat the last couple of days....loved her as well.

Paradise Cove's reply:

Hi Ingrid! Thank you for your review! We realize how hard it is to plan something so special from so far away. We specialize in destination weddings and try to make the planning process as easy and stress free for our couples as possible. Planning your wedding is supposed to be enjoyable and we hope it was for you and Fred. Aunty Pat and I send our best wishes for a long and happy marriage. Take care and don't forget to visit us when on the island.
Much Aloha,
Camille

Georgina M.

Married on 06/12/2019

Ocean Garden is the perfect venue for your wedding ceremony and reception.

We experienced excellent service through Paradise Cove, they provided us with everything we needed to plan our dream wedding.
Camille is definitely there to help you plan and save for the wedding you desire. Her attention to detail is phenomenal.
The paradise cove staff is more than willing to work with your vision for the wedding and have every detail accounted for.
The space is more than enough for a ceremony and reception to be.
Our wedding was so beautiful, more than anything we could have imagined. Thank you paradise cove for everything.

+ 2

photos

Tuyet

Married on 05/26/2019

Incredible!

Camille from Paradise Cove has been amazing to work with. She toured us of the Ocean Garden lawn and I immediately knew this was where I wanted to get married since it was right beside my favorite beach. The value was extremely reasonable and the venue allowed me to bring in outside vendors of my liking (dance floor + bar was through them only). From the beginning, Camille answered any questions I had extremely fast, guided me in what was best based on my vision, and even toured me a second time once the wedding was closer so everything could come together mentally for me. The venue itself was gorgeous, with lush palm trees in the back, blue ocean crashing against the background of my wedding ceremony, and the flat green grass allowed me to NOT wear heels the entire night as I danced and enjoyed my wedding day. The wedding ceremony set up was surreal and the reception as well. I couldn't have been more pleased. Thank you again for making my big day something to remember for the rest of my life!

+ 3

photos

Dan

Married on 03/11/2018

We held our reception in the garden at Paradise Cove and the comments from guests have been absolutely outstanding. Camille and Pat and the entire staff made the whole affair seamless. Highly recommend this venue for the quintessential Hawaii reception and/or wedding!

Susan

Married on 01/06/2018

Paradise Cove was perfect. We actually used the Ocean Garden venue and it was stunning. Camille was incredibly helpful and helped create an over the top, stunning wedding. I can't recommend her and the venue enough.

David

Married on 10/08/2016

This place was amazing and the views were absolutely gorgeous! I came here many years ago and told myself if I ever got married it would be here. My wife picked the exact same spot where I promised my best friend I would wed. You have to get married here. Thank you Paradise Cove!

Hilda

Married on 06/23/2016

Ashley was so helpful and patient. This was a wonderful memorable experience. We were so happy and thrilled with everything. She worked hard helping us make this a a day we will never forget! the pictures were amazing from The Point. very professional and very polite. i felt like family was helping me. so worried about booking from another state, but she gave me the confidence a nervous bride needs.

Alvina

Married on 10/17/2015

This is for Paradise Cove as a wedding venue. It was a gorgeous venue, the staff were really professional, worked in perfect sync with our wedding planner, and everything went off without a hitch. There's a large expanse of grass overlooking the beautiful ocean. Our wedding ceremony was timed to end just as the sun was setting and the camera phone pictures alone were stunning, I'm sure the DSLR ones will be even better. The sun sets off this part of the island so everything was just stunningly backlit. There are plenty of palm trees for a nice horizon and after the ceremony the couple is allowed to go to the restricted area of beach for private photos. The office staff and day of staff were all great and I loved working with them. You are obligated to use their bar services and their bar manager worked with us to create a wedding cocktail we called "felix felicis" - a little bit of liquid luck. In terms of logistics, there were plenty of clean, spacious bathrooms, and more than enough power for all our electrical needs.

My one small caveat to this glowing review is that we were told we wouldn't hear any of the luau noise but we definitely heard drumming and singing during lulls in our own programming. It was not enough to be distracting and surely not enough to go anywhere else but that is something to note.

Paradise Cove's reply:

As happy as we are that you had a perfect wedding day, this review is actually for a different Paradise Cove. We are located in Orlando, Florida. I believe this review is meant for a Paradise Cove in Hawaiian. Regardless, congratulations and we wish you a lifetime of happiness!

Melanie

Married on 09/15/2015

This Venue was absolutely amazing!!!! It exceeded all of our expectations and was the perfect place for the wedding and reception. Camille from Paradise cove weddings is awesome to talk you and helped me out with anything I needed. I would recommend this place to anyone that is looking to be married in a beautiful spot, you will not regret it



Elizabeth

Married on 09/06/2015

We attended the luau here after having an intimate ceremony on the public beach right next to it. We were delighted to have an amazing dinner followed by a spectacular show. I really loved the fire twirling done by the Chief. Everyone was really friendly during our time here and I recommend this luau to anyone who gets the opportunity to be on Oahu.

Samantha

Married on 05/11/2015

I got married at Paradise Cove on May 11, 2015. We chose "the point" as our spot and it was beyond beautiful. It is a beautiful green grassy point with mountain views on one side and a beach on the other. We were even able to get photos taken on the beach, which was so neat and added a lot of variety to our wedding album. The Paradise Cove team was wonderful and allowed us to come for a site visit and walk through 2 days before the wedding with our wedding coordinator. Our ceremony was beautiful and sunny, and it felt private and intimate. Aunty Pat was one of the sweetest people I have met and made me feel extra special. We brought our family to the luau the evening before the wedding, and she came to find us and give us beautiful leis made specially for us by her grandson. The luau itself was also a blast and the whole family loved it, it was by far the highlight of our trip. Of all the places on Oahu I considered getting married, I am positive I made the right choice at Paradise Cove.

Edward

Married on 04/11/2015

Our wedding was everything that we wanted and more! The views of the ocean and sunset spoke for themselves to our guests.
Service was great! Camille is a busy person, but will make sure to respond back in a timely manner.

We also had a wedding coordinator who worked with Camille and everything went as we planned and couldn't ask for more!

Thank you so much again Camille and Aunty Pat for all that you did for us!


Paradise Cove Ocean Garden is absolutely Beautiful and Stunning. Couldnt get any better!!!!

Christine

Married on 01/15/2015

Paradise Cove Ocean Garden is absolutely beautiful. Working with the wedding planner Camille was great, and she was always very responsive, professional and caring. She helped with all the little details and made sure everything was in order. Definitely worth the price for the inclusive wedding packages. The cake was simple design but delicious, the backdrop of the ocean for the ceremony was a million dollar view, the florals were high quality and so beautiful, and the staff was all very helpful and friendly. Perfect for our intimate 24 person wedding, the Luau was a fun alternative for the reception that all the guests really enjoyed.

Arlene

Married on 11/28/2014

Ashley from Paradise Cove was a joy to work with. Because it was a destination 20 year wedding vow renewal celebration for us, we could not meet until the day of. She listened and answered all my questions and concerns. Because I am also a wedding coordinator, I am all about details. She took pictures with her ipad to show me what the beach would look like and where the sun would shine during our ceremony time so I could give my photographer (also traveling for the wedding) an idea of lighting at 3:30pm on 11.28.14.

On the day of, we felt like ROYALTY. We had 2 people designated to take care of our party of 30 people. They met with us, escorted us, served us... continued to serve us through the night for 2nds and 3rds of delicious Hawaiian cuisine. The arts and crafts, activities and entertainment at the luau was so amazing! Everyone had a terrific time.

I highly recommend them.

It was a beautiful site for the wedding. The wedding reception was catered by Chef Chai and was totally awesome! Everyone attending the event raved about the food. The wait staff was excellent ! It was a warm muggy Hawaiian summer day under the outdoor tent, yet food presentation, taste, texture, temperature and freshness was nothing less than top rate !! Braised ribs and potatoes outrageous, fish w/lobster sauce fresh and rich, wonton and shrimp wrapped with crusted ribbons all warm, crisp tasty, and asperagus that was no less than the best I have ever tasted... Dinner was then topped off with an ice cold white chocolate-dipped, heart-shaped ice cream desert with a strawberry inside and raspberry topping that smothered the plate - to accompany the wedding cake. The ice cream amazingly remained cold even for those up dancing when it was served. We were amazed how chef chai did it all !! My sister, a world traveler, said she has eaten at some of the finest restaurants in the US and abroad and couldn't remember eating any meal better. What we thought was impossible to achieve outdoors was presented with elegance and style by Chef Chai. I commend Paradise Cove for using Chef Chair as a caterer for events at Paradise Cove. If you want the best, Chef Chai is the food genius who can make it happen !!


Amy

Married on 06/17/2013

Paradise Cove is the most beautiful setting for a wedding. We visited the year before we planned our wedding and thought it was amazing. It's affordable for those on a budget, compared to it's neighbour Lanikuhonua.
They allow wedding planners to work with them and co-ordinate vendors on site, and they even let us use a private area to get some great photos, that they don't normally open.
Just check it out, it's beautiful

Cari

Married on 12/12/2012

As soon as I saw the view of the private gardens, I immediately fell in love and just had to have my sunset wedding here. Camile and Aunty Pat made sure I had everything I wanted and needed, and was just AWESOME!! I had broken my foot the month before my wedding, and they made sure to I was able to be accommodated. They definitely made our day extra special with memories that will stay with me forever!!!

Nicole

Married on 10/20/2012

It was the perfect end to a perfect day! :) I had my reception at Paradise Cove, not my ceremony. Since no one in my wedding party, excluding myself, had never been to Hawaii, this was PERFECT! We got the Deluxe package and sat in the Royal Box. I reccomend this to anyone considering having an event at the luau. We were given excellent service the entire time. We definately given royal treatment :)

One thing to know though is that you probably will not be the only bride there. I believe there were four of us there total. However, the staff still made everything very special.

Joan

Married on 07/08/2012

We had our ceremony on the beach part of Paradise Cove's property! The site was beautiful, everyone who worked there was so nice to us! They sneaked me to the bathroom so that my husband couldn't see me, they made sure all of our guest knew where they were going! We attended the luau directly afterwards and they lead us into the site where we received our Mai Tai's, pictures and everything else. We had great seats for the actual Luau. Paradise Cove is filled with amazing people who make you feel so special having your ceremony there, even at the luau, you feel like you are getting a lifetime unique experience! Can't wait to come back!

Danielle

Married on 03/31/2012

Delicious food, best services, the beach scenary was very beautiful. I would recommend this place to anybody.

Paradise Cove is such a beautiful site for a wedding! I had a destination wedding and was hesitant because I was only judging by pictures...and there aren't too many pictures of this location on the internet. Most pictures you see are of its neighbor, Lanikuhonua. The pictures do not do this place justice. I had a private ceremony and reception in their Ocean Gardens area. It was a very intimate wedding with only about 35 people. There is a little garden area behind the mound that is secluded and the view is SPECTACULAR! My biggest skeptic (my mom who initially wanted me to have a church wedding at home) could not deny how beautiful this place was. She even said it was such a beautiful wedding and changed her mind about me having a destination wedding. The sunset is out of this world. I also couldn't believe the price I got it for. It is much more reasonable than Lanikuhonua and Loulu Palms, especially if you go through their preferred caterers. I picked Tanioka's and my guests could not stop talking about how delicious the food was. I had my dream wedding for a dream price. My guests are still talking about how beautiful my wedding was. Camille who is in charge of the Ocean Gardens area is very helpful and so nice! She is very busy as is everyone else in the wedding industry in Hawaii so it is understandable if they don't get back to you within a day. The only thing is you must start your ceremony right at 4:30pm because the Luau opens their doors I believe at 5:30pm but this wasn't a problem for me. Some people talk about strict time restrictions but that is only if you're only having the ceremony there. If you have the ceremony and reception there, you have the venue from 4:30pm to 10:30pm. Plenty of time!! We all went to the Luau the day after the wedding and that also was a lot of fun! We made leis and the luau was very entertaining. All in all, I don't regret one thing about this place. Pick Paradise Cove as your wedding location... you won't regret it!
Are you interested?
Send a message