Reviews
4.7 out of 5 rating
Quality of service

4.6 out of 5 rating

Average response time

4.6 out of 5 rating

Professionalism

4.7 out of 5 rating

Value

4.8 out of 5 rating

Flexibility

4.6 out of 5 rating
93%
Recommended by couples
27 User photos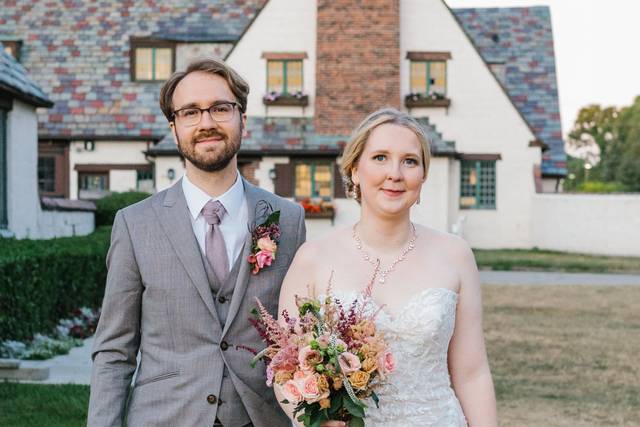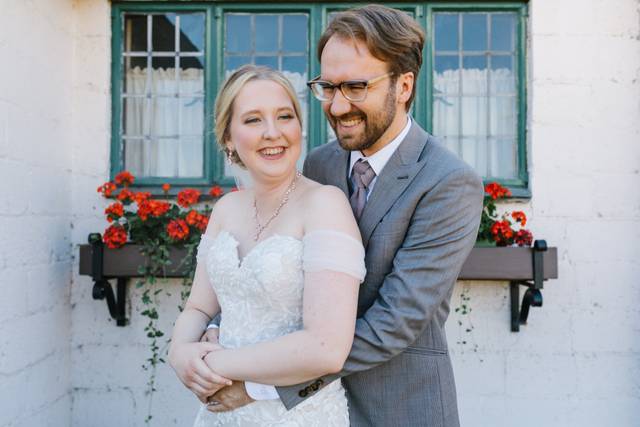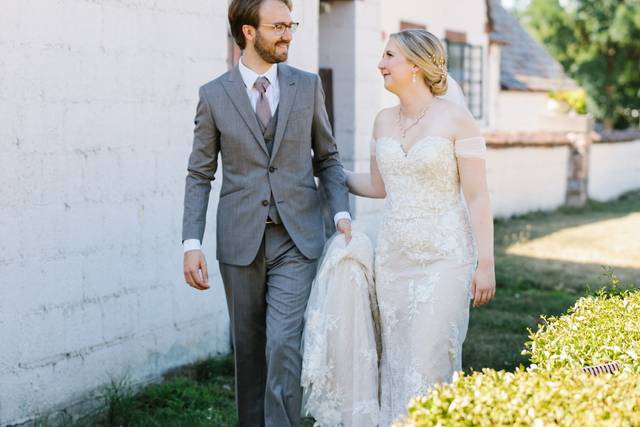 + 23

photos
Victoria E.

Married on 07/22/2022

A Vintage Venue with Character--Guests Raved!

We were married at Packard on 7/22/22. My husband and I didn't want a traditional venue, and we wanted our wending funds to go toward organizations and people we liked and trusted. We knew Packard was the right place for us on our first tour in 2021. Mary Ann was wonderful to work with and we loved knowing that our venue fees were going toward supporting the preservation and maintenance of the historic grounds. We also liked that they had a Facebook group for couples, hosted wedding garage sales, and were at a convenient location for us. The space also fit well in our vision of a vintage-themed wedding, melding my work as a librarian with my husband's work as an automotive engineer.

The space was beautiful. Our out-of-town guests stayed at the Cambria Hotel, which offered a shuttle to Packard, and we got ready on the Packard grounds, which helped the day feel more relaxed. It also helped that the ceremony and reception space were close together but there was still space to spread out. One thing that surprised us was that few guests stayed to dance despite our fantastic band; most of our guests wanted to wander the grounds or tour the museum (or leave altogether) instead. That might have more to do with our friends/family than the venue, but it's worth thinking about!

We had some confusion on a couple points the day of the wedding. We had attended a handful of other Packard events before our wedding day, so I was accustomed to seeing the reception hall's large garage doors open in the warmer season—especially during these pandemic years. We envisioned our floor plan with the doors wide open, but our wedding planner had to quickly adjust when the venue staff informed us that we would not be allowed to open the reception hall's large garage doors during cocktail hour because of the heat that day. It turned out to be a very hot day, so it made sense to spare their A/C systems, but this change ran counter to the floor plan we'd constructed around traffic flows and effectively trapped the band's music in the reception space, so I wish I'd known about it sooner! We had also been told that we could walk through the Packard house for the ceremony, so we left some things (phones, water bottles) there. My wedding planner moved the belongings shortly after the ceremony when a staff member noted that our belongings could not be left in the house, which took us by surprise in the whirlwind of activity following the ceremony. However, aside from these minor snafus the day of our event, everything went beautifully! Our guests loved the venue and still talk about the space, and everything looked like how we dreamed it would.

+ 9

photos

Brittany V.

Married on 10/23/2021

Best. Day. Ever!

The PPG was the best place for our wedding reception! The Repair Garage is beautiful and honestly doesn't need much decor as it's beautiful on its own. Mary Anne and Rene' are so helpful and even honored our odd request of letting us have skeletons in the static car inside of the garage as part of our 'Til Death theme. Our guests loved our venue, especially the tours that the PPG volunteers led during the reception, at one point the dance floor was empty as everyone was on the tour! My only word of advice is that it's a build-your-own wedding venue which is totally worth it in the end and is completely customizable. There's a lot of decisions to make and if you want an all-in-one venue the PPG isn't for you.

Gregg W.

Married on 11/22/2019

Best venue for a wedding and reception.

Son Nick and Jill were married on 11/22/19. Rene' was wonderful in helping. The entire evening was first class. The cars we chose were gorgeous, especially for car guys.
The best venue for a wedding and reception.


Are you interested?

Send a message

Candice

Married on 06/01/2019

Best decision ever

Great venue and exactly what i wanted

Samantha

Married on 07/06/2018

Best venue ever!

We have received SO many compliments on our venue! People loved the unique and historic feel that Packard has to offer. If you're considering this venue, don't hesitate! Their calendar fills up quickly each year. We had such a positive experience, from our first inquires about the venue all the way until the last moments of our reception. The wedding coordinator at Packard, Mary Anne, is extremely helpful and patient! She is always available to answer questions or concerns, and offer suggestions. The two Packard volunteers who worked our wedding were so professional and kind. The grounds at Packard are also perfect for wedding photos.

Ashley

Married on 07/21/2017

The Packard Proving Grounds was a dream venue. Mary Anne was the busiest bee and never let us down. She will help start the process (and looking at it now I would jump to the venue ASAP) and help with whatever you need to. She is always there and answers emails and texts so quick. My husband and I wanted an unconventional venue - something that we could make our own. We are not banquet hall types. If it wasn't for family we would have had a backyard bash so the Packard filled every box. You can choose to set up everything yourself. We had a Friday wedding and rented the Thursday before hand. While we got closer we realized that it might be less stressful to just hire a coordinator to help set up and fix any issues we would have. It sucked to pay more, but man was it worth it. Our coordinator was one of the first to do a wedding at the Packard so she knew Mary Anne and all of the background on Packard. We never had her plan for us she just helped us make the Packard beautiful for us. It sucks to have to move so quickly to get everything in and out, but that's just how it is with weddings every weekend. If there isn't one I know Mary Anne would help to make something else work. Our ceremony was outdoors, but they do have the lodge on location for a backup plan. You do have to do everything yourself at this venue. Caterer, DJ, Bar, tables, chairs, but honestly we wouldn't of had it any other way. We also wanted our dog to be apart of the day, but worried about what guests would think. He was definitely part of our ceremony which was on the Packard Boulevard and then when we arrived the Packard volunteers convinced us that it was our day and to keep him the whole night. This would never have happened elsewhere. That was so special for us and the volunteers made us feel so important. They are all there to just help out and are the nicest people. Our wedding was in July so it was hot, but comfortable. We were able to have half our guests outside and half him, it was great

+ 6

photos

Shelby

Married on 07/15/2017

Packard Proving Grounds is the perfect wedding venue! As a bride I was able to have so much creative freedom! We were so glad we chose this venue. Our guests raved about how unique and fun Packard Proving Grounds was to see. They loved the tour given by Bruce and Mary Anne was so wonderful to work with - everyone here is so great and genuine. My husband and I were blown away by how beautiful the place looked on the day of our wedding!

Vicki

Married on 04/15/2017

This was the perfect wedding venue for us. We were able to use all of our own vendors to make our guests' experience exactly what we wanted. The volunteers on site were helpful and knowledgeable about the grounds and even took my guests on a little tour of the Tank Building where the historic vehicles were housed.

Michelle

Married on 07/31/2015

The Packard Proving Grounds is a unique and beautiful location for any event. We were fortunate enough to have our wedding there and the indoor/outdoor setting can't be beat in the area.

Perfect!!!!

Packard holds a special place in our hearts. My husband and I got married at Packard in 2015, and we had a party for our first born in 2017. We could not have asked for a more perfect place to host the celebrations of our important life moments. The joint focus of celebrating the past and the present makes Packard very unique. It has a classy yet homey atmosphere. Mary Ann is a pleasure to work with, always readily available to answer questions and give recommendations. Bruce also helped greatly with getting the venue ready and providing dimensions of certain areas. On the day of, Ro and Ray were a delight. Everyone helped make our day(s) special and memorable.

+ 2

photos

We loved this venue for our wedding! Our friends and family could not get over how cool the garage was for a wedding venue and loved the classic cars and rustic feel of it all. The buildings and the grounds are absolutely STUNNING, especially in the fall. Such a great spot for pictures!! It was A LOT of work & planning having to bring in all of your own vendors (you are just renting the space with nothing included here), but totally worth it in the end to see your unique vision come together & make a lasting memory for your guests. This venue really started getting more popular as of lately and the only "complaint" (if you can even call it that) is that Mary Anne who runs the bookings just has A LOT on her plate and sometimes we felt like she was a bit scattered (rightfully so) doing it all herself. You just have to stay organized and on top of what they tell you because she has a lot going on with a lot of different couples. So glad we found this cool, historical venue. It really was everything we envisioned!

Anne

Married on 05/15/2015

I was able to find this wonderful place to have our reception, very local to us. It is a gorgeous and unique space, that offers a lot of flexibility and character. There are a couple of different building options with lots of space.

Tara

Married on 12/03/2016

The Packard Proving Grounds are SO cool! The garages provide the perfect rustic or industrial space for your event. It truly is an incredibly unique place! Things you should know before booking: This is part of a historical foundation so yes, it does seem pricy to rent but the money is well spent on restoration of the grounds and preserving the history behind them. Most of the people who work there are volunteers so you likely won't find the same 5-star service and amazing flexibility you might find at a banquet center or hotel. Regardless, all of the volunteers are wonderful people and they were always willing to help when we needed it! Last, if you're looking for that trendy rustic space, just remember that this one is *actually rustic.* There are limited outlets on the walls, there aren't lights in part of the smaller garage, etc. Even so, NONE of this should deter you from having your event here! It's an amazing honor to have an event in a place with so much history and to be able to support the foundation!

Allan

Married on 09/03/2016

The Good: The grounds are beautiful and they have a very large space to work with. They also reinvest the money from their events back into restoring the grounds and building a museum.

The Bad: One reason we chose the Packard Proving Grounds (PPG) is because they promised to let us clean up the day after our event. We discussed this with the ground's representatives and were told verbally and through email that they would honor next day cleanup. At some point during our reception, we were told that we had to clean up that night, which we were not at all prepared for. We spent two hours DURING OUR RECEPTION trying to sort through old emails, rereading our contract, and speaking with family and friends to figure out how we would possibly clean up that night. Two hours that we didn't get to spend celebrating with our friends and family. Two hours, I might add, that we paid an additional hourly rate for on top of the regular rental rate.

After we finally found the email that stated we could clean up the next day, we showed it to the volunteer on site. The volunteer stated that he didn't know why we were told we could clean up the next day and that we still had to clean up that night because the PPG had an event the following day. In addition to this, we sent the PPG manager the email, but we never received a response.

Furthermore, there was no running water in the catering area, the venue still had items left out from PPG and a past event that we had to clean up, and tours of the garages were being given that got in our way and invaded the private space that we paid for. Also, PPG provides few accommodations considering their price.

With all of that being said, if you choose the Packard Proving Grounds for your event, get everything that you want to be spelled out in your contract; don't trust their verbal agreements or emails. Also, ensure that the venue is clean and ready for set-up and that the utilities are in working order.