42 Reviews
Recommended by 96% of couples
Quality of service

4.9 out of 5 rating

Average response time

4.8 out of 5 rating

Professionalism

4.8 out of 5 rating

Value

4.7 out of 5 rating

Flexibility

4.7 out of 5 rating
26 User photos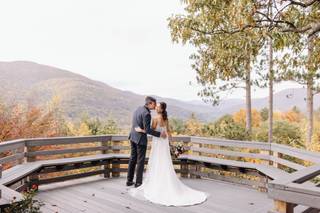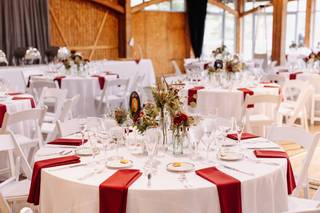 + 22

photos
Julie E.

Married on 05/14/2022

Stunning Venue, Great food, Dream Wedding!

Wow. This venue blew us away. Jeremy was so helpful through the planning process, and Bob (while a bit eccentric) was not lying about the beauty and smoothness with which this place runs. It felt truly magical. The setup of the ceremony and reception was perfect, as they offered lemonade and water to early arrival guests, greeted people with signature cocktails after the ceremony, and had really friendly staff all around. During our tasting, one server we chatted with said that she decided to come back to work at Onteora not because she needed to but because of how much she loved it. The food from Blue Mountain Bistro was also incredible, and Jeremy managed to communicate a lot of complicated food requests to our guests successfully. We got the Beet Salad, Chicken Marsala, Salmon Dijonnaise, and the Risotto cake for vegetarians all of which were truly delicious. And the passed appetizers during cocktail hour were also amazing -- particularly the stuffed mushrooms and tuna tare tare. The dance floor was definitely sufficient for our needs, but I cold see for larger weddings that it might be a bit crowded if you expect most people are dancing. The extras do add up to make this place a bit high cost, but all in all we HIGHLY recommend this venue!!!

Elah L.

Married on 08/29/2020

There were many many many times we felt beyond thankful to have chosen Onteora

We were originally slated to get married at Onteora in Aug 2020, and eventually had our wedding there in Aug 2021. Through the nearly two (tumultuous) years as we postponed and then planned and had a wedding during the pandemic, there were many many many times we felt beyond thankful to have chosen Onteora.

Bob and Jeremy were amazing. We were so thankful to have practical, honest, down to earth individuals who answered a zillion of our questions, offering their helpful advice (often with a humorous twist) from decades of weddings, and making all kinds of accommodations to make our wedding perfect. (Jeremy even arranged for awesome apples from his farm stand for our welcome bags.)

We and our guests had an amazing time - everything was gorgeous, smooth and delicious. Some of our guests said it was the best wedding they had ever been to, and that some of the appetizers were the best wedding food they had ever had. It's a beautiful place, and we're already excited to try to return to the B&B for anniversaries. (We stayed at Onteora for the tasting weekend and a few extra nights before/after the wedding - highly recommended.)

Thank you Bob and Jeremy!


Amy T.

Married on 06/06/2020

Beautiful, Scenic Venue!!!

My fiancé and I booked Onteora Mountain House for our wedding next June and words can not describe how excited we are to be wedded at this beautiful venue! Robert was a such a pleasure to work with, including his pup, Charlie! The moment we stepped onto the grounds, we knew that this was where we wanted to get married.

Are you interested?

Send a message

Rosemary D.

Married on 08/31/2019

Absolutely Amazing

I cannot say enough great things about the Onteora Mountain House. We were married there in August and the day was absolutely perfect. Jeremy, Bob and their entire team is excellent and an absolute pleasure to work with. The food was amazing, the service excellent, and the setting absolutely beautiful!!

Kemi M.

Married on 05/26/2019

BEST wedding venue ever

My friends and family STILL can't stop talking about how beautiful our venue was. From the management to the decor to the flexibility, we couldn't have dreamed of a better place to get married. Every photo is absolutely stunning and it made for such an amazing night and party! Would recommend this to everyone and anyone

Jenny

Married on 09/15/2018

Onteora Mountain House was the perfect venue for our dream wedding. Every detail was executed perfectly. I am very organized and detail-oriented and I was afraid that something would be missed, but nothing at all was! I wouldn't change a single detail. The whole staff is so thoughtful and makes sure everything runs beautifully and smooth.

I loved the ceremony site, that the whole weekend was ours to host a rehearsal dinner, wedding and brunch, and the overall serenity that takes over you the second you step onto the grounds. The feeling is indescribable.

Pictures can't even capture the magic of the grounds. The house and rooms are comfortable, updated and superb! Our parents and family loved hanging out in the house, game room and by the fire pit. They also loved the seated breakfast for both Saturday and Sunday, it was nice to have time together with a delicious breakfast (which is important to eat the day of your wedding!)

Jeremy is a dream to work with, he goes above and beyond and really nails every detail! He was a perfect day-of coordinator, and kept us on-time and was a calm and strong force for the day! I was debating back and forth about getting a planner and with Jeremy, it is not needed! He answers every question before and during the wedding and really knows EVERYTHING to ask and organize.

The food was fantastic and tasty! The tasting that they host was great to be able to pick our appetizers, entrees, sides, cake and desserts. Food was hot, fresh and delicious. Our cake was beautiful and people ate 2-3 slices each!

If this venue has your requested date available, RUN don't walk to take that date! You will not regret it.

+ 7

photos

Olesya

Married on 08/18/2018

Our August wedding was more magical than we could have imagined. Everything was absolutely perfect from start to finish. Working with Jeremy made the process a breeze. Onteora has a streamlined process in place to organize a wedding efficiently, but also leaves room for the special touches that allow your wedding's personal theme to shine through. We loved having the venue to ourselves from Friday through Sunday, and opted to host our rehearsal dinner (35 people) and Sunday brunch (100 people) there, all of which were delightful. We loved that our family dogs celebrated with us, since Onteora is pet-friendly. Onteora is so peaceful and secluded that your entire wedding will feel like a dream - very different than your typical commercialized wedding venue. We loved having the ceremony and cocktail hour outside, and the surrounding landscape provided an incredible backdrop for photos. If we had to go back and do it all over again, we would still choose Onteora in a heartbeat.

+ 6

photos

Aishlinn

Married on 08/11/2018

If you're lucky enough to get a date on Onteora's schedule, take it! This venue and their staff have it all. You can already see from the pictures how idyllic the scenery is. And I dare say it's even more striking in person. Your guests will not stop telling you how beautiful the grounds and pavilion are. But this venue is more than its good looks. It is a well-oiled machine. Peace of mind is everything when it comes to wedding planning, so you want vendors you can trust. You can depend on Bob and Jeremy 100% to make things run smoothly. I actually hired an independent wedding planner, and after all was said and done, I would have been better off just working directly with the Onteora staff myself - they're that good! Finally, it rained nonstop the day of our wedding, but that didn't spoil things at all because Onteora was fully equipped to handle the weather. When I first toured this venue, having a rain back-up was a high priority for me. The rain plan-B is just as beautiful as the outdoor plan-A. As it happened, that turned out to be critical. And the rain actually creates a very beautiful effect on the surrounding mountains. If you choose Onteora, you'll have an incredible wedding and you and your guests will be delighted.

Enrica

Married on 09/10/2017

Where to start. As locals (I'm from Shandaken and my husband is from Woodstock), my husband and I know the Mountains like the backs of our hands, and wanted a venue that reflected our love of the area and also showcased and supported the local people and local vendors. Jeremy (the Manager/Wedding coordinator/provider of all things) is AMAZING. He is supremely organized, calm, and respectful. He works with you to make sure every detail is accommodated, even if it's not included and is something additional. You work with him throughout the entire planning process, and you never feel like there is anything left out or forgotten. Your day is constructed and built up around you, your personality, and your preferences, and on the day, it's truly magical to watch it all come together. On the day of our Wedding, every person on staff was helpful, respectful, sweet, and patient. You can tell they put up with a lot, given the high demands of brides and grooms these days, and they still treated our Wedding like it was extremely special and the actual day was just a joy to experience. The setting at the Mountain House is an amazing, no-words type of beauty. Even having lived in those Mountains my whole life, the views took my breath away. We were lucky enough to have had a beautiful clear day, but even misty/rainy days are gorgeous at the Mountain House and they are clearly very prepared for any type of bad weather. We are beyond grateful and so thrilled with our choice of Onteora and absolutely had the Wedding of our dreams.

Gretchen

Married on 07/29/2017

Our daughter's July 2017 wedding was perfect in every way thanks to Bob, Jeremy, and the professional staff at Onteora. The setting is unbelievable but the service is even more breathtaking. They were calm, accommodating and wise and made everything easy and beautiful for us. Our friends and family, who came from all over the world, raved about the gorgeous views and friendly staff. Jeremy even changed a flat tire for a guest without missing a beat! We will be forever grateful.

Kristin

Married on 07/23/2016

Onteora is a dream! We had the most incredible wedding weekend and cannot thank Jeremy and Bob enough for all that they did to make us, and our families, feel so special. The grounds and view are incomparable, the food was incredible, and the hospitality and service unparalleled. We had the most unbelievable and beautiful wedding, and can't wait to return to Onteora to relive it all!

Stephanie

Married on 07/16/2016

Don't think twice! Bob, Jeremy and their awesome team are top notch in every respect. They worked with us to create an absolutely magical evening for our daughter and son-in-law. They made it seamless, especially when planning long distance (Manhattan). There is just something beyond wonderful about this place - truly a gem in every respect. We look forward to going back for many a stay during the off season.

Rena

Married on 07/03/2016

Seriously: Get. Married. Here. From the moment my husband and I stepped foot onto the property on our first visit, Onteora took our breath away. From the sweeping views of the Catskill Mountains to the gorgeous inn and lodge area, we instantly fell in love with this site for our mini-destination wedding from Brooklyn. But not only is Onteora exceptionally beautiful -- it's also incredibly easy to work with their staff. Bob and Jeremy, the coordinators, were highly professional, accessible, accommodating, and kind. The planning was as stress-free as could be, because of their incredible attention to detail -- and the day itself went off without a hitch.

Thank you Onteora for the wedding of our dreams! We are forever grateful.

Najia

Married on 05/21/2016

Bob and Jeremy made our wedding weekend absolutely perfect. The beauty of the house and location is unparalleled and the staff was exceptional. We loved having all of friday and saturday and sunday brunch to spend with our families and friends. The food was incredible and the drinks were plentiful and delicious. They were very accomodating and helped us plan the ceremony and reception on separate days. Everything was executed perfectly and they had excellent suggestions for nearby lodging and vendors. We are filled with incredible memories from that entire weekend. We are so happy we chose to get married at Onteora and could not imagine a better experience! We would recommend Onteora to everyone and anyone for any occasion!

Brena

Married on 09/12/2015

Was just married here and literally could not be happier with the experience. It poured throughout our whole entire wedding, and I still could not have asked for a better time. Jeremy goes above and beyond. Truly incredible.

Kiki

Married on 06/20/2015

Onteora is one of the most beautiful places on earth, and we still can't get over how gorgeous our wedding was. We got married during a light mist of rain, and the grounds took on a dreamy, intimate quality that made for gorgeous photos and cool, comfortable guests.

We were so happy and busy that we forgot to eat, and the staff were kind enough to make us a plate of entrees. The appetizers, main course, cake and desserts were all superb - we haven't stopped thinking about it. Also, the breakfast at Onteora is delightful. The crepes are some of the best we've ever had, and we love crepes.

Throughout the process, Bob and Jeremy were pleasures to work with. They are smart and dry-witted and relaxed because they know what they are doing. It was nice to be in such capable hands for the best day of our lives.

Our wedding was three weeks ago, and we're still getting calls and e-mails from our friends and family telling us how beautiful the venue was and what a great time they had. My husband and I initially thought we wanted a rustic, barn-style wedding, but after first looking at those options in the tri-state area, we found Onteora and fell in love. The views are incredible and so much more special than a barn wedding would have been. We were initially concerned with how far it was from the city, but there were more accommodation/rehearsal dinner/transportation options than we expected, and the scenery made it well worth the drive.

Jeremy (the manager) has an incredible knack for details. Whether it was getting a certain mixer for my husband's favorite drink, setting up the name cards table perfectly, using walkie-talkies with the rest of the staff to ensure our ceremony ran smoothly, or a thousand other things, he made us feel special and confident that we were in good hands. Every time we asked for something, his answer was always, "Sure, whatever you need."

The food was great, both at the reception and a breakfast we hosted the next day. We planned our wedding from a distance, so having everything included in one place (food, rentals, liquor, cake, etc.) made our lives so much easier. Having to look for a linen vendor from 300 miles away would have taken time away from more important things, so having Jeremy show us a book of linen swatches at our one-month meeting and pointing to the ones we wanted was a huge convenience.

Overall, we couldn't have been happier with how our wedding turned out, and Onteora and its staff were a huge part of why it went so well. We feel like we got a very personal, intimate venue with professional attention to our wishes and requests. We can't recommend Onteora highly enough!

Ann R.

Married on 08/23/2014

From start to finish, they were a pleasure to deal with for everything. Their attention to detail, and to make it as stress-free for the family, was evident from the beginning to the end.So many of our guests remarked that it was the most perfect setting for a wedding!

Nicole

Married on 08/09/2014

The Onteora Mountain House was the perfect location for our wedding. As my photographer described, it was "rustic and chic, natural and posh all at once". My husband and I visited the Mountain House twice before our wedding and it was raining both times, but it will still so beautiful we knew it would be unbelievable if the weather was nice on our day.

So many of our guests have said it was the best venue they have ever attended a wedding. The food was amazing, the views spectacular, the reception room is gorgeous and so much better than a typical ballroom. I can't imagine our wedding having been so perfect if it had been anywhere else.

Bob & Jeremy are great to work with as well. Bob makes sure every detail goes off without a hitch, and Jeremy is so attentive to anything you could possibly need. From the momemt we arrived Friday until we left Sunday afternoon we felt like royalty. It was the most amazing weekend of our lives!

My husband and I live in Brooklyn, NY, but when we got engaged, knew we wanted to get married outside the city. We went to college in upstate New York, and had hung out and camped a lot in the Catskills and Hudson Valley. We spent many weekends searching for the perfect place to get married. We wanted outside, but weren't sold on a tent for weather reasons. As soon as we drove up to the Onteora Mountain House, we knew it was the place. It's high atop the mountains and the view is absolutely breathtaking. It's rustic without being too rustic. The reception venue is a gorgeous timber pavilion. Bob, the owner, and Jeremy, the manager, were professional, responsive and flexible throughout the planning process. Every time I sent an email, it was immediately answered back with the information I needed. When it came to the wedding weekend (you have Onteora from Fri-Sun), they were both amazing. Jeremy was on top of literally everything. I didn't have to worry for a moment. Anything I asked him or Bob the whole weekend, was met with an immediate "Sure, no problem". The ceremony, reception and next-day brunch were so beautiful and perfect. The venue, service and food literally blew our guests away. They couldn't have complimented it enough. I highly recommend booking the Onteora Mountain House for your wedding. Not only is it a breathtaking and unique venue, but Bob and Jeremy run it so well, and guide you through your day calmly, attending to everything you could imagine. We wish we could do the day all over again, we loved every minute of it, in large part to Bob, Jeremy and Onteora!

Anna

Married on 09/01/2012

About a year before our wedding date, we stepped onto the property and knew we had to get married at the Onteora. It is truly a magical place. The pictures hardly do it justice. Because you rent out the 7 rooms on the property for close friends and family, the venue becomes your home for the weekend. We all felt so comfortable and at ease. But most importantly, the staff is phenomenal. Bob and Jeremy are true pros. We showed up on Friday with all of our stuff, handed it over, and relaxed for the rest of the weekend, knowing that they would take care of everything. Jeremy is a calm and collected presence when you're standing at the top of the stairs, waiting to walk down the aisle. Every request is met with a reassuring answer. They are a pleasure to work with and know all the ins and outs of planning a wedding. I could go on and on but, in short, picking the Onteora was the best wedding decision we could have made. It is worth every penny.

Ali

Married on 08/11/2012

Onteora Mountain House is the most beautiful place to have a wedding!! All of our guests were in love with this venue and are still talking about it almost 4 months later! Not only is it stunning and provides the most gorgeous setting for a wedding and wedding photos, Bob and Jeremy are so organized and welcoming. From the breakfast that they provided each morning, to the schedule of events they develop with you before the wedding, and their organization on the wedding day (when everything can be so hectic!), they are true professionals. They are responsive and flexible and really know how to schedule a great wedding!! The staff was friendly and amazing as well! We fell in love with Onteora as soon as we walked in and I would absolutely recommend having your wedding there!!

Rachel

Married on 05/27/2012

This venue was made for my husband and me. And they made our day perfect.
I arrived and they took care of everything. Not only did everything get set up, they added so many nice touches all around that made the entire experience a dream.

This is the place for you if you want to get what you pay for. It is worth every penny. Bob and Jeremy have such attention to detail, really know how to organize, and know exactly what to do to pull it all off smoothly. Working with them was nothing but pleasant, they were always very accommodating and willing to work with me, but without treating me like a spoiled princess. I was looking for no-frills attitude, and I got it. I didn't want fake cooing over me and treating me like a child, and they were very cool.

Overall, it was a really amazing day - the best of my life - and I would definitely recommend.

Alycia

Married on 06/17/2007

gorgeous wedding site, very helpful with the planning and recommendations. was my first and only choice spot.

Hayley

Married on 09/10/2016

My now husband and I first saw Onteora online, and I had a feeling that it would be "the one." But it was a little far (we're from NYC), and our families didn't really get our vision for our wedding, so we didn't visit for a while. We saw about 20 other venues first, and none of them were it. Our parents could tell we weren't too excited about any of them. And then we went to visit Onteora, in sleeting rain, and we were over the moon. Even in the rain and the fog, I knew that this was where I wanted to wake up on my wedding day. We made the absolute right decision. Everything about the wedding was perfect, from the food (which I think included some very creative dishes) to the service and the drinks, and of course the magical location. Our guests raved about the atmosphere that we created for our wedding, and that is mainly due to Onteora. Bob and Jeremy were easy to work with, and I felt completely confident leaving every detail in their hands once we arrived for our wedding weekend. As expected, they executed everything perfectly. The only negative I have is that there is no air conditioning in the reception space, which on our exceptionally hot/humid wedding day was uncomfortable, but I would still do it over again.
Are you interested?
Send a message