107 Reviews
Recommended by 97% of couples
Quality of service

4.8 out of 5 rating

Average response time

4.9 out of 5 rating

Professionalism

4.9 out of 5 rating

Value

4.8 out of 5 rating

Flexibility

4.8 out of 5 rating
66 User photos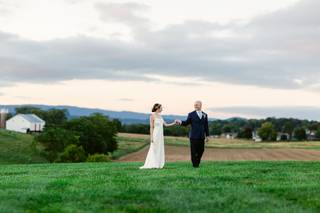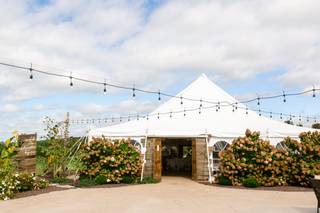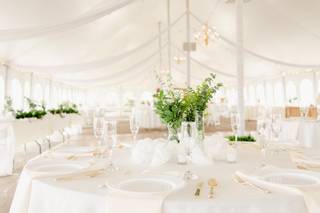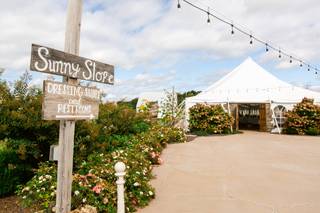 + 62

photos
Elizabeth C.

Married on 05/07/2022

Dream Wedding

Our wedding at On Sunny Slope Farm was everything we dreamed it would be - even in the cold and rain! It was truly a beautiful day thanks in large part to Harry and his crew. He definitely helped to put us at ease so we could enjoy our day. I think one of the best parts about the whole wedding process was how most of our vendors knew Harry and had all worked together before and that seemed to be extremely helpful. If you're a DIY bride without a planner, On Sunny Slope Farm make it a piece of cake.

Mary S.

Married on 02/09/2022

Sunny Slope Wedding

Sunny Slope was affordable and accomodating to our needs. They provided package options to fit different budgets which first drew us to the venue and the beautiful views and excellent communication sealed the deal.

+ 3

photos

Featured

Rebecca C.

Married on 08/06/2021

Perfect Wedding Venue!

On Sunny Slope Farm was the ultimate wedding venue! Harry and Melodie are wonderful to work with. Everything about the venue and staff was perfect. This place exceeded our expectations and we highly recommend On Sunny Slope Farm as a venue for your wedding or event!

Are you interested?

Send a message

Andrea R.

Married on 06/27/2021

Very organized, friendly, and professional!

Our vendor was very responsive, professional, and friendly! Highly recommended!

Austin N.

Married on 06/05/2021

They're Wonderful

The day of coordinator Melodie was absolutely incredible. We couldn't have imagined our wedding going anywhere near as smoothly as it did. She took so much stress away and helped make the already beautiful Sonny Slope Farms even more gorgeous just adding to our big day. Couldn't recommend the venue or her any more!

Virginia M.

Married on 05/22/2021

Great deal!

Melodie was a great day of coordinator and we enjoyed every second of our wedding On Sunny Slope Farm! It was a great deal for the venue as well.

Andrea

Married on 05/02/2021

My wedding was beyond perfect at On Sunny Slope Farm!

My wedding was beyond perfect, and Harry and Melodie made it happen! As a bride who was originally planning a 2020 wedding, the impending COVID-19 pandemic threw a huge wrench into the already overwhelming process. Harry Jarrett was there since my first inquiry, and maintained open communication, professionalism, and patience as I painstakingly analyzed the decision of our wedding date. After initially booking in October 2020, Harry continued to work with me and provide options as the date drew near and as COVID had its ebbs and flows. Even after my drawn-out decision over the first date, Harry was able to move it to May 2021 when our circumstances changed, all the while continuing to be supportive and kind while answering the dozens of questions that I had in the months prior. The hotel room block process was a complete success thanks to the event coordination staff at the Hotel Madison – Brooke Driver and Manuel Coca were amazing to work with and instrumental in helping me track reservations. In short, Harry exceeded all of my expectations of customer service by corresponding with me for over a year while being nothing but patient and flexible as I obsessed over every decision.

Melodie Taylor took my vision and ideas for the wedding and made it all happen. After our initial meeting 3 months before our May 2021 date, I knew I wanted her to be the day-of coordinator. She brings a wealth of wedding planning experience and uses every ounce of it to inform her bride on what to expect and how to best execute the ideas whizzing around in their head (I blame Pinterest). During our in-person meeting, Melodie was great at identifying what was most important to me about the wedding. She was easy to talk to and a great listener. She also helped fill my knowledge gaps about weddings and debunked my misconceptions that I got from way too many movies. Once the ideas were there, Melodie made the timeline with me, and then it was off to the races! Not only did I love working with Melodie, she also worked well with my other vendors. Melodie met with my caterer during our in-person meeting, and she also has a great relationship with the bartender. Shout out to Cat Snead (our bartender) who single-handedly served our guests amazing drinks while keeping the line short! On our wedding day, Melodie kept true to the timeline and checked in with me to make sure I was eating, hydrating, and enjoying my wedding. The whole day was better than I could have imagined. My guests still talk about how much fun our wedding was! Melodie has nailed the perfect balance of involving the bride throughout the planning process, and taking care of her bride throughout the wedding day.

Harry and Melodie, I cannot thank you both enough for such a beautiful day.

Krista M.

Married on 10/17/2020

Wonderful!

A great venue with lots to offer at a great price. We got married On Sunny Slope Farm in October, 2020. Our day of coordinator, Melodie, was super to work with and made sure our day went as smoothly and stress free as possible. Harry ensured we had a wonderful ceremony that captured our relationship perfectly. We couldn't have asked for a better day!

Anna D.

Married on 07/10/2020

The Perfect Day

On Sunny Slope Farm was super easy to work with and my husband and I got a lot of compliments about our wedding. Harry and Melodie were very attentive and had great expertise. We used a lot of the vendors that were listed on their wedding website and we were satisfied with everyone. We got married in front of the chapel and our wedding pictures turned out great. We had the perfect day and would highly recommend getting married at this venue if you're looking for a farm-chic wedding.

Katherine B.

Married on 11/08/2019

Absolutely perfect!

My husband and I got married here back in October and it was absolutely perfect. Harry and Melody were both super helpful and did their best to make our day special. The location is beautiful as well with rolling hills and mountains in the background. I loved everything about my experience with them. This is one of the most beautiful locations with a very reasonable budget. I would highly recommend to anybody looking for a wedding venue. It's beautiful year round.

+ 5

photos

Courtney

Married on 10/05/2019

Excellent Choice

Our experience with On Sunny Slope Farm was wonderful. The location was gorgeous, the amenities of the venue were perfect for us, and the staff was very knowledgeable, responsive, and easy to work with.

Breann

Married on 09/21/2019

We will always remember, the 21st night of September!!

September 21, 2019 was hands down the best day of my life. Not only was On Sunny Slope Farm the most beautiful venue that EVERYONE loved, but the staff there was incredible. Harry, the owner and our officiant, was so awesome and laid back from the first day we met him. He made sure that we were comfortable and prepared and his emails in the months leading up the wedding on what to do next were so helpful. Melodie and Marissa, our day of coordinators were so helpful in planning the little details and making sure we weren't forgetting anything during our planning meetings.

On the day of, they were so pleasant and helpful and Melodie even fanned out my dress when it was a hot September day!! Marissa constantly made sure I was doing okay, I had a drink in my hand and didn't need anything. She also handled ALL of our vendors so that took any unnecessary stress off of us. Both made sure our event was flawless and so incredibly perfect.

I can't rave enough about these amazing people and this amazing venue. My husband and I are so lucky to have gotten married there and are honestly so thankful for everyone at On Sunny Slope Farm! We even got to take beautiful photos with the dairy cows and our guests loved them! The laid back aspect of the venue made for the perfect wedding!!

Thank you ALL for an amazing wedding - I can't say that enough.

+ 4

photos

Bri

Married on 08/17/2019

Amazing Staff and Gorgeous Place!

On Sunny Slope Farm was amazing. I just got married there this past weekend and everyone was so kind and helpful and on top of every detail. Melody helped herd a giant wedding party with lots of personalities! She was amazing as was Harry and every staff member we interacted with! Everything went so smoothly and everyone was so helpful. The venue itself is gorgeous! We stayed on the AirBnB on the property and that was amazing too! So much space and it made life so easy to be right next to the venue!

Bethany G.

Married on 06/29/2019

Perfect Venue!!

My husband and I got married on Sunny Slope Farm at the end of June and we couldn't be happier with our choice of venue. It was insanely gorgeous and every picture that was taken (either from our guests or photographer) was absolutely breathtaking. Our friends and family made so many comments about how beautiful the venue is. They were also pretty excited about the farm animals too.

It was sunny and a palmy 90 degrees outside on the day of the wedding but there was a constant breeze throughout the ceremony and during the reception. The bathrooms and bridal suites are air conditioned so we were nice and cool when we were getting ready. It was also nice to have the bridal suites (which you can keep locked) if you needed to have a couple minutes in private. My bridesmaids enjoyed that they could keep their things locked during the wedding without worrying about anything. The bridesmaids and I used the bridal suites to get ready and it was very comfortable. Our hair stylist and make-up artist had plenty of space and outlets to set up in the bridal suite to do hair and make-up.

Harry was also our officiant and did a wonderful job in that role. He said personal things during the ceremony which really made the wedding very special. It was easy to chat with him during our pre-wedding meetings. We were able to ask for advice on certain aspects but he definitely encouraged us to do whatever we wanted for the ceremony. We used him to help us make reservations at Hotel Madison and he suggested the My Shenandoah Valley Wedding website and we were able to find all of our vendors through that which was SUPER helpful. Since many of our vendors had already done weddings on Sunny Slope and knew the venue, everything went super smoothly.

Melodie was our day of coordinator and she was AMAZING. She helped with all the setup and preparation. She coordinated with all the vendors. On the day of she picked up flowers because mine died (insert sad face) and lunch for the girls. She was very helpful throughout the entire day and it really wouldn't have been the same without her.

Before the wedding the shuttle from the hotel was in an accident (luckily none of our guests were on it) and Harry took Melodie's personal vehicle to transport guests to the venue. If that doesn't show that they care about weddings and the couples, I don't know what does. They are amazing, the farm is amazing, everything about it was amazing.


Jessica

Married on 05/25/2019

Beautiful venue

The venue was absolutely beautiful and the staff was great to work with. Melodie is the sweetest and helped everything go off without a hitch. Harry was flexible in helping us achieve our vision!

Katie

Married on 05/18/2019

Blown Away!

Absolutely loved working with the staff at Sunny Slope Farm. Harry was very helpful during our tour and really tried to get to know us during the process of choosing a venue. Melodie was a fantastic day of coordinator! She was very efficient and proactive when it came to our meetings and for creating the day of schedule. She really made sure the day was perfect. They are open to any ideas, and really try their hardest to make your dreams come true for your wedding day! Everything about the venue and the staff are wonderful and I couldn't have been more thankful for all they did to make my wedding an absolute perfect day!

Sarah W.

Married on 10/20/2018

Can't get better than this!

We cannot say enough about how amazing our wedding was at Sunny Slope Farm. Words really do not do any justice. The surrounding landscape is breath taking and the landscape at the farm is already so beautiful that not much else is needed. Harry was absolutely PHENOMENAL to work with. He not only made our day that much more special, but his ability to communicate with us made wedding planning that much easier. He took the stress out of everything and even took the time to have a phone conference with our first time officiant to give him some direction for conducting the ceremony. Harry was always willing to be at our "beck and call" whether it was a phone call to discuss details about our day or to swing by the venue when we would visit for planning purposes. His staff was terrific, especially Melodie who did several our meetings and was always so pleasant! We highly recommend this venue to anyone who is getting married. We cannot imagine getting better service or beauty than on this farm!

Jessica

Married on 09/29/2018

On Sunny Slope Farm was the perfect wedding venue to get married! This was the first venue we visited & we instantly fell in love- we even booked the same day. Harry made the process of getting married on the farm an absolute breeze! The farm manager Melodie & our day of coordinator Monica were SO helpful during our planning process & helped make our day perfect. All of Harry's staff made sure our wedding day ran smoothly! All the Sunny Slope staff involved in our wedding day played a huge roll in helping us make our day special. From the chapel, you can see all 4 ranges of the Shenandoah & it's truly breathtaking. We loved every aspect of our special day & we enjoyed celebrating at On Sunny Slope. We would recommend the farm to anyone who is looking for great people to work with, with beautiful views that DON'T break your bank- we loved EVERYTHING about our day! Lots of Love- Jessica & Dave

+ 7

photos

Merrill

Married on 09/16/2018

I LOVED getting married at On Sunny Slope Farm. From the moment we stepped on-site, my husband and I knew that was where we were getting married. Harry and his entire staff were soo responsive with all the questions we had. Melodie and Abby were on-site for the day of and did an INCREDIBLE job, they played a huge part in how seamless our wedding was. The venue is absolutely gorgeous and they provide so much support that they feel like family by the end of the day. I highly recommend this venue to all future brides!

Nicole

Married on 09/08/2018

We had our wedding at On Sunny Slope Farm and it was the greatest experience from start to finish! Harry was so great to work with and very helpful and accommodating with everything. Melodie at the farm was wonderful to work with as well and made the entire process very easy and painless. She was responsive and she and Harry both really worked with us to give us everything we needed to make our day great! It ended up raining on our wedding and we had to move everything into the tent, but even being a last minute change Melodie and her staff made it easy and were willing to do literally anything we wanted, whether that meant waiting it out or moving everything inside the tent. It was clear she really wanted it to be perfect for us and was willing to do whatever it took to make that happen. We had an amazing wedding and we and our guests all can't stop talking about what a great day it was, even with the weather doing what it did! Thank you Harry, Melodie and your entire staff for giving us an amazing wedding experience. We would highly recommend this venue to ANYONE!

Barry

Married on 06/08/2018

As the Father of the Bride, I cannot say enough good things about the quality of service we received for my daughter's wedding on June 8th. Not only is the venue beautiful but the personal service was off the charts. They were friendly, helpful, and encouraging. On top of that, the owner took his time to personally help me link up our music playlist to their sound system. There was an unusual glitch but Harry took 20 minutes of his time and sat down with me to make sure the sound app worked so that the hours I spent putting together all the music for the ceremony and reception would not go to waste. Since we live in Washington state, planning a wedding 3000 miles away was going to be challenging. However, On Sunny Slopes Farm made Holly's wedding absolutely stress free and a wonderful experience!

Alex

Married on 05/27/2018

Working with Harry and staff was WONDERFUL! They were always helpful, timely, and knowledgeable. We planned to have our wedding outside but it poured down rain 3 minutes before the ceremony. The staff moved everything inside the tent instantly, kept the guests entertained, and everything went off without a hitch! It was perfect!
The tent was spacious and accommodated our 184 guests with plenty of room!
The planning process was very organized and helpful as Harry had everything broken down into what needed to happen at 6 months, 3 months, and 1 month.
The venue is beautiful, the staff is experienced and helpful, and you will have a wonderful wedding if you choose to have it On Sunny Slope Farm!

Vanessa

Married on 05/26/2018

We got married on May 26th, 2018, and it was more than we could have ever imagined. We are living in Virginia but our families and many friends are from California so they came far to be here. I think when people heard we were getting married at a farm in Virginia they did not expect On Sunny Slopes. The scenery, the warm wonderful owners and staff, the cloudy and a bit rainy weather, and even the cows set the tone of a beautiful, cozy, simple yet lovely wedding day.

We initially picked this venue after visiting the first time. We got in our car read some reviews to confirm that what we were seeing and hearing from Harry weren't "too good to be true", after the 25th raving review, we cancelled the rest of our venue visits, called Harry and put our deposit down. Never looked back.

Harry was a great communicator throughout the whole experience. Monica was a wonderful day of coordinator. We used her for decorations as well, which BLEW ME AWAY. We used the farm for both ceremony and reception, SO easy and beautiful. We had to move the ceremony to the tent because of light rain but even that just made it feel even cozier. And we exited the tent to a gorgeous rainbow spreading across the rolling hills. Just amazing. We also had our guests stay at The Hotel Madison which was beautiful and had the reception there. Again lovely with GREAT catering. YUM!!

Feel free to contact me with any questions!

Ashley

Married on 04/27/2018

Harry and his staff were absolutely wonderful to work with and the venue itself boasts all you would need to host the most amazing event! Our wedding exceeded even our expectations!

Ashley

Married on 04/27/2018

This venue not only provides amazing scenery of the valley but provides all the comforts of an indoor venue in an outdoor setting! Harry and his staff are helpful, easy to work and highly knowledgeable. I highly recommend!
Are you interested?
Send a message