Reviews
4.9 out of 5 rating
Quality of service

5 out of 5 rating

Average response time

5 out of 5 rating

Professionalism

5 out of 5 rating

Value

4.7 out of 5 rating

Flexibility

4.8 out of 5 rating
98%
Recommended by couples
Awards
48 User photos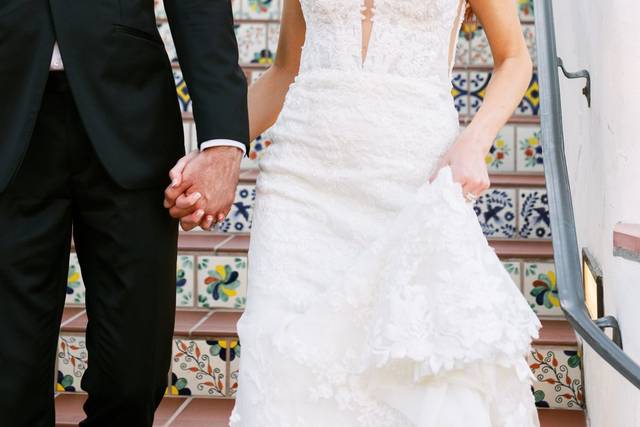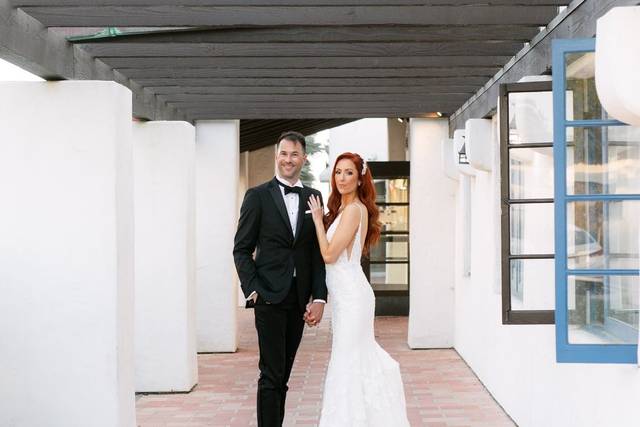 + 44

photos
Hillary S.

Married on 08/14/2022

Best day ever!

We just want to say a huge thank you to 24 Carrots for making our day incredible! We got married at Ole Hanson Beach Club in August 2022 and are so thankful to have had 24 Carrots as our Caterer. Special thank you to Nasime who was our main point of contact throughout the planning process, Amanda who was the lead event manager on our big day, and Sarah who answered our many many questions prior to signing! 24 Carrots has a professional, experienced team who guided us through the entire process – making us feel comfortable and answering our many questions. We knew we were in good hands, and our experience on our big day proved it so!

At every step along the way, we felt reassured by the responsiveness and professionalism that we experienced with 24 Carrots. Things went to the next level when we went for our tasting. The entire experience had been customized for us – from the signs welcoming us once we walked through the front door, to the room where our tasting was held. This made us feel so special! And the food was SO GOOD! The tasting was easily one of our favorite parts of wedding planning.

It was wonderful to work with Nasime throughout the planning process! She was responsive, on top of all of the details, and answered all of our many many questions (trust me, there were a lot) with patience and clarity.

Amanda took such good care of us on our big day! She was professional, very clearly experienced, and a joy to interact with! We know there was a lot of work going on behind the scenes, but everything was smooth and seamless for us! If there was a problem, we sure didn't know about it!

The food was incredible! We enjoyed it so much and many of our guests commented on how delicious the food was! I (the bride) am gluten-free and I was so pleased by all of the options they had available to me in their offerings. We were able to craft a full menu where I could eat everything at our wedding - amazing! They also had vegetarian and vegan options available, which we and our guests greatly appreciated. The 24 Carrots team made sure that we (the bride and the groom) were well fed the entire evening from placing a plate of hors d'oeuvres and our drinks of choice in our bridal suite so we could eat & drink immediately after the ceremony, to placing another full plate of hors d'oeuvres on our sweetheart table so we'd have food immediately after our grand entrance, to bringing our dinner plates directly to us so we didn't have to go to the buffet, to sending us home with to-go boxes of food! Amanda checked in often to make sure we were doing well & that we had enough food. They also took care of our bridal party and had drinks waiting for them as they exited the ceremony. They even took care of my grandmother by bringing her dinner directly to her - talk about care & class! The entire day-of staff provided such wonderful customer service to us and our guests!

That was the best wedding we've ever been to and, while we're biased, we don't think that's an overstatement. It was phenomenal to work with you all — thanks for making our big day so special!

+ 5

photos

Kylie

Married on 02/19/2022

Amazing Venue!

Ole Hanson is incredible! As a wedding planner, it's so important to have a wedding day team that compliments each other and the venue and it's staff us arguably the most important part of that. The venue itself is stunning, but the staff that work at Ole Hanson make my job so easy. It's always such a joy to be on site. Thank you Ole Hanson team for making my job easy!

Tayler

Married on 11/19/2021

The most gorgeous San Clemente spot!

I'm the owner of Tayler Ashley Photography and I've had the pleasure of working at Ole Hanson Beach Club. If you're looking for the perfect mix of spanish and coastal style, this is your spot! The views are incredible and I truly enjoyed shooting here.

+ 5

photos

Are you interested?

Send a message

Maggie O.

Married on 07/24/2021

Ole Hanson- Stunning Views and Great Food

My husband and I got engaged February of 2020 right before everything shut down due to COVID, but luckily we were able to see Ole Hanson. As soon as we saw the ocean views and the flexibility of the space we fell in love. The team at 24 Carrots was so helpful with any questions we had especially with our constantly changing guest count and actually helped us to find our Coordinator with their recommendations. It was so easy to pick out all the decor and rentals through them so we didn't have to find a rental company, and we were able to do everything we wanted. The food was absolutely phenomenal and I still crave the tuna on wonton spoons. If you love a calm beach town, ocean views and amazing food I would highly recommend.

Nathaly R.

Married on 07/28/2019

Spanish Style with an Ocean Backdrop

This is such a hidden gem, but I don't think it will stay hidden for long. That's because Ole Hanson is amazing in itself. The view overlooking the water, the Spanish style with details that make for beautiful photography backdrops, and the amazing staff! We looked at 4 venues, two of which were run by 24 Carrots Catering. Both venues by 24K had staff that were informative, friendly, and creative with different ideas to help you envision your day. We ultimately decided on Ole Hanson because it would offer our guests, which were majority east coasters, a great opportunity for a California beach vacation. What more could you ask for than getting married with the beach as your backdrop, brunching rooftop near the beach, dancing inside with beautiful wood details? This venue makes it EASY if you want to keep it simple. It offers so many details already that there's no need to splurge on additional decor and details. The best part is they make it so simple to connect with the best vendors. Communication is always on point and quick.

Brittney

Married on 05/19/2019

Beautiful ocean front venue

This venue is breathtaking!!! You can't go wrong with an ocean front view. The reception can take place on an open rooftop deck looking at the ocean too!one negative is they are very strict on vendors. They use 24 carrots for catering needs. The food is great but it would be nice to have more options.

Kirk R.

Married on 03/24/2019

Amazing eye for detail. Perfect event

Thank you for your attention to detail last weekend for our daughters wedding. I know you are doing weddings every week but your attention and recommendations made her evening perfect. Thank you

Zun

Married on 02/11/2019

A Beautiful and Romantic Venue

We had our wedding at Ole Hanson and it was absolutely a blast. I always wanted to a garden/green type wedding, whereas my husband wanted something by the sea, so this is the perfect place to have both. When we had the wedding, we had the whole place to ourselves (except the swimming pool, which was closed for that day). They maintained the lawn, the big tree, and plants very well throughout the year, so even though our wedding was in February, it was still beautiful.

The staff were friendly and professional. Communication was always quick, transparent, and easy. We were afraid that it was going to rain (luckily it cleared out after some morning showers) and could not afford tents, but the staff were open and flexible about potentially moving the ceremony from outdoor to indoor and adjust reception accordingly.

I believe it is a site of 24 carrots, so if you book this place, you don't need to find your own catering or even planning services, which saved lots of time and money. Lots of options on the menu to that we can really work with your budget/guest count/style. They had lots of options of linings as well, and really respected our preferences. They also provided us with lots of recommendations of vendors, among which we found our amazing day-of coordinator, DJ and photo booth.

We got many beautiful pictures on the beach and at the venue (my personal favorite are stairway to the balcony and the big tree on the lawn). The only down side was that the bridal room was a bit small. I had a very small bridal party so I did not mind, but if you have a big bridal party, you may want to take that into consideration.

Samantha F.

Married on 01/03/2019

Fairytale View

My husband and I selected Ole Hanson Beach Club as our ceremony and reception venue, site unseen. Let me start by saying, the pictures you'll find on social media and through the vendor are not just photography magic. The view from the courtyard is absolutely beautiful at ANY time of day, although I am quite partial to the view we had just before and after sunset. The venue was clean inside and out, and the lawn and landscaping were very well maintained. The stairway and rooftop are just as beautiful in person as they are in pictures. Working with Ole Hanson and 24 Carrots was a delight, and I could not be happier. My wedding day felt like a fairytale and I have a million beautiful pictures to prove it.

Marissa H.

Married on 09/29/2018

Obsessed with this place!

Ole Hanson was our dream wedding venue! I heard from many of our guests that it was the most beautiful wedding they had ever been to plus some of them even saw whales during dinner!!!
Sarah and Kiara were wonderful to work with too. They were easy to communicate with and were super accommodating in all of our requests. If I could do it all over again, I would not change a thing!

Brittny

Married on 07/14/2018

The Ole Hanson is a stunning venue, but what makes the venue extra special are the people who work there, Kiara and Sarah. Kiara and Sarah were extremely responsive, attentive, and made my husband and I feel like we were the only couple they were working with, which was obviously not the case. They were so kind, thoughtful, and were always receptive to questions and other ideas. I cannot say more about how much I enjoyed working with them, and how they made our lives stress-free!

We knew we wanted to get married as close to the beach as possible, without actually getting married on the beach, and the Ole Hanson is about as close as you can get. The building is beautiful, up to date, and has its own unique and special flare. We received so many compliments on the venue!

Lastly, the food was AMAZING! Our guests were satisfied and loved all of the food options.

Overall, our wedding was so amazing and we miss it so much already! We could not have pulled off our dream wedding without the help of the staff at the Ole Hanson.

+ 4

photos

Caitlyn

Married on 06/08/2018

I didn't think our dream venue existed, but here it is!! Ole Hanson Beach Club is the perfect venue for couples who want the beach vibe without having their toes in the sand. Everything about this venue was gorgeous, from the tile stairs to the sweeping lawn with a view framed by palm trees. It was the absolute perfect place for our beachside wedding and we could not have picked a better venue.

Tyler

Married on 05/31/2018

Beach Views

If you're a bride looking to get married at Ole Hanson Beach Club we 100% say go for it. As wedding photographers, we loved photographing here because of its unique location and gorgeous Spanish architecture. The ceremony overlooking the ocean is simply breathtaking. If you're worried about the train going by you simply don't need to; it crosses quickly and is much less bothersome than it might seem. You also can't beat being able to take advantage of the white Spanish walls and tile staircase and then turn around and take a 1 minute walk down to the beach for newlywed photos! It's such a unique and convenient opportunity that most venues can't offer. Finally, the rooftop reception space has hands down some of the best sunset views in Southern California! We encourage you to schedule a tour to see the venue, you won't regret it!

Written and Photographed by Dan and Tyler Photography
www.danandtyler.com

Katie

Married on 09/14/2017

I can't even describe how majestic this seaside jewel of San Clemente looked, felt, or evoked for me, my husband, and for all of our guests on our wedding day. Sarah and Sydney at 24 Carrots are the best humans in the world. The entire 24 Carrots team, down to the bartenders, servers, chefs, you name it -- were the most accommodating, kind, and selfless humans you could ever meet. I would have invited them to my wedding if they weren't already working it!

The thing that truly sets them apart is their attention to detail. I heard from all of my guests that the servers were so intuitive that during cocktail hour, they served our elderly guests first who couldn't walk up to the those offering tray-passed hors d'oeuvres. It is the little details like this that makes 24 Carrots stand out to me; being able to think of what their guests would need BEFORE anyone has to ask!

All of our guests RAVED about the food quality and presentation. In my opinion, food is a #1 priority for guests. We didn't want anyone to have to drive thru In-n-Out on the way home after the wedding (admit it, you've all been there)... Our friends and family to this day continue to tell us how fulfilled and delicious every bit of food and drink was throughout the entire night.

My husband and I are just so in love with our wedding day... I could go on and on for hours about how absolutely magical this venue is, but it truly is the people behind this oceanfront piece of heaven that make it come to life. Thank you to the entire 24 Carrots team, especially Sarah and Sydney! We had the best wedding in the entire world!

Eric

Married on 07/12/2014

We love Ole Hansen

My name is Eric and I own an entertainment company by the name of Extreme DJ Service. Ole Hansen is a preferred venue that we have had the privilege of working at for many years. If you are looking for a beautiful beach front venue with a great view of the bay, great food along with professional service… look no further, the Ole Hansen is the place. We highly recommend the venue and their staff.

Eric Morales
Extreme DJ Service

Melissa

Married on 07/11/2013

Ole Hanson Beach Club is a romantic, rustic Spanish style facility. I fell in love with it from first glance. Ole Hanson was the largest facility overlooking the ocean that we found.
Most Venue's had there own vendors and the basic packages were overpriced. With Ole we were able to choose our own vendors. This gave us complete control to make our day reflect us and spend where we wanted to spend & cut back where we didn't. It was able to accommodate our wedding Ceremony, Reception, Large Bridal suite and with ample parking.
With panoramic views of the Pacific Ocean and breathtaking sunsets from its terraces and grounds. Even the train & it's tracks added to it's character. I loved being able to host everything in one place with enough room for our guests & the privacy of having the facility to ourselves. Was a dream!

Nicole

Married on 02/10/2011

We knew the Ole Hanson was the place for us from the moment we saw it. Once you walk out onto the ocean view terrace and watch the sunset while hearing the waves crash it is an easy choice. We saved money by having our wedding mid week (Thursday) and during a winter month (February). It was a beautiful 72 degree day so we really got lucky. If you are unfamiliar with the Ole Hanson it has two outdoor terraces with a decent sized room in between. We easily fit 62 guests at tables (8) on the ocean view terrace and had room for the bartender and bar outside as well. On the other terrace we had the photobooth/guestbook set up with plenty of room. The DJ, cake, catering tables and gifts fit inside perfectly. The place has a warm, comfortable spirit about it. The exposed wooden beams and wood floor add to the charm as does the traditional San Clemente tiled roof. We loved the fact that we brought everything in, used the caterer and bartender of our choosing. You are allowed to bring your own alcohol in which also saves money. The only negative thing I can say (is also a positive) is that it is an old historical building…which translates to no elevator (difficult for caterer and others who need to make several trips upstairs). If you are looking for a venue the Ole Hanson Beach Club is worth a look.

Linzy

Married on 06/12/2010

OHBC was an amazing venue! From the very beginning, Laura (the rental coordinator) was everything a bride likes. She is super organized and emails you back as soon as she gets your email, which is so nice when you are planning a wedding! The venue is absolutely gorgeous and therefore needs very little in way of decor, as it has pretty much everything you need. The set-up crew was awesome, set up our floor plan exactly as we specified and were there to clean up as soon as we were done. I cannot say enough about this place, definitely book your wedding here!

Rita K.

Married on 07/25/2020

Gorgeous venue by the beach

We wanted the quintessential Cali wedding and Ole Hanson Beach Club was the perfect choice because the venue is gorgeous and a great canvas for you to keep it simple or make it super extravagant. We wanted to keep it more simple considering the view that was already there! We upgraded our food menu and it was delicious and we did the lux bar which I thought was reasonably priced and we had guests raving about both. There is plenty of space at the venue and the staff is very attentive and works to make sure everything is done just right. The only complaint, which isn't really for Ole Hanson but for the city, is that due to noise ordinance, the event has to end pretty early so just keep that in mind. We found a bar in town that everyone went to afterwards which was super fun but obvi not the same at being able to party it up by the beach. Thank you for a phenomenal wedding, Ole Hanson!

+ 2

photos

Terry

Married on 08/05/2017

Top notch venue, Coordinators of the highest caliper, food to die for

Sarah and Kiara are not only top professionals but lovely ladies who are eager to please! I can't tell you how much I appreciate their great communication skills and prompt responses to my every question. Their attention to detail is unequaled! As the father of the bride I can't say enough about 24 Carrots Catering at the Ole Hanson Beach Club venue! The food was unbelievable, let alone considering how many people they cooked for. We got so many complements on the food, the staff and the beautiful venue. It was truly a wonderful wedding and I will recommend Sarah, Kiara, and 24 Carrot Catering to all my friends and acquaintances!

Natalie

Married on 04/12/2018

Having our wedding at Ole Hanson Beach Club was a dream come true. My husband and I were able to plan our wedding with great vendor recommendations; And we were very happy with how magical the day felt. Kudos to the staff at 24 Carrots and Ole Hanson Beach Club for doing such a great job!

Jillian

Married on 09/09/2023

Beautiful venue and amazing staff!

We had our dream wedding at Ole Hanson in September 2023! Working with Amanda and Bree (and the whole 24 Carrots team) throughout the planning process was so easy and enjoyable! They were always so prompt at answering our questions and providing information.

Everything ran so smoothly the night of our wedding and we received so many compliments about the food. What originally sold us on the venue was the beautiful view and the fact that our reception could also be outside. If you're looking for a very California-feeling wedding with great service, this is the place! We'll forever cherish our special day at Ole Hanson!

Nicole

Married on 03/21/2019

Perfect beach wedding

The primary reason we chose the Ole Hanson Beach Club was because 24 Carrots is the venue's exclusive catering service. The venue itself is beautiful and the food was fantastic. The venue coordinators worked with us extensively regarding a rain plan. One note, however; get pricing for tenting the outdoor spaces if it may rain on your wedding date. For us, it was way out of our budget, forcing us to get very creative with our layout. If we had known sooner, we may have been able to account for the tent. Other than that, this venue was perfect and the staff was great.

+ 2

photos

Jessica

Married on 08/16/2009

Great venue! Beautiful views and staff was very helpful throughout the entire process.

Lisa

Married on 09/06/2009

All of our guests raved about Ole Hanson! It was so beautiful during dinner on the deck when the sun set. Because it is a city-owned facility, there are a lot stricter rules than at most normal places (no glass beer bottles, strict times when you have to be all cleaned up and out, etc.) but it was worth it for the site. Laura, the contact at the city, is very helpful and responsive. The biggest problem we had was that everything (floor plan, guest count for permit, etc.) was due to the city very far in advance and we were forced into guessing and then had to stick to it.
Are you interested?
Send a message