Reviews
5.0 out of 5 rating
Quality of service

5 out of 5 rating

Average response time

5 out of 5 rating

Professionalism

5 out of 5 rating

Value

5 out of 5 rating

Flexibility

5 out of 5 rating
100%
Recommended by couples
22 User photos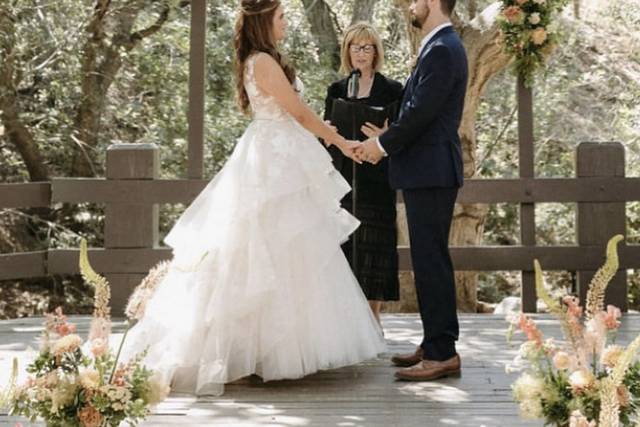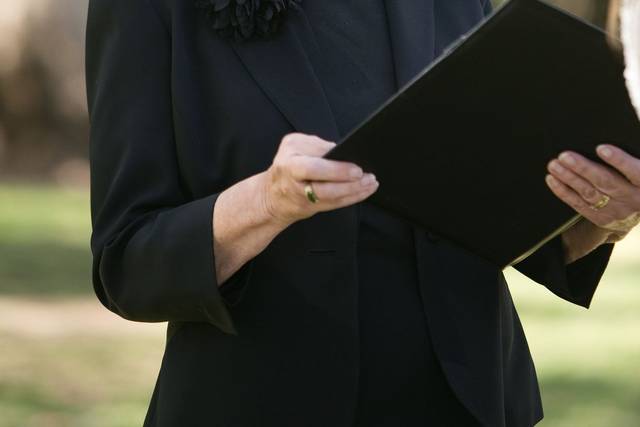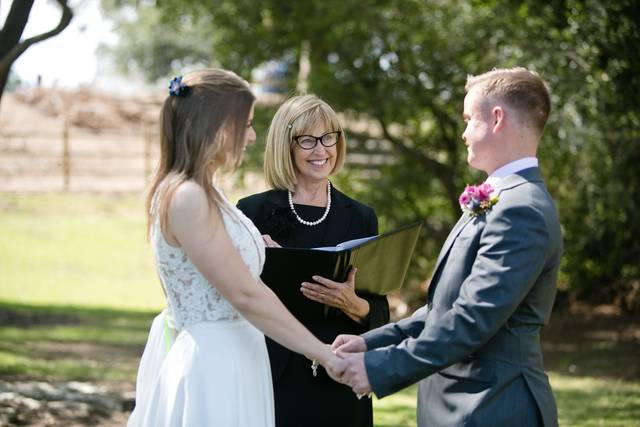 + 18

photos
Tara M.

Married on 05/15/2022

More than Perfect!!

I was beyond pleased with Kate. I was very overwhelmed with wedding planning and vows but she made it very easy . She provided me the most Beautiful Perfect Vows to use for our wedding. She was very well dressed, professional, loving, calming, JUST PERFECT !! So very please to have her marry us! Thank You

Chris M.

Married on 10/10/2021

Kate was amazing and easy to work with

Kate sent us the templates of what most weddings include and we were able to pick and customize the ceremony to our taste. It went over smooth and Kate assembled the ceremony and presented it to us before we confirmed our decision. I definitely recommend her and this company to someone that is looking to create a customizable ceremony for a great cost.

Suzanne Z.

Married on 06/19/2021

"Kate the Great"

Kate went above and beyond in her role as officiant. She was lightening fast in her communication from start to finish. Her kindness and dedication were so appreciated. She jumped in not only in her role but as a willing participant - ready to get to know you and make you feel like your special day is the most important thing to her. Highly recommend Kate and her company.

Are you interested?

Send a message

Jane L.

Married on 06/04/2021

Kate was wonderful!

My fiance and I recently had a small elopement on TableRock Beach in Laguna Beach. We found Officiants Plus through a google search and were soon connected with Kate, our officiant. From the start, she was extremely friendly, informative, and thoughtful when it came to our ceremony. She took the time to get to know myself and my fiance (via facetime because we do not live in California) and she was very helpful with everything that needed to be done prior to the wedding. She made our wedding day so special, and we would highly recommend her for any other couples looking for an officiant!

Alexis M.

Married on 03/17/2021

Perfect from start to forever

The lady behind this company is a blessing and a gem. Lucyn was quick to reply and give me a call, she was patient when I had a million and one questions about the entire process and she was so eager to be involved in our little ceremony. She was not able to be the officiant for our day however she had the most perfect person for us, Kate. This woman made our entire day that much more perfect. She was a lovely light on this day and so very sweet to my fiance and I. Being this is such an important day I wanted to get to know her a bit before the big day, when I say I was besides myself with joy after our coffee date it would be an understatement. Kate was perfect from start to finish! She was so kind the entire time, professional, above all else vested and personal with our families. Having Kate as the woman to wed you would be one of the smartest decisions you make for your big day!

Officiants Plus's reply:

Lexi, you have made our day! We are THRILLED you had such a good experience and we wish you both an amazing life together! Feel free to keep us posted on future milestones as so many of our couples do. We become family members of sorts :)


Steven M.

Married on 02/14/2020

Amazing Officiant!

If you are looking around trying to decide which officiant to choose, look no further. Lucyn was an amazing officiant for our wedding. My wife and I were planning the whole thing from overseas and Lucyn was incredibly flexible and was able to help us with everything that we needed. On the wedding day, she arrived early and was extremely helpful. She knew to check all of the small details that often get overlooked in all of the chaos. 10 out of 10 would recommend to anyone looking for the perfect officiant for their wedding. And a huge bonus for us, she uses the money she makes from officiating to help animals. :) Thanks again Lucyn!

Officiants Plus's reply:

Thank you so much! It was a perfect wedding for sure and I'm thrilled you feel the same. Congratulations again and I wish you all the best. My foster dogs and Australian wildlife appreciate your support!

Mary N.

Married on 12/10/2019

Amazing day!

Lucyn did not know what she was getting involved with when she showed up at our house to perform the ceremony. We had 5 grandchildren between the ages of 4 weeks old to 3 years old. She was so patient to wait while our daughters changed diapers and feed the new baby. Even though we were a bit delayed she assured us that these things happen and she was happy to just sit and wait until everyone was ready. The ceremony was exactly as we had imagined and we could not have been happier with our experience. Lucyn, you made our day perfect!

Officiants Plus's reply:

Thank you! You have a BEAUTIFUL family and I am honored to have been a part of your special day, it was perfect.

Roni A.

Married on 08/03/2019

Like having an old friend perform our ceremony!

We decided to elope and had less than two weeks to get it all together. I reached out to several vendors and did not hear a peep. I sent out an inquiry to Lucyn and got an immediate response. It was a relief to know we could count on her. She sent us information as we were in Texas and she in California.
On the day of the event was the first time we met. The vows she helped us identify were perfect. We had a very small informal wedding, with only two guests. It felt more like three friends when we met Lucyn. She brought such calm with her, it put us at ease. We could not have selected anyone better to perform our ceremony if we had planned for months. Thank you Lucyn!

Officiants Plus's reply:

It was a pleasure and honor to officiate for you, it was nothing short of perfect, your planning really worked out. Thank you for the lovely review, I felt the same! :)

Jamie Z.

Married on 06/08/2019

Best decision!

Lucyn was such a pleasure to work with! She was so helpful and always there to answer and questions or concerns we had. She was personable, friendly, and made us feel so comfortable. Our ceremony was perfect! I would definitely recommend Lucyn to anyone looking for an officiant for their big day!

Leticia P.

Married on 04/13/2019

Lucyn was excellent during the planning process and during the ceremony. She was so easy going, patient. flexible and organized.

Lucyn was excellent during the planning process and during the ceremony. She was so easy going, patient, flexible and organized. She looked very professional and carries herself in that manner as well. Lucyn was so easy to talk to. I felt like I was talking to a relative when I spoke with her. I will definitely recommend her to friends and family.

Mai T.

Married on 11/11/2018

Excellent and a great officiant!

Lucyn was wonderful. We hired her last minute and she was able to acccommodate us and provided scripts that allowed us to tailor a ceremony that was short and sweet without being fussy. Easy to work with and would highly recommend!

Sussy

Married on 09/09/2018

Off to an AMAZING start!

When my fiancé and I were looking for an officiant, we had no idea where to start. We had a few requests and on a budget so we were a little worried we wouldn't be able to find someone who could accommodate our needs. We found Lucyn and read the reviews, she was our first choice and we couldn't have been more happy with her services. She provided us with so much information and had exactly what we were looking for. She always communicated quickly and put us at ease. The officiant is one of the key role in a wedding and with Lucyn, she was one of our vendors we had absolutely no worries about. On the day of our wedding, we had a few last minute changes and she put us at ease, made sure the ceremony flowed smoothly and even made sure our flower girl walked backed down the aisle after she forgot to spread the flower petals! Even after the ceremony was over she made sure everything was taken care of and even stayed a little longer to take pictures with us. Can't thank her enough for the entire process. Thank you Lucyn for giving us an amazing start to our new beginning.

Scott P.

Married on 08/26/2018

Great experience!

We looked long and hard and finally found Lucyn only a month before our wedding. She matched our styles and philosophy and was a perfect fit. She was patient with us and walked us through both the vow process as well as the necessary paperwork. She was very kind, responsive, and reliable. I'm not sure what else we could ask for in an officiant!

Kyle

Married on 08/11/2018

Lucyn was fantastic! She provided us with a variety of sample scripts and allowed us to tailor the script to our liking. She arrived early on the wedding day and checked in with us to see if there was anything else we needed help with. She was very genuine and led a great ceremony. Many guests commented that it was the best ceremony they had ever been to. Lucyn even went beyond her call, giving recommendations for bridal hair, something that had slipped through the cracks until just before the wedding.

Diana

Married on 06/01/2018

My husband and I could not be happier with the service we received from Lucyn. Every question we had along the way was answered in a timely manner. She is extremely knowledgeable and experienced as a wedding officiant, and she put us at ease about the whole process as soon as we met her. Thank you!

Lucyn was great! A wonderful balance of being professional, organized, and resourceful, as well as easy-going, warm, and accommodating. Very happy to have found her; it was one of the easiest decisions made for our wedding day.

Silvia

Married on 04/12/2018

Lucyn totally made our ceremony everything we hoped for, relaxing, funny, understanding of last minute changes, just simply made our ceremony perfect.

Jennifer

Married on 12/09/2017

Well I actually can't speak to the value or expense, because this was a gift, but I can say that had I paid for it then YES it would have been worth every penny!
We had no idea what we were doing and Officiants Plus made the preparation so simple for us. We also didn't have any kind of rehearsal, so the ceremony was a bit jumbled (with everyone not sure where to go) but our officiant was so classy about it all. She directed us on what to do/when and it all came out beautifully!
She also helped choreograph some photos afterward and they are definitely my favorites from that day. I'm still shocked with how perfect it all was, it was my dream wedding!


+ 2

photos

Brian

Married on 11/18/2017

Where do I start?! When our Pastor ended up in the hospital with life-threatening injuries, we were left with very little time to find his replacement. Luckily, Officiants Plus is on our venues preferred vendor list and the event coordinator couldn't recommend Lucyn more highly. Lucyn responded immediately and sent me several wedding scripts to choose from, we didn't even give this a thought before but, having a a personalized service turned out to be the most amazing thing to have happened to our wedding! No offense to our Pastor but, I am certain his service wouldn't have been as memorable. Lucyn had so many good tips to help us on our day that turned out to be huge bonuses for us. She is personable, prompt, caring and even handled some on site issues with our guests that truly made everyone feel special. I wish I could give her more than five stars because everyone who attended our wedding said what a beautiful service it was and asked where we found her! Thank you so much Lucyn!

Franco

Married on 11/03/2017

When I first contacted Officiants Plus, I was a bit hesitant because being of a same-sex couple and never organizing a Wedding (let alone my own) I wasn't sure in what direction this was going to go in. But I was pleasantly pleased I did!

Lucyn showed prompt customer service to replying to my initial inquiries/e-mails immediately and took great care to ensure I was comfortable and prepared for the big day. Any questions I had down the road, she was able to answer them. She was very flexible and was extremely easy to work with. When my husband and I met her the on the "day of" the Wedding, she was very sweet, kind, and you can tell that she enjoyed doing this. She and Officiants Plus is definitely highly recommended in my book.

It's no wonder why they're on our venue's Preferred Vendor List. They have earned it! Thank you for being a part of our big day Lucyn & Officiants Plus!!!


Kathy

Married on 09/30/2017

Absolutely amazing. Lucyn was very clear and precise in her speaking and made any changes we asked even up to the day of the wedding. She even went so far as to research traditional Persian ceremonies to get a better understanding of what needs to be done and said. Our wedding was beautiful and fun and we got many compliments from our guests!

Angela

Married on 08/04/2017

So professional and helpful! Loved working with Lucyn!

Penny

Married on 03/25/2017

I hired Officiants Plus based on her reviews and was not disappointed. She sent my daughter the bride and myself a choice of vows and recommendations. We could change the vows if we wanted but didn't. Everyone told us it was the best wedding ever. She came early and her service was beautiful.

Loved Lucyn!!! She was fantastic! She kept in contact with us in the months leading up to the wedding and especially in the last couple weeks. We were able to construct the flow of our whole ceremony before hand (with lots of her help, of course).
We always wanted to write our own vows but were very nervous and could have easily backed out. She gave us that extra push and I am SO glad she did, saying your own vows really does make it so much more personal and SO much more meaningful, we are still talking about our vows! She proof read our vows for us (on request) and was so calm and encouraging through the whole process (which can be very stressful). Although I had not meet her before the rehearsal, I felt so comfortable and relaxed with her as our officiant. She really made the process about us and what we wanted. So happy with our choice. I hear she is now doing wedding planning!!
We gave Lucyn a tip for her services and the next day she sent me a pic of a dog with medical conditions. She donated our tip to this dog! That just goes to show her character! Great lady! Great officiant! Would definitely hire her all over again (but fortunately won't ever need to ??) and will be referring her!!
Mr & Mrs Johnson

Fiona

Married on 04/19/2016

Such an amazing day! Luycn was exceptional and so helpful leading up to our big day. I would recommend her to all of my friends and family!
Are you interested?
Send a message