220 Reviews
Recommended by 100% of couples
Quality of service

5 out of 5 rating

Average response time

5 out of 5 rating

Professionalism

5 out of 5 rating

Value

4.9 out of 5 rating

Flexibility

5 out of 5 rating
6 User photos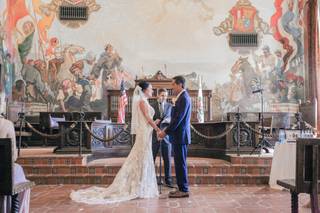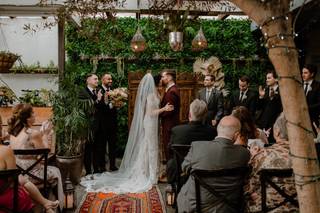 + 2

photos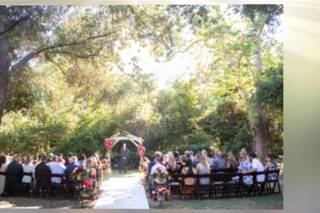 Alexandra L.

Married on 02/28/2020

Wonderful person!

Even he is not the one performing the ceremony for my wedding day, he took the time to actually introduce me too another officiant and no just let me hanging, he responds fast and has a great attitude!

Negar S.

Married on 10/27/2019

A Moving Ceremony

When searching for an officiant, we set out to find someone with a gentle demeanor; kind, calm and wise. Eric had all of these attributes in spades. From the beginning, his approach was so helpful and straightforward. When it came to constructing the script for the ceremony, we had dozens of customizable, beautifully written options to choose from. And since we were involved in selecting excerpts in a collaborative way with Eric, we really felt like the ceremony was true to us.

The script is one thing, the experience of having Eric officiate on the day is another! He arrived promptly and immediately put us at ease with his gentle and charming nature. He had excellent advice before the ceremony so that my husband and I could be fully present and engage with one another. This advice made the ceremony so intimate and shook us out of our jitters completely. The ceremony itself was so poignant, moving and a major highlight of the day. Eric spoke beautifully and brought the words on the page to life. You know that he loves what he does because the passion pours out of him.

Our guests were all in tears and commented that ours was the most moving ceremony they had ever experienced. It's hard to be objective, but they were echoing our own feelings. What we experienced was so rare and beautiful and we couldn't have had a better leader in Eric. Thank you so much for making our day so special!

Julie C.

Married on 09/07/2019

Excellent Officiant!

Officiant Eric married us in Santa Barbara on September 7, 2019. We couldn't have asked for a more professional officiant. We loved how we were able to choose each and every word for our ceremony Not only does he have dozens of choices and samples, Eric works with you on each word of your ceremony and allows you to change things up from his examples/lists to have your ceremony fit perfectly to your own relationship. This allows your ceremony to be unique and allows you, with his guidance, to create the wedding ceremony of your dreams! We also chose to have Eric create our personal story and we were thrilled how it turned out! He got "us," not only by the questionnaire we filled out, but by getting to know us personally. Eric was more than willing to speak to us whenever we needed and even met up with us for coffee to really get to know our vision and our relationship. The way he told our story was so unique, funny, yet there wasn't a dry eye. He captured "us" so perfectly. Our ceremony was a dream, one we will cherish the rest of our lives. We received so many compliments about Eric from our family and guests.

We also LOVE the way he let the wedding be about us. He quickly moved out of the way, so the photos were just us during the sand ceremony and after he pronounced us husband and wife. We have seen other officiants stay in all the photos and this is something we did not like. Officiant Eric was very conscientious and incredibly humble.

We highly recommend, Officiant Eric!

Here is our wedding ceremony video!
https://youtu.be/PmC4vn2KQl8

Photo credit: @NikkiBaconPhotography
Video credit: @EclipticPhoto

Are you interested?

Send a message

Celia H.

Married on 08/11/2019

Eric, is the one!

If you want to have the ability to create the wedding of your dreams, Eric is the one. Eric provides so many ideas and samples to be able to guide you create the ceremony you have in mind. He is so quick at responding and guides you through it all. We had no doubt in him though the whole process. He is very professional and so supportive.
We definitely recommend Eric for your special day.
Thank you again Eric, you were amazing!

Connie L.

Married on 07/14/2019

Very professional and eloquent ! Personable

When we booked our venue at Malibu Rocky Oaks our wedding planner recommended Eric to be our officiant. We knew the officiant was a very important role in our wedding ceremony and researched our officiant choices. Eric's website is very organized with videos, bio and text examples of the ceremony. Also other great useful information like how to getting a wedding license.
We emailed him and he responded quickly. We set up a Skype call and felt very comfortable with him. He is very professional as well. He wanted to get to us as a couple and help build our love story for the ceremony. We knew he was the perfect officiant. He set reminders for us to work on our vows many months before the wedding. We also choose the elements and sample readings we liked on an easy sheet he had on his website. He had such a good array of readings and he also let us change it by line or word if needed. We went with the full package to make it more personal and it included our love story. We each filled out questionnaires about our relationship.

Eric then put everything together including the personal love story and let us read it and we Skyped again to review it.
We changed a few words and he rewrote it and was very fast and responsive. He wanted to make sure we were happy with it for our big day.

He came early for our wedding and reviewed the wedding license and mailed it after the wedding for us.

For our ceremony he was very eloquent, professional and made us feel comfortable. He also was very prepared.

Our wedding video was beautiful as well with many of his words in it.


We can't recommend him enough!

Brittani F.

Married on 07/12/2019

Better than we could have hoped for!

My husband and I are so happy with how our ceremony turned out and have received so many compliments from our friends and family about how great Officiant Eric was. Officiant Eric was fantastic from the start. He was extremely responsive and made the process so much easier on us. We explained what we wanted and what we didn't want and he made it better than we could have imagined. We were able to review the script prior to the ceremony which was a huge perk! And prior to the ceremony Officiant Eric met with myself and my husband separately to congratulate us and to explain how things would go and assure us that everything would go smoothly (that definitely helped with some of the nerves). We are so happy that we chose Officiant Eric to officiate our wedding!

Alex P.

Married on 06/29/2019

Excellent Officiant!

Officiant Eric was fantastic to work with from the very beginning and through our big day. He is truly a professional, very knowledgeable and put us at ease. We appreciated his flexibility in constructing a ceremony unique and special to us - he wanted to make it feel like it was our own. He was great on our wedding day and made sure everything ran smoothly. Highly recommend Officiant Eric to anyone!

Michelle

Married on 05/19/2019

Eric is fantastic!

Eric is extremely professional and easy to work with! We loved being able to work with him on our ceremony to make it personal to us. He gave us great examples and we were able to use those as a guideline. He was punctual and incredible with communication! He did an amazing job we would highly recommend!

Heather B.

Married on 04/27/2019

Officiant Eric was the best

Officiant Eric was beyond helpful in guiding us throughout the ceremony experience. He made it stress-free and a fun experience for my fiancé and I. He went ABOVE AND BEYOND for us. The only thing that went wrong on our wedding day was ya forgetting the marriage license and check for remaining balance!! So what did he do? He performed the ceremony as though nothing was wrong and even met us the following morning at our hotel to ensure that we were taken care of and certificate of marriage was signed. He was so kind to us and gave us a truly beautiful experience that we will never forget. Thank you Eric!!!

Alexis

Married on 03/16/2019

The Best Officiant there is!

Eric was our number one choice for our wedding officiant. He had such amazing reviews and I absolutely loved his option to personalize our wedding ceremony.
After setting up a time to speak with Eric over the phone, my then fiance and I knew immediately that Eric was the one. He listened to our requests and made suggestions on which option would fit us best. We ended up choosing "The Love Story" package, which was a personalized and fully customized ceremony.
Eric was very east to communicate with either phone, email or skype, and always responded in a timely manner. He provided us with ceremony samples and a bride and groom questionnaire that we filled out separately. I absolutely loved hearing the responses that my now husband said on the questionnaire! With Eric's help, we were able to create the ceremony of our dreams that was unique to us and only us!
As the wedding day approached, Eric finalized our ceremony script and made changes, updates etc per our request. On the day of, Eric was on time, professional, and did such a wonderful job.
He is very talented and would be a wonderful addition to any bride and groom on their wedding day!

Matt

Married on 10/19/2018

Super fantastic

We had the privilege of having Eric officiate our wedding. Aside from his extreme professionalism, Eric brought and around great vibe with his personality. Not only is he fantastic at what he does, but you can tell he loves to do it. I would happily refer Eric profusely to anyone I know.

Michael I.

Married on 09/22/2018

Excellent and very comfortable

Very easy to work with and offers many options for your ceremony.

Jessica

Married on 09/15/2018

Eric was AMAZING! Super professional, very responsive, and just wonderful to have at our wedding. His wide variety of ceremony selections really lets you custom design your wedding and he allows you the freedom to add or change anything you want. By the end of all your selections, you get a very customer/personalized feel. Our wedding was beyond romantic, everything we dreamt about and everything went perfectly. Eric was punctual and entertaining. We highly recommend him for your special day!

Thank you, Eric!

Jan

Married on 08/18/2018

I am a wedding coordinator by trade, and Eric was the one I chose for my own wedding.

Eric was the ultimate professional and an amazing officiant from beginning to end.

He really takes the time to tailor the ceremony to be exactly how you want it, with his multitude of options and varieties of scripts, prayers, and vows that will fit any couple and every personality.

As expected everything flew by without a hitch! :)

Amy

Married on 07/29/2018

Eric made designing our ceremony so easy. He has dozens of ceremony samples and we could select the elements we liked to create a ceremony that suited us. He also sent helpful information about where and when to obtain our marriage license. The day after the ceremony, he notified us that he'd already mailed in the signed marriage application and provided information about how to get copies of our marriage certificate.

Officiant Eric's reply:

Hi Amy, thank you so much for your review. It was a blast being part of your celebration.

Mark

Married on 07/28/2018

Eric was absolutely fantastic. We didn't want a religious wedding so were a bit unsure about what format to have but Eric's website made it all so easy. We could design it straight off there but even better when we wanted to add bits then Eric was very accommodating, resulting in a ceremony that was perfectly designed for the 2 of us. Eric was on time (quite important!) answered our emails promptly and gave us important reminders on the various administrative things (wedding license etc) that we needed to get done. I would definitely recommend Eric to anyone!

Andrew

Married on 07/27/2018

Officiant Eric was fantastic! He really took the time to get to know my wife and I and make our ceremony customized and special. We HIGHLY recommend him!

Tim

Married on 06/02/2018

Eric was truly professional. He was flexible when we wanted to change things up from the norm but also had great suggestions. His directions were clear and the ceremony was perfect!

Danielle

Married on 01/27/2018

Eric was AMAZING! He made the process SUPER easy especially for such a daunting but important task. The ceremony sets the tone for the rest of the day and that he did - he set the PERFECT tone for the PERFECT day. Whether you want to write your own script or have him craft one for you - there are TONS of options on his website to help you. He lays everything out so there is no guess work on what to include and where yet at the same time completely customizable to your liking. We just recently watched our full wedding video and was able to see and hear the entire ceremony for the first time not in the moment - it only reminded us of how great he was! He made it absolutely fun and light hearted - exactly how we imagined! We couldn't have asked for a better Officiant to stand up there with us on our Wedding day- you can't go wrong with Eric so hurry and book him now!

Poppy

Married on 01/07/2018

Since we were doing a secular wedding, I was at a loss for how to find an officiant. Various people suggested having a friend do it, but none of ours really fit the bill. Then I found Eric on WeddingWire. I couldn't understand how someone could have 100% positive reviews on all the wedding sites! I also worried how nice a wedding could possibly be that was created in a "pick n mix" style by someone who didn't know us. Let me tell you - the reviews are definitely legit! From the moment we first met with him, Eric put our fears to rest. He's super responsive, calm, and personable. He kept us on track with reminder emails (including when/how to get our marriage license) and answered any questions we had throughout the process. He has so many options for each of the ceremony sections that it ends up feeling very customized (and you can edit any and all of the words). I doubt anyone ends up with the same wedding script and our guests certainly had no idea that was how it worked. He was also remarkably affordable and arrived with plenty of time to spare on our wedding day.

Paul

Married on 01/06/2018

This review is for our wedding which took place on January 6, 2018 at Malibu West Beach Club.

After interviewing a potential officiant who showed up late for our FaceTime talk, talking to Officiant Eric was such a refresher as we planned our wedding. He was always on time and his gentle, collaborative nature always put my wife and I at ease when we talked! His energy is contagious!

Even on the day of, when he walked up to our venue's doors, he seriously calmed my nerves! He even gave my wife and I some tips while we were... y'know, up there getting married!

What I loved about Officiant Eric was the ability to customize our ceremony! It was perfect for us as we didn't really want to have a religious ceremony and we wanted to customize it to our liking. Officiant Eric was encouraging, super helpful, and was open to being available for a FaceTime chat.

Officiant Eric was amazing (and *efficient* might I add hehe), and his personality always brought comfort to this bride and groom!! Thank you so much!

Bonnie

Married on 12/09/2017

Officiant Eric was absolutely amazing. When our officiant unfortunately backed out the morning of our wedding, we were devastated to say the least. Officiant Eric answered our call on first ring and was so accommodating to our needs. He met with each of us to gather as much information as he could, and provided us with some peace in all the chaos of getting ready. Officiant Eric was wonderful throughout the ceremony and made it absolutely perfect. We are forever grateful to Eric ! Thank you so much!!

Eric swooped in to save us at the last minute. He was able to work with us given the short notice and was just the right amount of everything you could ask for.

Paige

Married on 10/14/2017

Officiant Eric was an absolute pleasure to work with! He was very responsive to all of my emails and questions leading up to our big day, and was very organized in terms of due dates and keeping ya informed about paperwork, changing my name, etc. He also lets you completely customize your ceremony readings which I found to be special. I would highly recommend Eric to anyone looking for a great officiant for their wedding! Thank you Eric!

Daniella

Married on 10/08/2017

It was a pleasure having Eric as an officiant for my wedding. He was extremely professional and he made himself easily available. His website is amazing!! It is filled with great resources and it throughly explains the marriage process. You need to hire Officiant Eric to be your officicant, he made my ceremony very relaxing. He is punctual, knowledgable and a pleasure to work with.
Are you interested?
Send a message