98 Reviews
Recommended by 98% of couples
Quality of service

4.9 out of 5 rating

Average response time

4.9 out of 5 rating

Professionalism

4.9 out of 5 rating

Value

4.9 out of 5 rating

Flexibility

4.9 out of 5 rating
23 User photos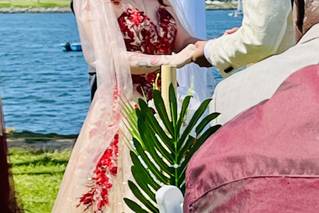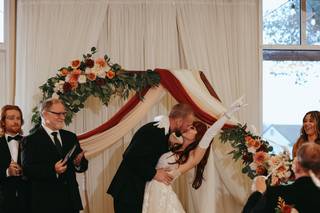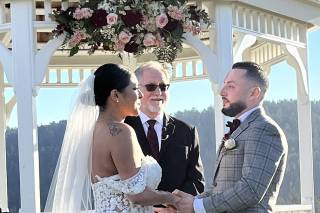 + 19

photos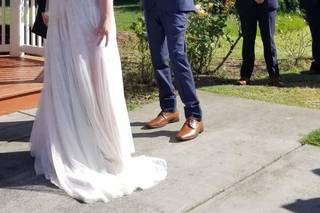 Featured

Lea F.

Married on 09/19/2021

Wedding 9-19-21

Steve was great and knowledgeable when helping to create our perfect ceremony, he had helpful ideas when we were stuck, he gave great advise, he was beyond professional. Our officiant Danielle, well there are no words to describe how happy I was with her, she bought and air of charm and wit. Danielle was patient, she went above and beyond, she made everything come together. I would definitely recommend them.

Jessica

Married on 04/14/2023

Great experience!

Officially Yours was lovely for our Spring 2023 wedding. Steve was so great through the ceremony planning process, and we were really happy with Ken who did our ceremony. We got so many compliments from friends and family who thought he was great. We felt super supported and Steve gave us such incredible advice for the whole process.

Felicia

Married on 03/25/2023

Perfectly done

For our ceremony we had the pleasure of working with Daniel as our officiant, He was very patient and took the time to walk us through everything and answer all of our questions. He walked us through every step of the ceremony so we didn't have to worry about messing something up or getting it wrong and it just made it that much better. I would recommend Officially Yours! to anyone getting married.

Are you interested?

Send a message

Andrew R.

Married on 01/14/2023

Very knowledgeable and great sense of humor

What I liked most about Steve was how informative he was throughout the entire experience. Everything from the marriage license process to figuring out how we wanted our ceremony to go. Adding some laughs to ease the nerves during the ceremony was a nice touch too. Thank you Steve for an amazing experience! From Andrew & Taylor

Jacky G.

Married on 01/08/2023

Professionalism and an expert

Steve brings a wealth of experience in the wedding business, and he's been helpful in planning, facilitating, and delivering the best wedding ceremony for us, our friends, and our families. He's flexible in developing how you would want your wedding ceremony to look like, and we could not be happier how it went for our special day!

Judy D.

Married on 10/28/2022

Truly Beautiful

Steve was truly an amazing officiant for my son's wedding. Our guests, including myself all thought that his words were beautiful, funny and heartfelt. I highly recommend Steve, if your looking for an officiant.

Bonnie A.

Married on 10/14/2022

Fun, Romantic and Solemn

I cannot begin to thank our officiant (Brad Tucker) and the whole officially yours team service enough!! They made everything so easy and did not disappoint! Brad was so great, hyping up the guests, so much humor and delivered the message so clearly. It was very intimate and meaningful ceremony! I and my husband was calm and comfortable during ceremony because of Brad's help.. I would recommend Officially yours 100% any opportunity we can get.

Taylor R.

Married on 10/02/2022

Perfect Ceremony

We are so happy we went with Steve and the team at Officially Yours for our wedding officiant! We wanted a classic and traditional ceremony, incorporating some religious elements, and Steve walked us through all of our possible options for ceremony language to create our perfect script. While we did not end up having any readers or special segments (for example, a unity candle), Steve is clearly an expert and knows how to incorporate those elements if desired.

jKonrad officiated on the day of, and we had a quick call with him a week in advance of the ceremony. Even though we never met him in person until the day of, he was incredibly reassuring over the phone that he would be very good at his job, and he truly was. jKonrad was excellent at striking a balance between sweet moments and humor, reading the room for exactly what was needed. He was great at respecting the specific language we wanted (for example, we did not want me to be "given away" but "presented"), and he set up our first kiss perfectly, announcing he would step out of the way so we could get a picture with just the two of us. We had so many guests compliment the ceremony after, and we would absolutely recommend Steve and jKonrad and the team.

Irene H.

Married on 09/10/2022

Fantastic!

Konrad did an amazing job with our wedding ceremony. Some of our guests were even asking for his contact information after the ceremony had ended - he was just that great! The ceremony went smoothly and went according to script. The ceremony will always have a special place in our hearts and we are glad that Officially Yours was able to nail it!

Steve was also awesome in the initial calls and getting the script finalized. He did a great job of gauging the style of ceremony that we were after and gave great advice on what to do and what to avoid.

Overall, we highly recommend using Officially Yours' services!

Karen H.

Married on 08/27/2022

Fun and Unforgettable

My wedding happened back in Aug 2022, so this review is long overdue. My husband and I had the privilege of having Steve himself as the officiant. From the first meeting, you can tell that Steve and officially yours as a whole is very professional. We had great guidance on how to customize what we wanted for our wedding, and even got to add a tequila toast after our vows (Salud!). It may seem strange while you prep but I assure you that the officiant's speech on your wedding day will be perfect and natural. The entire ceremony was memorable and enjoyable. The officiant will guide you through the whole ceremony. I was even able to get my marriage certificate smoothly. Steve had us covered from beginning to end and was super fun. You will be in great hands. I will definitely recommend Officially yours if anyone asked for a recommendation.

Lisa F.

Married on 08/20/2022

Top Notch Service

We were so happy with Officially Yours! They just performed our daughters wedding and it was a beautiful ceremony. Initially the couple wanted a quick "I do", but after the consultation with Steve and Daniel, they guided them into a much better ceremony. Their input and advice was priceless. Many guests complimented the service and the officiant, Daniel. We would not hesitate to recommend them!

Mary D.

Married on 06/25/2022

5 stars! Amazing ceremony experience

One of the best decisions we made for our wedding day was choosing Sincerely Yours!! as our officiant. Steve was our officiant, and he did an absolutely fabulous job. He was calm, cool, and lead a beautiful ceremony with all of our families and friends present. At the reception, I kept having guests come up to me asking where we found this officiant and told us how great of a job he did and how beautiful the ceremony was. Steve definitely kickstarted a wonderful wedding day that my husband and I will treasure for the rest of our lives.

Jessica S.

Married on 06/25/2022

Dream Ceremomy

The Officially Yours team did an amazing job being so responsive and guiding us along the way. I loved how they taught us about the process and allowed us to craft our ceremony to our style. Our officiant did a great job making everyone feel comfortable and even laugh! Our ceremony couldn't have been more prefect!

Lydia H.

Married on 04/09/2022

Amazing experience working with Steve and Danielle!

Steve did a fantastic job start to finish coordinating all of our zoom meetings, responding quickly to our email questions, crafting our ceremony, and even doing some relationship coaching in advance of our wedding! Then, even though Steve was already booked for another ceremony the day of our wedding, he paired us with Danielle to perform our ceremony and she did a wonderful job! Guests were surprised to hear that we met her for the first time the day of our wedding since she seemed to know us so well. She also gave each of us a quick chat/pep talk before our ceremony which really helped us to focus on the moment. Fianlly, she turned in our signed marriage license for us after the ceremony was over so that we didn't have to worry about it.

We would definitely recommend OfficiallyYours, Steve, Danielle, and the rest of their team!

Deanna G.

Married on 04/09/2022

Steve was an absolute pleasure

After meeting with Steve we knew instantly not only did we want to hire Officially Yours as our officiant, but we wanted to pay the extra $100 to have Steve himself marry us. He was extremely personable and organized. We got a giant wedding booklet to go through that I kind of thought of us a "choose your own adventure" type approach that worked really well. They had the entire ceremony broken down into segments, and each segment had a huge list of wording options to choose from, which was really helpful. The ceremony itself went amazingly, you can tell Steve has done hundreds and hundreds of ceremonies because he was able to officiate very naturally, with very little looking at his notes, and he also whispered tiny cues to us such as "grab your bouquet back from the maid of honor" and such things that I would never have remembered to do independently. He was so natural and was such a good fit for us personality wise, that several guests assumed he was someone we knew previously. He also made sure the marriage license got signed by our witnesses and turned the license in to the county for us, which was extremely helpful. I did not want to have to keep track of the license after our ceremony or find the time to turn it in on our own when we were leaving for our honeymoon two days after our wedding. We wholeheartedly recommend Steve and Officially Yours! We couldn't have been more happy with out the ceremony went.

+ 4

photos

Jeff A.

Married on 10/30/2021

10/10 highly recommend!!

First off, we would like to give a huge thank you to Steve, Megan, jKonrad and the entire team of Officially Yours for providing us the best service we could have ever ask for! They were super responsive, thoughtful and the level of professionalism is unlike any other. We had a small hiccup (my fault) with our marriage certificate but Steve and Jkonrad got us back in the right track straight away. 10/10 would highly recommend!

Gina

Married on 10/24/2021

Great Officiant!

We hired Officially Yours back in 2019 for our 2020 wedding. We were happy and validated in our decision the moment COVID hit and Steve and his team were understanding and seamlessly moved our contract over to our new wedding date in 2021. Steve was very responsive over telephone and reassured us we were all set to go several weeks before the wedding.

Steve officiated our wedding and he is truly great at what he does. We got married outdoors during a storm and he was able to seamless transition the ceremony inside. Not only that, but we later found out that he was the reason all our guests were able to find their seats inside so quickly as he spent some time with them while my husband and I were staged in another area. Needless to say, the ceremony was wonderful and Steve did a great job making it feel personal. Many of our guests later approached us and wanted to compliment Steve and the way he officiated our ceremony.

Isabella

Married on 10/14/2021

Wonderful!

Our officiant was jKonrad and he was great! The ceremony was well paced and he even made sure that before we began the train of my dress was fixed for the photos! Love someone who pays attention to details! Officially Yours send us our workbook very early on and it helped us in so many way! Gave us options to choose from if we didn't want to write things ourself and offered a moment of remembrance which was meaningful to me in order to honor my late mom. They were very quick in communication and I appreciate that! Overall it was a wonderful experience!

Cindy L.

Married on 08/14/2021

So happy with our experience!

We were matched with jKonrad and my fiance (at the time) was super nervous that it wasn't Steve. jKonrad then got on a quick call with us to answer our questions and it made us feel a lot more comfortable. The ceremony was absolutely beautiful and he recited everything perfectly. It gives me chills just thinking about the ceremony script and everything that was said. He was well spoken throughout, added a touch of humor that was very appropriate and also stepped out of the way for our kiss (for the picture) which was very thoughtful since I didn't even request for him to do that. I think the ceremony is what I will remember the most out of my special day.

Caryn M.

Married on 06/05/2021

The Absolute Best Decision Ever!

We had the pleasure of working with Steve for our wedding, and it was the best decision we made for our big day. From the moment I spoke with him on the phone, I knew he was the perfect person to get us married! Leading up to the event, he answered any questions we had, and explained everything we could expect perfectly and professionally.
On our wedding day, there was an accident that shut down the main highway to get to our venue (because of course there has to be some drama that day), and what normally would be maybe an hour trip turned into a 3+ hour trip for Steve. If it were me, I probably would be in a terrible mood after that, but Steve came to me before the ceremony with a big smile on his face and was ready to go! He delivered the most beautiful ceremony, and added just the right amount of humor at the right times to make us relax a little. Every single person (literally) came up to us complimenting Steve's ceremony, and many said it was hands down the best ceremony they ever witnessed. He added humor and personal details about our story that truly made it so memorable for my husband and I that we will never forget. He truly loves what he does, and will make sure your day is just as special.

Leslie T.

Married on 05/01/2021

Steve Siglin is absolutely the best!

Steve was one of our favorite wedding vendors. From our first interaction, my husband and I knew Steve was the one. My husband, who rarely had any opinions during the wedding planning process, specifically asked me to make sure Steve was our wedding officiant on our special day. Steve is truly a professional. He provided us with so much information and communicated with us every step of the way, making sure to personalize our ceremony details/script and making sure we were comfortable. Steve made our ceremony everything we ever wanted, it was emotional with just the amount of humor. Days, weeks, even months after our wedding, we still get compliments on how great Steve was. Steve, Thank you so, so much!

Kyle H.

Married on 03/04/2021

The help we needed!

I reached out the Steve at officially yours because I
A. Needed help writing my ceremony
B. Our first time officiant needed some coaching
Steve delivered on both. Steve was always easily reachable and provided me awesome feed back in writing my ceremony. I provided him with a rough draft and he sent back his recommendations the same day. After the wedding, I have many people tell me it was the best ceremony they had ever heard. He also coached our officiant on delivery techniques and really made him own his speech. Amazing job and I highly recommend Steve for any and all officiant wedding needs.

Chrissy W.

Married on 11/05/2020

Top Notch Professional

Plan to be Wowed worked with Steve on a recent wedding. Steve was punctual, professional, and on point. Steve is great at what he does and is very knowledgeable which makes clients feel more at ease with the ceremony planning process. Steve was responsive to emails and followed the timeline and details perfectly. Guests were impressed with his ability to make the ceremony feel close knit.

Marina B.

Married on 07/20/2020

Smooth wedding process

My husband and I worked with Steve and Conrad for our wedding this May. They were both very friendly and professional. Conrad was our officiant and he demonstrated years of experience with a seamless reading.

Taylor

Married on 06/13/2020

The Perfect Officiant!

Hello my name is Taylor and my husband and I got married a week ago and Steve was our officiant. I just have to say he did an absolutely incredible job helping us navigate our way through the process of getting married. He was extremely professional, but I loved that he kept the ceremony light and funny which kept everyone engaged, he went out of his way to be there for me in my moments of panic before the wedding, and he told us exactly all the steps it took to get our marriage license (without him I would have had no clue) I would highly recommend choosing Officially Yours as your officiant!
Are you interested?
Send a message