20 Reviews
Recommended by 95% of couples
Quality of service

5 out of 5 rating

Average response time

4.6 out of 5 rating

Professionalism

4.8 out of 5 rating

Value

4.7 out of 5 rating

Flexibility

4.8 out of 5 rating
Awards
71 User photos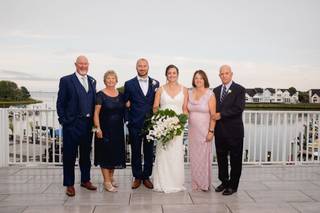 + 67

photos
Featured

Michelle S.

Married on 09/18/2021

They Had Us At Hello......Literally!!!

When we began our venue search, all we knew was that we wanted to get married on the beach and in either Delaware or Maryland; we live in Lancaster County, Pennsylvania. We went to check out a venue in Delaware where we would be getting married on the beach, toes in the sand. We did show up unannounced but we were just not impressed and certainly not approached with a willingness to show us around and give any helpful information other than being handed a business card of who we need to contact. It was also extremely windy there and I didn't think that would be good for the wedding. We decided to search other venues since we were in the area. Ocean Pines Yacht Club surfaced so we made our way to the establishment. Upon arriving, we were warmly greeted by two young ladies at the host stand. We explained that we didn't have an appointment but would like to check out the venue for our wedding. The young ladies gladly welcomed us and took us to Lia, the wedding coordinator of OPYC right on the spot. Lia was warm & friendly, informative, full of energy and showed us the entire property. We were wowed and sold!!! Because I wanted to get married (toes in sand) she shared with us the beach option and sent us to the location to check it out. It was nice but we were so impressed with the Yacht Club location that we went with getting married on the water instead of in the sand and, let me tell you, it was beyond our dreams!!!! Every step of the way, everyone was always so helpful, accommodating, patient and kind. Lia met with us as many times that we requested, she and the rest of the team answered every email, call, question and concern. From the beginning, Lia recommended using Alison to the Altar to help with coordination, decor, flowers and anything we needed to make our day perfect. Alison and her team with Lia and her team at the OPYC worked harmoniously together to make our wedding day spectacular!!!!
Everything was put together so beautifully (like out of a magazine) and the FOOD!!!! The food was top notch!!! Our guests absolutely raved about the food. Kudos to Chef Liz and the kitchen staff!!! She even made our incredible cake! We were so blessed to have the best of all aspects in planning the most magnificent wedding we could have envisioned. We are forever grateful! Thank you so very much Lia and everyone at Ocean Pines Yacht Club!

+ 16

photos

Erin C.

Married on 08/27/2022

Best. Venue. Ever.

My husband and I cannot recommend The Venues at Ocean Pines enough. We had our wedding at the Ocean Pines Yacht Club, and we couldn't have dreamed up a more perfect day. We actually booked our wedding with this venue while we were still living on the west coast, which I like to highlight because it shows how amazing Angie and Lia's communication and helpfulness were from day 1. They are fantastic to work with, from beginning to end. Just like any bride, I had a million questions and both of them responded so quickly. Everything- from booking to tasting to the big day was handled with such professionalism, and Angie and Lia were also so fun to work with and so incredibly kind! As for the actual wedding day, oh my goodness, I could go on and on and on about how perfect it was. Everything went off without a hitch, the entire staff was incredible and everything was so organized. Our guests were incredibly impressed with everything about this venue, from the scenery to the amazing food and beverages to the incredible staff. I cannot recommend the Yacht Club enough!! Thank you for making our day the best ever, OPYC!!

+ 4

photos

Krista S.

Married on 08/20/2022

Amazing Venue with Amazing Staff

If you want breathtaking views, incredible photos, a gorgeous ballroom, fantastic food, and a great time at your wedding/event, look no further. The team at OPYC, especially Lia and Angie, are top-notch at what they do. They express so much love for you in hosting your event- there is no better way to put it. They just make you feel welcome and give the best tips to make your day perfect. We can't wait to buy a place in the community and go there all the time.
The prices could not be beat, the food was fantastic (the chef even made some Cambodian apps for our heritage station), the orange and grapefruit crushes got everyone on the dance floor, and the band playing downstairs was an added bonus. 10/10 for the perfect day!! (Pro tip: Get the crab cake balls and the raw bar!)

+ 16

photos

Are you interested?

Send a message

Karen

Married on 05/20/2022

Amazing! Highly recommend !

Ocean Pines Yacht club is the venue to go for your dream come true wedding . Staff were the best to work with . Food was unbelievable . Just absolutely amazing . Cannot thank you all enough !

Marvil

Married on 09/11/2021

The Ocean Pines Yacht club

We absolutely loved this place! They provided the warmest atmosphere with the kindest staff! Their food was absolutely delicious. Their accommodations were spot on! We couldn't thank them enough!

Jacqueline

Married on 06/07/2021

Perfect, Even for Smaller Weddings!!

My fiance and I went to check out Ocean Pines as a prospective venue for our wedding ceremony and reception. This place not only has stellar customer service, but it is beautiful! Upon arrival, we were greeted and introduced to all of the details of the venue. Let me tell you, we have a smaller wedding of 40 guests and not only was Ocean Pines willing to accommodate us, they made us feel confident that their spacious reception hall would be set up so that the party didn't feel underwhelming. This was such a huge selling point! Many places we were going wanted to either charge us a ridiculous premium for similar spacious halls - or they wanted to shove us in a much smaller and less attractive room. Ocean Pines also had reasonable pricing that included their beautiful sun-kissed reception hall! I hope Ocean Pines never changes this about themselves! I would have chosen Ocean Pines for this reason and the ONLY reason I did not is because my fiance and I decided on a destination wedding. I will be recommending this spot to all of my friends and family!!

Lauren

Married on 06/05/2021

Amazing Experience!

We had our wedding at the OPYC in May 2021 and had the best experience! We had a longer engagement and from the time we started working with the venue coordinator, Lia, until the end, she was AMAZING. Super responsive and accommodating. The day of staff was incredible. The views from the YC are spectacular and our guests raved about the food. We loved the bar setup and cocktail hour on the balcony. I can't recommend the YC enough.

Katie C.

Married on 04/30/2021

Beautiful Venue!

Lia, the event coordinator, is excellent! She is very friendly, honest and upfront about pricing and availability. She was great throughout the pandemic with rescheduling multiple times. The ballroom was gorgeous and the view is unbelievable. The food was fantastic and top notch!! Lia made sure everything was smooth and wonderful!!

Carol R.

Married on 04/30/2021

Ocean Pines Yacht Club are Best Venue

The Ocean Pines Yacht Club on Maryland's Eastern Shore is absolutely perfect! The ballroom is amazing with the polished wood floors, vaulted ceilings and beautiful windows all around highlighting the panoramic views of the marina and skyline of Ocean City, Maryland. The view is breathtaking at day and night! My daughter's wedding was just gorgeous! The ceremony was on the lovely patio near the docks and the reception was in the elegant ballroom! It all starts with the Event Coordinator, Lia! Lia is kind, friendly, knowledgeable and so easy to talk to! She is responsive and understanding and just absolutely everything you will need! Lia gave all the facts and is very upfront with the prices and selections. She is above 5 stars! The catering by the Yacht Club was delicious. Guests are still contacting us to rave about the appetizers and entrees. All was amazing! Lia was so helpful in our choices and staying within a budget! My daughter had the ultimate Dream Team of Lia, The Ocean Pines Yacht Club, Rev Giz (Officiant) , A Sweet Affair Weddings (planner), Little Miss Lovely (florist), Conway Videography, Danny Bostwick Photography, Andrea Bounds Hair and Makeup, DJ Robert Waxx, Morning Buns Bakery , Cakes by Amy desserts (decorated covered strawberries), and StyledDE (lighting)! The Ocean Pines Yacht Club with Lia are the best choice for a Venue in Ocean City and the Eastern Shore of Maryland!

Brooke

Married on 10/19/2019

Wedding 10-11-19

When we first viewed the Yacht Club we knew it was where we wanted to get married. The ballroom is stunning and views absolutely gorgeous. Throughout the entire process Lia was very helpful! She answered all of my dozens of questions quickly! The service her and her team provided on our wedding day was stellar!! As the girls were getting ready we were provided with someone to serve us mimosas and lunch! The food was all phenomenal, and our guests also raved about their experiences. Lia and her team also made sure our day ran flawlessly. As far as pricing for the space and food it was very affordable!! We highly recommend the Ocean Pines Yacht Club!!

Jessica J.

Married on 05/18/2019

Ocean pines yacht club is an excellent choice for a wedding!

Awesome venue with great service and people!

Denise S.

Married on 05/18/2019

Great wedding experience

everyone was very organized , helpful, and friendly The food was awesome!!


Dianne M.

Married on 05/04/2019

May the 4th be with you

The staff and management were extremely helpful. I cannot say enough about how great they were to work with. We had a few last minute changes due to weather and they totally rolled with it. Such an amazing staff!!


Stevie M.

Married on 10/13/2018

PERFECT. Everyone should get married here!

Our wedding was planned in just over 3 months. We wanted a destination wedding at home here in Maryland and we got all of that and more. The staff treated us like royalty and their services were absolutely perfect. Angie is a God sent angel to the and the other staff there fly right along side her. Excellent food. Excellent location. Excellent atmosphere. Perfect wedding. I'd recommend the staff and venue to anyone who is looking to have their dream wedding become a reality.

+ 13

photos

Emily

Married on 09/17/2016

Nothing short of fantastic! From beginning to end Brian was extremely helpful and without him the day would not have gone so smoothly! The ceremony and reception were perfect and everything flowed so well! All of the guests loved the beautiful location, and many made it a beach weekend and rented houses within Ocean Pines. Its really nice that this venue is located close enough to Ocean City where there are things to do, but far enough away for quietness and privacy. I would absolutely recommend Ocean Pines Yacht Club to anyone looking for a wedding venue!

I can not explain how amazing this venue was to get married. We got married outside on the patio and had our reception upstairs. My guests had so many compliments about this place. I loved every second of having out wedding. The food was fantastic and the chef was accommodating with our vegans and special diets we had at our wedding. Brian was a great person and if he didn't know the answer he would get back to you within 24 hours with an answer. I would recommend this venue to anyone who wants to have an amazing wedding the the beach :)

Cara

Married on 03/17/2012

Lynda and the Staff at the Yacht Club made the reception perfect! Service was great and they kept us having fun! Patti was the best at keeping my husband and I fed and happy :-) We couldn't have asked for a better reception site especially for the price! The view is amazing BTW!~

Tanushka Z.

Married on 10/17/2020

Amazing from the moment we toured the venue till well after our wedding.

OP Yacht club is definitely a hidden gem in the ocean city area.

Everyone from Leah (coordinator) or the chef/staff/management went above and beyond to make sure we were able to do our best to have our special day go amazingly well as well as follow COVID protocols and procedures to make it fun and safe event for all.

I cannot truly express the gratitude we have for everyone for working with us and being so flexible and understanding during a truly trying time in the world.

+ 3

photos

Amber

Married on 11/11/2011

The service from the staff was EXCEPTIONAL!! Everyone was very helpful and worked together amazingly! The only problem I had was they switched managemnet a couple months before my wedding and noone was on the same page. As soon as I called everyone was up tp speed before we got off the phone, so no biggie there, just freaked me out for a minute!

Krystie

Married on 02/10/2018

I fell in love with The ocean pines yacht club in 2017 when I was looking for my venue for my winter wonderland wedding on February 10th 2018. I loved the view, the beautiful drapery (that is completed by The City Florist) the big open space, it was truly romantic and just what I was looking for. And the price was just right. But sadly one of my nightmares came true just 30 days shy of my wedding date. On January 5th, their wedding coordinator Annelise had to make one of the hardest phone calls, and call me just 30 days before my wedding to tell me that ocean pines yacht club could no longer accommodate my wedding date because they were closing for 90 days (they have now been closed for 4 months, due to a mold issue) My heart was broken, and Annelise stayed on the phone with me, heard me cry, yell, and curse and she told me to just let it all out. I thought I was going to be on my own to find a new venue but I was wrong, Annelise was their every step of the way. She called every venue in ocean city to see if they could accomodate my wedding. Annelise gave me her personal phone number and we spoke every single day for 30 days. She did not leave my side. Therefore the only rating I can give is the quality of service, I would give Annelise 1,000 stars if I could. The yacht club is lucky to have such an amazing employee like her. She truly loves what she does, and will make sure your wedding day is beyond perfect! Annelise was their watching me get ready at my new venue, made sure all the vendors were on time, was there as I walked down the aisle to fluff my dress one last time, and was their guiding us through the night at our reception! We have formed a special bond because of this awful event that happened to us, and I am so grateful that she has come into my life! I hope nothing but the best for Annelise. She is truly the best thing about The Yacht club. And with her being the event coordinator there, I know she will make the yacht club great again!

Ocean Pines Yacht Club's reply:

Krystie, we are so terribly sorry for the experience that you had at the Yacht Club. We can only imagine how stressful that must have been for you. Although we can not rectify what happened under the previous management company's tenure, we would like to invite you back to celebrate your first anniversary with dinner on us. We know this can't possibly come close to making up for the burden this has caused you, but on behalf of the new management company of the Yacht Club we would like extend this offer.
Are you interested?
Send a message