151 Reviews
Recommended by 100% of couples
Quality of service

5 out of 5 rating

Average response time

5 out of 5 rating

Professionalism

5 out of 5 rating

Value

5 out of 5 rating

Flexibility

5 out of 5 rating
22 User photos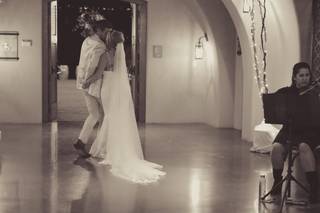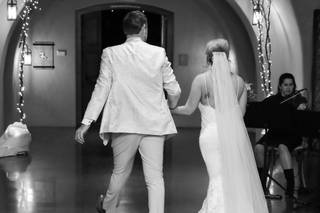 + 18

photos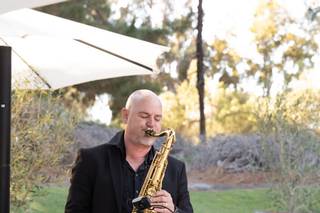 Marco R.

Married on 04/22/2023

The perfect Mariachi Trio for any formal event

The Mariachi Family Trio we had for our wedding was absolutely fantastic! They played the classic songs my family requested and grew up on! They even played some American classics in their own form! For anyone looking for a classy mariachi band for their special event, look no further than this family.

Rebecca M.

Married on 03/25/2023

Wedding w/OMG March 2023

OMG was a great addition to our wedding! Margie was helpful in explaining the offerings and additions that OMG could provide (backlighting and PA for officiant), and she provided a very thorough form that we filled in to ensure the event was a success. We hired the duo string musician plus DJ package. The string covers were beautiful and set the mood perfectly. The musicians were even kind enough to relocate after the ceremony to another lawn where we were holding the cocktail hour. When it came time for the reception, DJ Larry incorporated our song suggestions and added in his own flair, which kept us dancing all night. Highly recommend!

Alicia

Married on 03/23/2023

Amazing Violin/ Cello duo!!

We hired the Violin/ Cello duo to play our ceremony and cocktail hour music at our wedding in San Diego. These guys did absolutley wonderful and exceeded our expectations. The music was beautiful. They helped to make the day perfect and couldn't have done a better job. They were reasonably priced and worth every penny! 10/10 would recommend !!!

Are you interested?

Send a message

Melissa W.

Married on 11/09/2022

Top notch string duo for our vow renewal wedding!

We hired the String Duo (Cello + Violin), for our wedding ceremony and cocktail hour, this past November. Our vow renewal ceremony was in the La Tana Vienza (wine cave at Europa Village) and the cocktail hour/reception took place outdoors, up at their C'est La Vie area. We absolutely loved the music and our guests couldn't stop raving about them. They sounded so beautiful both indoors and outdoors. The ambience they created for our special day exceeded our expectations. We can't say enough about how great they were and how amazing Ocdamia Music Group was to work with.

Tina N.

Married on 09/10/2022

Amazing Team

Margie and her team were amazing to work with. We hired a violin and guitar duo (Nicco) and they played beautifully. Margie is very easy to work with and replies to all questions/concerns right away. We hired the musicians for ceremony and cocktail hour and received so many compliments about how beautiful they played. Could not thank the musicians enough. Hire this team. They are worth the money and will not disappoint. Thank you Margie, Nicco and team!

OMG Ocdamia Music Group's reply:

Thank you Tina for our hiring our violinist and guitarist musicians for your wedding ceremony and cocktail hour. We are happy everyone was so easy to work with and that your day went so well. Please don't hesitate to consider us for any of your live music entertainment in the future.

Megan D.

Married on 07/09/2022

10/10 stars and would use again!

Beyond 5 stars if I could! Ocdamia string quartet played at my wedding and they were absolutely stellar! They are easy to work with and also wonderful people, kind and professional.

They played a variation of classical music and some modern day pieces and songs. All of which, were beautiful. The guests also thoroughly enjoyed their presence. I'd have them in a heartbeat!

Thank you Ocdamia, Margie the owner, and the musicians!

OMG Ocdamia Music Group's reply:

Thank you Megan for your five star review! We are so happy you considered us for your live music wedding entertainment. it's great how are professional musicians covered not only classical music but modern day pieces as well. Many of our entertainers boast a large repertoire of music including R&B, hip-hop, blues, country, pop, even gospel. We look forward to hearing from you again someday for any of your future special occasions or event live entertainment.

Estela O.

Married on 06/25/2022

Amazing service

It was a pleasure to work with OCdamia, Margie was amazing since first day we contacted her looking for a saxophonist for our wedding, Jason was absolutely amazing as well! We had so many compliments for our music. Due to COVID we had to postpone from summer 2020 to summer of 2022, Margie was super flexible. Thank you OMG for making our day extra special!

OMG Ocdamia Music Group's reply:

Thank you Estela for your kind words about Jason, our Saxaphone player musician, we are glad your professional entertainment worked out for your wedding! We are always happy to work with your schedule in any way we can. Please consider us again for any live music, bands or string musicians in the future.

Allison B.

Married on 06/24/2022

I would highly recommend this company to anyone looking for wedding musicians

They were absolutely wonderful. They had such a wide selection of music and they made the whole process really really simple. I have received the most compliments about my wedding in regards to the string quartet for sure. It set the tone for a beautiful day.

Daniel D.

Married on 05/21/2022

Awesome! 100%

Ocdamia Music Group was one of our first vendors chosen before we moved our wedding from May 2021 to May 2022. Margie Ocdamia was incredible. Communication from her was almost immediate. Every question answered. Every point covered. We hired a three piece string for our ceremony. Margie even found an amazing electric pop violinist at the last minute when our original violinist (not from Ocdamia Music Group) dropped out due to family matters.

The string trio was amazing. They sounded great. Looked professional. Showed up and setup on time. Not a single problem at all. The violinist named Yennie was someone we looked at for a one hour dj collaboration. Yennie was bit out of our budget. However, Margie was able to get her to jump in at the 11th hour for a rate that we could afford. Her set with our dj made our night. We cannot express how appreciative we are of the kindness and care shown by Ocdamia and Yennie.

Take the worry out of finding a music vendor. Ocdamia Music Group has everything you need.

Charlieandteri N.

Married on 04/02/2022

Amazing Duo

Our wedding was just this weekend and we had Yennie and Jose playing for us. We provided a playlist sample of the kind of music we wanted for cocktail hour and for dinner and OMG selected a set of music exactly to our taste. It was class and beautiful. Later Yennie performed for us at the dance and she was so incredible energetic and brought everyone to their feet. We had so many people asking us for contact info for OMG and specifically for Yennie. Thank you so much for making our event an amazing success!

Jessica G.

Married on 03/19/2022

They were great!

The string quartet played at my wedding and they were amazing! I would definitely recommend them!

OMG Ocdamia Music Group's reply:

Thank you Jessica for taking the time to write a nice review for us. Our professional artists and musicians are grateful for the opportunity to be part of something as special as your big wedding day. Thank you for considering us for your Live entertainment and please consider our string artists again for your next special occasion or event.

Brittany W.

Married on 03/19/2022

Bride of Wedding

We hired a string quartet and pianist from this group to play both classical music (think Jean-Yves Thibaudet and Yiruma) and contemporary music (ie Lil Nas and Coldplay) at our wedding and cocktail hour and they were fabulous at both. They nailed the complex classical songs and fun upbeat/contemporary music alike. Our black tie event turned out to be accented perfectly by their music and skill level. They were prompt, flexible (we had them go to both the church and reception venue), easy to communicate and work with, dressed for the occasion, and very professional. We highly recommend and would definitely use them again!

OMG Ocdamia Music Group's reply:

Thank you so much for your kind words and five star review and for sharing your wedding music experience. Our professional musicians and artists have the highest level of training and experience and this usually includes a large and diverse repertoire of music. Thank you for trusting us with your live wedding music entertainment and we hope in the future you will consider us again. Thank you so much for sharing your experience.

Tom H.

Married on 03/17/2022

Incredible. Book them!

They did such an amazing job at our wedding. They learned 10 entirely new songs and performed beautifully. They even made adjustments to the tempo and timing only hours before performing! All of our guests loved the band. Each member was professional and a delight to be around. And the music was flawless!!! Brought tears to our eyes.

OMG Ocdamia Music Group's reply:

Thank you Tom, we are happy our professional musicians worked so well with you learning 10 songs for your playlist. Your wedding is an important day and we are happy and privileged to be a part of it. Please consider OMG for your live entertainment in the future.

Talia N.

Married on 02/20/2022

Amazing Vendor All Around!

Levi is a fantastic and professional wedding musician! We spoke over the phone a couple times before our event to iron out details and Levi was very helpful in the planning process. On the big day, I didn't get to speak to Levi much, however, his music was wonderful to listen to! I would definitely book him again and I highly recommend him to anyone looking for a solo guitarist and singer.

Margie, the operations manager, arranged the booking and contract. She made hiring Ocdamia Music Group easy!

Fadi A.

Married on 01/06/2022

First Class Service!


OMG Ocdamia Music Group is the go to place for all your musical entertainment! Special shout out to Mathias for making my fiancé's proposal special with his great talents. He is a very professional, kind hearted and personable human being. He was very punctual and accommodating. I would definitely recommend him to anyone celebrating a special moment in their life. Thank you again Mathias, as well as Margie for recommending him to me!

OMG Ocdamia Music Group's reply:

We are so happy you considered us for your professional music entertainment during your fiancé's proposal. We are very happy everything worked out so well and hope you will consider any of our artist or performers at future special occasions or events.

Krystle A.

Married on 12/20/2021

Professional String Quartet

[STRING QUARTET]
My husband and I were so happy with the Ocdamia Music Group! We had a piano, violin, viola, and cello in our quartet--all very professional. We had a friend of ours arrange some of our favorite videogame pieces for our ceremony, which Margie sent to the musicians as soon as we sent them to her. The Ocdamia Music Group was able to perform amazingly! Aside from our specifically requested songs, they have a wide genre you can choose from in their library! Would definitely have OMG in other future events!

[Wedding Live Saxophone Player]
Jason was AMAZING and definitely a guest favorite during cocktail hour. He was able to play all the songs that we requested, and also takes requests as long as that's something you include on the music form you work on with Margie. From popular hits to jazz standards, we were IMPRESSED. Thank you!

Angie C.

Married on 12/11/2021

Talented, Moving, and Delightful

Ocdamia Music Group was recommend to us by our Wedding Planner Rachelle from Radiant Love Events. Originally we were in search for a mariachi band and when we visited their website we found a plethora of talent! Everything was so well organized. Margie was a godsend. She answered every email within 48hrs, worked around our timeline, and communicated with our string duo all our needs. Her perfessionalism speaks volumes and her group of artists are the cherry on top for any event.

The string duo was AMAZING!!! They arrived on time, dressed accordingly, played all our favorite songs and were a delight to listen to. My father in law is no longer with us and he loved their style of guitar, this duo really made us feel like he was present. It felt perfect!

I 100% will hire this duo again and feel confident that any talent part of ocdamia music group will be a treasured memory you won't regret.

OMG Ocdamia Music Group's reply:

Thank you so much Angie for taking the time and writing a review about your musical entertainment wedding experience. We are so happy you enjoyed the service and that our professional artists and musicians provided entertainment worthy of your praises. We look forward to hearing from you again, thank you for considering us for your future special occasions or events musical entertainment

Lauren

Married on 12/03/2021

Incredible Talent!

We have been thoroughly impressed with Ocdamia Music Group from our first email communications with Margie to the end result of our beautiful wedding performance. We had Michael the pianist play during our wedding ceremony and he did an incredible job. They provided us with a user-friendly portal we could use to submit all of our requests and timeline information, making the process simple. We submitted a very wide variety of song requests, even some older Chinese songs, and he mastered all of them. He also did an excellent job of sticking to the timeline and adapting to quick song changes based on what was happening. We were on the fence about whether or not we should spend the money to get a pianist or if we should just rely on our DJ, and I am so, so glad we decided to go for it and book with this company. The live music brought so much class and elegant energy to our wedding that we wouldn't have achieved any other way. We highly recommend this company, and Michael the pianist!

Maggie

Married on 11/17/2021

Sounds and is the nicest orchestra.

Since the beginning to the end was a wonderful contact for me to hire such a beautiful, respectful, and organized orchestra. Always their to answer every single question or doubt I had. what i loved was that they never told me no to what ever song I wanted them to play for my wedding.

Grace

Married on 09/19/2021

Violinist/DJ/Emcee

Thanks to Margie and her team. I hired a dj/emcee for reception, and violinist for the ceremony. With few directions, they helped run things smoothly and took care of things on their own which helped a lot since I could just pass on those responsibilities. They coordinated with other vendors and was great at adapting to the vibe of the guests. When I asked for them to provide certain equipment and asked to change the date, they provided without extra fees. Thank you!

Lizette

Married on 09/18/2021

I cant say enough great things about Ocdamia Strings! They simply rocked my special day!!! Aside from there professionalism and outstanding performance, they are just a great pleasure to work with. My guests LOVED them so much one of them even wrote a blog about them and how it made her see ceremony music at another level. http://sanchezperez.wordpress.com/.

I will be recommending to many more engaged couples to come! Hope to see you July 9th at The Perez wedding as they will be contacting you shortly.

Sara

Married on 09/10/2021

Amy electric violinist

We hired Amy, an incredibly talented electric violinist, for our wedding and all we can say is WOW. From the start, Amy's positive energy shined through. Her performance at our wedding is something we will cherish for the rest of our lives. How often do you come across a musician who is also smiling and dancing throughout the entire performance? We would absolutely hire Ocdamia Music Group for future events.

OMG Ocdamia Music Group's reply:

Thank you so much for considering OMG for your live performance wedding entertainment. We are happy to see our fusion violin player exceeded your expectations. Amy is a very talented musician and performer.

Please consider us in the future for any violinist cellist pianist vocalist or other artist performers for your live entertainment needs.

Jt Vancollie

Married on 08/07/2021

Tear-Inspiringly Beautiful

Brandon was so fantastic at our wedding!! We threw so many song choices at him which weren't on his 'already known' list, and he still learnt them and played all so, so beautifully. He definitely made some people cry. Loved, loved, having him there! Thank you Brandon!

Andrea G.

Married on 07/24/2021

Beautiful string quartet!

Working with the Ocdamia Music Group was wonderful! The string quartet was amazing and perfect for the cocktail hour before our wedding reception. We even had one violinist in the main entrance who then joined the quartet where they were playing. Margie and the company were flexible and easy to work with when we needed to postpone our event twice. My husband and I loved how they played fun songs that were important to us. I highly recommend using this group for your event!

OMG Ocdamia Music Group's reply:

Thank you Andrea for trusting OMG for your live wedding music entertainment. We are happy the performance of our violinist and quartet artists did a great job for you. We of course are very happy to work with you and give the best possible customer service. Please don't hesitate to hire any of our violin cello viola piano players or vocalist for your future special occasions or events.

Julie A.

Married on 06/11/2021

Dream come true!

Margie and her group were wonderful to work with. The strings were fantastic. They really shined during the outdoor ceremony. DJ Kennedy put a great show for the party and had everyone dancing. Margie was very responsive to all questions and helped us plan an amazing time for us and our guests. We would recommend them for any party. Thank you again for coordinating this with us, Margie and OMG!
Are you interested?
Send a message