244 Reviews
Recommended by 97% of couples
Quality of service

4.8 out of 5 rating

Average response time

4.9 out of 5 rating

Professionalism

4.8 out of 5 rating

Value

4.8 out of 5 rating

Flexibility

4.8 out of 5 rating
91 User photos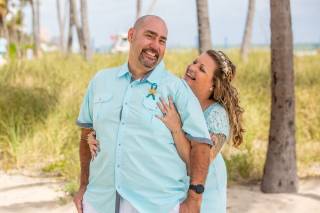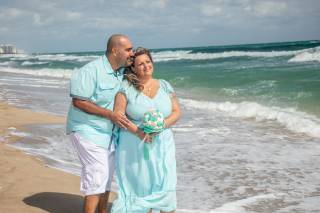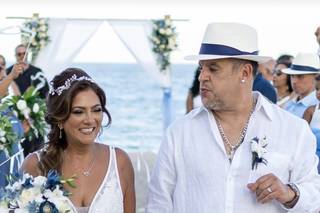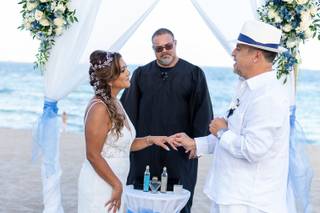 + 87

photos
Ysabel G.

Married on 09/02/2022

Thank you!!!

We wish to thank Affordable Beach Weddings/Notary on time LLC for making our day beautiful! Very special thanks to Rolando and Trish who were so nice to work with. This company is very responsive and I highly recommend them. No regrets! Very happy to have found it! Isabelle & Phil

Zina R.

Married on 09/11/2021

Phenomenal Customer Service, I'd give Armondo a 100 if I could

Armondo provided excellent customer service. He replied within second to each request. He was always a phone call or text away. He calmed my nerves every time. He helped me with my vision, and made my dream wedding come true. I had ZERO worries with the ceremony.

If you're looking to have a beach wedding. Notary on Time is the place to go!!!! It's worth every dollar. Their team is personable, they pay attention to detail and provide the service you pay for. I would recommend them to anyone and everyone if possible.

Armondo, there are no word to thank you! I thank God he gave me you, to preform our ceremony. You were like family to us all. Our guest praised you.

Thanks again... Zina & Angel Rodriguez 9/11


Julie H.

Married on 06/01/2021

Great Wedding!

They were wonderful. Responsive when I called or emailed. Loved my Officiant and Photographer. Everything was set up exactly as I had asked. I did all of this from out of state as was very happy wit h the results and no stress!!!

Are you interested?

Send a message

Krystal B.

Married on 04/25/2021

Beautiful beach wedding

Armando was very professional and answered all my questions and emails and calls. He also sent me directions to get to the place where we needed to be . Our photographer Trish was amazing we loved all of the pictures she took and she was very professional as well . I would definitely recommend them if you want a beach wedding this was my beach dream wedding come true and I can't thank you all enough so thanks agin God bless

Kimberly

Married on 03/27/2021

Wonderful Experience

We decided to renew our vows this year. The beach was beautiful. This was so romantic and beautiful we could not have asked for more. The decorations and the personalized conducting of our ceremony was priceless!!!

Megan T.

Married on 02/05/2021

Amazing. Thoughtful. Fantastic Business.

I can not say enough how amazing our experience was. Armando went above and beyond for us. Planning a wedding from a different state is hard but with him and his teams help you would never know it! They made every detail amazing and made my new husband and I have the most amazing ceremony! Thank you to Armando and Nancy and your team! You run an amazing business and we are forever thankful for helping us make such a special day... even more special!

Abigail C.

Married on 09/05/2020

Incredible service!!

We found Armando on Google, and he was nothing short of amazing! He was helpful with putting my mind at ease through the whole process. Once we made it to our wedding day, we arrived early and Roly- our officiant and our photographer Trish were ready to get everything set up and going! Everything was beautiful and just how we envisioned it. Weddings can be very stressful- especially destination weddings, but Armando and his team have everything down. Our wedding was truly a dream come true and we are so grateful!

Brittney C.

Married on 07/31/2020

Married 7/31/2020

From the very beginning everything was so easy! Including booking, paying and any questions I had. Anytime I needed anything Armando or someone from his team responded almost immediately. We had our ceremony today and it was perfect!! We had all of our needs and wants met with a smile on everyone's face. I would absolutely recommend them to anyone!!

Sammie

Married on 03/13/2020

Photos by Susie😃

Susie was absolutely wonderful! She was perfect! It was our first time coming to Florida as a couple, we were kind of nervous about meeting with a professional photographer! And it was a wonderful experience! She kept it fun! She was joking around with us, she was very knowledgeable about what she was doing and was able to take past experiences with previous clients to make our experience the best ever! It was kind of costly, but the money we spent on Susie, was 100% worth it!

Jennifer S.

Married on 02/14/2020

Stress free & beautiful wedding

Me & my husband recently got married on 2-21-2020 and we used this company! We used Trish as our photographer & if you get the chance to use her — DO IT she is so talented. Rolando was our officiant and he did a wonderful job. My wedding was stress free for me this company took care of everything and made sure we had everything we needed. We couldn't have had a better experience— thank you all again!

Carol L.

Married on 12/21/2019

It was awesome

I would definitely recommend this company.

Crystal W.

Married on 12/03/2019

Made our day stress free and perfect

Armando and Nancy were wonderful. From the time I contacted him originally about getting married with my multitude of questions, he was very patient and answered everything quickly. They took care of every detail and made our day perfect.

+ 3

photos

Heather P.

Married on 11/11/2019

Made our dreams come true.

We were looking for a sweet, simple and small ceremony on the beach with our immediate family and they made that dream a reality. Not only was Armando willing to work a holiday for us, he was wonderful through the entire planning process. The ceremony was more than we had hoped. It was light, playful, loving and absolutely BEAUTIFUL. The sand ceremony is a must! Everyone was impressed with how beautiful our wedding was. As far as photography it is top notch! Armando, his wife Nancy and their entire team is amazing. I highly recommend them!

Deborah C.

Married on 09/28/2019

Amazing!!!

Absolutely Amazing! I highly recommend Notary On Time, Inc. From start to finish both my husband and I were so pleased with the quality of customer service and professionalism. We give them 100% overall.

Agnieszka B.

Married on 09/16/2019

Our day was really special

Cannot say enough about how great this company is. Excellent communication and organization of the event. Very efficient and easy to work with. Amazing people. Yesi, our wedding officiant and Robin, the photographer were both super nice and made our ceremony special. Great pictures! Very good price for amazing service.

Jlynn H.

Married on 07/27/2019

Yesi! You are the best!

I can't tell you in words how great this company and their staff is. If your dream is to have a beach wedding, this is the place to go. They made my day beautiful.

Carmen S.

Married on 06/22/2019

Perfect day for a amazing couple

Mrs.Mr.Easter
Would like to thank the staff for everything making our special day a memorable day for us.
Thanks Nancy & Armando


Notary On Time, LLC's reply:

Thank you so much for you kinds words
It was our pleasure and honor , congratulations on your marriage
Many blessings

Kathleen S.

Married on 04/08/2019

Amazing and memorable

My husband and I celebrated 20 years by renewing our vows. Found this site online and called them they set everything up promised an amazing job and delivered over the top service. The whole location south point beach was gorgeous the pictures were professional the ceremony was amazing. We did the sand ceremony, trust me ask for it it was a very beautiful memory. My kids enjoyed everything and the photos caught them in their elements and also caught their personalities. I would definitely recommend them to my friends as a wonderful and amazing service. Thanks for making the best memories with my kids.

+ 13

photos

Genevieve

Married on 04/06/2019

Amazing!!!!

I am so happy with my experience and my wedding! It was beyond perfect Nancy was so sweet she made us feel so special! Our photographer Elieth was amazing and went above and beyond! These woman truly cared and loved their jobs! It made it so special for us! Thank you soooo much for making our day so special!!!!

Notary On Time, LLC's reply:

Thank you so much for you kinds words
It was our pleasure and honor , congratulations on your marriage
Many blessings

Priscilla (.

Married on 04/06/2019

We were very pleased with how our wedding turned out!!! It was last minute and they were able to get us in... Heather did really great

We was very pleased and loved how everything turned out! We definitely recommend them to all our friends and family. Heather was great and so was our photographer.. She definitely knew what she was doing.. It was last minute and they were able to get us in to have the wedding of my dreams... I was really nervous but once i got to the beach everything was great... We loved everything about how our special day turned out!!! Thanks again from Dana Harbin jr and Priscilla(Nuckels) Harbin...

Notary On Time, LLC's reply:

Thank you so much for you kinds words
It was our pleasure and honor , congratulations on your marriage
Many blessings

Steven A.

Married on 04/05/2019

Fun, beautiful, and perfect!

Being out of state, I was a little worried. I did not want to be a bridezilla!!! Rest assured I was taken care of greatly by Dawn the officiant and Evangeline the photographer, and the rest of the staff!! Everything turned out perfect! I definitely recommend anyone!! I had the most beautiful wedding ever!

+ 2

photos

Bobbie D.

Married on 03/27/2019

Beach Wedding

Everything could not have been more perfect. Ann our officiant and Eugenia our photographer we're so awesome. They both were very professional and left us with amazing memories of our wedding!

Notary On Time, LLC's reply:

Thank you so much for you kinds words
It was our pleasure and honor , congratulations on your marriage
Many blessings

Tabitha F.

Married on 03/24/2019

Wonderful team

Planning our wedding from OH made me a little nervous. Our wedding team was wonderful. Dawn made the planning from afar a breeze. Everything went so smoothly! I was very impressed!

Notary On Time, LLC's reply:

Thank you so much for you kind words,
you have a beautiful family and congratulations on your marriage
Many blessings ,


Laura D.

Married on 03/23/2019

We had a wonderful wedding and amazing is the only word we can use!

We had the wedding of our dreams!!! No issues or problems....everything ran smoothly and perfectly. Thank you Nancy and Armando for an amazing experience. The mini reception was a hit with the family!! See you in 10 years to renew our vows!

Notary On Time, LLC's reply:

OMG you are so cute!! We love you guys so much!
Congratulations!!! To many more!!!
The reception was a hit - Thank you for the opportunity.
From ABW team

Dayanis

Married on 03/14/2019

Beautiful and affordable

It was just as expected. They had great variety of options making it easy to be as simple or extravagant as you like. I went with simple and romantic. They worked with me on having just the right set up, bouquet and location. Armando always answered my calls and made me feel at ease. I would definitely recommend.
Are you interested?
Send a message