24 Reviews
Recommended by 97% of couples
Quality of service

4.9 out of 5 rating

Average response time

4.7 out of 5 rating

Professionalism

4.9 out of 5 rating

Value

4.8 out of 5 rating

Flexibility

4.9 out of 5 rating
Awards
3 User photos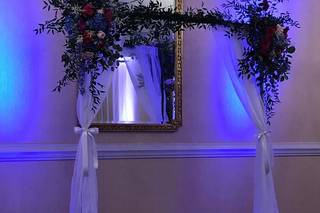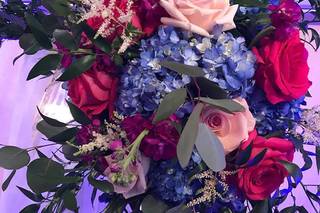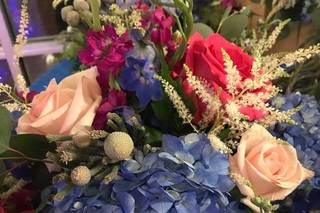 Trish

Married on 10/20/2018

More beautiful than I could have dreamed

North Raleigh florist did my flowers for my wedding recently. They turned out more beautiful than I could ever imagine. Tom, who did our setup, redid my arbor piece to work inside when we had to change our location at the last minute due to rain. No complaints about anything!!

North Raleigh Florist's reply:

Dear Trish,
It was a pleasure working with you and your family on your
recent wedding at The Glenwood.

Despite the rain, I am so happy to hear that you were pleased
with everything. The color and flowers you selected were
beautiful!

Please let us know if we can provide you with any flowers in the
future.

Best Regards,
Tom Land
Wedding and Event Manager
North Raleigh Florist
6457 Six Forks Road
Raleigh, NC 27615
919-847-3381
www.northraleighflorist.com
events@northraleighflorist.com
North Raleigh Florist

Wonderful to work with. They definitely listened to my needs and concerns. I was a little concerned because there wasn't really a discussion of how things would actually look and being type A, this made me nervous. However, on the wedding day, the flowers were what made everything so perfect. My husband made these palette centerpieces which turned out...well not as expected. These guys took them and made them spectacular. The flowers were perfect; they took my ideas and ran with them. My bridal bouquet was the most beautiful bouquet I've ever seen. I had a small budget for flowers and what they did with it still impresses me. The flowers are even still alive in the box centerpieces a week after the wedding and look amazing. Also, my amazing florist did all of this and handled it with grace despite great personal hardships!

Kate

Married on 05/21/2016

Samantha was a pleasure to work with on my wedding flowers. It felt like I was sitting down with a friend and felt I could be very candid about what I did and did not like and how much I wanted to spend. She was excellent at offering things that looked similar to an image I liked but maybe cost a little less to fit my budget. It was also great working with someone who is well connected in the Raleigh area wedding scene as she was able to offer suggestions I had not though of since she was so familiar with my venue. I will absolutely use them again!

Are you interested?

Send a message

**Note: This is for the Cary location of North Raleigh Flowers** I'm not a "flower girl" so finding someone who could speak my non-floral language was key and Samantha was the BEST interpreter! I was from out of state, and Samantha was willing to meet with me on one of their busiest weekends, Valentine's Day, since that was the only weekend I could be in town. From the minute my mom and I sat down with her, we knew she was the one to work with! We learned more about flowers and arrangements in our 30 minutes together than I have in my entire life. We had several changes between our initial meeting and the big day, and Samantha handled all of them with ease. While simple by design, the finished product was EXACTLY as we envisioned, and my bouquet was stunning. It was like she knew exactly what we needed without even really asking. I wouldn't hesitate to recommend her or the shop to others!

Callie

Married on 08/29/2015

North Raleigh Florist did an amazing job with our flowers. We were all blown away by how beautiful they were. When I met with them I didn't have an exact idea of what I wanted, but they were able to take the flowers I liked, the colors I wanted to use and work with my budget to create the most beautiful flowers I've ever seen at a wedding. My bouquet was breath taking. We had a great experience with North Raleigh Florist.

Christina

Married on 07/11/2015

North Raleigh Florist was THE easiest vendor to work with during my entire wedding process! Time and again, Samantha sat down with me, my bridesmaids and/or my parents and explained pricing, flower options, and bouquet shapes. She gave honest and gentle recommendations about who in the bridal party should be wearing what. When I learned last-minute that I needed a bouquet for bridal portraits and called her shop in a panic, they turned out a smaller version of my bouquet for half price in two hours! On the big day, my flowers were gorgeous and well within budget. North Raleigh Florist's workers were extremely responsive, cheerful, and professional throughout. Highly recommended.

Natasha

Married on 05/16/2015

Throughout my wedding planning, I knew I wanted light blue hydrangeas with some royal blue mixed throughout. I wasn't sure how I wanted this all to look in my bouquet, but Samantha nailed it perfectly. I also knew I wanted baby's breath for my bridesmaids and groomsmen, but wanted it to flow with my bouquet and the groom's boutonniere (which matched my bouquet). To say Samantha understood my vision is an understatement. I was taken away when I saw it altogether -- truly beautiful and I wanted to carry my bouquet everywhere! North Raleigh Florist was perfect and Samantha was amazing to work with!

North Raleigh Florist could not have been better to work with. Our wedding was on the first day of Spring in March, and Sam from North Raleigh Florist helped me to create the perfect floral bouquets, boutonnieres, corsages, floral center-piece, and cake flowers for the color palette and overall look that we wanted. They were very responsive and an excellent price for the service. I would recommend their services to other brides!

Mandesa

Married on 08/10/2014

My flowers were so beautiful and well put together!!!!! I could not have been more pleased. They also lasted a while, so they were definitely good quality.

Lauren

Married on 07/18/2014

Janice and Samantha were more than accommodating with keeping my budget in mind and, providing me with honest feedback when it came to my flower needs. Will definitely use them in the future and refer them to friends and family. Thank you for the absolutely gorgeous flowers that made my bridal party even more gorgeous than they already are!

We didn't do a lot of flowers at our wedding but the flowers we did have were amazing! North Raleigh Florist was great and beautiful!

North Raleigh Florist did a fantastic job on flowers for my wedding. The bouquets and arrangements came out exactly as I pictured them and everything looked beautiful. Working with Samantha was fantastic, as she quickly responded to my emails and questions and had no problem making changes and adjustments for me. They were also a great value by helping me stay within my budget and still letting me pick the flowers I wanted. I highly recommend them for your event!

Erin

Married on 05/24/2014

A friend of mine referred me to North Raleigh Florist, as she had used them for her wedding. We had a great experience. Samantha met with us and was very knowledgeable. We wanted something beautiful with a reasonable cost. She was prepared with many suggestions for us. I found bouquets that I loved for myself and the bridesmaids. Samantha helped us switch out some of the flowers to lower the cost but still have the same basic bouquet. We also had some special requests for flowers for our many nieces and nephews, along with our parents. We were able to find very lovely flowers for everyone. The price was very reasonable! The flowers were delivered on time, clearly labeled, and looked just wonderful. I would highly recommend North Raleigh Florist to anyone.

Kayla

Married on 04/13/2013

My flowers were fresh and beautiful! I didn't line my sample bouquet very much because it didn't have enough color for me (used it in my bridal portraits) but they worked with me and I ended up with the most perfect stunning flowers for my actual wedding day! They are great and prices are reasonable. They will try to get exactly what you want for you and tell you what flowers don't work for bouquets etc and why! Wonderful staff!!

Amy

Married on 09/02/2012

North Raleigh Florist provided us with beautiful flowers for the ceremony and reception for a great value. Upon meeting with them, they took our budget seriously and helped create bouquets and table arrangements based upon it. We were extremely pleased with all the flowers! And the staff were very down to earth and easy to work with. I highly recommend them to anyone looking for beautiful and affordable flowers!

Sharon

Married on 10/15/2011

The Hudson Manor had made a recommendation of a florist but by the time I got in touch with her she had joined the staff at North Raleigh Florist. Brandi was able to help us with all of the arrangements and knew what we needed and what would look great for my daughter's wedding. We reviewed colors, flowers and what look we were aiming for...and it was just beautiful! We took home so many flower arrangements that I delivered them to family and friends so everyone could enjoy them. We purchased two bridal bouquets...one for the portrait and one for the wedding. They were so perfect. My daughter was very pleased with all of the flowers used for the wedding.
Thanks Brandi for making her day special!

Michelle

Married on 09/02/2018

Excellent service and beautiful flowers

The team was very flexible and willing to work within my budget. The flowers turned out beautiful and exactly what I asked for.

Christina

Married on 11/05/2011

I hired North Raleigh Florist because they were close to my house... boy was I lucky that location was the least of the benefits I got with them. I loved working with Brandi- she was completely open to my "vision" and definitely took cues from the photos I sent. You can also tell they know what they're doing. She was able to make recommendations that ended up really paying off. On the day of, they were prompt and flexible while we figured out where to put some of the pieces. The flowers were gorgeous and the colors I had hoped for. I got sooo many compliments on my bouquet and the bridemaids loved theirs as well. The corsages and boutonnieres completely fit with the theme of the wedding. In fact, we had done our own centerpieces, yet the flowers North Raleigh provided melded seamlessly with what we'd put together. Truly fantastic. I would recommend them to any bride... and plan to use them for other flower arrangements in the near future!

Michele

Married on 09/25/2010

The service was wonderful. The flowers were beautiful and did not cost a fortune.

Felicia

Married on 01/09/2016

Samantha was fantastic! She worked within our budget to provide just what we were looking for and the flowers were beautiful. The only negative was that we made changes to the order close to our wedding date and those changes did not get made in the order. When I called and let her know what had happened, she responded immediately with her regrets and apologies and offered a discount commensurate with the impact of the error. I am going to use her again for my second daughter's wedding within six months because she understands customer service. Accidents and mistakes are going to happen but owning the mistake and making it right is the mark of a good business person who values their reputation.

Ashley

Married on 08/20/2011

My bouquet was AMAZING! It was even better than I expected. All the flowers were delivered on time and looked great. They helped me find the exact color I needed for various flowers, and it looked perfect. I'm not one for flowers, but everything was really pretty, and I still can't get over how great my bouquet was. The value is great, as well.

Heather

Married on 04/16/2016

Had a great experience with north Raleigh florist! Samantha was great to work with! All the flowers were beautiful!!!

Sarah

Married on 02/20/2011

Janice was very flexible and responsive regarding my requests for my flowers. She was fine with making last minute adjustments and receptive to all my requests. My only regret is the flowers werent exactly the color I had expectated and I wish I would have gone a little bigger with the bouquets. But other than that I was very happy with working with Jance at North Raleigh Florists and would recommend them to otheres.

Kelsey

Married on 06/11/2016

We made an appointment with Samantha, and she asked all the questions to find out what type of flowers and colors we wanted. She helped us with selection and gave helpful suggestions of pairings, etc. She listened to what I wanted, and our flowers turned out perfect. The carnation bouquets for my bridesmaids lasted at least two weeks after the wedding, and our hydrangeas looked fresh in our reception centerpieces. Overall, I was very pleased with their work.
Are you interested?
Send a message