Reviews
4.6 out of 5 rating
Quality of service

4.6 out of 5 rating

Average response time

4.6 out of 5 rating

Professionalism

4.6 out of 5 rating

Value

4.6 out of 5 rating

Flexibility

4.4 out of 5 rating
91%
Recommended by couples
45 User photos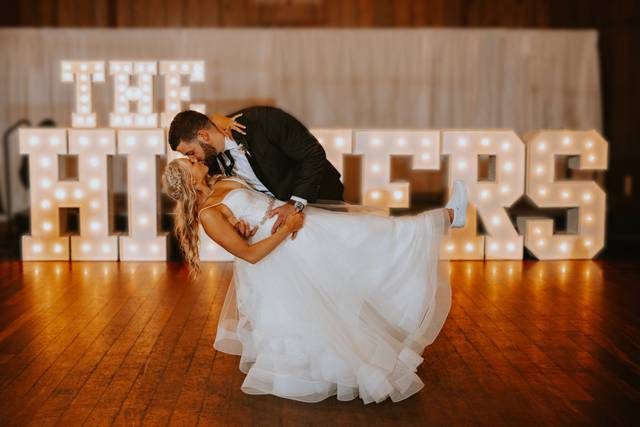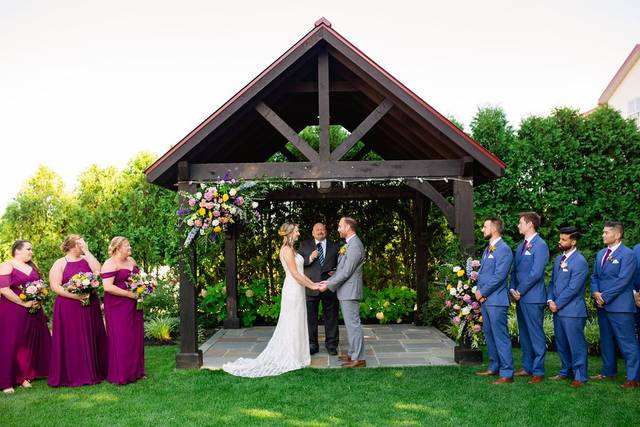 + 41

photos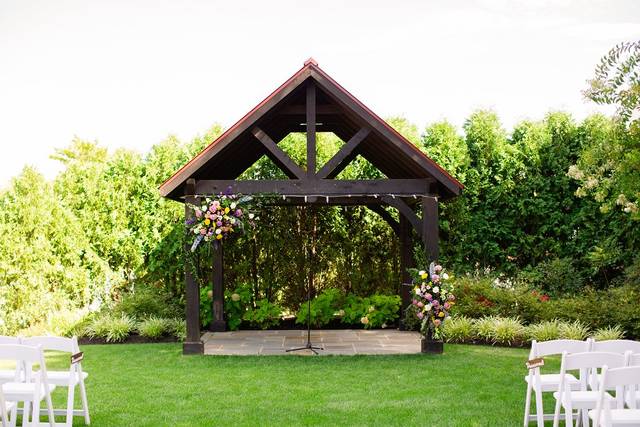 Julie T.

Married on 10/22/2022

1000% Would Use Again

If you are considering Normandy Farm for your wedding, stop what you are doing and book them! Normandy Farm was absolutely incredible from start to finish. Since I was a little girl, I knew I wanted to get married at Normandy Farm before I ever saw the inside of the building. The grounds at Normandy Farm are gorgeous let alone the inside of the ballrooms. From the sales manager to the event coordinator to the day of coordinator, everybody is absolutely phenomenal. Normandy Farm does a fantastic job of being a one stop shop. The venue, all the rentals, food, drink, decor, cake, etc. - everything is included and is definitely worth the cost. JoAnne Nelson was our event coordinator and she was fantastic. She was very quick to get back to me for all of the questions I had. Ruth ran our drop off appointment and she did a great job of confirming and relaying how exactly we envisioned the Silos ballroom looking. On the wedding day Marco was our maître d and Heather was our bridal attendant. With the two of them we did not have to worry about anything. They made sure not only was everything set up but they also broke everything down for us at the end of the night. They kept our timeline on schedule and made sure we always had food in front of us and a drink in our hands. The Farmer's Daughter makes the most delicious food and were very accommodating for our guests who had food allergies. 10/10 would recommend anyone have their event at Normandy Farm.

Meghan W.

Married on 08/07/2022

Highly highly HIGHLY recommend having your wedding or next event at Normandy Farm!!!!

Ashley Wenger was SO helpful throughout the planning process. She was prompt in her email responses, thorough in her answers, and accommodating to our needs. When we had to change our wedding date twice due to Covid, she was flexible and understanding.
We had a lot of guests (bride included!) with dietary restrictions and allergies; Normandy Farm was so accommodating for the rehearsal dinner, cocktail hour, and reception. For cocktail hour, they labeled the hors d'oeuvres (GF, dairy free, etc.). For the rehearsal dinner and reception, they checked in with each guest to ensure they understood each person's dietary requirements and prepared their food differently when needed. The dinner portions at the reception were HUGE! The NY strip was prepared to each guest's desired temperature. All guests raved about how good the food was, the large portion size, and the ability to take their leftover meal home in a doggie bag.
The entire staff (servers, bartenders, etc.) was so accommodating and appreciative of our tips. Our maitre d' Ruth was very helpful and attentive; she was thorough and detail oriented at the drop off appointment and throughout the wedding itself. Our bridal attendant Julia was so sweet and attentive throughout our wedding, ensuring we always had a drink, frequently checking in, and anticipating our every need. Ruth and Julia are so great at their jobs! For the reception set up and clean up, the staff was so helpful - our bridal party didn't even have to put away the centerpieces!
Having our wedding at Normandy Farm was also so amazing because everything is on site - excellent restaurant for rehearsal dinner, beautiful outdoor ceremony space, rustic indoor cocktail hour space, gorgeous Grand Ballroom for the reception, huge bar across the hall for the after party, and cozy hotel rooms to stay when the event is all over! If we could do our wedding over again, we would do it at Normandy Farm every time!!!

+ 3

photos

Kait G.

Married on 06/10/2022

Nothing compares to Normandy Farm!

You know how there are people in this world who always go with the first thing they try or see? That was our experience with Normandy Farm. Getting engaged during the pandemic was stressful and I went into planning mode almost immediately. I emailed or called over 25 venues and Normandy was easily the most responsive and helpful from the beginning. We took a tour and were completely blown away by all of the things that were included in their wedding package. Not to mention the venue itself is stunning and hotel accommodations are also on site! Hello, saving on paying for guest transportation! Brianne was our tour guide and worked with us on securing our contract. She was wonderful and so prompt with her responses. Once we were booked we were then put in contact with other staff whom all acted in the same way - professional, efficient, and lovely. We had our rehearsal dinner, ceremony and reception at NF and I would not change a single thing. JoAnne was our event coordinator and I truly cannot say enough glowing things about her. She is 1) the sweetest person and 2) VERY good at her job. She has all the answers, she gets back to you quickly, and is just so clearly an expert at what she does. Our day went off without a hitch largely because of her amazing work and how organized she was. Our rehearsal was run by one of their maître d's, Ruth. She did our drop off appointment and listened to everything that we needed and talked me through everything about the day. For the wedding, our maître d was Marco. Heather was my bridal attendant. When I tell you we did not want for anything - it was non-stop 1:1 attention and service all night. I DIY'd a LOT of things for our reception in the Silos Ballroom and it was all perfectly setup. ALSO the food was amazing! People are still talking about it with us weeks later. The mac and cheese bar was my favorite part and our bridal attendant even brought me an entire bowl with all the toppings to our table during dinner when I told her I hadn't gotten to enjoy it during cocktail hour. Truly it was better than I could have ever imagined. The staff even added complementary décor that went along with my theme to fill out some of the tables.

Everyone we worked with was so friendly, so patient, and so knowledgeable. I loved our day and recommend Normandy Farm 1000 times over for couples who are looking for a venue that is completely amazing at what they do. THANK YOU SO MUCH!

Are you interested?

Send a message

Victoria J.

Married on 05/07/2022

SO GOOD. Professional, hospitable, organized, and a beautiful venue, one-stop shop made it a seamless, easy event.

WOW, they really know what they're doing. My guests had the best experience. The food was incredible, the staff were professional, the venue room was lovely, and the entire hotel is very "rustic chic", homey and quaint. Having a one-stop shop was perfect, SO easy for guests, vendors, and the wedding party. Before choosing Normandy, I evaluated a bunch of wedding vendors, listing over 60 of them in Excel for price, what's included, vibe of the venue, etc (it was the pandemic and I needed a hobby) and Normandy was by far the best. So much value. I can't wait to come back here for my one-year anniversary. They were incredibly responsive, efficient, professional, accommodating, hospitable - I can't say enough good things about them. I did my own flowers and they worked around me, making sure my very detail-oriented (extra) vision for the event came to life. WOULD RECOMMEND.

P.S. One of my bridesmaid hid my ipad in a drawer in the hotel room during photography, and I ended up leaving it. Normandy was very accommodating in helping me find it a week after the wedding, offering to get it to me in Philly (a 40 minute drive away), having people run up to check the room, etc. I felt taken care of.

Emily

Married on 02/25/2022

Loved Normandy Farm

We had our wedding at Normandy Farm in February 2022 and we booked in February 2020. Joanne Nelson was a pleasure to work with throughout our entire planning process. We scheduled several calls to walk through different aspects of the planning and Joanne was always helpful. The day of our wedding, our bridal attendant was Maddie, she was absolutely amazing! She was helpful in bustling my wedding dress before our cocktail hour and checked throughout the reception to make sure it wasn't falling out. She was organized and made sure that none of our items went missing throughout the night. Overall, Normandy Farm was organized, kind, and hardworking to make our day special. We absolutely loved the venue and cannot recommend it enough.


+ 13

photos

Courtney B.

Married on 10/30/2021

Normandy was a Dream to work with

We had our wedding in the Silos Ballroom at Normandy with ~115 guests. I would recommend this venue to any bride. The service was incredible on all fronts, from hotel room block management, event coordination, day of service, food quality, everything was incredible and very affordable compared to many other venues we looked at. You really can't beat having a hotel at the same site as the reception, it makes everything so much simpler. The only recommendation I have for them is to have a bit more flexible for meeting times after booking, as two working professionals, I was a bit surprised when every initial meeting time was between 9-5 on Mon-Fri. We were always able to find a time that suited after a couple different suggestions. This was the only thing that was less than ideal. Normandy truly was a dream to work with on all other accounts. The event coordinator responsiveness was very speedy and she was always very helpful and truly made us feel like she wanted to do everything in her power for us to have a perfect day. The team managing the hotel room block was INCREDIBLE, we had a lot of requests that they managed flawlessly and always with a smile. The day of bridal attendant made the entire event flawless. She went above and beyond to help our family get situated, packed us up with extra food, and made sure there was always a drink in our hands.

Lindsey A.

Married on 08/01/2020

Wedding Touring

When we met with someone to tour this venue they were so accommodating and very nice.

Katie B.

Married on 12/06/2019

Magical wedding weekend!

Normandy Farm was the PERFECT venue! JoAnne Nelson (venue planner) was a pleasure to work with, and the day of staff were amazing and super hands on. We loved the Silos Ballroom, the food was fantastic, and my guests had nothing but great things to say about their time. We couldn't have picked a more fitting venue.
Highly recommend to anyone looking to book a magical wedding weekend!

Jessica

Married on 11/15/2019

I wish I could give more than 5 stars

I LOVE normandy farm. My experience was so great and the service was excellent. From the very beginning to the very last minute of the reception, I felt at ease and so happy with my choice. They are very clear regarding pricing and what is offered to you. Each step along the way is so simple and easy. People rave about our wedding and the venue. They loved the location, the hotel, the food, the booze, the atmosphere - we loved it all, too! 10/10 would recommend a hundred times again.

Mahon D.

Married on 08/16/2019

Wish we could give more stars!

I don't know where to begin with Normandy Farm. From the start, I loved working with NF because they are extremely transparent in their pricing, responsive to questions/requests, and include everything you need for a special wedding (and worksheets to help you plan it!) My husband and I are terrible at planning events and NF took all of that work from us. Special thanks to: Ashley Wenger for walking us through wedding planning step by step and accounting for every detail; Linda (NF provided personal attendant) for being by my side literally all night and making sure I had everything I needed (and a lot I would've forgotten without her), and most especially Emmanuel (housekeeping manager). In all the post-wedding excitement, we left our wedding cards in the hotel lobby. Emmanuel found the bag, realized what it was, secured it immediately, and returned it to us when we frantically ran back to the hotel days later. We cannot thank you enough. We HIGHLY recommend NF to any couples looking for a unique, all-in-one venue with wonderful staff, delicious food, gorgeous property, and a ton of wedding-planning experience.

Megan

Married on 05/25/2019

Dream Wedding Reception

Normandy Farm provided us with the most perfect, fairytale wedding. I wouldn't have changed a think about my wedding there. Our wedding planner Ashley was amazing and made sure we didn't have to worry about anything. Everything was so organized and taken care of for us. They truly thought of everything. All of our guests has a fantastic time and were raving about Normandy Farm! The rustic yet modern feel of the venue was exactly what I was looking for. But honestly, THE FOOD is the best part!! Everything served was over the top and unbelievably delicious. We've already been back to the venue's restaurant twice since our wedding! We are already asking our friends to get married here so we can go back and celebrate again!

Caitlin

Married on 05/11/2019

Gorgeous venue!

I cannot say enough good things about Normandy Farms. We got married in the Silos ballroom and it was an absolutley magical day. My bridal attendant, Linda made me feel like it was MY day. She made sure to help me with literally everything without any complaints. Shantelle, my maitre-de was also amazing. These ladies worked well together and made sure to make the day all about me. The venue itself is absolutely gorgeous. My guests couldn't get over just how beautifully decorated everything was. I have a few guests now considering having their weddings there as well!

Nancy G.

Married on 02/07/2019

Normandy Farm - An excellent wedding venue!

We were amazed to find that Normandy Farm not only met, but exceeded all of our desires for our daughter's wedding on the afternoon of Jan. 5, 2019. The rustic elegance of the Grand Ballroom, along with the beautiful chandeliers and multiple decorative lights, wooden accents and beams were simply gorgeous. The attentive staff were very flexible and met all of our needs during our planning as well as the actual day of the wedding. The transition in the ballroom from the ceremony to the reception set up was seamless. Even with some rain there were plenty of options for beautiful pictures inside and under the entryway. Our 250 guests were served an outstanding and delicious brunch and there was ample room for dancing afterwards. Four weeks later people are still thanking us for the wonderful time they had, and most of all, the bride and groom were very pleased with their day. As the parents we were thankful for the reasonable prices and that we could enjoy the day as well. Thank you for helping us to give our daughter the wedding of her dreams.

Becky

Married on 02/02/2019

Such a beautiful venue & staff is INCREDIBLY helpful!

My husband and I are so happy we had our wedding at Normandy Farm! Everyone working with this venue was so helpful and responsive. From the planning with Heather to all of the people who helped us on the day of- they helped make our wedding perfect!! The food was amazing and the cake was delicious and BEAUTIFUL! Everything was exactly how we wanted it :)

(attached photos are by Tyler Boye)

Kelsie

Married on 12/22/2018

Absolutely Amazing!

Normandy Farms is the most amazing place! They have everything down to a science for wedding, from the Friday we walked into until the Sunday we left we where treated like royalty. The wedding was amazing even better then i could have ever imagined.

Kate O.

Married on 11/30/2018

Highly Recommend!

Normandy Farm was amazing! They made everything so easy on us, both while planning and on our wedding day. It really was a one-stop-shop. They included the catering, bar, cake, rentals, etc. We had our ceremony & reception at the venue & our guests were able to party at the bar on-site afterwards and stay at the hotel for the night. It was so easy & so beautiful!

Christina

Married on 10/14/2018

Go with your first impression, brandi at normandy farms was fantastic!

Lorraine

Married on 09/22/2018

Blue Bell Country Club and Normandy Farm were the perfect choice for my son and daughter-in-law's wedding weekend! The weekend started Friday with a delicious rehearsal dinner in NF's The Farmer's Daughter private Dowry room. We continued the celebration making our way to the Terrace's outdoor bar for cocktails, sitting in comfy rocking chairs surrounding a huge fire pit. We enjoyed NF's complimentary Saturday breakfast before preparations of the big day. The grounds at NF and BBCC are so beautiful and vast, the photographer had nearly unlimited backdrop options. As the day progressed we found ourselves in NF's comfortable lobby welcoming guests spending the night. Our son and DIL had over 100 guests spend the night, many complimented their stays. The ceremony and reception were held at the Blue Bell Country Club. Complimentary shuttles transported guests across the street to the BBCC. There was a bridal suite stocked with food and drinks for the wedding party. The ceremony and cocktail hour, both held outside, were wonderful. While sipping cocktails, guests were able to enjoy gorgeous views complete with deer crossing the course. The reception, held in the Grand Ball room, was nothing short of spectacular. Compliments about the food, flowers (from the on-site florist Willow & Thistle), decor, and the band EBE's LA Starz were abundant. Many guests said it was the best wedding they have ever attended. After the reception it was back to NF for the after party. In the Dowry we had snacks which were a big hit after all the dancing at the reception. In the bar a DJ played until 2am. The weekend wrapped up with guests enjoying the Farmer's Daughter's famous Sunday brunch. It was nice being able to chat with guests in a relaxed setting. I could not more highly recommend Blue Bell Country Club and Normandy Farm. All the staff were beyond helpful and professional and helped make the day unforgettable. It really was the perfect wedding weekend!


Ashley

Married on 05/27/2018

NP is the prefect storybook location! My husband and I wanted soup to nuts location- the complete package- ceremony, reception and hotel. NF was our first venue we looked at and the minute we left, we went back in to confirm our big day!. the staff and our coordinator Ashley, made wedding planning a breeze. We worked closely with Ashley regarding the details of our day, and she always responded quickly and with more than enough detail. I cannot say enough positive things about Ashley as she helped put our vision together for our big day. Food delicious! The day of, our attendants and maitre'd were beyond attentive. We had food, champagne, wine, and beer waiting for us in the beautiful bridal suite before the ceremony. After the ceremony, we had hot hors d'oeuvres and more drinks waiting for us in the suite. Fast forward to the reception and the space looked beautiful. My husband and I didn't have to ask for one thing. Our choice of drink was always in our hand and our attendants made sure we took the time to eat. They were truly amazing and excel in what they do.
Though it did rain our wedding day and the week leading up to it, we weren't able to have the ceremony outside like planned, but the team and NP décor inside surpassed my expectations, it was beautiful and worked out better than I had thought. It was the perfect day. the reception transformation was quick and efficient from ceremony to our tables. The décor was exactly how I had envisioned in my head. I've already recommend it to many people for events and weddings leading up to our big day! The truly made the evening magically, like a fairytale. Thank you NF for making our day so special and something we'll never forget! Ashley and Chris


Kira

Married on 02/16/2018

It was a dream come true. I cannot recommend this venue enough! They were thorough from start to finish. They kept on top of me as I definitely got behind with deadlines but the day, the day was everything and more!
Thank you to everyone at Normandy!

Samantha

Married on 12/01/2017

Normandy Farm was our perfect wedding venue! We toured the venue and fell in love. The fact that everything can be done in one place is so convenient. Our room was breathtaking (Silos Ballroom), so we booked right away. During the entire planning process, our coordinator, Ashley, was always available. She was so easy to work with and always answered our crazy questions. Normandy Farm is a very reputable wedding venue, so they know how to make everything as easy as possible for the bride and groom. We loved the food at the tasting, and it tasted even better on the day of the wedding! We loved that we got 12 passed appetizers during cocktail hour. All of our guests raved about how great everything was. Our day of attendant, Emily, was awesome! She always made sure we had a drink in our hands and accommodated all of our requests. We had an after party at the restaurant inside of the hotel, and that was a hit as well. One thing I will say is that the hotel aspect of the entire experience was slightly disappointing. The one major selling point for us was that this venue had a hotel on site so that none of our guests would have to worry about traveling. The hotel was booked on our wedding night almost a year before our wedding! We were unable to add any more rooms to our block which really didn't sit well with me since that was one of the main selling points for us. When it came time to checkin for our wedding, our room was not ready when we needed to check in, there was no full length mirror in the bridal suite (seriously?? What bride doesn't want to see herself in full on her wedding day?) and it was not easy having someone get one to us, and we overall felt like a burden rather than an important wedding party. Although these things are a shame, it did not effect our wedding day or our overall feelings about Normandy Farm. We are excited to visit and have dinner at The Farmer's Daughter and stay in the West Gatehouse for years to come on our anniversary!!

Maureen

Married on 11/24/2017

There are not enough great things to say about our entire wedding experience at Normandy Farm. We had our ceremony and reception in the Grand Ballroom, which was rustic, elegant and overall stunning! Our coordinator, Ashley, was fantastic to work with. She was always easy to get in contact with, super responsive and very accommodating! She made sure we had everything planned - down to the last little details. Rich, Karen and Ursula went above and beyond the day of the wedding to make sure we were well taken care! We never had an empty glass! They also made sure all of our things made it to our suite at the end of the night. The entire staff that night were super professional and very attentive as well! The suite we stayed in was very spacious (I had almost 10 people getting hair and makeup done, as well as getting dressed in there!) Our guests only had great things to say about the venue, food and overall experience! We would highly recommend Normandy, and would not change a thing about how our day went!

Ally

Married on 11/18/2017

My husband and I recently were married at Normandy Farm Hotel in November. The venue is an absolute gem, especially with the updated décor throughout the hotel. It is the perfect complement of modern chic/rustic detail. I was sad that it rained on our wedding day, but little did I know how absolutely stunning the grounds would turn out in our photographs.
The staff was absolutely wonderful to work with. We had Heather as our wedding coordinator and she was very accommodating and very timely with responses. She would answer as many emails as necessary to make sure that everything is covered. We were very grateful for her!
Overall, We highly recommend this all-in-one venue (there is also a florist and photographer on site that we used that was incredible) Wouldn't have changed a thing. Check this place out !

Ashley

Married on 10/07/2017

My husband and I had our reception in the Silos Ballroom on 10/7/17. Everything was amazing! To begin with, Ashley Wenger (our coordinator) was wonderful- always helped us, quick to respond to emails, calmed my nerves, explained everything, made sure we got everything & it was all perfect! Our bridal attendant Christina and the matr'd were wonderful as well! They made sure we were okay, did anything we asked, catered to any need we had, and ensured we had a good time. They really made it possible to enjoy everything and eat, drink, and party too! They kept the night flowing perfectly! Now the reception was seriously the best reception I had ever been to and many of our guests have said the same thing. The general feedback we've gotten is that the space was beautiful, the food was amazing, the signature drinks were delicious, the staff were friendly & made sure everyone was having fun, they loved how everything was in one spot, and that the party was top of the line. People are still coming up and telling us about how good of a time they had nearly 3 weeks later. I cannot thank the team at Normandy Farm enough for making sure we had the reception of our dreams! We worked with them for about 26 months to plan everything, and it was truly amazing. I highly recommend this venue! Thank you from the bottom of our hearts!!

Elizabeth

Married on 09/08/2017

Our experience with Normandy Farm was absolutely amazing. We had our ceremony and our reception in the Silos Ballroom and everything was absolutely perfect. The planning process was easy and manageable. Our coordinator, Ashley, was very responsive and helpful with all of our questions. All the people we worked with at the venue on the day of were wonderful. I would absolutely recommend using this venue, especially if you want an "all-in-one" venue - they made everything so easy, and that was exactly what we were looking for. Perfect day!
Are you interested?
Send a message