Reviews
4.9 out of 5 rating
Quality of service

4.9 out of 5 rating

Average response time

5 out of 5 rating

Professionalism

4.9 out of 5 rating

Value

4.9 out of 5 rating

Flexibility

4.9 out of 5 rating
99%
Recommended by couples
33 User photos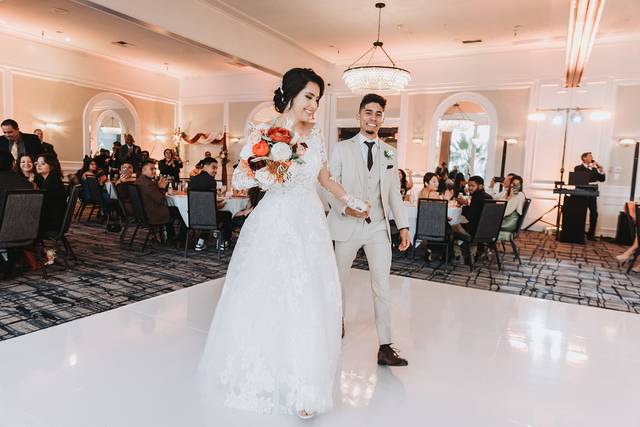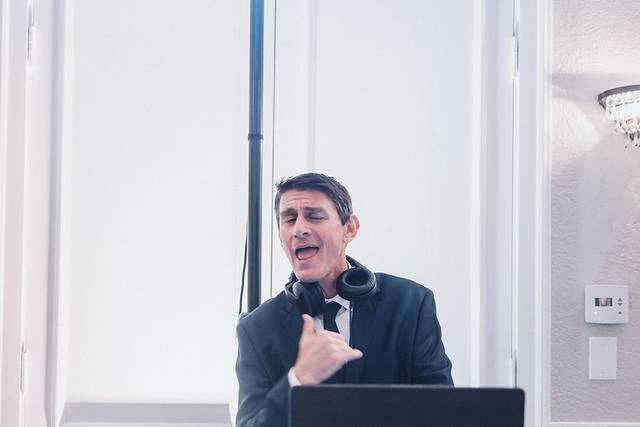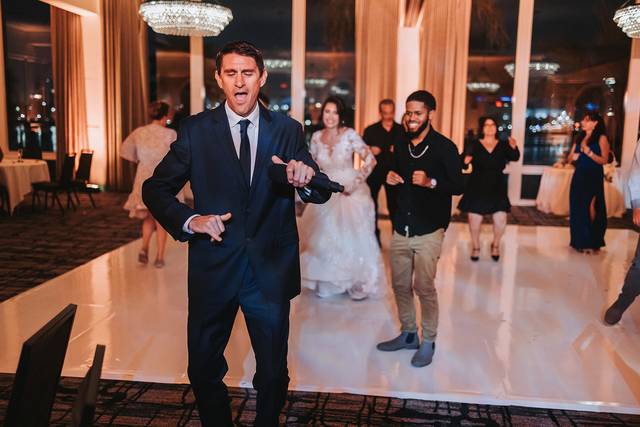 + 29

photos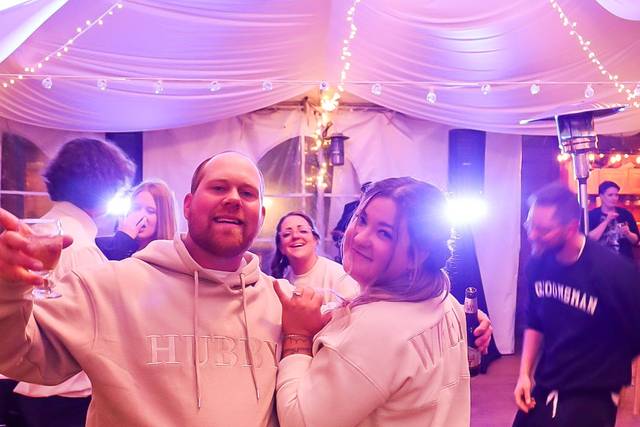 Syrna

Married on 12/04/2023

Awesome DJ and Photo Booth!

A Night to Remember was amazing! From our first conversation through the entire evening they we kept the party going. And the photo booth was just as awesome! It was nice having one vendor do two things. Thank you Aaron for a smooth evening with no stress!

Gabriela Z.

Married on 11/04/2023

Excellent DJ, Photo Booth and Lighting Options

Woking with Aaron was very easy. He created a package based on my needs and was very organized. He was professional and made sure everything went smoothly during my event. I even made some last minute changes and he was able to accommodate them without a problem. My guests had a great time and my venue looked amazing with all the lights. I would definitely hire him again for another event. I highly recommend!

Night To Remember DJs's reply:

Thank you for having Night To Remember DJs! We love to work at Michael's Tuscany Room and you made it look magical with your beautiful décor! I had a great time playing some unique songs during guests arrival and dinner from your lists and the dance party never stopped with a ton of fun all night! To top it off the surprise dance was awesome and one of my favorites I have seen! Each aspect of the night from the traditional parts of the Quinceañera ceremony to the slideshow were all beautifully orchestrated! The photo booth up stairs can sometimes not be used that much but so happy to see so many fun memories created! Thank you again for having Night To Remember DJs!

Watermalon W.

Married on 09/24/2023

Great DJ and MC

We just have Aaron as our DJ and MC for our wedding. He made our wedding perfect! We also requested the photo booth, which makes our guest very happy. His work also fit the asian culture perfectly! I would recommend Aaron to all my friends and everyone.

Night To Remember DJs's reply:

Thanks Frankie & Catherine! I had a blast working with you and thank you for choosing me as your wedding DJ. I know there are a lot of choices and I was happy to customize a DJ, Photo Booth & lighting package just for you and have the honor and privilege to be your wedding DJ! You impressed me with your guitar playing and singing which was special bonus entertainment for your guests and newly married wife! Also, your first dance was amazing like you danced on the clouds! Many Best Wishes!

Are you interested?

Send a message

Victoria M.

Married on 09/22/2023

Definitely A night to remember!

I am so please with how my entire wedding went and I can definitely say our DJ helped the night go so smoothly. Aaron was the DJ for my moms 40th birthday years ago and thank God we still had his contact so he can do my wedding! Aaron was amazing! He stuck to all my playlists, to the timeline and played all the correct songs I wanted! Worked well with the Mariachis we had for the first couple hours. I had a few surprises on the dance floor and he made them work perfectly! He made sure everything was exactly how I wanted and also gave suggestions that totally helped the wedding night be even better! Aaron is very organized, professional, and knows what he is doing! He was very fun to work with and has an amazing, bright personality! I couldn't be happier!!

Sara M.

Married on 08/05/2023

A Positive Vibe

DJ Aaron was amazing! Not only did he have a smile on his face the entire night (seriously, everyone commented on how happy he seemed), he also organized the music in a very smart way AND gave us some helpful tips on what order of events made the most sense. Would highly recommend!

Night To Remember DJs's reply:

I truly LOVE what I do and that is why I am smiling the entire time! How can you not when you are helping make somebody's once in a lifetime event come to life! There were great vibes all night with your exquisite music taste which made it easy to keep the dance floor full all night long! Many Best wishes and thank you for having me as your wedding DJ!

Aimee B.

Married on 06/24/2023

Amazing!!!!

DJ Aaron made our wedding the best experience ever! I just wanted to say thank you for such an incredible night! Everyone loved the playlist for dancing and the lights really brought the party to life! I can't thank you enough for making our day so incredibly magical. We were asked by at least 10 people who the DJ was. 100% would recommend DJ Aaron for any party event!

Night To Remember DJs's reply:

Thanks Aimee & Maxfield!

I had a blast with you guys! All of the fun music you chose made it easy to have an amazing dance party with your fun 'Jump in The Line' dance to the 'Limbo' to your personal favorites! I loved the custom monogram you made, one of my all time favorites! Glad we could use it for the photo booth as well! Thanks for having me as your wedding DJ! Many Best Wishes!

Melody C.

Married on 06/17/2023

An absolutely perfect night!

My husband and I hired Aaron with AN2R DJs for our wedding in June Lake, CA this past June. WOW. He was absolutely incredible and made the night go smoothly without any hiccups. Aaron worked with us from the start of our consultation making our day exactly how we wanted it. I cannot tell you how many comments we received from guests about the quality of the DJ and how much fun he was having with all of us during the ceremony and reception. He directed all of the guests to where they needed to be and made sure to keep the music so that there were always people on the dance floor. We definitely recommend the ceremony package if your wedding is outside. He provided lapel microphones for my husband and our officiant so the pictures didn't have these bulky items in it. The quality of all of the equipment and the effort that Aaron puts in are absolutely worth the cost. 15/10 would recommend him to anyone looking to elevate their special event or occasion. We will certainly be hiring him again for our next big event! Thank you Aaron for making all of our dreams come true. It certainly was a night to remember. - The Taylor's

Night To Remember DJs's reply:

I had blast working with you Melody & Scott! So many fun memories throughout the day! The BEST was I had no idea that your entire group of family & friends would get up and start dancing around with their chairs when I played a certain song from your list. I felt bad that you were not there because you were changing into your late night party jump suits (SO COOL BY THE WAY!). I was so happy that when I jokingly introduced the song again that everybody got up and did it AGAIN with twice the enthusiasm since you were back in action! These are the moments that I live for and love my job! Thank you again for having me as your wedding DJ! Many Best Wishes!

Stacey H.

Married on 05/21/2023

Dj for Bar Mitzvah

Aaron was very professional and communicative. We hired him for our son's Bar Mitzvah. He engaged with all the kids and adults the whole time. He was fantastic. Everyone commented on how great he was. He was exactly what we asked for. Will definitely hire A Night to Remember for future events. Thank you!

Night To Remember DJs's reply:

I had a blast DJ'ing Ashton's Bar Mitzvah for all of his family & friends! Right from the human archway grand entrance I knew guests came to celebrate since everybody got involved right away and danced the entire 8 minute long hora medley! Thanks for having Night to Remember DJs to help make it a day to remember!

Justin P.

Married on 11/04/2022

Absolutely amazing

Aaron was absolutely amazing. From the beginning to the end, he was always attentive and letting us know exactly what was going on. His music selection was perfect, and he really knew when to keep the crowd going, and when it was time to change the beat. Everyone throughout the night kept say just how amazing he was, and we are so glad that we were able to have him Dj our special day.

Night To Remember DJs's reply:

I had a blast DJ'ing your wedding Justin & Aiyana! I loved at the top of the stairs during your grand entrance how you raised your shot glasses in the perfect spot of the 'Rocky Theme' and had all of your family & friends going crazy for you! I know you were having a ton of fun and glad we were able to make your cake cutting an intimate experience and have your heartfelt thank you speeches following! Thank you for having me as your wedding DJ! Many Best Wishes!

Cole

Married on 07/22/2022

Fun, professional, easy to work with

We've been in and at many weddings and think a good DJ makes a humongous difference for any wedding. Aaron was a fantastic DJ and MC for our wedding. We had a very short timeline and he worked with us to get everything in place and even helped us finalize the day-of timeline, reception layout, and all of the songs we would use. He made it easy for us to have the wedding we were excited about, and had great ideas for us as well. He was flexible with the various packages he offered. He's a really good DJ, the dance floor was frequently full, and he's also really helpful in organizing and MC-ing the event overall. I couldn't recommend him more highly!

Night To Remember DJs's reply:

Thanks Cole & Sheena! Your wedding was very special for me to DJ located so close to where I live and frequent all of the time! You transformed it into a magical experience for all to enjoy and cherish forever. The live pianist and cellist for the ceremony were a pleasure to help amplify because of there talents and connection with you! I loved how you had Chichen Itza cater your wedding and that it was also where you had your first date! (Delicious!!) That was so cool how your best man created a QR Code that brought guests to a slideshow of pictures that tied into each part of his speech, amazing!!! I truly enjoyed working with you and all of your family and friends! Thank you for choosing me to DJ your wedding and many best wishes!

Erika R.

Married on 07/02/2022

Best DJ Out There

Aaron was an amazing Dj for our wedding. He was super professional, willing to work with you to finalize all the details. We had so much great feedback from all of our guests and how awesome he was. Wouldn't have wanted anyone else to DJ for our day.

Night To Remember DJs's reply:

Erika & Andrew! The beautiful live guitar from your uncle was amazing for the ceremony! I will have to say that your custom one-liners for your wedding party grand entrance will go down in history as one of the funniest and most creative! Your eclectic taste in music was right in line with everything I love to play and it was refreshing to mix music not played at every wedding! I was honored to be your wedding DJ and thank you again for having Night To Remember DJs! Many Best Wishes!

Peter A.

Married on 06/03/2022

The Best Experience Ever!!!

DJ Aaron was great! He helped us so much plan out the evening, and played all the songs we requested. My wife and I 100% recommend him for any event.

Night To Remember DJs's reply:

Thank you so much Peter & Susie! I had a blast watching you dance and have a great time! The late night dance set with old school hip-hop was a ton of fun! Thank you again for having me as your wedding DJ / MC! Many Best Wishes!

Kaitlyn A.

Married on 05/14/2022

Life of the Party! 🎉

Aaron was the best DJ ever! He is energetic, professional and so much fun. Everyone was out on the dance floor having a great time. I also had a photo booth through Aaron's company and it was a hit the entire night. If you're on the fence about the photo booth, GET IT!! It's an absolute must have! I would absolutely recommend Aaron. Great to work with throughout the whole process and so entertaining!

Night To Remember DJs's reply:

I had a blast DJ'ing your wedding and getting to see you dance the night away with your family and friends! Playing your requests especially the song '6s to 9s' had to be my all time favorite moment at your wedding with your Maid of Honor Darcey! The guitarist singer / songwriter was amazing for the ceremony! Thank you again for choosing me as your wedding DJ / MC!!! Many Best Wishes!!!

Max B.

Married on 05/07/2022

Night to Remember DJ

Aaron was awesome! From the planning phase of our special day until the last song played he was helpful and creative.

Even with our ceremony running a bit quicker than anticipated he got with our wedding planner and they kept all the guests at ease by playing tunes everyone could enjoy.

All my friends and family had the best time and I've never seen a dance floor so packed before.

I wouldn't recommend any other DJ for your parties, graduations, weddings etc. He is the real deal and the experience he has speaks for itself.

So thankful for him to help us make our wedding so magical and fun!!



Night To Remember DJs's reply:

What a beautiful ceremony with amazing dance party! I loved all of your fun song requests especially the J Boog requests for dinner which is a personal favorite of mine! Once the dance party started it didn't stop for hours and loved mixing the beats to some amazing hip-hop choices of yours and sprinkled a few guests requests that seemed to pack a punch! Thank you again for having me as your wedding DJ and many best wishes!!

Vivienne D.

Married on 04/02/2022

Highly recommend!

Aaron was our DJ/MC for the night and he was amazing! He was energetic and fun, could read the crowd, and helped us stick to our timeline which included working with our videographer, photographer, and venue. We also did our indoor and outdoor lighting through them, as well as a super fun photo booth with lots of props. So awesome, thank you Aaron!!

Night To Remember DJs's reply:

So glad you were able to have your wedding and celebrate your love with all of your closest family & friends! A lot of times I get the same Top 40 requests and your song choices were so refreshing and different from what I normally play! It was a ton of fun seeing everybody get down to your favorites! Glad you both had an amazing time and enjoyed our services! I had a blast working with the both of you! Enjoy raising your beautiful baby girl Theo! Many Best Wishes!



Courtney M.

Married on 04/01/2022

Definitely a Night to Remember

We loved Aaron! He played every song we asked for. He made the night interactive and unique. Can't say enough positive words about what a great experience it was!

Night To Remember DJs's reply:

So happy you were able to have your wedding after having to reschedule so many times due to the pandemic. I hope it was worth the wait and you had a night to remember! I had a great time DJ'ing and providing lighting to add a special ambiance! Loved all of the music choices and seeing you guys get down! Many Best Wishes!!!

Jessy D.

Married on 01/30/2022

Seriously don't even bother scoping out other DJ's…Aaron is the real deal.

I cannot say enough good things about Aaron! I am not a big dancer but I was in a wedding 5 years ago where he DJ'd and I literally danced the entire night. When it was time for my own wedding to come around this past January I knew we had to go with him.

Aaron was so much more than just someone playing music at our wedding. He MC'd the whole night and has an intuitive gift of knowing how to feel the energy of a room and direct a crowd accordingly. That in itself is worth its weight in gold because it sets the entire mood of an event. When people started to wander off outside, he would bring them back to the dance floor to see all of the important moments. When people were dancing to upbeat songs, he kept that vibe going.
That intuition truly sets him apart.

Another friend of mine wanted to save a couple hundred bucks at her wedding and 3 years later still laments about how bad they were and she regretted not booking Aaron!

Besides being super organized ahead of our event, open to random music we wanted to play, and being fun to work with- he also had unique game ideas that we incorporated through the night which I had multiple guests comment on how fun they were plus some other ideas that were refreshing and not your run of the mill chicken dance, so to speak.

Another comment on his packages if you're reading this and on the fence… go with the lights. The up-lights really upscaled our entire decor. While you're at it, throw in his photo booth option. I regret not doing so because its priced more reasonably than most and I know it would have been good quality based on everything else about Aaron's work ethic.

Seriously don't even bother scoping out other DJ's…Aaron is the real deal. I'm so appreciative of the role he played in our special day. 10/10.

Night To Remember DJs's reply:

I was so happy to be your wedding DJ / MC and help customize your wedding to represent your tastes in music, dancing, and entertainment options. I had a blast working with you and Adam! I loved so many aspects of your beautiful day from the start of the ceremony with your piano teachers music that was special to you to amazing toasts to the last dance of the night with your closest family & friends! I am truly flattered by your review and thank you again for having me as your wedding DJ!

Aaron B.

Married on 12/09/2021

The absolute best DJ in LA area!

Aaron and his team are all amazing! They brought my organization's vision to life and went above and beyond. Every aspect of the music, lighting and photography were well thought out along with the highest quality of service. We can't wait to work with Aaron again!

Night To Remember DJs's reply:

What a fun vision and party you planned Aaron! So cool to have everybody dance and party that normally just work virtually together! Had a blast mixing dance grooves and seeing everybody getting down!!

Brent S.

Married on 10/02/2021

Best. Decision. Ever.

As you know, there is so much planning that goes into a wedding. Hiring Night To Remember for lighting was the best decision we made about the entire wedding! They returned our inquire right away. We talked about every little detail and they made our vision come to life! It was exactly what we wanted; actually even better than I could have imagined. They are affordable, and will make your event look like like it cost a fortune. My best advice for your wedding our event… go with this company for your lighting! From the elegant setting to the party mode, It was beautiful and amazing!

+ 4

photos

Night To Remember DJs's reply:

Thank you Brent! It was fun helping make your vision a reality! Not all weddings are as jammed packed with amazing fun and entertainment as yours and glad we helped take everything to the next level with your vision of lighting!

Tiffany

Married on 09/04/2021

Get this party started

We had the best time ever at our wedding because all our guests were up and moving! Aaron did an amazing job keeping the event organized and fun. He went out of his way to give us tips and tricks on how to keep the night flowing well. We also got to rent a photo booth through him that our guests had a blast with. I would recommend him to anyone and everyone! Thanks again Aaron!!

Night To Remember DJs's reply:

I had a REALLY fun time DJ'ing Tiffany & Cory's Wedding! The music selections were some of my favs and I had a blast mixing for the full dance floor ALL night! Your 'Chevron Wall' that you made was masterfully built and incredible as the Photo Booth backdrop! I've never seen anything like it before! Many Best Wishes and see you both at the next special event!!

Amy B.

Married on 08/20/2021

Kept the Dance Floor Packed

When we were originally looking around for a wedding DJ, we wanted to pick someone locally-based, who was familiar with our venue (Long Beach Museum of Art), and Night to Remember DJs was recommended as a preferred vendor. We were really happy to have Aaron Hiller DJ our wedding. Through all the COVID-related reschedules (3 date changes in total), he was incredibly accommodating to our circumstances.

Honestly, we were not too knowledgeable about music, and didn't really put a ton of thought into our wedding music selections before we had our first meeting with Aaron. His experience was incredibly helpful for getting us started. He had many great suggestions about how to incorporate various things into our timeline, and how to structure out our playlists to fit our tastes. He was able to provide us with a number of suggested starter song lists and we managed to build out selections from there. From his years of experience of DJing many weddings, he had a ton of creative ideas and lots of suggestions for things we hadn't even really thought about. After our meeting, we had clear direction, and it was really helpful for identifying what things we had to pick out (i.e., entrance song, exit song, first dance, and all the other specific song choices we'd need to settle on).

On our wedding day, everything went perfectly. Everything was set up and ready to go well in advance, the sound system was perfect, and the ceremony music was played out impeccably per our specifications. The music seamlessly transitioned from ceremony to cocktail hour, and volume was perfect for our outdoor venue. We also had a photobooth, which had a fantastic selection of fun props and was a big hit. We opted for a monogram, which was projected onto the back wall of the venue and looked amazing! The uplighting also worked out quite well for the venue and really amped up the atmosphere.

As the night flowed from dinner into party mode, the music was perfectly on point. The smooth transitions from one hit to another kept up a phenomenal party energy and the dance floor stayed packed for the remainder of the evening. We were really happy with how Aaron perfectly accommodated our vision for the wedding music and we'd happily suggest him to anyone looking for a DJ.


+ 2

photos

Night To Remember DJs's reply:

I guess it is 3rd times the charm with Covid forced wedding rescheduling! I am s happy you stuck it out with the pandemic and having to reschedule your wedding so many times! So many couples gave up on their wedding plans and YOU didn't which shows how much it meant to have your wedding with family & friends in person! I was so happy to see you and your family and friends rocking out to all of your amazing song requests with one highlight being Third Eye Blind - Semi Charmed Life! The monogram you chose was so cool and the first time we had the opportunity to do so for a couple at LBMA. I had a blast working with the both of you and I can tell you are such a match made in heaven! Many Best Wishes!

Monet S.

Married on 06/11/2021

Highly Reccomended

A Night to Remember is highly recommended. We are very happy, he has an upbeat personality and accommodated all of our request. Some of the songs are tricky and with a huge entourage he did an excellent job.

Sean

Married on 05/30/2021

Great experience! 10/10! Aaron is the best!

A Night to Remember dj Aaron was a 10/10! He entertained the guests all night and made sure everything flowed flawlessly! Super energetic, had awesome ideas and the photo booth was a hit! All the guests kept commenting on how great he was through out the entire night! Would recommend him to everybody!

Cary

Married on 05/29/2021

Perfect! Professional, organized, reliable, experienced and fun!

AARON HILLIER
A Night To Remember
DJ/MC/PHOTO BOOTH/LIGHTING SERVICES!!

WONDERFUL MEMORIES!!!

PERFECT! PROFESSIONAL, ORGANIZED, RELIABLE, EXPERIENCED AND FUN!

A DJ is a MAJOR PLAYER in how your event turns out. After considering many other DJ services, we hired the wonderful:
AARON HILLIER
A Night To Remember
DJ/MC/PHOTO BOOTH/LIGHTING SERVICES!!
We were so impressed with A Night to Remember for these reasons:

1. GETS BACK TO YOU PROMPTLY. Owner, AARON HILLER, was ALWAYS very prompt in taking and returning our questions/calls. He's extremely organized and checks his email every, single morning and RESPONDS PROMPTLY every day.

2. YEARS OF EXPERIENCE/STATE-OF-THE-ART EQUIPMENT – this is his OWN COMPANY – and because of his experience, he is able to offer many, many helpful suggestions that others may not even think of! He brings LOTS of state-of-the-art equipment for sound/lighting and his photo booth set-up and supplies are extensive and FUN, FUN, FUN!

3. HIGHLY ORGANIZED. He prepares a custom "Day of Time-Line" that is extremely detailed and shows exactly what is supposed to happen at what time. This is SO IMPORTANT and is done expertly by A Night to Remember! He is a perfectionist in this regard and will make double-sure that he has everything you want in place exactly as you want it – when you want it!!

4. EXTREMELY PROFESSIONAL. He coordinates his attire to your event colors. He will be careful not to wear the same suit color as the groom, for example! He is polite and tries so very hard to make sure everyone has a wonderful time. He cares!!

5. BRINGS THE FUN AND EXCITEMENT! He is a fun-oriented person by nature and brings enthusiasm and FUN to the event without being over-bearing or obnoxious to the guests. He senses when to tone things down or up.

6. WONDERFUL MC/HOST – teaching easy group dances to the guests and dancing himself which is fun to watch!

7. ACTS AS A "MINI-PLANNER" because he keeps an eye all night that everybody is on schedule and on time. We felt like once Aaron was there – everything was going to go right! AND IT DID!!

8. HIGHLY RELIABLE! If he says he will be there at 4:30- he WILL BE THERE at 4:30. He is a very hard worker and will go the extra mile for you! He doesn't take breaks or waste your money. He WORKS ALL NIGHT.

I THINK HE IS THE BEST IN THE BUSINESS AND I OFFER MY VERY HIGHEST RECOMMENDATION TO YOU FOR -
AARON HILLIER
A NIGHT TO REMEMBER
DJs/MC, LIGHTING & PHOTO BOOTHS!!!


Night To Remember DJs's reply:

I had such a fun time working with you and Jim and the music selections were amazing! It fit perfectly with the Ebell Club and the vintage theme of your wedding. The piano stylings of Brian Clemens and the singing of CJ were both a delight! I was so honored to DJ / MC with such talented entertainment! I wish you and Jim an amazing marriage and many best wishes!!

Darcey N.

Married on 04/24/2021

Amazing DJ!

I'm so glad I chose Aaron to be the DJ at our wedding! He really new how to read the room and I was having a blast dancing the entire night! He was able to smooth over any little awkward situation to keep everyone having a great time. Not only was he our DJ, but Aaron also planned my whole wedding timeline with me since we did not have a coordinator, which was so valuable, and I am incredibly thankful for his professionalism and expertise! I would definitely recommend him as a DJ for any wedding or event!

Night To Remember DJs's reply:

Darcey & Chris! I had a blast DJ'ing your wedding! It is so much fun when couples choose games like the Shoe Game or Bride & Groom Trivia for their enjoyment as well as their guests! You had great song lists and loved mixing the songs and seeing you dance all night! Thank you for choosing me as your wedding DJ and very happy I was able to help make it a Night To Remember! Many Best Wishes!
Are you interested?
Send a message