49 Reviews
Recommended by 100% of couples
Quality of service

5 out of 5 rating

Average response time

5 out of 5 rating

Professionalism

5 out of 5 rating

Value

5 out of 5 rating

Flexibility

5 out of 5 rating
38 User photos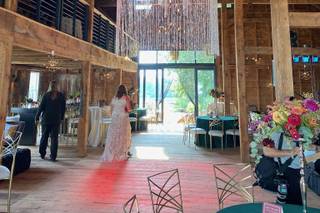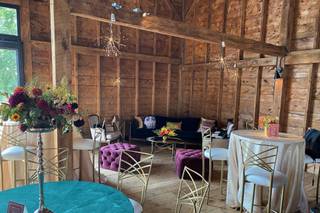 + 34

photos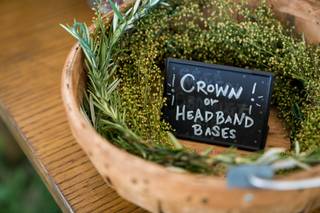 Lisa D.

Married on 09/18/2022

Style and Practicality that should grace every wedding

Nicole and Abby executed a wedding designed specifically for us. We wanted an experiential wedding, with lots of interaction, no required seating or activities, and high energy. NMWE delivered that and more.

1 - NMWE was budget-neutral for us. They found options for repurposing design elements and they knew exactly what options would enhance our experience the most and helped us avoid expenses that would not have added as much value.
2- NMWE can design anything. Their flair for style and deep event experience makes it all make sense. Nicole knew who to call for everything. For example she single-handedly designed a floral booth for guests to make their own decorations and she executed it with a local farm. Our guests rave about the floral booth every day.
3 - NMWE is fun! They carried their bubbly and soothing energy throughout the venue, even jumping right into the photo camper (which we would never have known about if not for them.)
4 - Nicole is well-regarded professional in this area, which is also the area we live in. We wanted as much local sourcing as possible, and since Nicole is so active in local professional groups and just generally a great person, she was able to identify specialized vendors who could carry out our visions and they in turn all wanted to work with her. She worked with one vendor in particular who did not have wedding experience and taught them the ropes, giving them such a great experience that they're going on to do more weddings now. NMWE's reputation and professionalism opened up a lot more options for us.

+ 6

photos

Aly H.

Married on 09/03/2022

Amazing planning team!

We hired Nicole for full design + planning, and we'd choose her all over again! We were planning our Portsmouth, NH wedding from DC, so we wanted to hire someone with a lot of local knowledge and experience. After talking to Nicole on the phone, I canceled calls with other potential planners and hired her. She is so friendly, down-to-earth, and efficient.

Nicole helped keep us on track with planning and was really great about doing Google Meet meetings/phone calls instead of in-person meetings when necessary. When we were flying up to New Hampshire with extremely limited time, she helped us use that time wisely to check out venues, do our catering tasting, and visit rental showrooms.

Nicole's 10+ years of experience in the Seacoast area was really helpful throughout the planning process. She helped us choose vendors for the vibe we wanted, and we were really happy with every single one. In addition, during our wedding weekend, it was super fun to have vendors that knew each other -- we felt really taken care of.

Our wedding went off without a hitch. Everything was so smooth and organized. If we could do it all over again, we'd hire Nicole (and team!) in a heartbeat.

Photo: Freebird Photography

Elaine S.

Married on 11/07/2021

An amazing beautiful experience !

I can't say enough about the wonderful experience we had with Abby and Nicole,every detail was meticulously taken care of as well as sweet people. Weddings can be very stressful and they completely took the stress away and made our day so beautiful.

Nicole Mower Weddings & Events's reply:

Thank you for taking the time to write this kind review, Elaine! Abby and I were so happy to assist with everything and wish you and Junior all the best in your marriage.

Are you interested?

Send a message

Yana

Married on 11/07/2020

Nicole Mower

My husband and I got married on September 5th this year. It was certainly a crazy pandemic wedding! We hired Nicole Mower as our wedding coordinator as you can all probably relate that wedding planning can be super stressful. We really wanted to alleviate some of the stress and responsibilities from the bride/groom to someone else on the actual wedding day. Of course, due to the pandemic things did not go as planned and our plans changed several times ( not just our wedding date but our entire venue had to be changed and re-plan our entire wedding in 2 months). Well, Nicole was an absolute SUPERSTAR! She is beyond organized, kind and will remind you of things that you may not even think about! She also had so many suggestions and wedding resources! She is full of "wedding" knowledge and also provided a lot of compassion through the process since it was not necessarily the "normal wedding planning" so to speak. We highly recommend her services. She also has an assistant, Abigail. Another thing that we found super helpful is that Nicole is very responsive in email/phone. I am such a type A person and get eager to get an answer when things come up. Well, she WILL get back to you within the same day most of the time or the very next day. On the day of the wedding, she really delivered. She was in charge of setting up the tables, decorations, all of these little details that you think are not a big deal but are time consuming on the actual day of the wedding. Everything was done by her on the wedding day and she did an amazing job. I actually do not think our wedding could have gone as smooth and organized if it was not for her help. Moral of the story- HIRE NICOLE AS YOUR WEDDING COORDINATOR ! SHE WILL PROVIDE A PROFESSIONAL AND STRESS FREE SUPPORT ON THE MOST IMPORTANT DAY OF YOUR LIFE. IT IS ABSOLUTELY WORTH IT!

Ariel L.

Married on 08/08/2020

Absolutely incredible

Nicole and her team went above and beyond for our COVID wedding. We went from having a 120 person wedding at a golf course to a 30 person wedding on the lake at our Grandparents house. We could barely manage to plan one wedding never-mind navigating cancellations, overnight stays for guests and the regulations each state had. Nicole and her team went from day of coordinators to coordinating and helping us organize an entirely new plan. We tried to cut corners and trim back our vision since there were less people but Nicole reassured us that this day is still everything we hoped and dreamed of and we are only doing it once. So we listened to her!! We had the hanging floral chandelier, the flowers around the arbor and all the small details her and her team put together without us even knowing. Who knew you needed a table to cut a cake? Thankfully Nicole saved the day and found one tucked away. There is so much more I could share but through all of this Nicole and Abby made our big day the most spectacular day it could have been considering the circumstances. We could not have done it without you! Thank you for all that you did and for risking your lives to make sure our special day came together like a dream come true.

+ 5

photos

Isabelle J.

Married on 12/07/2019

Best ever.

Nicole is THE BEST. I worked very closely with Nicole as the MOH of one of her brides, and she was incredible. Nicole is attentive to every detail, had an incredible vision, and executed a beautiful event. We couldn't have put on the wedding without Nicole, especially because we planned it in three months! Nicole gave us the best recommendations for vendors and was with us every step of the way. She made the day so very special and effortless for us. At the end of the night, I made sure to search the venue to find Nicole and give her a great big hug. I even made the shuttle that was going to the afterparty wait so that I could find her. I couldn't imagine not thanking Nicole for everything she did!!! AMAZING AMAZING AMAZING.

Heather M.

Married on 10/19/2019

The Best Month of Coordinator - thanks Nicole & Team!

We used Nicole and her team for month of coordination for our wedding in October 2019. I work in events, so I felt confident doing the majority of planning myself but definitely wanted a wedding expert to come in for the big day. The month of package was a perfect fit for our needs and allowed me to get creative but always have an expert's opinion on hand when I needed it. Note: do not try to plan a big wedding on your own if you don't have event experience - it's hard! Nicole takes her work very seriously and had a very thorough plan and documents that kept us super organized. She came to our rehearsal on Friday and led everyone through their roles for the next day. Saturday I barely saw her and her team as they were very busy making sure we were able to just enjoy ourselves! We will be forever grateful for their hard work and the magical day they allowed us to have. Thank you thank you! Heather & Nate

Stacy G.

Married on 09/21/2019

No one better than Nicole and her team!

We decided to work with Nicole about two months before our wedding. We were pretty set with the planning but wanted someone to help us iron our final details and be there to coordinate the day of our event. We knew right from our first phone call with Nicole that she was the perfect person for this job. She listened to our needs and quickly sent over information about her role would be and what to expect from working with her. It was exactly what we needed and throughout the next several weeks we continued to have a positive experience working with Nicole. She handled all of the final details working with our vendors, created a detailed timeline and production schedule, and made sure we took care of things that we probably wouldn't have thought of on our own. Nicole is extremely organized, professional, and creative. She made sure that every detail of our event was perfect, down to the smallest thing. Nicole even came through at the last minute when we found out the day before our wedding that some major furniture rentals would not be delivered. She sprung into action, and spent what we're sure was hours calling around to get what we needed from vendors she had connections with, and even picked up the items in her personal vehicle to bring them to the wedding. This was above and beyond what we could have asked of her. Throughout the whole weekend, we were at ease knowing Nicole was there to handle any small issues that might pop up. She only came to us when necessary and always already with a solution that she wanted to fill us in on. On top of that, she was always right there if we needed something or had a question for her, and handled everything quickly and just the way we wanted. Beyond all of that, Nicole is just the nicest person and genuinely feels like a friend to us! We're so glad we decided to work with Nicole and highly recommend her for any event planning.


Ashley K.

Married on 08/24/2019

Service & Experience Beyond Compare

August 24th. 2019 will forever be one of the best days of my life and I don't think I would be able to say that if it weren't for Nicole. We started working with Nicole over a year before our wedding and she was outstanding from the very beginning. Even from our first meeting, it was clear that she was a highly experienced planner. Not only is she extremely organized but she has established a specific method that makes the entire planning process run so smoothly.

We had a VERY large wedding with two back to back events at different locations. Something that I assume would seem daunting to most wedding planners.. But Nicole was never worried. She was confident that she and her team would keep everything organized. And they did- everything went off without a hitch. I had no idea the amount of detail that went into planning a wedding, and I can't even begin to count the hours that Nicole saved us throughout the whole process. Her thoughtfulness, attention to detail and communication skills are incomparable. She has relationships with vendors all throughout New England and with her recommendations and guidance, all of the choices we had to make were that much easier.

The fact that my parents, my(now) husband and I were all calm in the weeks leading up to our wedding says it all. Thanks to Nicole and her team, we were all able to fully enjoy every single minute of our wedding day. There was never a worry or a doubt. Nicole nailed it and we could not more grateful for her! Thank you Nicole, for everything. Xoxox

Lauren L.

Married on 11/10/2018

Best decision we made was hiring Nicole!

I can't even begin to tell the internet how amazing our day was, all thanks to Nicole Mower Wedding Events! From the moment we first met, Nicole was professional, organized, understanding, AND fun!!

Nicole took my ideas and turned them into the most perfect, beautiful evening I could have ever imagined. The attention to detail is incredible, and any time I had a question or concern, she was able to completely put me at ease. She has the BEST vendor recommendations - and she gets to know you first before making the recs so that you're getting exactly what you want!

The best part was on our actual wedding day, I didn't have a SINGLE care in the world!! I didn't stress about one single thing because I knew NMWE had EVERYTHING covered! There's no way we could have had the night of our lives without the careful planning and execution that NMWE was able to do for us. Everyone on their team is invaluable. My advice to anyone considering a planner and NMWE - BOOK HER... before she's booked up!!!

Pam B.

Married on 10/13/2018

Nicole Mower was outstanding!

Nicole Mower was great to work with. She was patient, tenacious at follow up, professional and someone who really wanted to get to know you, your style and vision. She always presented options and was not afraid to give advice. She was not overbearing but more of a design partner helping you achieve your dream experience. I would recommend her to anyone as a wedding planner. I did not realize how important the right planner was!

Jfrenette

Married on 08/12/2018

Planning from Afar

We loved working with Nicole! We were engaged in April and married in August and she didn't miss a beat. We also live in Atlanta and got married in Rye, NH - but totally felt like we were taken care of. The best part of working with Nicole is the incredible vendors she has relationships with. She totally knew exactly who to pick to make our day feel exactly the way we pictured. Every detail was accounted for and she was totally conscious of our budget every step of the way. I wouldn't have changed a single thing about our wedding, thanks in VERY LARGE part to Nicole!

Taylor T.

Married on 07/28/2018

Best wedding planner ever!

In an ideal world, I believe everyone would be lucky enough to work with Nicole for their wedding! From the first time we spoke on the phone, I felt completely comfortable, and crazy excited for the planning process. From that point until our wedding weekend, Nicole led us effortlessly through the planning process and made every single moment incredibly fun! She helped us with our whole weekend, including a rehearsal dinner on Friday, the wedding on Saturday, and a brunch on Sunday.

At the beginning of the planning process Nicole set us up with a to do list and each month reached out to let us know which items to tackle. She laid everything out so far ahead that it was so simple to complete the tasks each month, and we never felt overwhelmed with to do list items. This allowed us to take our time and be really thoughtful with each choice we made, and enjoy every bit of the process. She helped us every step of the way and made fantastic recommendations.

Nicole is also a spectacular communicator! Any time we came to her with an idea, big or small, she would take and moment and really think on it, and how it would fit into the big picture. She would then come back with a very thoughtful and intentional response. It made us feel so taken care of, because we knew Nicole understood us and was being just as thoughtful with each choice as we were.

Also, let's take a second to talk about vendors. Nicole KNOWS EVERYONE, and they all adore her! She has such fantastic taste, and really takes time to get to know all the vendors in the area on a personal level. This made our experience so special, because we knew that the vendors we had were the best of the best, perfect for us, and were there to make our wedding as great as it could be.

When planning was complete and the weekend finally arrived, we didn't have a care in the world because we knew Nicole and her team had us totally covered. I cannot express my gratitude for her hard work and organization, because my husband and I were able to be completely present for each minute of our wedding, which was everything we hoped for.

Not only is Nicole and incredible planner, she is an incredible person. She is thoughtful and generous, has exceptional taste, and works tirelessly for her couples to turn their dream weddings into a reality. I cannot recommend Nicole and her team highly enough, if you have the opportunity you should absolutely book her!

+ 3

photos

Judy

Married on 07/28/2018

We recently had the privilege of working with Nicole Mower as the wedding planner for our daughter's wedding in Maine.
All the way through the process Nicole was a delight to work with as she has vast knowledge of the venue's and vendor's needed to create our daughter's dream wedding. Nicole had a clear plan of when to accomplish all the decision's needed and she helped keep us organized, without us being overwhelmed. Nicole listened well to our daughter to hear and understand what she wanted and was gifted at knowing how to make it happen. Nicole and our daughter were a great team and became good friends through the process of creating her destination wedding.
The wedding exceeded our expectations. We had several events during the weekend and Nicole made sure each event went exactly as we had hoped. The rehearsal dinner, wedding, and send off brunch all exceeded our expectations. When there was a last-minute risk of rain, she created several solid alternative plans to move things around if needed to accommodate the weather and did so efficiently.
Nicole knew the value of each item and was cost efficient at bringing the wedding in on budget.
We appreciated her quick and thorough response to our questions as they arose.
If you want to have a superb wedding in Maine, Nicole is your gal.

Evan

Married on 07/08/2018

Our day would not have gone off without a hitch the way it did without the help of Nicole! We used her for "day of coordinator", however she was very involved through the whole planning process. We were able to meet and talk with her multiple times leading up to the wedding to ask any questions we had and hand off any contracts in the months leading up and then in the last weeks she handled all of the back and forth conversations with vendors. She is clearly experienced working in the NH seacoast area had great insight on which vendors in the area would work best for us, and vendors were always very happy to hear that we had her on our side.

Kelli

Married on 06/02/2018

From day 1, Nicole was an absolute rockstar. She went above and beyond in everything that she did, and was completely on the ball for a control-freak of a bride like me. Nicole is not only a phenomenal planner & coordinator with fantastic taste, but also a savvy business woman and total boss lady. The only kind of gal I wanted running my show!

The NMWE team was extraordinary and the overall experience was divine. I am so incredibly grateful to Nicole, Ellen, and the rest of the gals on the day of for helping us throw the biggest, and best party we've ever been to!

I was left with not only the completely seamless, wedding of my dreams, but a dear friend. Love you, Nicole!!

Lynsie

Married on 10/14/2017

I met Nicole years ago when I started working for a rental company on the Seacoast and she was just starting out her planning business. I knew the second I got engaged who I needed to call to make sure everything went smoothly on the day of my wedding. Seeing the work that was put in behind the scenes, it was a no brainer for me. Nicole is kind, professional, efficient, and all around so fun. I can't recommend her enough!

Nicole

Married on 10/06/2017

As our wedding date started to creep up on us, I started to realize that I needed a day of coordinator to help with the ceremony. I was in bit of freak out mode because I knew I was cutting it short. Our venue (separate from the ceremony location) gave us a referral to Nicole Mower. I sent her an email, and within an hour she was emailing me back to set up some time to talk over the phone. When I first spoke to Nicole I knew right away I needed her! She was very professional, but also asking about what I was doing over the weekend. We made arrangements to hire her, and then we set up some time to meet in person about a month before the wedding. We met her in Portsmouth, along with her assistant Helen, right across the street from where our ceremony would take place. She greeted us with a big hug like we had known her for years. She was taking notes, asking questions and putting together a plan as we talked for about 2 hours. I was so relieved after out meeting, I knew it would go off without a hitch. The wedding rehearsal soon approached and we had a small hiccup with the sound system in the church, but she was right there trying to figure it out. She was calming me down which was nice. We literally went over everything once and that was it, it was perfect and short and sweet. The wedding day came and I received the nicest and sweetest text from her ( I know this is part of her job, but it really meant a lot). You think back on the wedding process and there are a few people who will be etched in my mind forever and she is one of them. The wedding ceremony went great. She greeted us in the limo and talked to us about a few things, all while smiling. We had a few people show up a little late (right before I walked down the aisle) but she showed them where to go and kept them going. I actually ended up walking down a minute early from my plan (which was a win !). It was short and sweet, Helen did a great job with the music as well and returned my phone to me right away

Lindsay

Married on 09/23/2017

I couldn't recommend Nicole enough. She's personable, dedicated, and allowed us to really sit back and enjoy our celebration. We worked in her "mid-tier" package where we had access to planning software and helped us gather all the information regarding the wedding in one place. Nicole went above and beyond by connecting with vendors, setting goals & deadlines for us, and had a ton of tips on what we should make sure to book/ buy/ etc. for the wedding. She made the process of planning the wedding go so smoothly-- there's no way we would've been able to pull it off without her and her team (Shout out to Ellen who is amazing as well!). On the day of, she kept everything and everyone on track and all we needed to do was enjoy our day with our family and friends-- and there's a lot of them too (we had about 200 people). Thanks Nicole!

Katherine

Married on 09/18/2017

Nicole and her team made the wedding planning process that much easier, particularly in the last month before our big day. She coordinated with our vendors, and even saved us some money with her careful contract review. On the day of the wedding, her and her assistant made it so that we could fully enjoy our day without sweating the details. They set up all the decor and made the entire day perfect. Plus, Nicole's sense of humor, her intense but laidback project management style (she gets it done but always remains cool as a cucumber), and her genuine desire to help makes me want to be best friends with her forever. :) We'd recommend Nicole and her team to anyone planning a wedding!

Ryan

Married on 09/16/2017

Nicole and team were amazing, always available when they need em and were on hand to deal with the day to day stuff that we were too busy to handle. Wouldn't have been the wedding we dreamed of without her.

Andrew

Married on 08/12/2017

Everyone wants the perfect wedding, but you can't ever really have the perfection right? Wrong.
It's impossible to explain how great Nicole was in making our wedding everything we imagined it would be. With Nicole's help our wedding was perfect.
Nicole's planning system keeps you involved but not overwhelmed, her communication with all parties is friendly and professional, and Nicole's vision is outstanding - we threw a mess of ideas at her and she created the ideal wedding and reception for us.
Nicole has great relationships with vendors for every aspect of your wedding. They all rave about working with her and told us how lucky we were to have gotten Nicole to be our wedding coordinator.
If you're considering a wedding coordinator, definitely hire one. And, make sure you hire Nicole Mower. I cannot recommend Nicole highly enough. We are glad we did and are so grateful for everything Nicole did to help us make our wedding what is was.

+ 4

photos

Molly

Married on 08/04/2017

We were planning a small wedding but soon found that with all the moving pieces, it would be helpful to have some outside help coordinate. We were definitely on the fence, thinking that we should be able to manage alone, but linking up with Nicole was SUCH a wonderful decision. Not only did she help coordinate everything and make sure all the details were tended to, but she made it seem like everything was always completely managed and that i had nothing to stress about. I feel so lucky to have had her help on the day and in the lead up. She knew exactly what to do, all the time. There was nothing she couldn't handle. If i could do it all over, she would be my go-to pick from the start! I cannot say enough wonderful things about her and would definitely recommend her to anyone who is considering. It made it such a stress-free day for me to enjoy!

Eileen

Married on 05/06/2017

"This is YOUR day," she said, "Tell me what's meaningful for the two of you..."

Nicole Mower Wedding Planner was recommended to my fiancé and I by Phil Lusty of Dockside Restaurant: York Harbor, Maine. Randy and I knew we wanted to be married at Dockside. I grew up in a cottage on Short Sands and discovered
'the little cove beyond the hill' in my 20's. It became my go-to most personal retreat from life in the city of Washington, D.C. Being married there was a dream coming true.

What we didn't know was whether we wanted or needed or would have to tolerate a 'wedding planner'. Our goal was: rustic, quietly classy beside the sea, and relaxed for all -- ourselves and our guests. It's too easy to spend too much money on wedding superfluity. We came to our first meeting with Nicole armed with questions, if not suspicions.

So when she said, "What REAlly matters to you? LIke... are FLOWERS the most important thing??..." I thought I heard her fishing for who we were and what we were about and I was right! She was assessing us as sure as we were sensing what 'full package agreement' meant with her!

As a first-time bride of 56 going on princess of 7 and dancing queen of 17, I knew I needed all the solid help I could coordinate. I knew I knew how to throw a party... a gracious one even... but I also knew that I had no idea how to create a once-in-lifetime occasion for our 70 nearest and dearest... Our whole families were meeting for the first time. In some cases, maybe a last. And every single person was coming from 100 to 700 miles away. This wasn't a 'destination wedding'. This was an 'Eileen-sharing-trysting-place-celebration-of-Life-&-Love-because-she-found-Randy' wedding. I so wanted what I saw on the NMWE website, the outdoor tent especially... I had only ever seen white chairs on the lawn at Dockside followed by dinner+ indoors. Lovely, of course, but...

-- Read WHOLE story at NicoleMower.com; WeddingWire says: Must stop here!

Dave

Married on 12/03/2016

How do you define perfect? Nicole and her team defined it for my wife and I on our wedding day. Nicole and her team of vendors knocked it out of the park. My wife and I anticipated the day to be amazing, but I have to say it was more than amazing. We went with all of Nicole's recommendations and I'm so glad we did. Everything from the flowers, to the musician suggested for our wedding, she NAILED it. We trust Nicole in everyway and she ended up becoming a close friend by the time the wedding arrived. She has so much experience and so many connections in the industry that were so clear during the planning. Nicole was super relaxed during the process which is important because the planning can get stressful. We love Nicole!
Are you interested?
Send a message