Reviews
5.0 out of 5 rating
Quality of service

5 out of 5 rating

Average response time

5 out of 5 rating

Professionalism

5 out of 5 rating

Value

5 out of 5 rating

Flexibility

5 out of 5 rating
100%
Recommended by couples
5 User photos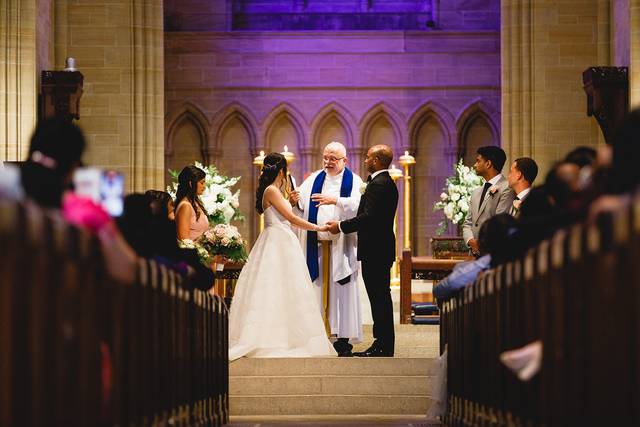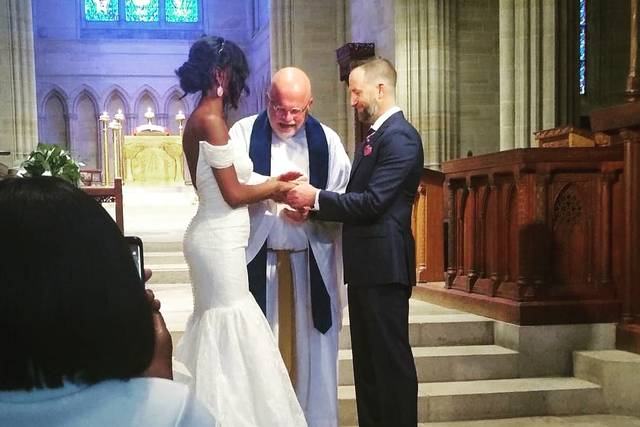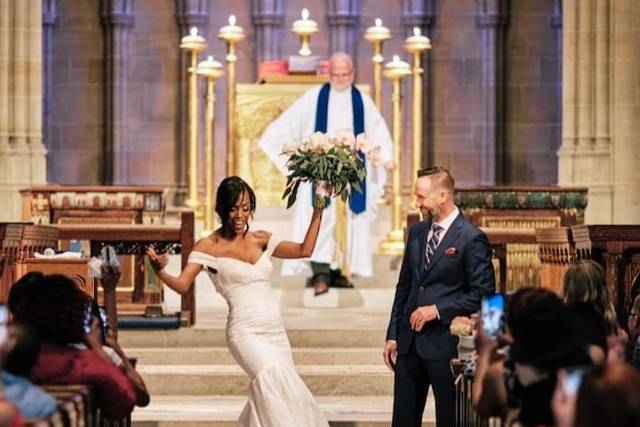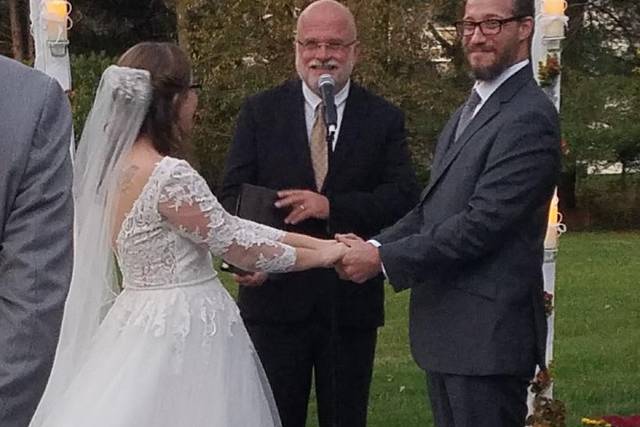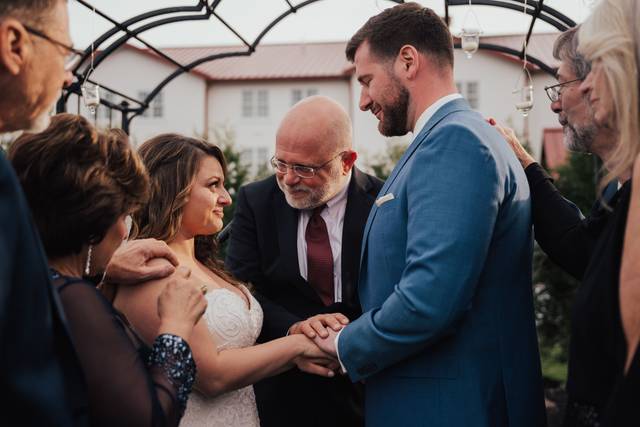 Christina T.

Married on 04/15/2023

Pastor Chuck is the BEST!

Pastor Chuck is so dedicated and passionate about investing in couples to prepare them for marriage and provide a beautiful ceremony. Our wedding ceremony was so personal and touching all because of him! He spent a lot of time getting to know us over the year and it was beautifully reflected in our ceremony. HIGHLY RECOMMEND!

Jenna G.

Married on 10/14/2022

More than a pastor ! A friend who cares about your love

We knew we needed someone to ordain our marriage but we really got so much more with Chuck. Premarital zooms to discuss marriage, advice and preparation for the wedding day. Someone who truly listened to us and heard our love story. And the nicest man - thank you again Chuck !

Matt G.

Married on 06/04/2022

Thrilled to have found Pastor Chuck!

My wife and I got married in June 2022 and we feel exceptionally lucky to have found Pastor Chuck. Leading up to the wedding, Pastor Chuck was kind enough to take time getting to know us both on a personal level and also assisted with some very valuable pre-wedding counseling. Aside from using the information he learned about us both individually and as a couple to blend seamlessly into his homily during our wedding ceremony (which he did effortlessly!) he taught us several valuable lessons and helped put into perspective what really makes a marriage successful.

Truthfully, when my wife and I were originally looking for a wedding officiant we were looking for just that - a wedding officiant. With Pastor Chuck we got so much more than we bargained for. We got a friend, a mentor, a teacher, and a part time comedian all wrapped up into one.

We feel so blessed to have found you, Pastor Chuck and we look forward to staying in touch and using some of the many lessons you taught us throughout our marriage!

All the best,
Matt & Sarah!

Are you interested?

Send a message

Stephanie S.

Married on 09/25/2021

Ceremony of our Dreams

We want to thank Chuck for officiating the ceremony of our dreams. So many people have told us how beautiful they thought the ceremony was, some even saying it was the most beautiful they had ever witnessed. Chuck is such an intelligent, kind, eloquent, and genuine man. He created such a special moment for us, I cannot recommend him enough.

George T.

Married on 07/24/2021

Pastor Chuck Blair from New Church

We couldn't be happier to have chosen Pastor Chuck Blair from New Church to officiate our wedding weekend. He was incredibly accommodating to our unique cultural and religious backgrounds. So many of our guests echoed how meaningful and thoughtful Pastor Chuck was with his words and presence. We felt like he really got to know us and asked the right questions to do so which promoted such a positive energy to all the proceedings.

Earl L.

Married on 07/11/2021

Chuck Blair is the best!

Working with Chuck Blair was an exceptional experience. I feel like he got to know us on a personal level and really got to understand us as a couple which reflected what he was able to say at our wedding ceremony. It was not "cliche" and he definitely was not "cookie cutter" in his speeches, dialogue, or message he wanted to give us. He is very well spoken, articulate, and confident which made us feel at ease. In a time like this, there is little that you want to worry about when you are the center of attention and Chuck helped us worry less. Great start to a wonderful ceremony.

Lindsay M.

Married on 04/16/2021

Lindsay & Chris

When Chris & I met with Chuck, we knew immediately that he was the perfect Pastor to officiate our wedding. The connection was instantaneous! We always felt like we were speaking to a real person, which was important to us. We couldn't have been happier with everything Chuck did for us, to help ensure we were aligned. He is an amazing Pastor! We would work with Chuck again & again and we'd recommend him again & again...he is thee guy!!!

Laurie W.

Married on 10/17/2020

Overall wonderful

Chuck has a heart for people and it shows. He was very helpful in meeting with us before the wedding and professional in all aspects. A guest at our wedding requested his information, he was so impressed. Quite simply, Chuck would do a marvelous job at your wedding!

Shanon

Married on 08/29/2020

Having a New Church wedding was such an amazing experience for my husband and I during our 2010 wedding. We had Reverend Blair as our officiant but he was much more to us than that. He was a mentor and a great friend throughout the entire processing. Having Reverend Blair by our sides during that special day and the time leading up to it was such a blessing. He helped us through many good and bad times and provided guidance that is so valuable to us. A New Church wedding was the best thing we could have done for our special day as it helped us become more spiritual and close in our relationship. We are very close with the Reverend still and thank God for him and all the support he has offered us.

Courtney C.

Married on 07/19/2020

Thank you!

Wonderful experience working with Rev. Chuck. He took the time to get to know us and was so patient with our ceremony planning. Our ceremony was absolutely beautiful! Thank you Rev. Chuck

Jaimee

Married on 05/30/2020

Jaimee and Michael

Rev. Chuck was absolutely amazing. He really took the time to get to know the both of us and performed an unforgettable ceremony based off of his knowledge of our love and values. Chuck made our premarital classes fun and really helped us with communication and how to prepare for our future as a married couple. We couldn't be happier!

Alexa C.

Married on 08/03/2019

Best Officiant we could have hoped for

If I could give Reverend Chuck Blair more stars, I would. The ceremony was the most important part of my wedding day and Reverend Blair made it so special. He incorporated our singer into the ceremony, shared the most beautiful words, and made the whole thing a moment I will never forget. Aside from the ceremony, Reverend Blair met with us as a couple several times to prepare for not our wedding, but our marriage. He is genuinely interested in us as people and as a couple. We enjoyed completing all his "homework" assignments and always left our meetings with him happy and smiling.

Mariam A.

Married on 07/06/2019

Choosing Pastor Chuck was a blessing.

Pastor Chuck surprised us by weaving in some of the things we told him in previous meetings. He was very cooperative and supporting. It rained, we started late but he was patient and even helped with providing direction when the ceremony was being set up indoors. I can't thank him enough.

Anastasia

Married on 09/22/2018

Reverend Chuck is the best!

We are so glad we chose Reverend Chuck for our wedding day.

Beau B.

Married on 09/15/2018

Gave Us Perspective

Chuck was amazing throughout the entire wedding process and of course on the big day. Our conversations prior to the wedding day kept everything in perspective even when the wedding planning became most intense. These sessions also allowed Chuck to get to know us and made our ceremony an intimate experience and made my wife and I feel like Chuck had known us our whole lives.

Krista

Married on 06/30/2018

We cannot say enough about Chuck, we feel so lucky to have had to opportunity to work with him before and during our wedding, we can't wait to continue seeing him in the years to come. Chuck came highly recommended and after our first phone call I knew he would be perfect! Still he exceeded our expectations, we looked forward to every meeting because afterwards we would always feel better than when we came. Additionally our friends and family couldn't say enough about how amazing he was at our ceremony. They felt that he was truly invested in us and felt that even though we were in a church full of people Chuck was only focused on the two of us. We are thrilled to have Chuck in our lives, not only did he make our preparation for our marriage and ceremony wonderful, he gave us the tools and confidence to have a strong and successful marriage.

Julia

Married on 06/23/2018

The first time my husband and I talked to Chuck Blair we knew that we were in good hands. Throughout our wedding planning process Chuck kept us grounded as he guided us on our own journey through talking about God's love, how to love one another, and what marriage truly means. My husband and I cannot say enough good things about Chuck's positive and energizing spirit, as well as his wisdom and knowledge of relationships. Our wedding ceremony was perfectly intimate and included many personal touches. Thank you Chuck and New Church Live!

Jillian

Married on 04/21/2018

I had the absolute pleasure of meeting Rev. Chuck Blair several years ago at my sister's wedding. My sister and her husband couldn't say enough wonderful things about Chuck and since their wedding he has baptized family members and become apart of our family! When it was time for my husband and me to start the wedding planning process, Chuck was the first person we contacted. Neither of us are very religious people but going through pre-marital classes was something that was important to us. Living out of state, Chuck made this incredibly easy by conducting our classes via Skype. We felt so ready and prepared for our wedding day and life afterwards. So many people came up to us after our rehearsal, and of course, after the ceremony to tell us how beautiful it was. Chuck took the time to talk to so many of our guests and made a lasting impression. Chuck has a way with words and truly captures the spirit of each couple's relationship. Our entire wedding day was incredibly special, but the ceremony is by far my fondest memory. We can't recommend Rev. Chuck enough, he is truly one of a kind.

John

Married on 07/22/2017

Chuck was better than we could have imagined and made our wedding ceremony the most memorable time of the day. My wife and I are from different religious backgrounds and neither of us are members of the New Church, thus we were a bit nervous going into the process. However, after meeting Chuck that quickly faded and we found that we developed a good friendship with him. Chuck took the time to get to know each of us individually and as a couple so that he was able to make our ceremony personalized. At the same time the lessons we learned from him left us feeling better prepared for marriage.

We would highly recommend Chuck to anyone and could not have been happier. Our family and friends, who have a variety of backgrounds, all loved Chuck's ceremony and had positive things to say as well.

Tara

Married on 05/27/2017

We cannot say enough good things about Rev. Chuck Blair and we cannot recommend him enough. Unsure of what to expect, the moment we met with Chuck our hearts and minds were at ease. You can feel the positive energy that he exudes just by being in his presence and it's impossible not to feel comfortable and at peace. We knew immediately we had made the best decision, and felt so lucky to have him in our corner. Forever. Chuck made our wedding day, and the months leading up to it, truly magical. Despite our crazy lives (we were living in Los Angeles, moving to Atlanta, and planning a wedding in Pennsylvania!), Chuck made it a point to fit our schedule and accommodate our needs as a couple. His "homework" activities were something we grew to love and looked forward to, as they strengthened our relationship both with him and with each other. Our friends and family raved about our Pastor. He took both mine and my husband's differing religious backgrounds into account and came up with a sermon that encompassed both of our families beliefs. It felt as if Chuck had known us our whole lives and we feel so blessed to have found him.

Megan

Married on 10/08/2016

Chuck Blair is out of this world! He was so in tuned to Us as a couple and really listened to everything we said! We loved all the sessions we did with him leading up to our wedding and we will
Continue to check with him regularly. We connected with chuck as a mentor and spiritual guide off the bat! Our service was so intimate and personal and we had so many compliments from our guests on how amazing he was and how Much they loved his service! I look forward to meeting with chuck and plan on keeping in touch with him as he made the start of our journey on marriage so special!

Jillian

Married on 07/04/2016

If we could give Chuck 10 stars, we would. He was such a large part of our wedding. He made it so intimate, so special and so perfect. We feel SO lucky that we came across Chuck. I couldn't imagine our wedding without him! Everyone was just raving after the wedding about how great he was. We met with him a couple of times before the wedding, which I highly recommend, and we absolutely plan on keeping in touch him for years to come. He is a great person to include in your special day. Look no further - Chuck is the best! Truly a blessing that we found him.

Karalee

Married on 06/05/2016

Chuck was amazing. There is not a bad word we could say about him. He truly cares about his couples and spends time working with you to not only get to know you but also to help strengthen your relationship. We were out of the country while planning most of our wedding yet he still made time to have skype meetings with us! The ceremony couldn't have been more perfect. It was a wonderful blend of happy, funny and personal. We had MANY of our guests tell us how much they enjoyed Chuck at our ceremony. He had people laughing and crying (happy tears) with his quotes and words of wisdom. We loved all of the personalized touches he included while still keeping the ceremony to a good length. He is such a kind person and we look forward to keeping in touch with him for years to come! We would recommend Chuck in a heartbeat to anyone!

Stephanie

Married on 05/07/2016

When everyone assumes that the Pastor that married you has known you since birth, you know you've picked a good one! Chuck was the perfect mix of serious, funny and sentimental. He took the time to get to know us, as a couple and individuals, which really showed in our ceremony. Everything was perfect, from his use of our band, to his involvement of our friends and family, he made us feel truly loved on our wedding day. The meetings that we had before the wedding really helped us to learn each other as a couple and made our actually ceremony that much more intimate. Chuck deeply cares about the couples he marries and it shows. Everyone there said that it was one of the best ceremonies they had seen! We will definitely check in with him (even from LA) for some grounding post wedding, he is a perfect sounding board and voice of reason, we could not have been more pleased with how our day went!

Sarah

Married on 10/17/2015

I cannot say enough about Chuck. He was truly amazing. He was excited about our wedding but more importantly he was genuinely invested in our marriage. We met with him 5-6 times before our wedding via Skype and talked through any struggles that we were having at that time, what both of us hoped for in our marriage, and ways to improve our relationship. Throughout the process he was flexible with when we would meet and responsive via email. We had so many guests comment on how beautiful the ceremony was and how much they loved Chuck. We look forward to continuing our relationship with Chuck and New Church.
Are you interested?
Send a message