56 Reviews
Recommended by 97% of couples
Quality of service

4.8 out of 5 rating

Average response time

4.8 out of 5 rating

Professionalism

4.9 out of 5 rating

Value

4.8 out of 5 rating

Flexibility

4.9 out of 5 rating
57 User photos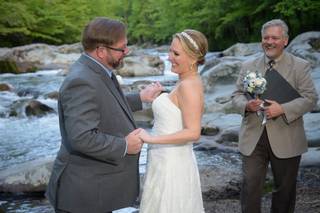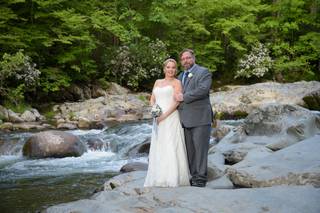 + 53

photos
James B.

Married on 05/17/2022

Awesome Experiance

Eric the photographer is a very easy going photographer that seems to have a lot of experience with the wedding services that he provides. He was professional, timely, courteous, and responsive to all of our questions and concerns. He did a great job capturing our moments, he dealt with oncomers professionally, and guarantees a "permit" with the national park for your special day, which I highly recommend to not have conflicted interest in your chosen location.
Jim the minister was a personable, patient, likeable gentleman, that was very comfortable to be in attendance of.... We loved the ceremony he provides, the vows were spot on, and I would definitely recommend to a friend or to other New Beginnings customers when choosing which minister to use. Keep up the good work, thanks again for your services...

Heather C.

Married on 10/08/2021

Superb All the Way Around!


Everything was kind of last minute planned on my end and they made it so easy to get everything put together ❤ Price wasn't outrageous like some companies we looked at which eased our minds and pockets. I honestly couldn't be happier with how everything went! The minister was such a very sweet man! We were so comfortable with him...we could tell that he genuinely cared and was happy to be there on our special day.e had so much fun with our photos and our photographer! He even captured a surprise "guest" in a few of our photos to make them just that much more special.

Jared S.

Married on 10/01/2021

Comfort at ease


We are from Wisconsin so being from out of state and only able to communicate via phone or email we were nervous, but we were totally put as ease once we met in person and everything went great. Very professional and friendly, great communication. Went above and beyond what we could ask for. 

Are you interested?

Send a message

Leonard S.

Married on 09/04/2021

Great results and easy to work with.

Eric was very easy to work with. He was outstanding working with all the children in our wedding party. He uses excellent equipment and the results were beautiful.

Olga

Married on 09/03/2021

Exceeded our expectations


Eric was great and very helpful. Planning a destination wedding is never easy. Eric made the process so easy and was quick to return calls.

Tasha S.

Married on 05/23/2021

Great experience

The Minister was very easy to get along with. He made us feel comfortable as if we had known him forever. Our wedding photos turned out better than I could have imagined! The photographer was professional and knew exactly how to get the best pictures.

Claire M.

Married on 04/18/2021

New Beginnings Took Care of Everything

Want the perfect elopement where you don't have to worry about anything? New Beginnings Photography is the ticket, they took care of securing the private creekside location at the literal edge of the Smoky Mountain National Park, they secured the officiant and made sure all our paperwork was correct and turned in on time, and they took amazing photographs of our ceremony! 1.5 hours was perfect for having the ceremony, a family group photo photography session, and a photography session of just my husband and I. What a unique and stunning setting to get married in, the little pavilion on the stream is gorgeous, down to the small waterfall behind you, the fairy lights in the ceiling, and the woodworked chairs for the guests. Also, we could bring our dogs! We also got married in mid-April at 11:30 am, and the green glow of the leaves was an added stunning backdrop. We loved every minute of our experience, and New Beginnings was very prompt in every interaction with us, including arriving before us at the venue with everything ready to go when we got there! It was such a great day! I would 100% use them again (haha, hopefully not a second wedding though), I hope you chose them for your Smoky Mountain Elopement!

+ 3

photos

Malena B.

Married on 12/20/2020

Mrs Bailey


It was our pleasure to get to work with New Beginnings. They made our wedding day feel very special. After a hectic time getting to Gatlinburg, I was a nervous wreck, then we met Eric. Everything just fell into place, and went smoothly. Thank you very much.


Deanne B.

Married on 11/16/2020

Wonderful experience!

Our minister was very kind, friendly and professional. The photographer was willing to take any photos we requested and seemed very conscientious about his work. The creekside location we chose for our wedding was a beautiful, serene, private location perfect for eloping couples!

Kim

Married on 10/19/2020

Best Experience Ever

If we had to do it over again 100% would use New Beginnings! Thank you so much for making it so easy and care free and fun! You took the worry out of the entire event!

+ 2

photos

Julie D.

Married on 09/18/2020

Stress free, Excellent

We got married 9/18/20 at the greenbrier. It was perfect..The beautiful mountain creek was the perfect decorations..All I had to do was show up and have a marriage license. Eric took care of everything and was available anytime I had a question..I highly recommend this for a stress free wedding..Great experience.

Laurie H.

Married on 04/09/2020

Pandemic made us cancel, but he made the entire process easy and stress free!

My fiancé and I were planning a small outdoor ceremony in TN next week. Unfortunately, due to the current pandemic we were forced to cancel our wedding and travel plans. Eric has been amazing! He has answered EVERY question I had, and if he didn't answer the phone as soon as I called him, then he would call me back within the hour. I have dealt with multiple small business owners recently in regards to my wedding, Eric was the ONLY one who offered a partial refund or to provide his service at a later date (which is not something he had to do, but wanted to do for his client). I am so grateful for his kindness and professionalism shown during this time. Will recommend to anyone who would like to elope to TN!

Anzley M.

Married on 01/02/2020

The perfect experience

Eric was great and made everything go smoothly! Our pictures turned out amazing and even though it rained and we had to move the ceremony to the church we still were able to get some amazing pictures outside. We had such a great experience all around, it was completely worth every penny spent. The minister was great as well!

Andrew S.

Married on 12/24/2019

Christmas eve

Eric is a phenomenal photographer! We wanted our wedding pictures with our hyper dog, the mountains in the background, on Christmas eve. Eric happily accommodated all of our requests. He captured extremely sharp pictures despite the dog moving non stop. I am impressed by how crisp the pictures came out. He also captured the mountain view in detail. The pictures of our special day are everything we were hoping for.

Aimee L.

Married on 04/13/2019

Amazing Experience

We couldn't have asked for a better team than, New Beginnings Photography. They were professional, on-time, and truly knew how to work with individuals like us who are NOT photogenic. My husband and I couldn't have asked for a better overall experience. It was exactly what we wanted and so much more. The venue was gorgeous! and the photos turned out beautifully. The package included us, our guests (4), our dog (though we decided he could stay at our cabin instead, safety first), an officiant, venue, photographer, 1 hour of photos, 30 free digital images, and a discounted price on photo package.

+ 10

photos

Tamara D.

Married on 02/24/2019

The Best never to be forgotten

They were wonderful, we were worried about the flooding called them on Saturday evening expressing our concerns. And they assured us we would make the Sunday wedding happen. So helpful planning through the phone and email. I Highly Recommend New Beginnings Photography.

Amber H.

Married on 02/09/2019

Stress free!

The photographer and Minister were great. While the actual ceremony was only 10-15 minutes anything and everything you would want covered during your vows was said. His anecdotes, choice of verses, and selections we were to repeat to one another fit us wonderfully. Eric was kindly patient with us both. We are not picture people. Selfies aren't part of our vocabulary and the predictable couple's photo at family functions usually ends up with us making faces at each other and goofing off. Eric talked us through the shots and soon the three of us were getting along like old friends. I honestly wasn't expecting much from our photos, not due to his skill but because of our not so photogenic ways. I was ecstatic when they came in. He managed to capture our joy in each photo.


Abbie

Married on 09/22/2018

The pictures turned out better than we could have imagined! Eric was easy to work with and about a week after the wedding our photos were ready. Highly recommend! The entire process was stress free and easy. We couldn't be happier with the entire experience.

Iris

Married on 05/26/2018


Really loved everything about New Beginning Photography. Eric was very helpful and service overall was everything we expected. The minister was very friendly, made us feel comfortable. The photographer was very nice, I loved the outcome of our photos!! Very satisfied with everything!! Would definitely recommend and the location and view were picture perfect!

Tara

Married on 05/26/2018

They were amazing. Answered all of my questions, were very easy to work with, and very easy to get a hold of. Professional, patient, fun! Very satisfied. We had a 3 month old son and everyone was so patient with us and him!

Jessica

Married on 05/04/2018

Eric did an amazing job and took in every little detail. He was also punctual and easy to work with. The minister was probably the nicest guy we ever met. I felt like he genuinely cared about us and he was very easy to talk to. Everything was perfect.

Kristie

Married on 04/25/2018

We were very pleased with the overall experience and wouldn't have had it any other way....Rev Tom and Eric made our dream come true.



Kristy

Married on 03/16/2018

Eric is professional, easy to work with, and made us feel comfortable throughout the entire process. We thought the pictures and album turned out great and really captured the moment. Rev. Tom Orange was very personable and helpful during the ceremony by offering to mail our marriage license for us. The creek side setting was nice and the small waterfall added a nice touch to the photos. We have recommended New Beginnings to others we know that are planning on getting married.

Eric was great. He helped us set everything up and picked the perfect venue for us. It was exactly what we had been looking for. It was a beautiful fall day by the creek at Ely's Mill. The pictures were beautiful and a wonderful reminder of our special day. Eric arranged for Tom Orange to officiate. They both made us feel very comfortable and seem genuinely interested in us and our wishes. They were a joy to work with. We couldn't have been more pleased.

Jennifer

Married on 10/17/2017

Cade's Cove is an amazing ceremony site. Choosing an Elopement package from New Beginnings was the best wedding decision we made! It was an intimate, meaningful, magical experience. And the photos turned out amazing. We will cherish the memories for the rest of our lives!
Are you interested?
Send a message