241 Reviews
Recommended by 99% of couples
Quality of service

5 out of 5 rating

Average response time

4.9 out of 5 rating

Professionalism

5 out of 5 rating

Value

5 out of 5 rating

Flexibility

5 out of 5 rating
18 User photos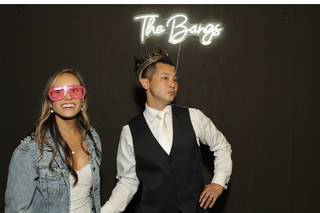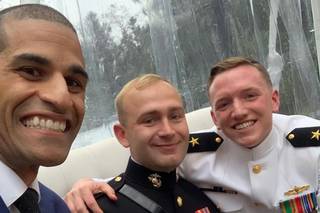 + 14

photos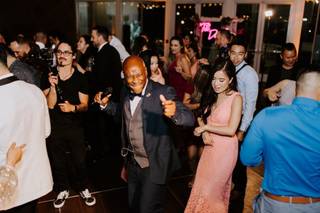 Kara C.

Married on 11/12/2022

Absolutely the Best Choice in DJ Services

We found DJ Alex at a bridal show, and instantly loved his energy. We felt like he had been a long time friend, which made the entire planning process super easy and comfortable. He really listened to what we were wanting in our wedding vibe, and absolutely delivered. He dialed in with our audience right away and kept the energy and flow perfect throughout the night. Family and friends commented that the wedding was awesome and one family member wanted to hire Alex for their event in the future! I truly recommend DJ Alex and MY DJs as a whole. Everyone we worked with or contacted there was kind, responsive, and helpful. This company really cares about its clients, which is truly evident in the product and service they provide. They have a really cool client portal that helps you organize the music you want played at different parts of the ceremony and reception. It even allows you to connect your Spotify account so the DJ knows exactly what song you want. DJ Alex even found a very obscure song on the spot that my mom requested during the reception, which she greatly appreciated. I wouldn't have changed a single thing about hiring this company and was beyond thrilled with what DJ Alex brought to our wedding. 100% Recommend and would hire again in a heartbeat!

Emily R.

Married on 10/22/2022

You will be well taken care of - no stress!!

We had a great time with MY DJs San Diego at our wedding! They were great to work with and made sure that we were set up with a DJ that fit our style and energy. DJ Jamm was awesome - he played great tunes, kept the party going and did a great job as MC. We would love to work with them again in the future!

Daniel P.

Married on 09/17/2022

Fantastic DJ experience!

DJ Zuni at MyDJs crushed it for our wedding! He was a pleasure to work with, keeping us calm and focused during the stressful final weeks and making sure everything went smoothly on our big day. We were looking for someone who would read the crowd and play a solid mix of current hits, 90s/00s throwbacks, and some reggaeton - he executed the vision to perfection and had people dancing all night. Thanks so much for everything, DJ Zuni!

Are you interested?

Send a message

Rachel B.

Married on 07/18/2022

DJ Leon was amazing!

DJ Leon was absolutely amazing. From beginning of planning and meeting him to the end of the night of the wedding, we felt so supported and taken care of. He did a fabulous job with our special requests, announcements, timing, following our instruction, going with the flow, and getting literally everyone to dance! I cannot say enough how pleased we are with the whole experience of having My DJs, but especially Leon, take care of our special day!! Thank you so so very much :)

Penny D.

Married on 07/08/2022

Incredible Entertainers!

My Dj's made our wedding a huge success! DJ Alex was our DJ, and our guests couldn't stop talking about how great he was. He is a natural born entertainer. From getting the crowd pumped up with his MC skills, to literal backflips on the dance floor, we can't recommend him enough. We also really enjoyed the online planning portal that My Dj's uses. It helped us organize all of our music by category (ceremony, cocktail hour, dinner, reception, etc.). It allows you to connect to your Spotify account and add your playlists that way as well! I had a very detailed vision for the ceremony entrances, and Dj Alex executed it flawlessly. Don't think twice, book with My Dj's San Diego!

Howard P.

Married on 06/25/2022

highly recommend

We hired MY DJs in 2020, two years in advance of our wedding. Much change happened during the time of hiring and our event, however, MYDJs was very accommodating throughout. After DJ Earl's passing, we were assigned a DJ which after meeting with him and some subsequent conversations, we did not think the new DJ was a good fit for us. MY DJs worked with us, which is how we got to DJ Hamm, who was the perfect DJ for our event. Very professional and very organized group. He played the songs we absolutely wanted to hear, but like a well skilled DJ was able to play songs that kept the vibe going. My wife also had a very customized request for her dad/daughter dance song, and DJ Hamm made it perfect.

In regards to the photobooth, we could not have been more pleased. It was a hit with the children, and just like DJ Hamm and team, the Photobooth team was also very accommodating. Someone in our party knocked over there whole setup! But they just calmly picked it up and proceeded. Even more impressive, as the bride and groom, my wife and I did not have time to enjoy the photobooth. However, they would not leave until my wife and I had an opportunity to take our photos. Pics also were high quality.

Kendra W.

Married on 04/11/2022

Best DJ/MC ever!!!

Working with MY DJs for mine and my husband's wedding was incredible. Alex helped us figure out exactly what package we wanted and he perfectly understood the kind of music that we wanted played at our wedding. We finalized our music choices for our big moments as well as our dancing music and we had the option of a "do not play" list which was great for keeping some family members from getting too crazy with the music! As the MC, Alex did an amazing job keeping the party going! The music was a perfect combination for our crowd and all of the right songs were played for all of our big moments during the ceremony and reception. I will definitely recommend MY DJs to friends and family!

Alexis S.

Married on 03/20/2022

Best dj ever!

We booked Ashley through MY DJs. Ashley was the hit of our wedding. We got so many compliments about the music selection. Our tastes are pretty eclectic (pop punk, rock, hip-hop, r&b, etc.) and Ashley absolutely nailed it. Her mixes were sick and there wasn't a single song that I didn't dance to. I was worried people wouldn't want to dance but she made it a real party on the dancefloor. I could NOT recommend her more.

Verity

Married on 03/06/2022

Danny was a complete professional!

MY DJs San Diego was an absolute hit! Our wedding venue was cancelled due to the current pandemic but we decided to keep the date and make things work. A great friend and 5 acres in wine country later and we were back in business. Danny was a complete professional from the very start of the process and made our ceremony/reception seamless. A true master of his craft! I would definitely recommend and seek him again. Thank you for everything!

Kaylice

Married on 02/02/2022

Memorable and fun night!

DJ Al is the absolute BEST!! He made our wedding the most incredible, memorable, and fun night. Al is so professional and fun; he has great ability to read the crowd and made sure the party was non-stop the entire night by always playing the best music selections. My husband and I and our guests spent almost the entire night on the dance floor because we were having so much fun!! AND!!! Be sure to book MY DJ's photo booth. We had just as much in the booth taking pictures as we did on the dance floor!! If you are looking for a wedding DJ look no further and book DJ Al of MY DJs!!

Victoria T.

Married on 12/11/2021

Would give 10 stars if I could

We recently had MYDJ's for our company Christmas party, Aaron was our DJ and he was FANTASTIC! He was great at engaging the guests to dance and mixed up the genre's perfectly to cover everyone's taste of music. He brought a upbeat and friendly vibe and went above and beyond to make our event a huge success!! If I could give 10 stars I would!

Tiffany C.

Married on 12/04/2021

Best DJ and MC!

I researched through Grand Tradition's vendors that My DJ's had been there several times through DJ Earl (RIP). We originally consulted with him and was supposed to be our DJ but we heard of his passing. We were notified that a back-up DJ was in place for us and that was DJ Al C! He was amazing to work with. We had a virtual streaming session where he played a live demo for about 20 minutes. And he executed professionally and read the room extremely well on our wedding day! He kept my now husband and I on the dance floor along with some of our friends and family the whole night. He also gets on the dance floor to do the Wobble and succeeded in getting so many of our guests in a super long Congo line!

Allie B.

Married on 10/10/2021

10/10 Recommend!

From our initial phone call to the night of our wedding, MyDJs was great to work with! You can submit song requests and set up your wedding timeline using their online portal which is so convenient/easy to use. We also used them for our photobooth and they did a great job with that too! They had props, background options, template options, etc. We had DJ Al as our DJ and he did an awesome job! He can really read the room and does a good job keeping everyone on the dance floor! He even joined us and taught everyone how to Wobble - which was actually really fun and engaging for everyone! We really enjoyed his energy and music! In fact, I had several people approach me after the wedding complimenting me on the music. I highly recommend MyDJs to anyone looking for a fun & professional DJ for their wedding! 

Alexa H.

Married on 09/04/2021

10/10 Recommend DJ Earl!

I started a new job 2 weeks ago, and its been nothing but zoom calls. When Friday came around we were on vacation another zoom call was the absolute last thing I wanted to do. I was burnt out being on camera, talking to people, and honestly wedding planning in general, but I knew we wanted to find the right DJ and its what we had to do.

DJ Earl was the only DJ out of many DJ's that set up a Zoom call as our first conversation/meeting. From the start of the call to the end, he truly blew us away and we knew we'd found the right DJ. My fiancé is extremely particular about music, enjoys it in its most pure form, doesn't like excessive scratching, songs being mixed together for too long, and can be very picky when it comes to DJ's. As we talked to DJ Earl, I enjoyed watching how impressed my fiancé was with him without him even sharing his preferences on what he wanted in a DJ.

DJ Earl:
-Took the time to get to know us
-Made a personal connection with us
-Walked us through his online portal
-Was extremely organized
-Communicative
-Displayed his personality and what he would be like as an emcee
-Provided an impressive live demonstration
-Made ceremony recommendations that we really enjoyed

DJ Earl truly nailed our meeting. We're so impressed and can't wait to work with him. If you're looking for a DJ who will put effort into getting to know you and what you want for your event, and has a great personality – consider DJ Earl!

Wesley A.

Married on 08/21/2021

Best DJs in SD

Perfect for any type of event. My DJs has a group of Dj that are excellent at getting everybody on their feet. They packages that fit your every need and can provide expertise to get the most out of your event.I will most definitely be using this service again.

Mya M.

Married on 08/05/2021

We Love DJ Alex

This is a great company! So professional and organized! Our first DJ had to cancel but the company quickly found us another one. Thank you DJ Alex for helping to make our day an amazing one! You MC'd the day wonderfully! We had guests dancing the entire night!

Brandon

Married on 07/26/2021

Alex was the Best DJ in San Diego

DJ Alex made our wedding incredible! Our guests are still talking about how good he was months after. I would definitely recommend him to everyone! He was super friendly and made everyone feel involved! Sooo great! Thank you!

Soo-Young S.

Married on 06/21/2021

Awesome DJs!

We hired My DJs during the pandemic, from NYC for a wedding in CA. We were blown away by DJ Earl and his ability to connect with us over video call, he did an impromptu mix set for us based on the music we told him we liked during the video call. We hired him right after this call, we were impressed with his ability to connect with us and showcase his talents via video. Unfortunately, DJ Earl ended up being unable to DJ our wedding – no fault of his at all. My DJs reached out to us promptly to inform us of the situation, a few weeks before the wedding and we were introduced to DJ Gil. We had a video call with DJ Gil a week before the wedding. He was great! He really kept the energy of the dance floor high the entire night, and really read the crowd well. We also had an open air photo booth through My DJs which was a hit with the guests as well! Thank you!

Terrance

Married on 06/11/2021

Great music that kept everyone dancing

I recently booked my djs for my wedding on 11/23/19 and honestly they were amazing. As soon as I booked I think his name was Earl responded in a timely manner and walked me through the process of hiring them. I needed a bilingual Dj and he set me up with Christian. Christian was hands down better than advertised. Not only was he able to play great music that kept everyone dancing (older and younger crowd) he basically hosted as well and made sure my wife and I were completely taken care of. I'm glad I booked and will definitely be coming here foe all my dj needs. Thanks again Christian!

Melina

Married on 05/11/2021

DJ Al Cruz was exceptional!

DJ Al Cruz was exceptional! I was a bit nervous since I was planning my wedding and didn't know how to plan a reception. He met me first (was very punctual and professional) and walked me through the whole process. He knew exactly what to do during our first and subsequent meetings. He offered song selections and when they should be played. He also arranged the timing and flow of events during our reception. He was so nice and professional I couldn't ask for more. He even danced a little during the reception and my guests had a blast! We all had an excellent time and he is such a nice guy!

L Serrano

Married on 05/01/2021

My spouse and I put 100% of our trust in DJ Earl

My spouse and I put 100% of our trust in DJ Earl and we're grateful we did! He knew exactly what to do with the suggestions/recommendations we gave him and "read the room" perfectly during the reception. After the reception, several of our guests came up to us and praised DJ Earl's ability to make the night an enjoyable and memorable one. Thanks, DJ Earl!

Pderosa

Married on 04/04/2021

Great Experience!

Our entire experience working with MyDJs was great from start to finish. The online planning portal was easy to navigate, performance on the night of the event was great and our DJ was incredibly helpful and responsive throughout. Highly recommend MyDJs

Sarah R.

Married on 04/03/2021

DJ Al C made us feel like friends

DJ Al C did a wonderful job! He was really engaging, fun, and went out of his way to get to know us and our family and friends. He also made sure that everything was running smoothly. DJ Al C made us feel like friends, not just clients!

Vanessa

Married on 03/04/2021

Dj earl was amazing

DJ Earl was AMAZING and keep the party going! We really wanted to maximum our dancing time and he did just that! Everything flowed from start to finish and it wouldn't have been the same without him. From the moment we met with him via FaceTime we looked no further. Thank you so much!! We already have recommended him to our friends getting married in November and will continue to say nothing but great things! Thank you!

Linda

Married on 03/04/2021

I'd HIGHLY recommend them to anyone

We had the opportunity to work with Alex and DJ Earl for my sister's bridal shower using their beautiful and compact social media photo booth. It was a hit at the party!! The photo booth was not ur typical photo booth. It had unique effects (GIFs, boomerang, stickers, etc...) you can use and you can send the photos to yourself electronically so u can post on your social media. These guys were professional, polite, and prompt. We had one minor technical difficulty with the social media photo booth but they did not hesitate to resolve the problem immediately. I would definitely use this company again. We appreciate their service and making my sister's bridal shower a memorable event. I'd HIGHLY recommend them to anyone.
Are you interested?
Send a message