95 Reviews
Recommended by 100% of couples
Quality of service

5 out of 5 rating

Average response time

5 out of 5 rating

Professionalism

5 out of 5 rating

Value

5 out of 5 rating

Flexibility

5 out of 5 rating
32 User photos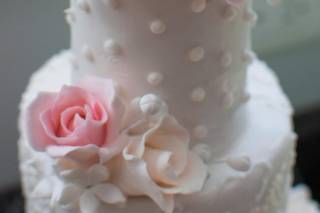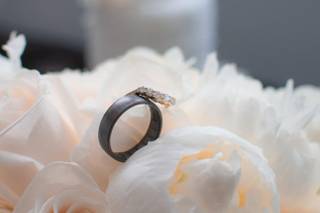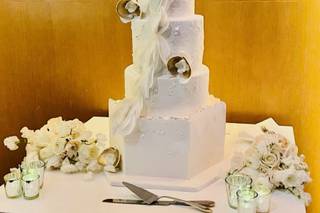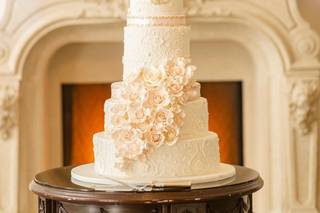 + 28

photos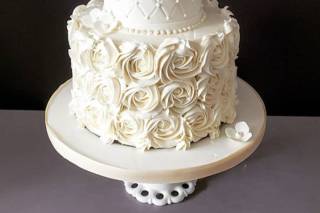 Nancy A.

Married on 06/25/2022

Best wedding cake ever

Since the moment we walked to My daughter's cake the atmosphere was so delightful. Every piece of cake it was to die for. My husband and I were so pleased to hire My daughter's cake to do our cake.

Lauren P.

Married on 06/05/2022

GREAT experience and DELICIOUS cake

Denise was SO great to work with. I emailed her with some questions about ordering one of the mini wedding cakes for a quickly put together backyard wedding. She got in touch with me quickly, answered all of my questions, and helped me to arrange for delivery of the cake so I didn't need to worry about picking it up on our big day :) I ordered the Miniature Wedding or Anniversary Cake with Our Handmade Sugar Flowers from the website which was easy & straight forward to use. The cake itself was SO yummy! I ordered Vanilla cake with lemon buttercream with raspberry compote. Even my husband, who doesn't like cake, went back for a second piece :)

If you are thinking about having an intimate wedding and are looking for a small cake to mark the occasion, definitely give Denise & My Daughter's Cakes a call!

Abigail K.

Married on 12/31/2021

Incredible on Every Level

Denise is an absolute professional. From our first cake tasting, she worked with us for over 2 hours to make 5 incredibly and unique flavor combinations that absolutely blew our guests away. She immediately knew what I had envisioned when we talked about the cake aesthetic and brought my dream cake to life. Stunning and so, so delicious!

Are you interested?

Send a message

Anthony W.

Married on 01/17/2021

I didn't know a cake can look this good and taste even better!

There really shouldn't even be another company to consider as Denise, and her cakes, are in a completely different league! Before even meeting Denise, we loved the beautiful designs of the cakes from her company. Then we had the chance to meet with her and understood why they're so perfect. Denise is not only a trained professional but she takes so much pride in her work and takes the time to understand exactly what you are looking for. Considering we were booking with her during a pandemic, she pre-packaged a large box of cakes and fillings for us to take home and enjoy - this was one of my favorite wedding planning activities to do with my wife. We made it a rating game until we decided on the flavors we ultimately used for our wedding cake. We can't thank her enough for baking and designing the cake of our dreams. It not only looked incredible, but it tasted just as good! We can't wait to eat our cake topper on our 1 year anniversary!

Amanda

Married on 09/12/2020

The PERFECT Wedding Cake

I can't thank Denise & her team enough for the incredible experience provided. They brought my wedding cake inspiration to life. Not only was our cake BEAUTIFUL it was delicious. So good, I pretty much ate cake for breakfast for the next few days. The experience was effortless and Denise was a pleasure to work with. If you're looking for a professional who believes in details, has great pricing, super yummy cakes & fillings & providing the best experience to you on your wedding. Definitely check them out.

Keylula A.

Married on 12/13/2019

A month to plan, but lifetime of LOVE!

I would like to thank you for making our day special!!! Your cake was truly amazing from the artistry to the out of this world taste. I truly hope you stay in business for a long time making people's dreams come true.  I know you have a customer in me. 

Clare

Married on 09/14/2019

Our dream wedding cake!

Denise and the team at My Daughter's Cakes did a wonderful job of bringing to life our (quite specific) vision for our beautiful wedding cake! Denise was amazing at helping us choose flavours, fillings and the final design for what ended up being exactly what we were looking for. Not only was it absolutely gorgeous, but it tasted amazing too! We got a ton of compliments on the delicious cake (pretty rare at weddings) - highly recommend!

Syuz

Married on 08/24/2019

Amazing, beautiful and Delicious!

The minute I walked into the ballroom and saw the cake I absolutely fell in love with it. All of my guests were amazed of how beautiful the cake looked and how delicious it was. Denise you are amazing and I'm so glad I found you! Definitely will be in touch for future events.

Daria

Married on 08/18/2019

Unique flavors, gorgeous cake!

My husband and I found Denise on WeddingWire. We set up a cake tasting and were warmly greeted with a beautiful display of many cake flavors and fillings, as well as a bottle of champagne. Denise also told us that we are welcome to come back for more cake tastings if we change our minds or want to try a flavor again. Our cake flavors were White Chocolate Prosecco-Infused cake with Prosecco Buttercream and Boozy Prosecco Strawberry Compote and French Toast cake with Salted Caramel Buttercream.
Denise understood exactly what we wanted the cake to look like. We added extra layers for height. Denise also added hand drawn lace design from my wedding dress onto the cake. She coordinated with the colors our florist was using to match the theme of the reception. The cake was not only gorgeous but also delicious! We cannot wait to eat the top layer of the cake on our anniversary! My husband and I wholeheartedly recommend Denise! She was an absolute pleasure to work with for our wedding!

Stephanie P.

Married on 08/05/2019

An amazing cake!

Our cake was beautiful! Denise took our ideas, inspirations and elements of our wedding and incorporated them beautifully into our beautiful cake!

Nicole M.

Married on 07/30/2019

Excellent!!

Denise and her team are the absolute best! Denise is truly an artist who designed our beautiful wedding cake. She informed us a wedding cake shouldn't just be a wedding cake, it should be a representation of the couple. This is so true! You can truly tell and taste when Denise makes the cake rather than a regular bakery cake. Denise designed us a wedding cake which matched my wedding gown, it had our monogram (which was on our wedding invitation, wedding programs, menus and favors), also the flowers on the wedding cake matched our centerpieces. This tied everything together. Denise has a wide variety of different cakes and fillings. Some cake flavors are chocolate cabernet, chocolate chip, lemon and more. She has fillings such as, s'mores, Reese's pieces, lemon with raspberry, passion fruit and much more. All of Denise's cakes and fillings are amazing! She was also a pleasure to work with. Denise quickly responded to emails or Direct Messages. We were able to meet, discuss and have two cake tastings. We highly recommend that you have Denise and her team at My Daughter's Cakes create your personalized, beautiful and delicious wedding cake!!!

Laura P.

Married on 03/21/2019

Absolutely Amazing!!

We can not thank Denise enough! It was such a pleasure working with her right from the start. She took the time to talk to us during our tasting, going over all the selections, not to mention the six delicious cakes and filling to compliment each slice, that we chose. Denise and her team truly went above and beyond. They created such a gorgeous five tier wedding cake for us! Each tier was a different flavor so the guests had a variety! Each tier was separated by her handmade sugar flowers which are seriously to die for!! They are so life like, her flower work was what drew me to her in the first place. She took the time to coordinate the sugar flowers, with the flowers that were used in our wedding, along with, hand piping the whole cake to match the lace pattern that was on my dress! Everyone loved the cake, it was a true show stopper! Our guests couldn't get over how moist and delicious it was! Denise also made our wedding favors, mini cakes topped with little donuts, sugar cookies, and meringues. They were just as gorgeous and delicious as our cake! We highly recommend My Daughter's Cakes and will most definitely be going back to Denise for any cake we need!!

+ 4

photos

My Daughter's Cakes's reply:

Laura, on behalf of Susan and I, thank you beyond words for your beautiful review. It was so wonderful to work with you and your mom to custom design your wedding cake with favors that complimented it, too. Your cake was a showstopper! I am so honored to have worked with you and can't wait to do so in the future. Denise.

Danielle A.

Married on 10/28/2018

Pure Bliss

Denise is absolutely amazing! The most professional vendor we worked with throughout our entire wedding process. We are so excited to enjoy our cake topper at our one year anniversary this year! We would HIGHLY recommend her to anyone and everyone. I look forward to the next occasion we have to order a cake from My Daughter's Cakes. Delicious AND gorgeous.

My Daughter's Cakes's reply:

Awww!! I had so much fun working with you and Denis! And I truly had a wonderful time with your parents, as well. I am so thrilled that you found us. I was just thinking of you today as I was looking to post your fall wedding cake for the upcoming season!! Hugs to you both. Denise.

Gail T.

Married on 09/28/2018

Exceptional Quality

Our cake was exactly as we imagined and even more. We had an idea of what we wanted and the cake not only looked beautiful, stunning, but tasted amazing!!!

My Daughter's Cakes's reply:

Gail - thank you so much! It was so wonderful to meet you and work with you on your gorgeous and delicious cake!! Hugs, Denise.

Mams

Married on 08/25/2018

Fabulous!!

We used My Daughter's Cakes for not one, but two weddings! The cakes were different but each one was both gorgeous and delicious. Denise worked with us to incorporate an antique wedding topper on to a Fall themed cake, and the result was incredible. Denise was also able to use different flavors of cake and icing for each of the three tiers of each cake. So we got to have six different flavors of cake and 6 icings. It was amazing. We cannot recommend My Daughter's Cakes highly enough!

My Daughter's Cakes's reply:

Wow! Thank you for sharing your experience! It was so much fun to work with you on both weddings. The antique topper was so beautiful on the second cake. Thank you for your very sweet words. I can't wait until next time! Hugs, Denise.

Jenna

Married on 08/18/2018

Perfect in every way

I was so happy that Denise and her team took on the challenge of making our geode wedding cake. She was completely open to the design and flavor combinations. We could not have been happier with the outcome!

My Daughter's Cakes's reply:

Jenna, thank you so much! I loved working with you to create a new flavor and we're so glad it was a hit - along with the very cool design of your wedding cake!

Lucia

Married on 08/08/2018

Denise was great, she went above and beyond our expectations. Our wedding cake was absolutely stunning and tasted great. We loved working with her.

A.buttitta

Married on 06/24/2018

Absolutely amazing 😍

We can not thank Denise enough for our beautiful cake at our wedding. The cake was moist, fresh and so delicious I had everyone talking. I also had 4 different flavors in my cake but that's the point to keep eating it and not leave a bit of it.
We can not wait for to have other celebration in our family so we can return and have Denise make us a cake again.


Ira

Married on 02/03/2018

One of the best cakes I've ever had! The quality was phenomenal! My sister (the bride) was super happy with everything- how the cake looked and tasted! Her new husband loved the chocolate! I was really happy with the whole service- Denise was so accommodating and lovely from the start to finish. The cake arrived on time and it was beautiful! Not only the main cake was awesome but the additional cakes for the guests were great too. Everyone kept coming back for seconds and thirds! I will definitely be making another purchase very soon for another special occasion. Thank you!!

Kristy

Married on 09/30/2017

Our entire experience with My Daughters Cakes was absolutely amazing! We told Denise what we wanted and she went above and beyond to make us the most perfect wedding cake and Steelers themed grooms cake! The flavors of all the cakes and fillings at the taste test were to die for! Thank you so much to everyone at My Daughters Cakes for making our special day extra special and sweet! We will be definitely be coming back! Highly highly recommended

My Daughter's Cakes's reply:

Thank you so much, Kristy, for your beautiful review!! Love the photo! On behalf of Susanne, Lori and I, we are all so glad you loved your experience, your wedding and groom's cake. I had so much fun working with you and your family and can't wait for another opportunity! Hugs, Denise.

Diane

Married on 07/22/2017

Denise Smith of My Daughter's Cakes was a pleasure to work with. Denise and her team were happily catered to the Bride and Groom's wishes. The cake looked amazing, exactly what we asked for, one of a kind. Tasted even better than it looked. "The Crowd Went Wild". Many guests said the cake was the highlight of the wedding.
Looking for a reason to order another cake soon.

My Daughter's Cakes's reply:

We are so thrilled! Thank you very much for your sweet words and for placing your trust in us!

Raechelle

Married on 07/20/2017

Denise is AMAZING! She has to be the best cake decorator in all of the Tri-State! From our champagne filled consultation to a 2nd tasting to finalize details - it was the best cake consult experience we had. Denise bonded with us and we felt so comfortable working for her. We enjoyed her cakes so much, we got two flavors for our wedding and an additional cake for our family Welcome BBQ. For the BBQ, we went with her scrumptious carrot cake and for our wedding cake we did a chocolate cake with cookies and cream and the second flavor was almond with a pretzel, caramel marzipan filling. WOWZERS!!!! We went with her EXQUISITE, realistic sugar flowers over having our florist provide them. Everyone was SHOCKED they were not real. Her ability to recreate peonies (my favorite flower) as an exact replica is something to truly behold! Just amazing!!!! We no longer want any other cakes, she will always do our cakes going forward from birthdays, holidays to special occasions. We are customers for life now!

My Daughter's Cakes's reply:

We are so over the moon that you loved your cake so much. I cannot wait to see the pictures! Thank you so very much. We look forward to working with you again!

Helina

Married on 07/15/2017

I cannot say enough about Denise! I'll start with the cake tasting. Red carpet all the way. We arrived for our FIRST tasting (me, my fiancé and my mother) and she had SIX pieces of cake (she already knew what we were interested in based on prior convos) and probably 20 different frostings and fillings beautifully set out for EACH of us. Of course it was accompanied with a glass of champagne and water. The water was crucial. It was a lot of cake.

We picked seven combinations of cake and fillings and created the design for our cake that day. I had an idea of what I wanted but Denise completely enhanced my vision.

Denise updated her flavors list (as if she could come up with more) and invited us back for a SECOND tasting. Since no one says "no" to cake, we went. I was expecting a small sampling of the new flavors. Nope. An entirely new tasting all over again. I admit, not great for the wedding bod. But it's cake. I didn't eat for the next three days and it was fine. At this tasting we finalized our flavors and design. Of course Denise invited any changes/modifications up until like two weeks before the wedding. I was already satisfied and didn't make any changes.

Our big day. We had a 400 person wedding and the cake was the show stopper. Two inches shy of 5 FEET! It was truly magnificent and a work of art. The detail was exquisite. Better than I ever imagined. It was literally gone by the end of the night....yes, it was that good! Everyone raved about the cake.

Bottom line: Denise is so flexible and really allows you to bring customization to a new level. I wouldn't look anywhere else for cake.

No I was not paid for this review. Just an extremely happy client.

Robin

Married on 05/25/2017

Denise was recommended to us from a very close client of mine who chose to have their daughters wedding cake come from here! My client was so happy with My Daughter's Cake. In fact, she couldn't speak highly enough about how her family and friends are still raving about how beautiful and delicious the cake was. Well, I have to tell you that my now husband but then fiancé went to Denise for our first tasting we didn't quite know what to expect. We were so taken by not only, how charming Denise is herself, but the cake and fillings she served us were out of the ball.park! First off, when setting the appointment, she will ask you what your favorite flavors are and if you might have any other requests that you might like to try. When you actually go, please go hungry, because you are going to get very full from the best intense imaginable flavors!!! We actually went back a bit later for a second final tasting and picked out three completely different cake flavors. We were extremely floored by how gorgeous our cake looked. You honestly feel like- how can I cut into this? Our wedding was almost six months ago but I can still close my eyes and smile just imagining how yummy each of the three cake flavors tasted! Our photographer was amazed at how artistic and perfectly beautiful our cake looked. He took many pictures for his website. Christopher's Studio- if you want to check our cake out! DO Not Hesitate-My Daughter's Cake is simply the personized best! Thanks Denise, Robin and Domenick

Loretta

Married on 01/28/2017

Don't hesitate! Denise understood my vision for a romantic wedding cake and it turned out better than I expected. Not only was it a beautiful piece of artwork, the sugar flowers looked real, but the cake was heavenly! Call her today!
Are you interested?
Send a message