Reviews
4.9 out of 5 rating
Quality of service

5 out of 5 rating

Average response time

5 out of 5 rating

Professionalism

5 out of 5 rating

Value

4.9 out of 5 rating

Flexibility

5 out of 5 rating
99%
Recommended by couples
85 User photos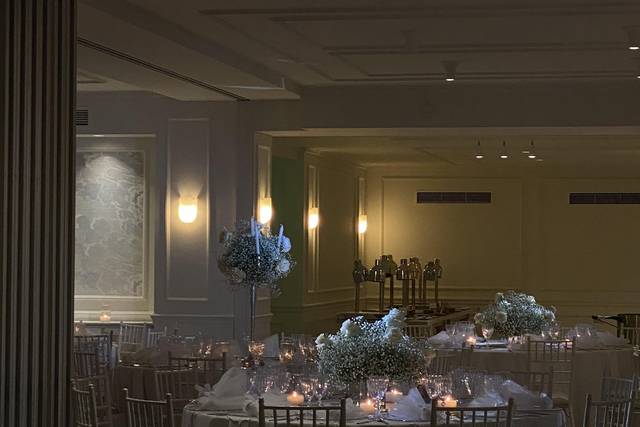 + 81

photos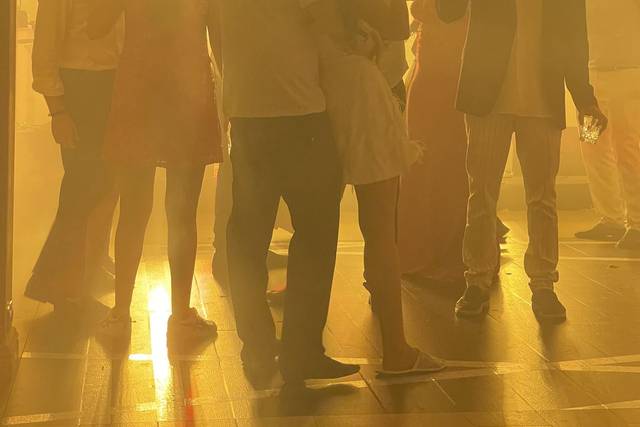 Markella B.

Married on 10/20/2023

Best experience with VIBES PRO

No words can describe how grateful we are that we got the chance to have rented all the audiovisual equipment from Vibes Pro.
Faye Economides was our person. She is THE best Event Production Manager we could have asked for. She made our night more special than it was already. She only recommended things that were necessary, she was always available to discuss and she stayed until we left the venue.

Faye created a dinner & a party area.
The comments we got from our guests were outstanding. They had never experienced a wedding party area that seemed like a club.

The lighting, the sound, the fireworks, EVERYTHING was just perfect. Vibes Pro team had taken care of every single detail.

We cannot wait for our next big party.
Needless to say, that we'll never host a party without VIBES PRO, and ofcourse Faye, on our side.

Thank you VIBES PRO team. Without you, our night wouldn't be that magical.

+ 5

photos

Georgios M.

Married on 10/08/2023

Everything was amazing!!!

the experience we had was excellent. dj stelios was awesome and did a good job. everything was perfect.

Evi

Married on 10/08/2023

More than excellent!!

They helped us organise the sound and lights for our wedding venue to make it even more special!! Dimitris, our contact at VibesPro, was very helpful and responsive! He helped us find anything we needed and explained what could work beat for us!! For Thodoris, our DJ, my guests said they really enjoyed the music and were dancing all tehe time. We had also a difficult mix, greek,lebanes, austrian music.
Highly recommended!!

Are you interested?

Send a message

Iro L.

Married on 10/08/2023

Vibes Pro Wedding review

Dimitris and team his helped us to have an amazing wedding

Anastasia D.

Married on 10/06/2023

Everything was amazing!

Everything was perfect!!!! All our guests loooved the music!!!!! Dimitris and DJ thodoris were amazing and they were always available to respond to our requests!! Thank you both sooo much!!!

A N

Married on 10/06/2023

Professional Dj -

Our wedding was on 6.10.2023. Vibes Pro and especially DJ Stelios did an excellent job! The sound was just great, all the effects were magical and the music was perfect through the night! THANK YOU!!!

Στάθης ?.

Married on 10/06/2023

Άψογοι επαγγελματίες

Ο Μίλτος πολύ ζεστός και άμεσα εξυπηρετικός! Ο Στέλιος άνθρωπος με αντίληψη και γνώση του αντικειμένου!Ευχαριστούμε πολύ για την άψογη συνεργασία !!

Kostas C.

Married on 09/30/2023

perfect night

Vibes pro helped us to create a fantastic, memorable night for us and for our guests. The lights on the dance floor were like the best club. Fireworks makes the best entrance for us. Stelios our dj makes the difference for us and for our friends because we did't stop dancing and partying all night.

Maria S.

Married on 09/29/2023

Very professional and great result!

We highly recommend working with Vibes Pro for a stressful event, because they are experienced and excellent professionals. We cooperated for our wedding and they made everything easy and possible. Faye is so fun to work with, she is friendly, full of positive energy and efficient. She gives you her best advice and adapts the plan to your needs. Thank you very much not only for the final result but also for the process! It was all perfect! Maria and Makis

Stavros K.

Married on 09/23/2023

Extremely professional maintaining a friendly service being on the top on your every request.

First of all Vibes Pro gave us an all around presentation on the choices we had abt lights , special effects , it was a very detailed and accurate presentation. Their price list was crystal clear and it enabled us to make the choice we needed without getting lost. Their service execution was flawless!!!! Everything were exactly as we had imagined , I dare say even better!!

Antonios K.

Married on 09/16/2023

Enchanting Sound and Light Spectacle: A Magical Experience at Our Wedding

We had an absolutely amazing experience with our sound and light vendor team! From the moment we approached them, they showed a genuine interest in understanding our vision for the event. They proposed an awesome live performance concept that completely blew us away. They combined breathtaking lighting effects with impeccable sound quality, creating an atmosphere that elevated the entire event.

The live performance (Champagne the band) they curated was nothing short of spectacular. The way they synchronized the lighting effects with the music was mesmerizing, creating a captivating visual and auditory experience for everyone present. Their attention to detail and creativity truly set them apart. Our guests were thoroughly impressed, and many of them commented on how the sound and light setup added a magical touch to the event.

Not only were they technically proficient, but their team was also incredibly professional and easy to work with. They were responsive to our needs and made sure every aspect of the performance was flawless. Their expertise and dedication made a significant difference in making our event memorable for everyone.

I wholeheartedly recommend this sound and light vendor team to other couples. Their outstanding live performance added an unforgettable dimension to our special day, and I am confident they can do the same for any event!

Thank you Faye Economides for everything!

Marcia S.

Married on 09/15/2023

Excellent experience

Excellent experience! Professionalism

Antonis M.

Married on 09/09/2023

Το συστατικό της επιτυχίας το ξέρει μόνο η ομάδα της VIBESPRO!

Υπέροχοι άνθρωποι, φανταστική δουλειά & άψογη συνεργασία!
Μίλτο & Dj Στέλιο σας ευχαριστούμε μέσα από την καρδιά μας που στους ρυθμούς σας και στα φώτα σας χορεύαμε μέχρι το ξημέρωμα! :)
5 STARS WITH LOVE!!!


Ηρώ ?.

Married on 09/08/2023

Really professional

Those people know how to do their job ! They made our day the best time of our lifes! Thank you for everything!

Marianna P.

Married on 09/02/2023

wonderful!

Υπεροχα ολα! φωτισμός, fairylights, ηχος και μουσική! εκανα τον γαμο μας υπεροχο! ευχαριστούμε πολύ Μίλτο και DJ Μίλτο!

Anna R.

Married on 09/02/2023

Everything was perfect. The people the services. It's a 10/10 recommendation

Everything was perfect. The people the services. It's a 10/10 recommendation!!!

Giannis B.

Married on 08/25/2023

Super services

They Dj was just fantastic he made our wedding day such a special party! Thank you for everything Vasili!

Erifyli K.

Married on 08/25/2023

Excellent Professionals

Our wedding night was excellent because of vibea.pro!! Everything about sound and lights was perfect and dj stelios turned our wedding into a party with his music!

Vasilis

Married on 07/29/2023

Excellent know-how and professionalism

The Vibes Pro team helped us with their excellent know-how and professionalism to organize our wedding perfectly! we will be forever grateful!

Spyrosandmaria

Married on 07/29/2023

Exceptional Profesionals - Totally Recommended!

We had arrange our Wedding event to Moana beach bar in Varkiza, Athens in 29/7/23. VibesPro was responsible for Dj- Audio and the Lights, Miltos was our DJ. Before the wedding day we had arrange a meeting with the people in VibesPro to organize the details for the wedding music list, Miltos help us a lot to organize the music part to have a clear view of our taste in music and how the music flow will go during the wedding party. The DJ was the most important part of our wedding and we wanted to have the best experience. Everything went as smooth as we want, the lights we perfect, the sound was very good, Miltos played fantastic in our party, he overcome our expectations, everyone loved the music and were dancing until the end of the party! The kind of music we asked was 90s disco, 00s. Miltos had understand it and he master it!. we had our best night!

We want to thank all the people from VibesPro that had organize everything for the music and lights and we were always available to help us! Great guys!!

We want to say again a Big thank you to Miltos for his amazing dj set!!!

With love
Spyros and Maria

Marina C.

Married on 07/29/2023

Professionalism & support

The whole team is incredibly professional and they offer top-tier services. Especially Faii was next to us offering her deep knowledge in each and every decision we had to take on our wedding date! Strongly recommend!

Nefeli K.

Married on 07/29/2023

Excellent experience. Highly recommended!

Our experience with Vibes Pro was amazing! Their professionalism and knowledge helped us to create a fantastic night for our wedding!

From the very first moment we approached them, Miltos showed a genuine interest to understand what we wanted for our big day, we had a very good communication and his kindness and positive energy made us feel unstressed and confident during the preparations. It was a pleasure to work with him! The lights created a magical atmosphere, the sound was really good, our Dj Christos made a really hard party! We did't stop dancing all night!

We couldn't be more happy for our choice! The final outcome was even better than we have dreamed… Thank you so much Vibes Pro! Best team ever!
Stratis & Nefeli , 29/07/2023

Dimitra K.

Married on 07/27/2023

Amazing service , decoration and music. We all enjoyed to the fullest

Everything was excellent!!! We had an amazing time

Anna V.

Married on 07/14/2023

Εξαιρετικοί επαγγελματίες

Ήταν όλοι εξαιρετικοί επαγγελματίες !!! Μας βοήθησαν να κάνουμε το γάμο που ονειρευόμασταν
Ειδικά ο DJ Δημήτρης ζαρκαδακης μας ξεσήκωσε με τα τραγούδια που έβαζε . Κάναμε ένα μεγάλο πάρτι όπως ακριβώς το θέλαμε .

Giannis

Married on 07/08/2023

VibesPro Εξαιρετική Ομάδα!!

Η εταιρεία VibesPro ήταν η καλύτερη επιλογή για το γάμο μας όσον αφορά το φωτισμό και τη μουσική!! Η συνεργασία μας με την ομάδα (Δημήτρη και Μιχάλη) για όλο τον προγραμματισμό ήταν άψογη! Πάντα με επαγγελματισμό, ευγένεια και χαμόγελο! Τη μουσική στο γάμο μας την ανέλαβε ο Μίλτος. Η συνεργασία μας πριν και κατά τη διάρκεια του γάμου μας ήταν εξαιρετική και μας έδωσε τη δυνατότητα να κάνουμε ένα πραγματικό πάρτυ!! Μιχάλη κ´ Μίλτο σας ευχαριστούμε που μείνατε μαζί μας μέχρι το πρωί ;) !! Δημήτρη, Μιχάλη και Μίλτο σας ευχαριστούμε και πάλι για όλα και σας ευχόμαστε τα καλύτερα!!
Are you interested?
Send a message