273 Reviews
Recommended by 99% of couples
Quality of service

5 out of 5 rating

Average response time

4.9 out of 5 rating

Professionalism

5 out of 5 rating

Value

4.9 out of 5 rating

Flexibility

5 out of 5 rating
49 User photos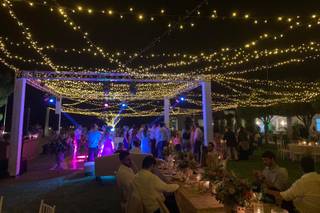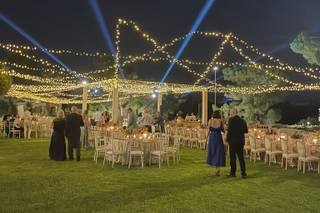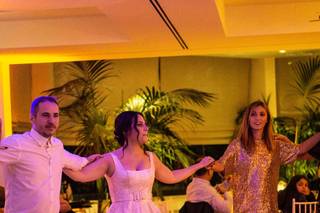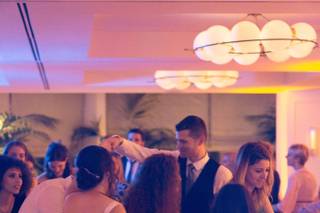 + 45

photos
Αναστασία ?.

Married on 09/24/2022

ΤΕΛΕΙΑ ΕΜΠΕΙΡΙΑ

ΠΟΛΥ ΕΥΓΕΝΙΚΟΙ - ΠΡΟΘΥΜΟΙ ΝΑ ΜΑΣ ΑΚΟΥΣΟΥΝ - ΕΠΑΓΓΕΛΜΑΤΙΕΣ

Eva P.

Married on 08/28/2022

Excellent professionals

The communication was excellent, the whole team was very professional, kind and willing to help at any request.

Antony

Married on 08/27/2022

Excellent experience overall

We found VibesPro through our wedding planner and we were left extremely satisfied with the result! They were very helpful when we were trying to decide what services to purchase and explained to us what each one was. We ended up going with the Fairy Lights for over all the tables, the Truss System and all the necessary dance floor lighting - we were not disappointed! They made an excellent job setting up the fairy lights that covered both the stage and all the tables and they looked beautiful! We got a lot of compliments afterwards!
Dimitris, our DJ, was awesome! Really nice guy, knows his stuff, and he kept the party going all night. He kept on the plan we had discussed prior to the wedding regarding music genres to keep everyone going and put on the songs we liked.
Overall, we highly recommend VibesPro for your wedding!

Are you interested?

Send a message

Chara

Married on 08/20/2022

Collaborating with Vibes Pro was the best decision we made!

Vibes pro helped us transform our house garden into an amazing party place with beautiful lightning, great sound and an impressive dance floor. Our dj, Stelios, played for us the best music we could ask for during our wedding party! Collaborating with Vibes Pro was the best decision we made! Excellent communication and planning, excellent implementation, nice people who love what they are doing! Milto, Dimitri, Stelio thank you for everything!

Olga K.

Married on 08/19/2022

Υπέροχη ομάδα!

Από την αρχή ξέραμε ότι ο γάμος μας θέλαμε να είναι ένα μεγάλο πάρτυ και χάρη στην ομάδα του vibespro ήταν αυτό ακριβώς! Η πραγματικότητα ξεπέρασε κάθε όνειρο και προσδοκία και μπορούμε να πούμε με σιγουριά ότι τόσο εμείς όσο και οι καλεσμένοι μας θα θυμούνται αυτή τη μέρα με ένα τεράστιο χαμόγελο στα χείλη! Σας υπερευχαριστούμε Φαίη και Βασίλη για την άψογη συνεργασία και σας ευχόμαστε τα καλύτερα!

Orestis

Married on 07/17/2022

High quality service, professionalism and great collaboration

Vibes pro was suggested by the venue and we are very happy they did that. From our first contact everything went perfect. Our communication was always to the highest level even though we were most of the time in different countries. They had a crucial role in our party, as they provided the DJ, speeches equipment, the lights and the photo booth and everything went perfect and based on plan. We are so happy with the result. They provided solutions to our challenges, they are flexible and always available, extremely kind and real professionals with a lot of experience with weddings. Milto and DJ Angelo thank you so much. I would recommend you to everyone.

Eugenia P.

Married on 07/17/2022

Εξαιρετική εταιρία

Συνεργαστήκαμε με τη VibesPro για τη μουσική κάλυψη του γάμου μας! Ο dj Λουκάς ήταν φοβερός!! Άκουσε όλες τις προτιμήσεις μας και έπαιξε ακριβώς ο, τι είχαμε συζητήσει και ακόμη περισσότερα τραγούδια στο στυλ που θέλαμε!! Κατάφερε να κρατήσει το κέφι και τον κόσμο στην πίστα μέχρι το πρωί!! Εξίσου εξαιρετικά και τα φωτορυθμικά που μας εξασφάλισε η εταιρία που με την αλλαγή χρωμάτων έκαναν τη διαφορά στην πίστα. Ασυζητητί θα τους προτείναμε για οποιαδήποτε εκδήλωση αφού είναι εξαιρετικοί επαγγελματίες και πολύ συνεργάσιμοι και συνεννοήσιμοι!! Μίλτο και Λουκά ευχαριστούμε για όλα!!

Maria D.

Married on 07/16/2022

Just amazing!!!

We approached this company and DJ Miltos since they organized the event of another wedding we attended. We had an amazing end-to-end experience by both Michalis and Miltos. We and our guests loved the music since Miltos not only created a real party atmosphere the whole night, but also was able to respond to sudden program changes. Almost every person asked as which company and DJ we hired for the wedding!! We definitely recommend it!!!

Αγγελική ?.

Married on 06/25/2022

Excellent experience

Είχαμε άριστη συνεργασία με τον dj

Eirini K.

Married on 06/24/2022

Amazing wedding party!

VibesPro was the best choice for our wedding! We had such a great time at the party!
The DJ was so kind and professional. Thank you VibesPro for helping us achieve our goal: a wedding that will be memorable to all! 🥳

Θάνια ?.

Married on 06/18/2022

Εξαιρετική !!!!

Η εταιρία Vibespro είναι ο,τι καλύτερο θα μπορούσατε να έχετε κοντά σας τη μέρα του γάμου σας!! Η άψογη συνεργασία με το Μιχάλη απο την αρχή μέχρι και τη μέρα του γάμου μας ήταν που έκανε τη δεξίωση μας να ξεχωρίζει!! Ευχαριστούμε το Dj μας Γιάννη που έβαλε ακριβώς ότι είχαμε επιλέξει και ότι του ζητούσα της τελευταίας στιγμής κατευθείαν το έβαζε!! Οι καλεσμένοι μας πέρασαν το ίδιο τέλεια όπως εμείς!! Ένα μήνα μετά το γάμο και τα συγχαρητήρια για το πάρτυ του γάμου μας είναι ακόμα πολλά!! Συστήνω ανεπιφύλακτα την ομάδα σας !!
Ευχαριστούμε πάρα πολύ για όλα!!
Ήταν υπέροχα!!!
Βασίλης & Θάνια


A. Kolpakidou

Married on 05/29/2022

Amazing dj and wonderful person!

Our dj was totally the best!
We enjoyed every moment on our wedding and our guests too!!!
I totally recommend him. Wonderful person ,very friendly and very responsible on his job!

Κωνσταντινα ?.

Married on 05/28/2022

Εξαιρετικοί Επαγγελματίες

Η εταιρεία Vibespro είναι ό,τι καλύτερο θα μπορούσατε να έχετε κοντά σας, την πιο ιδιαίτερη ημέρα σας. Μίλτο, σ ευχαριστούμε πάρα πολύ για την άψογη συνεργασία μας και την κατανόηση, όπως επίσης και εσένα Βασίλη για την υπέροχη μουσική που έπαιξες την ημέρα του γάμου μας. Ήταν όλα φανταστικά και οι καλεσμένοι μας πέρασαν το ίδιο τέλεια με εμάς και ήθελαν να χορεύουν σε όλο το πάρτι!!
Συστήνω ανεπιφύλακτα την ομάδα σας και παραμείνετε το ίδιο χαμογελαστοί, ευγενικοί, με κατανόηση και πρόθυμοι να λύσετε κάθε απορία που προκύπτει.
Ευχαριστούμε πάρα πολύ για όλα! Ήταν υπέροχα ❤️
Αλέξανδρος και Κωνσταντίνα

Vasiliki K.

Married on 05/28/2022

Best wedding dj

Dimitris Zarkadakis was our wedding dj, he is very professional, very caring about all our music needs and wants, overall an amazing person and the best dj we could ask for!!
Look no more, he is the one!

Iro M.

Married on 02/09/2022

Σας ευχαριστούμε πολύ!!!!!

Μας χαρίσατε μια υπέροχη "μουσική βραδιά" στο γάμο μας.Ο DJ Μίλτος εκπληκτικός επαγγελματίας και άνθρωπος.Τα φώτα στην πίστα έδωσαν "χρώμα" στο πάρτυ μας.Οι καλεσμένοι χόρεψαν,πέρασαν υπέροχα και διασκέδασαν με την ψυχή τους.Σας ευχαριστούμε πολύ!!!!!

Kelly M.

Married on 11/19/2021

it was all as we dreamed

Everything were perfect. We were dancing all night.

Vanina L.

Married on 11/13/2021

Great experience

It was our most precious moment and our DJ Vassilis did his best to create a great party experience. He was friendly and gentile and coped with all the guests demands with kindness. He became part of the party himself :) thank you

Katerina S.

Married on 10/09/2021

Great experience and professionalism

Everything was very organized and we and our guests had a great time.

Maria K.

Married on 10/09/2021

Absolutely amazing!

Music vibes helped us have the wedding party we ever dreamed of! The experience was absolutely amazing and Stelios, our DJ, really created the best atmosphere with his music playlist! We danced until early in the morning! We are very we meat Music vibes people and we will surely recommend them! Well done guys!

Yannis L.

Married on 10/08/2021

Highly recommended!!!

I wish I could live our wedding day again! The party was amazing! We gave general directions to Stelios about our music preferencies and we trusted him. It was the best choice, we as couple and our guests, couldn't stop dancing! Stelios is a talented, positive DJ who totally loves what he does! Although our wedding took place during the epidemic of COVID in Greece and we had hard time changing our plans about 5 times, music vibes team were awesome!

Gerouli K.

Married on 09/25/2021

Perfect music

It was a perfect party! The dj was very good and cooperative.

Miia M.

Married on 09/20/2021

Absolutely Magistic!!!

Faye was from day 1 the most incredible person to start the journey.
Everything was planned in detail and we can't be more happy to hire Music Vibes for our unforgettable Night.
The timeline for the Firework was just On Point and we are so happy we were in such amazing hands.
@ future Couples if u think of having a firework and u are not quite sure to have it or not .TAKE IT!!!! Its absolutely worth it.everybody was so suprised and impressed by the beautiful sky stars.
I will cherish this day forever because of you and your Team. Thank u 1000 times. Mia & Kurosh

Panagiotis K.

Married on 09/11/2021

Excellent!!!

Proffesional approach! Mr Dimitris on decks is an excellent professional!

Ilias G.

Married on 09/05/2021

Excellent choice!!!

Our collaboration with Faye and our DJ, Stelios, was perfect. Elena and I especially appreciated the fact that they took the time to patiently explain the details of the wedding reception, to answer all our questions and to give us smart ideas and practical solutions to a number of issues. We also appreciated the fact that they allowed us to co-shape the music program to some extent, by introducing some of our own musical tastes. Overall, the assessment is that we and our guests had a great time and this should be credited to Music Vibes as well. Thank you very much.

Meg T.

Married on 09/05/2021

Best in class

Dimitris and Miltos made this entire process start to finish absolutely perfect! High level of professionalism and attention detail- even with our special requests around the event. Would HIGHLY recommend!!

Thank you so much Dimitris for helping make our special night perfect!
Are you interested?
Send a message