Reviews
4.6 out of 5 rating
Quality of service

4.6 out of 5 rating

Average response time

4.6 out of 5 rating

Professionalism

4.6 out of 5 rating

Value

4.5 out of 5 rating

Flexibility

4.6 out of 5 rating
91%
Recommended by couples
Awards
8 User photos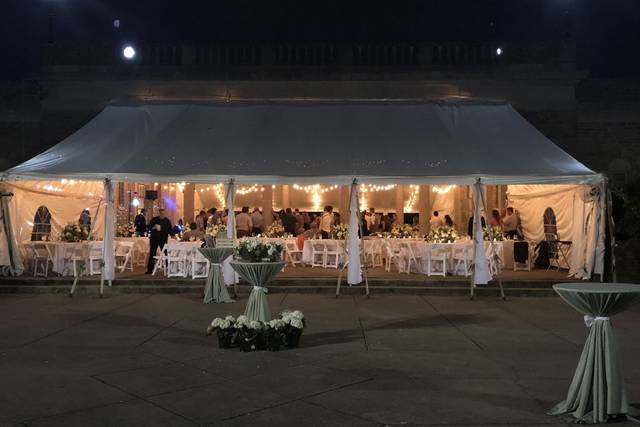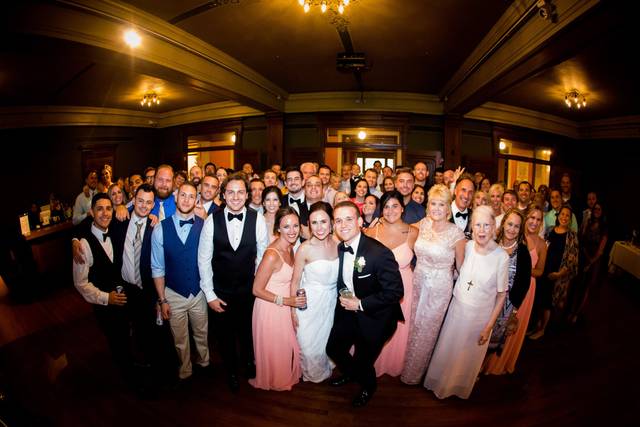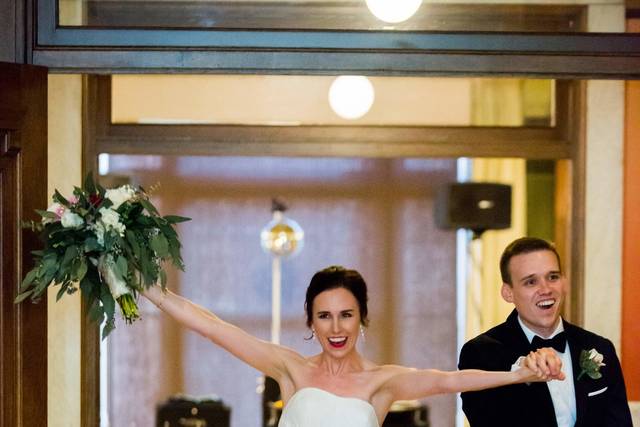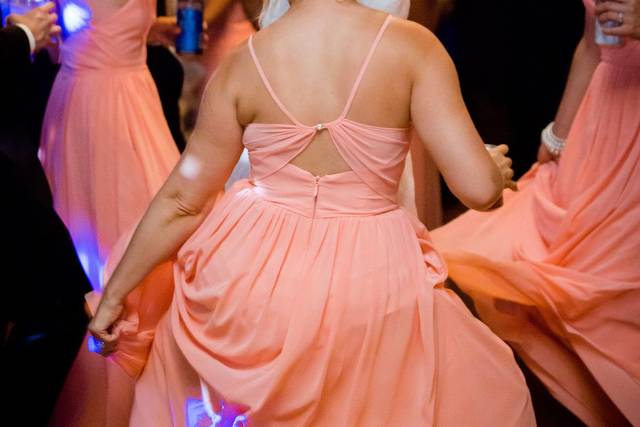 + 4

photos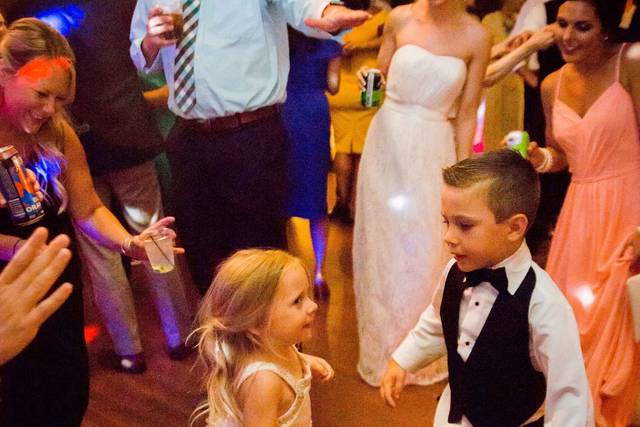 James G.

Married on 12/30/2022

Professional and Awesome

Jared Metz from Djbutlers was the best could not have asked for a better experience he very successfully kept the night alive with not a single complaint he was the absolute best

Jordan B.

Married on 11/05/2022

Bailey Brammer

We used DJ Butlers for our wedding earlier this month, and loved every second of working with Greg! From start to finish, he was friendly, professional, and extremely detailed. Greg is exactly the kind of person you want to be part of your big day. I booked him about a year out from our wedding, so make sure to plan ahead when you're booking with DJ Butlers! We had a timeline run-through meeting about a month out from the big day, where we also discussed what songs we liked/didn't like for different parts of the reception. My husband is a very big music guy - and Greg really impressed him with some of his recommendations and industry knowledge. We had a live band playing during the ceremony and cocktail hour, but Greg still made sure to arrive a few hours before the ceremony to ensure everything was set up and ready to go — and even to provide a microphone for our minister. During the reception, not only was Greg rocking it with the tunes — but he also made sure to check in with my husband and me periodically to see if we needed another drink, or anything else. Greg also really knows how to work a crowd — with a careful balance between staying on schedule and making sure everyone is enjoying themselves. We truly believe Greg was a perfect addition to our team of vendors - and he really was so much more than a DJ. We cannot recommend him enough — and can't thank him enough for all of the hard work and attention to detail he put into our special day.

Valerie W.

Married on 10/15/2022

DJ Lewis was the life of the party!

We had such a great time with our DJ, Lewis, at our wedding! He was very attentive to the type of music we wanted at our dinner and reception. He even played the Pokemon theme song and helped us uniquely rick roll our guests, it was great! He had such a great attention to detail throughout the planning process and was very communicative. Highly recommend!

Are you interested?

Send a message

Jenn G.

Married on 09/24/2022

Awesome Dj and company

We worked with Lewis Connell for our wedding and he did an amazing job! He was incredibly easy to work with, personable, and easy to talk to. He listened to everything we wanted, was very detailed, and gave me good ideas for portions of the night where I wasnt sure what music should play. He made me feel good about the whole flow of the night, which he executed perfectly! 10/10 !

Molly B.

Married on 10/09/2021

Absolutely exceptional!

Our experience working with Ryan and DJ Butlers for our October wedding was absolutely fantastic. We really felt that Ryan went above and beyond for us to make our special day perfect. My groom and I had zero anxieties the day of our wedding, because Ryan's expert planning and attention to detail put us at ease. He was always professional, honest, upbeat, helpful, and considerate. His planning and execution of all the events of our reception made the night flow effortlessly, and the music was exactly the style we wanted. Our guests had such a great time, and I feel I have Ryan to thank for that. We recommend him completely. Thank you so much, Ryan!

Tyler D.

Married on 07/31/2021

We would hire Lewis again in a heartbeat!

Lewis Connell was our DJ for our July 2021 wedding and we can't imagine anyone better. He was a helpful guide throughout the planning process and helped to keep the evening running smoothly. The dance floor was packed from beginning to end with friends and family of all ages. He did a great job of balancing the music we love with songs he knew would keep people on their feet. We would hire Lewis again in a heartbeat!

Dan R.

Married on 07/03/2021

Smooth Operator

Fred was there before anything started and had it under control, kept it all running smoothly. Great dance music, dance floor was crowded all night. So much fun!

Emily C.

Married on 05/21/2021

Lewis Connell is AMAZING!!!

Throughout my entire wedding planning process, my biggest concern for wedding day was that we get to the open dancing portion as quickly as possible and that the dance floor remained packed with dancers the entire night. And guess what, my wish came true! Lewis did a phenomenal job putting together the most amazing playlist and read the crowd perfectly. The dance floor stayed packed the entire night and I only left the dance floor twice myself. I had so many compliments from friends and family on the music choices. All my husband I did was put together a Spotify playlist of the music we liked and Lewis worked his magic. He made the entire process so easy, did exactly as we requested, and provided great feedback when we weren't sure on certain choices. I can't recommend him enough to anyone planning a wedding in the near future. You will most certainly not be disappointed!

Kylie B.

Married on 10/03/2020

Lewis Connell was AMAZING!

So, I honestly can't remember how I found DJ Butlers but I am so happy I did!!! Lewis was so nice and worked really well with us. He went above and beyond to the point where it made our wedding even more memorable!
One example of this was that during our ceremony, we had a sand ceremony instead of a unity candle. Prior to us pouring the sand, my brother (who officiated) had talked a lot about the movie the Princess Bride (it's my favorite movie) and alluded to it multiple times. We had not thought to have music playing during our sand ceremony and my brother didn't talk the whole time. So it was quiet for a minute and all of a sudden the main song from the Princess Bride started playing!!! It made that moment so much more special and brought me to tears. I thought that my brother had asked Lewis to play that song. Turns out that Lewis had queued up that song on his own and when he noticed that we were still going with the sand but it was quiet, HE PLAYED THAT SONG FOR US! I was absolutely blown away and so incredibly grateful for that!!! And that's just one instance!
During our phone call before the wedding, I mentioned that I loved 70s and 80s rock but we wanted a mix of current and past music. Boy did he deliver! Every single song brought people to the dance floor, young and older :) We had so much fun with him that we added an extra hour! - speaking of, that was so easy!!! We were able to add time NIGHT OF! Which was so helpful and convenient!
He truly helped us have the time of our lives and I can not recommend him enough!

Sam

Married on 03/14/2020

Lewis Connell was amazing!

Lewis Connell was amazing! He helped us plan and structure the night of our reception. His experience lead to him suggest we rework the schedule a bit so that the dance floor would be uninterrupted and it worked out so well. He kept our music tastes in mind but knew what music to play so that everyone at the wedding was having a good time. I would recommend him to anyone who asks!

Kimmy H.

Married on 11/10/2019

Ryan Riesenbeck is an awesome DJ!

I'm normally not the type of person to really write reviews, but this is an exception! Ryan Riesenbeck was our DJ at our wedding last night & he was beyond amazing!! Before the big day, Ryan really helped us get the time line of our day down & brought up things that we hadn't even thought about! He made things run so smoothly from the ceremony music, to every aspect of our reception! He was constantly checking on us & our guests throughout the night and even made sure we all had drinks in our hands! If you truly want to have someone at your event that is a TON of fun, super reliable, & just an overall great person, I highly recommend Ryan Riesenbeck for your DJ! He did an amazing job at making our day perfect!

Sydney N.

Married on 08/31/2019

Such an AMAZING company!

We had Aaron Smith as our DJ for our wedding and did an amazing job! He was professional, organized and kept the dance floor going all night! He was also constantly checking in with us and making sure everything was going as we planned. He even helped make announcements to wrangle family member that had wondered off before family pictures! DJ Butlers is an amazing company and I definitely recommend them!

Olivia T.

Married on 08/24/2019

Absolutely amazing

Ryan was our DJ. He was a blast. Our first meeting with him got me so excited about our wedding. He had us on a schedule for cake cutting, bouquet toss, etc and made sure we didn't miss anything. He played during our ceremony and our reception. His light show was great and he was a blast to work with!! He played all of the songs we asked him to, and then at the end of the night played a song for me and my new husband to rap to, gave us microphones and everything. It was a great party thanks to this guy keeping the party going! Highly recommend!!

Danielle

Married on 08/10/2019

Best dj ever!

Ryan Riesenbeck with DJ Butlers made our wedding so special. He made us feel like his top priority through the entire wedding planning process. I do wedding coordination so I have worked with many DJ's, but Ryan was by far the most professional and entertaining and I cant wait to work with him more in the future! He kept our dance floor packed all night!

Alyssa

Married on 06/22/2019

Great experience with DJ Butlers!

I will always recommend DJ Butlers to anyone looking for a DJ! I have been to plenty of events where DJs are "cheesy" or play lame music...so I was a little nervous about booking a DJ. However, after meeting with our DJ (Lewis Connell) my worries disappeared! Everyone was on the dance floor all night and his music selection was so perfect! We gave him little guidance as to what kind of music we wanted him to play, and we were so happy that he was able to read the crowd and get people dancing! Besides playing music, Lewis was an awesome MC for the night! He was very organized and helped facilitate all the speeches, first dances, cake cutting so that everything went smoothly. DJ Butlers is a very professional service and I would HIGHLY recommend!

Patrick

Married on 06/08/2019

Recommend!

Lewis Connell with "Music by Request" DJ'd our wedding at the Cincinnati Art Musuem. He did a fantastic job and I'd recommend to others without reservation. He was professional and easy to communicate with throughout the process. He took the time to understand our vision for the day and his calm and professional demeanor made the process a breeze. His sense of timing and ability to read the room made sure the night flowed smoothly. When it came time for the celebration - he kept the dance floor full all night! I would absolutely hire Lewis and 'Music by Request" again!

Kelly

Married on 03/30/2019

Lewis Connell for my FANTASTIC wedding day

I met Lewis Connell at Cincinnati's Bridalrama in 2018. He works for the DJ company "DJ Butlers" and I was immediately drawn to his infectious personality and laid back attitude. We wanted to choose a DJ that wasn't trying to "sell us" himself nor a bunch of fancy equipment (you guys know what I'm referring to regarding some of these bridal show booths!) Lewis made my husband and I feel so comfortable and excited about our wedding day. The company provides you with an extremely organized packet that you would fill out according to your wedding timeline (what songs you want played and when to play them, names of important bridal party members/family etc.) I LOVED how Lewis met with us a week before our wedding and took the time and effort to go through this packet with us. He gave me his honest opinions when I needed them and he didn't make us feel silly at all about some of the un-traditional wedding details we didn't incorporate. On the day of our wedding he made sure our officiant had a microphone check so that our guests would be able to hear him speak. Lewis took charge of situations when nobody else would listen to me (frustrating for a bride!) and we are so thankful that he was a HUGE part of our wedding. He is also so much fun and played some BOMB A** tunes ;) the timing of the songs we chose was played out flawlessly and Lewis genuinely loves what he does so please book him for your event ahead of time so that you can experience his greatness! If you're an OCD bride like I was and you want someone who you feel comfortable making very specific requests to then Lewis would be a perfect DJ for you big day. Thanks again Lewis and DJ Butlers for allowing him to be present at our wedding! (I'm writing this review 2 days after our wedding so that everything is still fresh in my mind, LOL)

Teresa

Married on 09/16/2018

Thanks to our DJ Fred! Planning was important to him. He wanted it to go well and knows the flow of the wedding. Experience shows!

Loren

Married on 09/15/2018

We booked Lewis for our wedding, and I can't show enough gratitude for how wonderful he was. He satisfied everyone's music tastes. Kept the energy high. Worked with us through any requests/desires. Responded immediately to our questions. You all, book him. You will never regret it. He treated us so well and truly cared about us and making our day so special. Our guests were so pleased with his work they literally got his number at the end of the night. Our wedding night was absolutely flawless and we owe a lot of that to Lewis!

Katherine

Married on 07/21/2018

Aaron was a great DJ. He was super accommodating, and made it really easy for us. He did a great job working with us and my family on the night of the weeding. The prices at DJ Butlers are way more reasonable than other companies as well!

Stephanie

Married on 06/02/2018

Fred Caldwell with DJ Butlers was the "secret sauce" to our wedding. I could not have imagined our reception being any better and he helped to make our night absolutely unforgettable. To kick-off the vendor process once we had a contract, we had a planning meeting with Fred about two weeks before the wedding to outline flow, music preferences and announcements. He gave tremendous help along the way and eased any nerves in the process through his humor and simply understanding of how a wedding should go based off his extensive experience DJ'ing. The night of the wedding the script was executed flawlessly. Parents loved the introduction, all bridal party members had their name correct (even the hard ones!) and the dinner's captain call went as smooth as can be. Post dinner, Fred checked in with Brian and I about 30 minutes into dinner and kept us on track to do a quick loop around the reception hall to say hi to guests. This was a really nice touch that many complimented us on afterward thanks to DJ Butlers' advice. After dinner the PARTY WAS ON! Once we entered the shared room that hosted the bar, sweets and dance floor we did not leave... as well as most of our guests took this route, too. We gave a handful of songs to Fred to play during the planning meeting, but trusted him to run the music as he saw fit. I'd say about half of our songs he played and then the rest went ad-hoc. The ultimate complement we received were from guests that live in Las Vegas (the entertainment capital of the U.S.) and all raved this was one of the best weddings or "parties" in their terms they've ever attended. We had other wonderful vendors, but we truly believe Fred's charismatic personality, energy, professionalism and experience emceeing the festivities and playing music took our reception from awesome to epic. Thank you DJ Butlers! We'd recommend you to anyone.

+ 3

photos

Suzi

Married on 05/12/2018

All I can say is WOW! We had Fred DJ our wedding at the Hilton Netherland and he brought down the house! From the beginning of the reception, he personalized everything from the entrances to the way he announced the person giving a toast. Any time anything happened like the cake cutting, he made sure to announce it so that every guest knew what was going on.

Fred made every guest I had feel included and apart of our wedding. My mom gave a welcome speech and later said to me, "I wasn't expecting that I'd have to pause during my speech so much for people to clap when I was introducing certain guests. But, I think that Fred helped us prepare an evening where guests felt just so included in what was going on that they literally felt apart of everything."

As soon as the dance floor opened, it was immediately packed and stayed that way until the reception was over! I heard so many times that my guests were sore the next day from dancing so much- even the ones who work out regularly!

I am a wedding photographer myself and I had a lot of out of town guests coming in for my wedding, so my choice in entertainment was very carefully thought of. I did extensive research and selected Fred after reading all of his rave reviews and meeting him in person. From the beginning of my planning process and until the end, he helped me plan my wedding reception from start to finish to make sure that we had a rockin' party.

The way Fred went over everything and helped me plan made the evening run so smoothly at our reception. He's been doing this for 25 or 30 years…well you can really tell! He is very experienced and treated me as a client as if I were a million dollar client. I have already been recommending him and will always continue to because of all the weddings I've photographed and been at as a guest, he just blows everyone out of the water! Book Fred- he will make your wedding guests say, "That was the best wedding I've ever been to!"

Heidi

Married on 02/10/2018

Lewis Connell made our day so special! It was personalized to us that made it so special! It was the perfect day. The dance floor was never empty thanks to Lewis! He Is phenomenal!!

Kristine

Married on 11/18/2017

Ryan Riesenbeck was the DJ provided to us by DJ Butlers and I am incredibly happy we were lucky enough to get him.
He kept things organized and moving...I didn't have to think about a thing during the reception (for once in this wedding process). He was lively, but not too talkative. Ryan understood the vibe of our reception and kept the party going. He even went above and beyond to move his equipment from the cocktail hour area to the reception area to ensure we had the perfect entrance.

Eric

Married on 11/11/2017

Lewis Connell was the DJ for our wedding and he was nothing short of fantastic. From the planning process to the end of the reception he made everything simple, smooth, and fun. We were a little worried that not many people would dance at our reception due to a lot of older family members making up a large chunk of our guest list but Lewis was able to play music that every generation could enjoy and kept the energy level high the whole night. He did a wonderful job and we would recommend him in a heart beat to other couples.
Are you interested?
Send a message