13 Reviews
Recommended by 90% of couples
Quality of service

4.3 out of 5 rating

Average response time

4.5 out of 5 rating

Professionalism

4.5 out of 5 rating

Value

4.8 out of 5 rating

Flexibility

4.4 out of 5 rating
2 User photos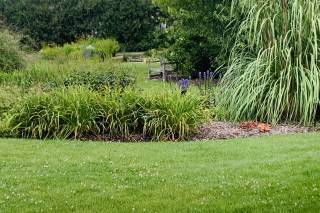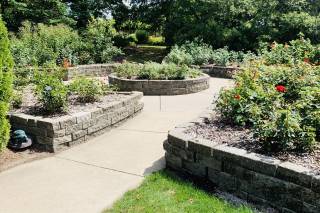 Monica C.

Married on 07/03/2021

Best choice we made for our wedding.

This is a wonderful and peaceful place for your ceremony and reception. The South Garden is beyond beautiful. The atmospheres clamming effect will help keep all nerves at bay. Our coordinator Amy is a life saver. When my wedding planner bailed on me she stepped into the role. When my ordain failed to show, again, Amy stepped up and handled the position with grace and elegance. (Amy is not licensed, this was a vow renewal for us.) They offer all kinds of rentals to make your day easier and less stressful. I recommend putting your wedding or other event in their hands. You'll be taken care of for sure.

Rebecca

Married on 08/20/2016

We booked the South Garden for our summer wedding ceremony and we were absolutely in love with it. However, when a tornado watch and storms came rolling in on our wedding day, Michaleh truly saved the day! She squeezed our ceremony into the greenhouse and everything worked out great! The greenery was beautiful and from the photos, people thought our wedding was outside. Fair warning - if you book the North Garden (which comes with the greenhouse), it gets very warm in there.

Katie

Married on 06/04/2016

The North Garden was the ideal setting for our June 4, 2016 spring wedding and reception. The abundant flowers, lush greenery and natural beauty of this venue made for a perfect and idyllic day. Following the ceremony in the garden, we enjoyed a cocktail hour just steps away under a large tent, which doubled as a bar and dance floor during the reception. The dinner was held inside of the conservatory, which comfortably seated our 140 guests. The trees, ferns and natural light filtering from the glass ceiling provided such a unique and lovely dining experience. The MSU Horticultural Gardens truly allows you to make the venue your own. They have a great selection of rentals to fit your every need - our tables, chairs, bar, backdrop curtain, tent and lighting were all available to rent through the gardens. There was a large walk-in cooler that we were given access to, which was a huge help in keeping our beverages cold. Additionally, there didn't appear to be any limitations on the vendors we could bring in and so many in the area were completely familiar the venue and how to do their set-up. Michaleh Reddan, the wedding and event coordinator, was a delight to work with. She truly went above and beyond to make sure our wedding day was everything we wanted it to be. If ever I felt stressed about a detail, Michaleh was reassuring and responsive. She checked in regularly, offered suggestions, answered all of my questions and was a true professional. While the weather cooperated for our ceremony, it rained for a portion the reception, but the tent and conservatory provided ample shelter and guests moved easily between the two. Bad weather is always a concern with outdoor weddings, but everyone partied under the tent mindless of the rain. When the end of the night came, nobody was ready to go home! My husband and I are over the moon with our venue choice. Everything was perfect and we received so many compliments - our friends and family simply loved the North Gardens!

Are you interested?

Send a message

Stephanie

Married on 05/14/2016

Michelah was amazing. She was willing to go above and beyond in an effort to make sure our day was wonderful. Although our weather didn't quite cooperate (it hailed on us!) we could not have picked a more perfect place to begin our celebration.

Ashley

Married on 06/06/2015

My new husband and I had our reception in the conservatory with the dancing outside under the tent and we received so many compliments on how beautiful and unique it was! It definitely turned out to be the wedding of my dreams!
We worked with Monica and Jillian; both were extremely professional, easy-going and quick to respond with any questions or concerns that I had. HIGHLY RECOMMEND!! :)

Amy

Married on 08/31/2014

The MSU Gardens were a wonderful place for us to have our wedding ceremony. The garden coordinator, Monica, was great to work with. She did a great job leading up to the event– since I was planning from out of state, we had a phone meeting a few weeks before where we went over everything that was needed for the ceremony.
The only concern I had working with the gardens was what we would do in event of rain. Since our site was the north garden, we had access to the conservatory building that is included with the north garden. It was great to have a backup, but we would've had to move all of the chairs, etc. ourselves into the conservatory if it was rainy, as the rental staff isn't available on the day of the wedding. That being said, it wouldn't have taken very long at all and was a way better option than guests getting rained on!
Luckily for us, the weather was gorgeous, the gardens were lovely, and our guests were very happy with the site! One warning is to bring Benadryl and/or to remind guests to have EpiPens if they are allergic to bee stings– my sister got stung by two bees in the middle of the ceremony! That just comes with having a wedding in gardens :)

Chelsea

Married on 06/27/2015

The arboretum is the cheapest area to rent from the MSU horticulture gardens and you get it for the entire weekend! We were able to have our rehearsal, wedding, and reception here! Remember to take in to account how much rentals will cost (tent, bathrooms, chairs, lights, dance floor, etc.) They are great to work with and were always quick to respond! Although our wedding was at the end of June, it ended up being about 65 degrees and rainy. We had our ceremony under the tent where our reception was held. Although it wasn't what we pictured, it was still perfect! If you are truly comfortable with having your entire event rain or shine, this is definitely a perfect place. There is so much space for guests to enjoy themselves and the entire area is just beautiful! Something else to consider is that trains do come through there. It did not affect our wedding at all, but keep it in the back of your mind. If we could go back, we would definitely choose this venue again. Rain or shine!

Melissa

Married on 08/28/2010

This place is amazingly beautiful and was exactly what we were looking for, for our outdoor wedding. We held our event in the arboretum which offered several gorgeous themed gardens for us to choose from in making our event unique! My bridal party prepared in the Japanese garden, cocktail hour in the English garden, and a tented reception in a massive open space! Beautiful. An added bonus is that our rental fee allowed us to reserve the property for the entire weekend! So, it felt like our own little slice of heaven for the weekend. We were able to decorate early (with the things that we would keep overnight), have our rehearsal on site and come back the day after the wedding to clean up.
The ONLY reason I gave four stars for flexibility is because they contract with a tent/chair/table vendor that they require brides to use. I could have gotten a lot of those things much cheaper if I was able to select my own vendors. But, outside of that, everything was perfect.


MSU Horticulture Gardens's reply:

Hi Melissa,
My name is Monica Blaze and I am the current wedding coordinator at the MSU Horticulture Gardens. What a great review to have posted! I am glad that you enjoyed the Arboretum. If you have any pictures of your wedding, I would love to keep in touch and use them for our Facebook page or upcoming brochure. Thanks for choosing the gardens!
Monica

Tara

Married on 06/25/2016

Our wedding was in the South gardens on June 25th, 2016. The gardens are beautiful and the space is perfect for a summer ceremony. There are bathrooms for your guests that are very close. You also have your own parking lot space with signs to direct your guests. We rented chairs and a muscian's tent, that were all placed where we asked and were in great condition.

We worked with two different coordinators from start to finish and they both were so helpful in answering questions and responding to emails. (Monica and Michaleh) This is so refreshing when planning such an important day.

If you can get past the part of what the weather might be like on your day, this is a great spot on campus to have a ceremony. It really is a hidden gem. The rain back up is a classroom in the Plant and Science building. You also can use some classrooms for getting ready, we did not end up using either of these classrooms.

We got many compliments about the space and we did not have to do any decorating. The walkways have pots filled with flowers and the alter has huge hanging baskets that make it look amazing.

Patrick

Married on 06/23/2012

Beautiful setting for a summer wedding. Dinner in the conservatory, dancing outside under the tent. Wonderful experience. Thanks!

Chelsea

Married on 08/15/2015

Overall, we were very happy working with MSU Gardens. Besides being a bit pricey, we only had two complaints. 1) The day of the wedding, they were having major electrical issues and it seemed possible that out sound system would not work for the night. It ended up being fine, but it definitely seemed strange that they had these issues, when they are pushing out weddings nonstop throughout the summer (and we did not have an insanely large sound system or anything!). 2) A week before the wedding, the coordinator told us that they would be replacing the blinds on the Conservatory during the wedding, so we would not be able to eat dinner in there as we had been anticipating and planning for throughout the whole planning process. They ended made up for it by providing a large outdoor tent free of charge, but it still seemed unprofessional that not only were they doing major changes during peak wedding season, but that they didn't let us know until a week before the wedding. Definitely a situation that could have brought out Bridezilla. However, overall I'd say that the grounds were beautiful and it was a great experience!


Amanda

Married on 06/13/2009

I had trouble with the coordinator at first but they have since switched coordinator and have no problems with her

Lori G.

Married on 07/25/2020

Poor experience at the Gardens

This venue is beautiful! Unfortunately, Amy the current wedding coordinator lacks professionalism, organizational skills, and didn't seem to have the desire to help make this life event a priority. Less than 12days before our wedding, she was scrambling to find a tent, tables and chairs. She knew well in advance the size of our wedding and we had requested a large tent in April! The day of our final walk through the information she brought wasn't close to what we had discussed previously. Unfortunately we had to move the wedding at the last minute do to poor weather. This is an absolutely gorgeous venue, but is managed very poorly.

MSU Horticulture Gardens's reply:

We respectfully disagree with this review. In fact, this review is posted by the mother of the groom, not the client themselves. In addition, the client canceled their use of our venue the morning of their wedding day. We honored their cancellation by refunding the entire amount they paid prior to their posted poor review (even though we were not obligated to refund them per our contract). We took a significant financial loss by doing so (we are completely self-funded, no university dollars are used to support our Gardens). We believe our actions highlight our commitment to our clients. Our goal is to provide high-quality customer service that results in excellent customer satisfaction, all in a gorgeous garden setting.