101 Reviews
Recommended by 100% of couples
Quality of service

5 out of 5 rating

Average response time

5 out of 5 rating

Professionalism

5 out of 5 rating

Value

5 out of 5 rating

Flexibility

5 out of 5 rating
3 User photos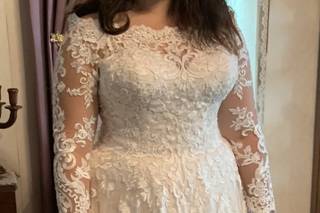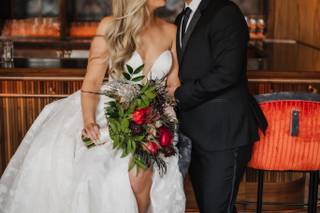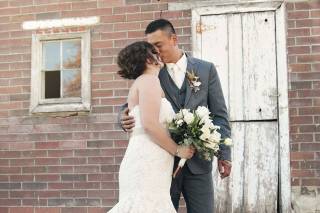 Kamarin R.

Married on 11/05/2021

Modern dress rocks

AMAZING. A HIDDEN GEM. The staff is was so awesome and just made me feel like royalty. They let as many people as you want come in and enjoy that day with you and give you mimosas and all!! They have SO many dresses with all sorts of styles. I sent the staff a picture off Pinterest of what I was looking for and they had like 5 dresses waiting for me when I got there. Then I went and picked out a few more. It was so fun. My dress is perfect and beautiful. AND.... pricing was 100% the best ever. Very reasonable. I went to some other shops and was not impressed with the staff or the dresses. LOVE MODERN DRESS!

Anna B.

Married on 06/19/2021

Beautiful dress store!

Love my dress! It was very high quality. They had a lot of dresses to try on and the people that work there are so kind and helpful!

Abigail M.

Married on 04/24/2021

I loved it!

This was the first place I went to look at wedding dresses and I walked out with my dream dress! It was amazing.

Are you interested?

Send a message

Maria C.

Married on 03/08/2021

Phenomenal!

Modern Dress in Boone, IA is a MUST! They were phenomenal to work with. I never felt pressured one bit! I loved that they were so attentive to me, but also gave me time when needed to discuss thoughts with family members. PLUS their shop is so cute and just a neat atmosphere! I will definitely be taking my bridesmaids here! Nothing but good things to say!

Hannah D.

Married on 02/11/2021

Go to modern dress

Literally SO amazing. I went to two places before going to Modern Dress and found nothing so I was a little hopeless when I walked in. BUT Haley was so reassuring that I would find my dress, and I did. The experience was so individualized and fun. My whole party loved it. HIGHLY RECOMMEND!!!

Amy

Married on 12/31/2020

Worth the drive!!

HIGHLY recommend! Brides you will love love love this bridal boutique. I live in the Des Moines area and went to 3 popular places both here and in Ames before finding Modern Dress. I am so happy I made the drive up there! One of my favorite things about them is they have unique designers. Many of the boutiques I went to all had the same people... some dress variety within that designer... but all very much the same, whereas Modern Dress has much more of a variety. I love that they carry an Iowa designer, and although that's not who I went with, those dresses were STUNNING as well. The shopping experience was wonderful and I felt completely safe with the COVID precautions they were taking. The dress I ended up falling in love with is made by a designer that no other bridal store carries in the entire state. I loved knowing it would be unlikely that I'd see any friends with the same dress, and I loved it so much! If you are not in Boone... Modern Dress is SO worth the drive!

Danielle D.

Married on 10/10/2020

So glad we went!

We decided to go to Modern Dress last minute after not having luck elsewhere when a friend recommended it. I'm SO glad she did! The staff was so helpful and they weren't overbearing/pushy. I had such a pleasant experience and found a gown that I absolutely love. I can say enough good things about them.

Mackensi B.

Married on 09/05/2020

Kind and Wonderful Staff

The ladies at Modern Dress are so kind and wonderful! They let my 4 year old daughter help pick out dress, assisted her with zipping/clipping the dress, and even treated her like a princess.

Jenny S.

Married on 08/08/2020

Modern Dress

Modern Dress was the best decision I've made thus far in my planning process! They made my experience so comfortable and meaningful. I was able to find my perfect dress there and have a blast at the same time. I've recommended Modern Dress to all my bride friends and one of them just said YES to her perfect dress. This place is the best!

Alexandria E.

Married on 08/08/2020

Amazing!

Modern Dress was AMAZING to work with to find my perfect dress!! They were the first and only store I visited. The staff was friendly made the experience enjoyable. I would definitely recommend them!!

Abby

Married on 07/04/2020

I said "yes" at Modern Dress

A fabulous bridal boutique! The environment is intimate and relaxing. They have amazing brands and a large inventory of unique and beautiful dresses. I cried, my mom cried, and the Modern Dress associate cried too! It was the best day.

Rose M.

Married on 06/26/2020

Found my dress in 45 mins! I love Modern Dress!

Loved my appointment at Modern Dress! They had all the unique styles I was looking for. Sage was so helpful and fun! I have told all my engaged friends to make an appointment. I cant wait to wear my modern dress at my wedding!

Amy S.

Married on 05/02/2020

Best Dress Shop!

I had the most special time finding my dress at Modern Dress! Ashlee made me feel comfortable and I could tell she really cared and wanted to help me find the perfect dress no matter where I got it. The atmosphere was amazing and the process was so fun. So happy I said "yes!" At Modern Dress!

Naomi F.

Married on 04/25/2020

Fantastic experience

Right when I walked in my whole party was greeted so genuinely! I had a one on one stylist who was ON POINT with what I was going for. She even threw in a few that were out of my style but we're beautiful. They were fantastic about staying in the price range, and all the dresses were so light and comfortable! They even recommended the perfect brunch place after. It was the most perfect bridal experience!

Kasey B.

Married on 04/20/2020

Wedding dress shopping!!

Modern Dress was perfect! They had so many unique dresses and were very patient! Ashley looked over pictures of dresses I loved and worked tirelessly to find ones that were similar! She also recommended accessories and different options to personalize the dress! I couldn't be happier and am so excited to pick up my dress in December!! Highly recommend visiting their store!!

Addie H.

Married on 03/10/2020

Modern Dress; My Saving Grace

Ladies, GO TO MODERN DRESS! If you are nervous like I was about having a good experience this place and the ladies who work there will make you feel so good about yourself! They are so great and I don't think I would have had the same 'Say Yes to the Dress' experience anywhere else. They have everything to anyone! I am so excited to get my bridesmaids in there to try on their gowns!

Miranda C.

Married on 02/12/2020

Seriously, go here!

THIS STORE IS ABSOLUTELY PERFECT! They have gowns in every style and every price range. The ladies are so kind and knowledgeable. They were able to squeeze me in last minute which was very helpful for me! The store has a big city look and feel but all the charm of a small town store. It's the perfect combo.


Meighan I.

Married on 12/31/2019

Amazing! Definitely worth the drive

Modern Dress was my first & only store I went too and fell in love instantly! The staff was so friendly & made such a special day even better. I also had to by my dress off the rack and they were so helpful with this process! Would highly recommend everyone to go here & it's definitely worth the drive!

Elizabeth S.

Married on 11/23/2019

Absolutely Wonderful

I cannot recommend Modern Dress enough! This was the first place I went to try on wedding gowns, and I had brought my mother, sister, sister-in-law, and 4-year-old niece with me. Ashley was so helpful in assisting me with trying on countless gowns and helped me officially say, "Yes to the dress!" My niece had a ball with trying on flower girl dresses as well, and they even let her hold the sign saying "I found my flower girl gown at Modern Dress" which will be a memory I will forever hold onto. If you are looking for someone with great style, honest opinions, and personable staff head to Modern Dress--you won't be disappointed!

Andrea

Married on 09/14/2019

Modern Dress

I found my perfect dress during their annual sale. They had a lot of styles to chose from and great deals!

Amber H.

Married on 09/08/2019

Great space with a variety of styles

Smaller boutique with a wide variety of styles, prices and designers. Even though it's a smaller store the space to try on and view dresses was great and you didn't have to feel crowded and it had a more personal feel to dress shopping.

Kendra

Married on 06/22/2019

the perfect dress

Could not of asked for a better staff to work with!!! They helped find the absolute perfect dress for me for my big day!!! ❤️ 10000% recommend!!!

Tressa G.

Married on 06/21/2019

The most unique dresses at the best price!

I had a wonderful time finding my gown at Modern Dress! I was looking for something boho and unique and they, far and away, had the best selection of dresses. They were also a lot more affordable than other bridal salons I visited. My consultant had a great attitude and wasn't pushy during the process! I would highly recommend Modern Dress to anyone that's getting married!

April

Married on 06/01/2019

Your dress is at Modern Dress!

From the moment I walked into Modern Dress, I knew this was where I was going to find my dress. Boone is a little further than some of the other shops I was looking at, but based on their Instagram photos, I knew I had to make an appointment and I am so glad I did! The staff were so fun and knowledgeable, and the beautiful dress choices made the experience feel like a fairy-tale. They have dresses to fit every budget and styles that I had dreamed of trying. Thank you for making my experience amazing! I can't wait for my big day!

Stephanie

Married on 05/10/2019

Most amazing experience ever!

This was the first place we went to look for dresses, and we were blown away! The customer service was outstanding, the place was super clean and organized and the pricing was way more reasonable than other places we looked at. I reccomend everyone I know that is looking for a dress to go here first because I loved them so much! Thank you so much Moderm Dress for your outstanding help making me feel gorgeous for my big day!
Are you interested?
Send a message