Miguel Alexan Hair & Makeup Artist Reviews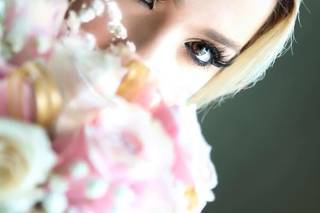 Miguel Alexan Hair & Makeup Artist
Trujillo Alto, PR
View more information
61 Reviews
Recommended by 98% of couples
Quality of service

4.9 out of 5 rating

Average response time

4.9 out of 5 rating

Professionalism

4.9 out of 5 rating

Value

4.9 out of 5 rating

Flexibility

4.9 out of 5 rating
21 User photos
+ 17

photos
Eva A.

Married on 10/26/2019

Best makeup artist

It was a pleasure having my makeup and hair done with Miguel. He was very professional and listened to all my opinions and gave me the best suggestions which led to amazing results. Everybody at my wedding wanted to know who did my hair and makeup. He was just amazing and fun to work with.

Solianne

Married on 07/21/2019

Gracias Miguel!!

Miguel y su equipo son excelentes!! Se encargaron de dejarnos hermosas y nos hicieron sentir muy bien en todo momento. 100% recomendado!!

Carla R.

Married on 04/06/2019

So happy!!!

I loved Miguel!! He understood my vision and aloud me to be a perfect a bride.His works is amazing.

Are you interested?

Send a message

Cyndie M.

Married on 02/09/2019

the best ! very professional and amazing

Miguel was amazing! he did amazing job with me !totally rock my day! just a truly profesional! i want to married again butt with m Miguel again!

Melissa

Married on 01/10/2019

Excelente! Tremendo maquillista y estilista

Me encantó su profesionalismo y atención. Muy responsable y definitivamente tiene manos mágicas. Todo el mundo quedó encantado con el peinado y maquillaje. Lo recomiendo a ojos cerrados! Gracias!

Patricia

Married on 12/29/2018

I felt like a queen

The makeup exceeds my expectations, last all night long (and I dance a lot). In the pictures looks impeccable. Miguel charm!

Rosa L.

Married on 12/28/2018

Profesional

Responsable, profesional, de personalidad admirable y trabajo de calidad.


Xiomara A.

Married on 12/23/2018

23 de diciembre 2018

Una experiencia única. No me arrepiento de haberlo escogido. Excelente ser humano, excelente servicio y lo mejor de todo me duró todo el día.

Emilia B.

Married on 06/03/2018

The perfect day!

Miguel Alexan is a true professional, from the moment I entered his studio. He took into consideration every factor, my energy, style, even frame and trust me as a plus type of gal he surpased any of my expectations. I felt like a GODDESS, I felt PERFECT! He is a very kind and yet a MASTER at was he does! I would only recomend him, from what I have expierence before with others in different occasions. He will make you feel just like home, loved and like the master piece you are, for that amazing occasion! Best part makeup was done super early like at 10am and even at 1am my hair was perfect and make up tooo!

+ 2

photos

Gilianie G.

Married on 05/26/2018

La mejor experiencia

Miguel es realmente un profesional en lo que hace. No me arrepiento de haberlo seleccionado para mi peinado y maquillaje en el día más importante de mi vida. Lucí hermosa y todo el mundo preguntaba por el maquillaje el cual me duró toda la noche!! Es excelente ser humano y profesional!!!

Camille

Married on 01/19/2018

The Best!!

Miguel is an excellent hair and makeup ARTIST. He is very responsible, creative, funny and has a great personality. He prepared me and my bridesmaid for my wedding and we all look GEORGEOUS. I felted very comfortable with him, he made me loose the nerves on my wedding day. I looked BEAUTIfuL and SPECIAL on that day. He is an artist.
Great Quality of makeup and hair. Its lasted ALL NIGHt long. He also prepared me for my save the day pictures, and his quality of work it's HIGHLY recommend.
If you want to be on the hands of the BEST, then you need to schedule with Miguel.

+ 2

photos

Miguel did an amazing job with myself and my bridesmaids. Not only is he talented in hair and makeup, he is also quick and great to work with. Gracias Miguel for making us all look our best on my wedding day !

Vanessa

Married on 03/11/2016

Love, Love, Love Miguel. I had a destination wedding so I was able to finalize what I wanted through phone calls and email. He came the day before the wedding to do a testing which I though was awesome because we were prepared for the wedding. On the wedding day he worked smoothly and the final product was awesome. He did hair and makeup for my bridesmaid, maid of honor, flower girl , my mother and myself (the bride). He did exactly what I had in mind for my wedding and he did hairstyles that would help with the weather of the island. Overall he was the best. I truly highly recommend him.

Melissa

Married on 12/29/2015

I was very pleased with my hair and makeup for my wedding. I didn't have much time before my wedding to do a test run but he was very flexible to accommodate my schedule. The bridal party really enjoyed spending the morning with his glam squad getting us ready for pictures.

Cornelius

Married on 08/08/2015

I met Miguel very briefly during my wife's trail make-up run. He was a very nice guy and delivered just as he promised. A lot of the Brides party kept mentioning to me that they loved all the work that he and his assistant did the day of the wedding. When my wife was talking with me about Miguel before the wedding, she mentioned that "he was the best" in Puerto Rico. The one time I had to hold back tears was when I saw my mother and I saw my bride. They both looked amazingly beautiful!!!!!! I guess my wife was right, Miguel is the best!

Miguel,

He did a terrific job at my wedding. He was very professional, on time, and listen to all my request. Exceptional work!

Iriann

Married on 08/02/2015

When my wedding planner told me about choosing a makeup/hair artist for myself, I told her: "Thank you, but I don't think I would like that." Well, my mom somehow found out about it and suggested that we should do it together. Wanting to make my mom happy, I agreed. I am personally not much into make up or hairstyling, and my fear was that some strange person was going to make me look totally different than myself and that no one was going to recognize me at the wedding, including my fiancee. But I have to say, very honestly, that Miguel Alexan surprised me. First of all, he has a very warm and friendly personality, which made me feel welcomed and open to be honest with him about what I wanted. That means a lot when it comes to services such as this, because, not only you're paying for it, but if there is a time when you want to feel totally comfortable with how you look is your wedding. Miguel Alexan not only listened to my suggestions and honored them, but he also came up with a totally beautiful style that I loved. It ended up being a good partnership of me getting what I had imagined for myself along with the good taste and skill of a professional. On the day of the wedding, many, many people hugged me and put their hands/arms all over my face and hair but at the end I was still looking fresh. That is another reason why I learned to appreciate such a professional work. In short, not only I felt very pleased with Miguel Alexan's work, but I recommend that you check it out. All the best!

Sheirley

Married on 07/18/2015

Alexan, gracias por dedicarte de lleno el dia de mi boda, quede como tda una reina, tnes un talento extraordinario pr mas aún gracias por concentir a mi nena eres un ser humano maravilloso por dentro y por fuera....me dejastes radiante.. .uuuff...Eres unico.. me veia espectacular en todo momento, el maquillaje y peinado duraron toda la noche. Eres todo un profesional, 100% recomendado.

Tiffany

Married on 07/12/2015

I wish there was a million star button for Miguel bc I would definitely chose it. He was like my fairy godfather. I am from NY but my wedding was held in PR and originally I chose a "celebrity" make up artist who completely played me. Miguel came recommended by our photographer Tuko ( https://www.weddingwire.com/biz/click-expressions-bayamon/986a7b3f3cd63ff8.html ) and the other makeup artist's unprofessionalism was a blessing in disguise. Miguel worked with us to arrange my trial the day of my bachelorette so I could look great. After he completed my look I felt like a celebrity! I am a makeup addict and was blown away at his attention to detail and technique. Not only was it super professional and used the best products, he also went over the different things he was doing so I could (try) duplicate it on my own. Originally our contract was for myself and a 3 ladies in my bridal party, by the end of the trial everyone wanted him to glam them up including my mother and madrina. So it went from 4 ppl to 8 and he was very accommodating/flexible to include everyone. Now comes the amazing part. On the day of my wedding 75% of Puerto Rico was w/o power due to the crazy rainstorm the night before and I was going to freak out of course. Miguel not only arrived on time, he came w/ ideas and solutions. Bc we had no power no styling tools could be used which was a HUGE problem for 8 ppl waiting to get their hair done. He was patient w/ me even offering his home which still had power. Just when we were going to leave the power came back on (but the gesture was definitely appreciated) and he unpacked and got down to business as well as his assistant. He was able to pull off all 8 of us in a timely manner while all looking gorgeous. I must note that all 8 of us had different texture, style, and length of hair and it made no difference in his quality of work. I highly recommend him and wish I could bring him to NY to glam me up for alllllll my events. Xoxo

Katelyn

Married on 06/26/2015

Miguel is AMAZING!!!! I cannot say enough good things about his work. Not only is he fun and friendly to work with but he is so talented!!! Being from New York and not being able to try him out prior to our wedding worried me but I felt assurance after seeing photos of his work. Then upon my arrival to Puerto Rico we did a trial for my rehearsal and I was completely blown away. I have never received so many compliments before. He did even better than what I imagined for both days of hair and makeup! He also did hair and makeup for 7 other ladies in my bridal party and everyone looked absolutely stunning!!! I wish we lived closer so that I could have him do my hair and makeup more often - he really is THE BEST!!!!

Nataly

Married on 06/23/2015

Miguel is amazing at working with different styles of hair. He made me look gorgeous! I loved the makeup and hair on my wedding day. He is easy to communicate with online and in person. I speak Spanish so that helps, but he speaks English as well.

Miguel was amazing! I just got married on Memorial Day weekend and he made myself and everyone in my bridal party look absolutely beautiful! He was an awesome guy and very talented, I would highly recommend him!

Terrysa

Married on 05/01/2015

He was great!!! My hair and makeup were perfect and I got so many compliments on how great I looked. He really made me feel beautiful for my wedding day. Thank you so much!

Stephanie

Married on 04/25/2015

Miguel Alexan from the beginning was accessible, humble and above all professional. In my wedding day I look so beautiful, and my bridemaids too. That day we also left us beautiful helped us to relax and laugh nonstop. I recommend it 100%. Alexan thanks for your great work, you're a good professional, very successful.

Carina

Married on 04/11/2015

Simply the best! All the girls looked beautifull! I had soo many compliments of how stunning beautifull I look.. He's the best.
Are you interested?
Send a message