37 Reviews
Recommended by 100% of couples
Quality of service

5 out of 5 rating

Average response time

5 out of 5 rating

Professionalism

5 out of 5 rating

Value

5 out of 5 rating

Flexibility

5 out of 5 rating
6 User photos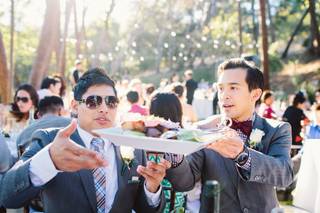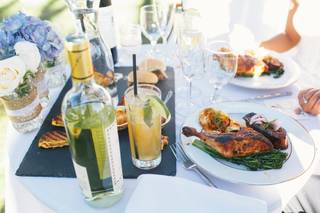 + 2

photos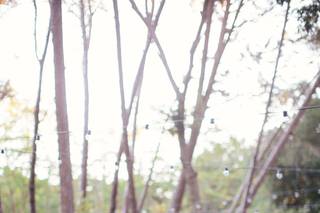 Denise B.

Married on 11/09/2019

Absolute Amazing

Absolute Celebrations has come through for us, altering the menu to precisely what we wanted and kept it in our budget!

Renata

Married on 09/07/2019

Mrs Kudinov

Best food I've ever had at a wedding!! Since our first tasting until the day of our wedding. Our guest could not stop saying how good the food was. Specially the mushroom raviolis, chicken and steak!! I have already recommended Absolute Celebrations to my friends and family. Thank you for making my wedding day special and memorable with great food!!

Autumn

Married on 11/03/2018

Amazing food!

I've had the pleasure of working with this caterer (I work at a wedding venue). So when it was my turn to be a bride, I knew they would do an amazing job. They exceeded my expectations. The food is always amazing, everyone loved their taco bar. They were on time and extremely responsive and helpful!

Are you interested?

Send a message

Taylor

Married on 06/03/2017

One word: PERFECT. My guests raved about the food and presentation!! Claudia and her team were so amazing throughout the whole process, frame selecting the passed appitizers down to the decoration of the cake table with tarts from absolute celebrations. If you are looking for the professionals, great food and service then this is your place! 100 percent recommend!

Megan

Married on 05/06/2017

If you want great food with a great price tag, excellent customer service, the utmost professionalism, as well as someone who actually responds to every message you send (I seriously had the worst luck with potential vendors not responding to me for months), this is the caterer for you!!!

We worked with Cleodia and she is absolutely fantastic. The servers and bartender were perfectly charming, too. Cleodia helped us figure out how much food we needed to serve (we went the appetizer route) and she did the same with our bar/alcohol. We were able to provide our own booze, and she even gave us a grocery list to make sure we'd have enough to last the event based on how much people typically drink. We planned this wedding out of state so all of our contact was through email (except initial phone call!) and any time I sent an email, she responded within the day (typically just a couple hours!). Absolutely amazing. I was beginning to look into rental vendors so I asked her what tables we needed to provide, and she offered their services to cover everything we needed so we wouldn't have to include yet another vendor. Very smart and considerate of both her business AND me! :)

The food was absolutely amazing. I know it's my own wedding but I've been to quite a few weddings... best wedding food I've ever had. Our guests said the same! We did the mushroom and pulled pork sliders, the beef hand pies, the caprese skewers, and had veggie/fruit/cheese plates available, with dessert being creme brulee and chocolate mousse. Every appetizer and dessert was consistent and very well-made.

It was great to see Cleodia on-site on the day of our wedding. She regularly checked in on my husband and I throughout the event and would get us anything we needed: napkins, food, water, even a drink from the bar. It was amazing service. We had some food and desserts leftover, and they packaged it up for us to take home with us!

Kathy

Married on 11/15/2015

Service , Food, Professionalism was excellent! We absolutely loved working with Absolute Creations to cater our Wedding. Our family and friends commented several times "how GREAT the food was".

Melissa

Married on 10/17/2015

Cleodia and the team at Absolute Celebrations Catering were OUTSTANDING!!! We loved working from them the moment we met - they were professional, super responsive and accommodating and the food was incredible....our guests are still talking about it. We loved the team so much that we use them for our work celebrations now too as we just can't get enough of their food. Planning a wedding can be stressful, but planning our catering was the least stressful part for us thanks to Cleodia and her team. We would recommend them all day, every day!

Michele

Married on 10/10/2015

I could not have asked for a better caterer for our wedding! Cleodia was a pleasure to work with and even the other vendors were so happy we chose Absolute Celebrations because of their services and reputation! Cleodia answered all of my mom's question's even after we had already chosen them to do our wedding. The food was absolutely delicious and all of our family and friends raved about it after the wedding. Thank you Cleodia for all of your help and making my day that much better! We will definitely be using them for any future events!

Lynda

Married on 09/05/2015

Cleodia did a wonderful job for my daughter's wedding in Castro Valley.
We checked out quite a few caterers beforehand…the food was DELICIOUS and I also want to add that we did not have a wedding coordinator and EVERYTHING went smoothly. Her team was professional and very friendly and thorough.
HIGHLY RECOMMEND!!

After days of searching online for a caterer, we finally made our first tasting appointment with Absolute Celebrations. From the beginning, Cleodia the coordinator, had been so helpful and quick to respond. They served us everything we had on the initial menu we created. We knew from the first bites of each dish that we found our caterer! We were so pleased that we booked them right away!
Throughout the wedding planning, I have been in contact with Cleodia. She answered all the questions I had with clarity. And on the big day, my husband and I couldn't ask for more. Their team go above and beyond to make you feel special on your wedding day. I have been stopped many times by guests to rave about the delicious food they had for dinner. One of our Aunt even said that it's the best food she's ever had at a wedding! I only wish I could've eaten everything on my plate, but my tight wedding gown wouldn't let me! I would definitely recommend them to family and friends.

The crowds' favorite for the night:
Beef Brisket, Salmon with Mango Salsa, Mushroom Ravioli, Sisig Tacos, Chicken Salad in cone cups, Sundae Bar!

Rachel

Married on 09/26/2014

Claudia and her staff are so professional! Their food is delicious! Claudia helped me all the way and was always available to answer any questions I had before and after my wedding! Their food is honestly so tasty I want to order more :)

Absolute Celebrations did such a magnificent job on our wedding day. The food was delicious, and I loved that they are flexible and very attentive to your interests. Cleodia is absolutely accommodating and definitely works with your budget. She is very prompt and awesome. Absolute Celebrations left us as happy customers and I would recommended them to our friends and family. They are professional and responsive. Cleodia is efficient and their food is amazing. I would reach out to Absolute Celebrations for another event in the future.

User1966422

Event on: 09/20/2014

Absolute Celebrations did such a magnificent job on our wedding day. The food was delicious, and I loved that they are flexible and very attentive to your interests. Cleodia is absolutely accommodating and definitely works with your budget. She is very prompt and awesome. Absolute Celebrations left us as happy customers and I would recommended them to our friends and family. They are professional and responsive. Cleodia is efficient and their food is amazing. I would reach out to Absolute Celebrations for another event in the future.

Kelly

Married on 09/19/2014

We hired Absolute Celebrations for our wedding and it was one of the best decisions we made. Cleodia was so incredibly responsive throughout the planning process, always making a note of any changes or decisions and keeping us on track. She also did so much coordination for the reception, which was unbelievably helpful and made it so easy on us the day of the wedding. The food was so tasty! We are still getting comments on the quality of the food two months after our wedding - and with a family full of Filipinos who know good food - that says a lot! Absolute Celebrations was extremely flexible, as well. They can act as a one-stop shop, having so many connections with event rental companies, beverage service, etc., but are also happy to let you choose other vendors and set it up yourself. We loved having that type of a la carte catering service instead of having to go with a package deal. Can't say enough good things about this company - we are recommending them to anyone who needs catering!

Cleodia was awesome to work with! Quick to respond to emails and helped me stick to my budget for my wedding.

Josina

Married on 06/28/2014

Cleodia and Ryan were very attentive and patient with the amount of details and personalization we wanted in our big day! We were fortunate enough that they understood our culture and background in regards to our big Filipino families in attendance that day. All our guests enjoyed the food served and any hiccups regarding service didn't involve Absolute or Cleodia and Ryan directly. We were pleased to be able to have them provide some of our rentals as well and they worked very well with the other vendors we had hired. They're such a personable team, we wish we could've had them as just guests at our wedding too! It would be a pleasure to not only hire them again, but to be able to work with them someday as well! Best wishes, Absolute and thanks again!!! xoxo

Monica

Married on 05/17/2014

You are truly an amazing catering company! From presentation to attentiveness to quality you guys were outstanding.The name certainly lives up to the expectation "absolute creations " is "absolutely delicious". It felt as if we were at a five-star restaurant! I was blown away on how great it was and all of my guests are still talking about the food and the service. We will recommend you to all of our friends and family! Thank you again!!! :)
"Steak & Ice-cream" -amazing!!! :)))

Laura

Married on 05/10/2014

Absolute Celebrations was the caterer we chose for our wedding, and I'm so glad we did!

When researching caterers, there were a few things that differentiated Absolute Celebrations from the rest. First was the menu: everything on it both looked and sounded delicious. They had the gourmet food selections we were looking for, but not so high-class that we'd need someone to translate the menu for us, as is so often the case with so-called "fine dining". Plus the presentation of the food was just beautiful. LOVE the Oneida serving trays – very classy!

Second was from a business aspect. Some of the caterers we were considering who work more with corporate clients did not seem interested in giving us their personal attention. We were treated like a small fish in a big pond. Plus, they would not give us itemized pricing. With Absolute Celebrations, the price of each item is listed on their menu which was a big help in budget planning. With their guidance, I was able to create a spreadsheet detailing everything we were ordering so there were no surprises. Plus, they didn't charge ridiculous corkage or cake-cutting fees.

Then there was the event coordination. Cleodia Francisco was exactly the kind of coordinator I was looking for: someone who was extremely organized, detail oriented, responsible, and most of all trustworthy. I was planning my own wedding, but since I couldn't be everywhere I needed someone I could rely on to get things done. Cleodia was that person. She cared as much about the success of my wedding as I did. From the set-up to the clean-up, Cleodia took care of everything so I could enjoy my big day.

And finally, there's the food – it was DELICIOUS! Everybody LOVED it. Several family members were making a grab for the leftovers. Chef Ryan Martinez and his team did a fantastic job making each dish look and taste great!

Absolute Celebrations not only catered the food, they catered to us. I would definitely use them again.

Danielle

Married on 10/12/2013

Absolute Catering did an amazing job catering my wedding reception brunch. From the outset, Cleodia was very responsive and willing to work with our budget and desired menu. I must have emailed her 50 times and she always responded quickly, answering all my questions. She understood that we were having a very casual, backyard celebration and helped put together a menu that fit the mood perfectly. They were willing to make our favorite breakfast potatoes, as well as a vegetable dish that I provided the recipe for, at no extra charge. The day of the event, the set up was seamless - it happened so quickly, we almost didn't know we were there! Everyone raved about the food which was amazing. We were able to send guests home with leftovers which made their day. We couldn't have been happier with how things turned out and would recommend them to anyone.

Janelle

Married on 10/05/2013

I loved working with absolute celebrations. I would recommend them to anyone. I will use them again!

Heather J.

Married on 09/28/2013

Wholeheartedly creative, thoughtful and supportive!

I'm not one of those girls who used to dream of a wedding day. I dreamed about waking up in a big bed with dogs and little kids climbing on me and my husband while we would pretend to sleep or playing with my kids in our yard. I dreamed of love, a full life and a marriage that would last.

While I was super excited to be proposed to by the man I could live out my dreams with and build a life together, I was a little overwhelmed with planning a wedding. All I wanted was a feeling of love, laughter, and to never have my guests waiting on food or drinks because I've been at weddings starving during cocktail hour and then fed last. Not my wedding!!! We need energy to dance and have a good time!!

My fiancé and I knew we wanted a small wedding of 90 guests (which was an adjustment at first for our Filipino parents but they supported), have it at a villa with dancing outdoors (we're a fan of 90s hip hop and R&B!), with nature surrounding us, white linens, fresh flowers and we were a fan of Brazilian BBQ and Irish Mules.

Thanks to Google, I searched "Lafayette Catering" and found Cleodia's # (owner of Midsummer). She picked up and instantly I knew I wanted to work with her. It was her energy that drew me to her and in understanding how I wanted my guests, my fiancé and I to feel love in the air amongst family and friends, and to be fed / hydrated throughout the celebration. And when it came to the details, she was so proactive and I had complete trust to in her make every single decision for our wedding reception. Often our calls would last 5 min or so because when she had an idea / question, I'd respond with "Yeah!! That sounds good!".

Here's how it went down… she created a personalized menu taking our Brazilian BBQ-inspired request and mixed it with Californian flair, family-style theme. We had snacks and light refreshments for our guests who were shuttled to a villa, upon arrival Cleodia's team had cocktails (Irish mules!!!), beer, wine and appetizers (including mini Cubanos, BBQ sliders, crab cakes & artichoke fritters), and dinner was served shortly after the wedding party arrived (to this day people loved the pork belly, achiote chicken, and baked white fish with salsa verde!!!) and we literally danced the night away with market lights (her idea) under the stars and trees, family, friends around us. I couldn't have asked for a more perfect wedding reception filled with love and the best catering company / owner to work with.

+ 3

photos

Heather

Married on 09/28/2013

It was such a pleasure working with Cleodia and her team! Not enough stars to rate them! They made my surprise wedding a success. Look no further. Choose Absolute Celebrations for all your catering needs.

Cheryl

Married on 09/21/2013

We were very pleased with the food and services Absolute Celebrations Catering provided. We needed a menu with specific food requirements, specifically gluten free. They were able to accommodate every request. When I had questions via email they were quick to respond. The catering crew was on time and very organized the day of the wedding. We were impressed how friendly and professional the staff was. They even helped us out when it started raining outside and we had to bring a bunch of stuff inside for the wedding. The catering staff went above and beyond our expectations. The food was excellent. Our guests continually complimented the food. We would highly recommend Absolute Celebrations Catering to friends. We probably will use them again for future events!

Jessica

Married on 08/24/2013

Wow where do I even begin!! Cleodia and Chef were so amazing to work with! I had such an amazing time colaborating with them on our wedding menu! They are so creative and their service really made our day so special! Our event coordinator dropped the ball on so many things and Cleodia stepped right in and took the lead to ensure our event was successful and make it everything we hoped it would be. The food was delicious and their presentation was beautiful! I would recommend them over and over again!!

Allie

Married on 08/03/2013

We loved working with Absolute Celebrations! Cleodia was great to work with due to her organization, professionalism and creativeness. She worked with us to create the perfect menu and made sure everything flowed with our wedding. The chef was very accommodating and made sure that he only used the freshest ingredients. Their menus are creative and innovative. Everyone at our wedding raved about the food. They even sent us home with a bride and groom to go box which was the perfect way to end the night. We will absolutely be using them again in the future if we need a caterer. We highly recommend them to anyone looking for an incredible experience that goes beyond the food.
Are you interested?
Send a message