27 Reviews
Recommended by 82% of couples
Quality of service

4 out of 5 rating

Average response time

4.1 out of 5 rating

Professionalism

4 out of 5 rating

Value

4.1 out of 5 rating

Flexibility

4.2 out of 5 rating
12 User photos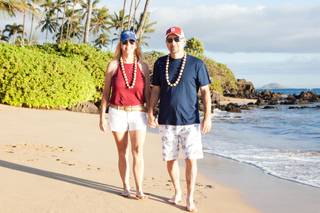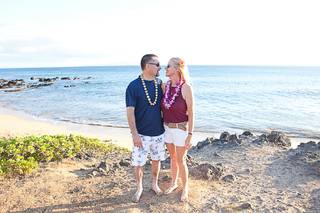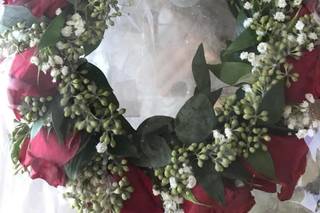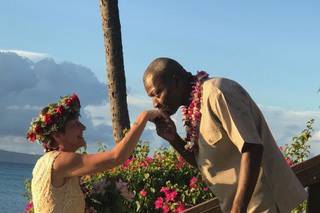 + 8

photos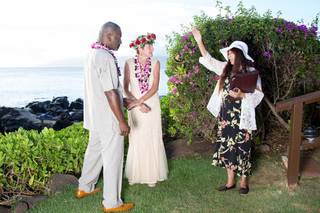 Susan

Married on 07/24/2018

Merry Maui Weddings did a great job with our small intimate wedding. Ayesha was very accommodating especially since it was planned in two days. She was able to get a wonderful photographer and provided beautiful leis for both of us. The photographer, Desiree, did a fantastic job with our photos and was accommodating with our props. Ayesha did a great job with our ceremony which was sweet and intimate. The beach she chose was quiet and beautiful. We would recommend Merry Maui Weddings.

Ale

Married on 03/01/2018

We had our dream wedding with Reverend Sandra Lee, who was wonderful to us! The photos are stunning and the flowers surpassed my imagination. Thank Merry Maui Weddings!


Linda

Married on 10/02/2017

My husband and I went to Maui to renew our 25th wedding anniversary vows after searching the internet we came across Merry Maui Weddings.Im so happy we didn't have to look any further.Ayesha handled everything right down to the haku I ordered in remembrance of my mother in law.It was beautiful.Ayesha and her photographer Cathy made our day extra special and a memory we will cherish for the rest of our lives.They returned emails immediately and kept me up to date as to what was going on and I may also say they were very affordable and went way beyond my expectations.I'm so glad we chose them so I HIGHLY recommend if you are looking to get married or renew your vows look no further you will not be disappointed and look into Merry Maui Weddings.Cathy who was our photographer did a wonderful job on the photos .We will look back on these wonderful memories and cherish them forever.Thank You Ayesha and Cathy for going above and beyond and making our 25th extra special Aloha and Merry Christmas

+ 7

photos

Are you interested?

Send a message

Jamie

Married on 04/29/2015

We had a vow renewal ceremony. Ayesha did a wonderful job of planning the ceremony details. The location and time of day that she suggested was perfect. The choice of words used for the renewal was very meaningful. She carefully listened to what we wanted and who we are. Her suggestions fit our needs. Mark's photography was excellent as was the live ukulele music. We highly recommend Merry Maui Weddings. Thank you so much Ayesha and Mark for making our vow renewal ceremony special after 30 years of marriage.

Lucky L.

Married on 04/08/2015

I feel so very lucky to have found merry Maui weddings.
I felt deeply cared for by Reverend Sandra Lee. It is clear that
she is deeply dedicated to her work and knew just how important
our wedding day is to us. She is one of those special people who
Truly believes in love!

And who could even ask for a more beautiful
location for a wedding? The photographs of
my husband and I, with the sun setting into the ocean, on the
beach, are spectacular.



Russ

Married on 08/19/2014

I just wanted to recommend MERRY MAUI WEDDINGS located on MAUI to anybody wanting the perfect Hawaiian wedding. They did an exceptional job of making our wedding the perfect event and memorable experience we could have ever hoped for. Everything was perfect!

Our photos will keep the fond memories alive; they did not miss any of the perfect sunset pictures. Thank you Ayesha and Mark!

Tara

Married on 08/15/2014

Merry Maui Weddings did an excellent job with our wedding. It was everything we had hoped for. Our minister, Ayesha, answered the phone every time I called. She was flexible with our location, which we didn't finalize until we got to the island. She also had good suggestions for where to buy flowers and places to eat. The service was beautiful and and we were provided with keepsake leis, a certificate, and a copy of the service and our vows. The photographer/ukulele player was amazing. The setting was so romantic and the pictures turned out great. We couldn't have asked for more!

The wedding turned out great. The customer service was outstanding and the wedding location was a surprise. The photographer was also 5 star

We used Merry Maui Weddings for the videography at our brief ceremony. Ayesha was very responsive and helpful in her e-mail and phone communications prior to our wedding date, and very flexible (we had planned an outdoor ceremony and changed the venue and timing several times during the week just before the wedding!). She and her colleague arrived at our venue early in order to set up their equipment, and helped to ensure that the camera angles were good and that we and our minister were "photogenic". She gave us the completed raw-footage video disc of the ceremony as soon as we were finished, and it turned out very well! It was exactly what we wanted.... A true-to-life recording of our wedding! Pricing was extremely reasonable.

Amber

Married on 01/03/2013


Amazing:)   
I would definitely recommend Merry Maui Weddings, they did a great job!
Our wedding turned out better than we thought it would be. Our package was very affordable, but the quality of service was great. Jeanny and Ayesha were there to answer our questions every step of the way. Our minister Kai was wonderful and our ceremony was very heart felt. He also stayed after the ceremony and played music while we were taking photos. Our photographer Lia was fun to work with and made us feel very comfortable. She went above and beyond to get the perfect shots and she even gave us an extra 15 min cause we were having so much fun. We just received our photos and they are stunning! We are very happy with the way everything turned out. Thanks for making our special day so memorable:)

Kelsey

Married on 10/05/2012

Our beach wedding on makena beach was absolutely everything and more that we could have ever imagined. Ayesha's words were beautiful and so meaningful to us. She even gave us a special heart shaped piece of white coral/rock that she found for us. We couldnt have asked for a better minister. Leah and Jeannie were fabulous to work with and helped make our experience very enjoyable!! We got so many hugs and smiles and kind words and wishes. Planning a wedding wether its big or small, from far away can be stressful but there is no doubt that putting our trust into Merry Maui Weddings was the right choice. Thank you so much to Ayesha, Leah and Jeannie for making our day perfect. We will always remember you and feel so blessed to have had this experience. We cant wait to see the pictures!! :) ALOHA!! :)

With so much love from,
Josh and Kelsey Panoch (Portland, OR)

Eric

Married on 05/22/2012

Our wedding with Merry Maui Weddings was so beautiful and moving. They were a pleasure to work with. The day, the setting and the ceremony were just perfect in every way – everything we had hoped for. Ayesha's words were true and timeless, and the ceremony was perfect and meaningful. The photos were all that we had hoped. And top of all that, amazing value.

Stephanie

Married on 12/12/2011

They did an absolutely wonder ful job. The ceremony was beautiful and the vows were perfect. The photographer took a lot of time to make sure the picture came out just right and they did. The pictures were better than I could have expected. The pictures captured every moment.

Jennifer

Married on 09/12/2011

Merry Maui weddings was not the first place I called to inquire about a Maui Wedding. But they were one of the few who actually answered when I called (and called, and called, LOL) . I shopped around to probably about 7 different wedding outfits and submitted at least 5 online requests. Vincent was the only one who answered each and every time.

I called Merry Maui Weddings 6 days before we wanted to get married in a panic. You see, I am a world-class procrastinator, though not always by choice. In this case I had to leave for Maui with less than a week's notice for work and thought it would be wonderful to bring my wonderful girlfriend of 4 years along with for a surprise wedding in Maui. Let me also add, not only am I a procrastinator, but I am also budget conscience. Making there job twice as hard. =)

When I first called, I actually caught Vincent (owner/photographer) on his way to another scheduled wedding, but he still took the time to talk with me and make me feel comfortable with the whole process. We spoke briefly about the options he had available and I followed up with him the next day. Vincent was able to confirm my wedding date over the phone, accept payment over the phone and confirm the whole package with ease. I was amazed at how easy he made it.

When our big day came, we got excellent directions and met Vincent and his Wife (the lovely Hawaiian minister) at one of the most beautiful beaches I have ever seen. The spot they recommended was a pretty area with perfectly manicured grass, lovely swaying palm trees with waves crashing in the backdrop behind us. We also had the option to have the ceremony directly on the beach, but chose the grassy area above to be able to have a variety of pictures.

The ceremony was performed by Vincent's wife, who did a lovely job of administering her version of the traditional Hawaiian ceremony. At the end, we got to exchange lei's and were allowed the opportunity to exchange our own vows.

After the ceremony, we went down to the beach and took several pictures. Vincent is an excellent photographer, he told us exactly where to go and stand and took some of the best pictures of my now wife I have ever seen (he actually showed us some of them after it was all over on his camera so we had a sneak peak). My wife is the first to tell you that she is not very camera friendly, but Vincent was able to capture her in the same way that I see her… the most beautifully bride in the WHOLE world!

In closing I want everyone to know just how perfect Merry Maui Weddings made our special day. Somehow they were able to give us everything we wanted, in the time frame we wanted and all for a price that was more than reasonable. I mentioned at the beginning that I was in a hurry, but I did shop around and I encourage you to the do the same. But I promise you will not find a better value than Merry Maui weddings, and when it's all said and done you will thank me.

Note: I also want to add that Vincent has continued to reply promptly to my queries even now after our wedding (and getting paid) he has gone above and beyond the call of duty. I feel doubly blessed to have picked not only the perfect wife, but the perfect wedding planner/minister/photographer. Thank you Merry Maui Weddings!!!


Luisa

Married on 07/21/2011

WOW! Our Merry Maui Wedding was amazing. The location was beautiful overlooking the ocean with sunset in the background. We couldn't have ask for more. From the beginning with the photos, music, and our circle of love. We loved it and it felt so loving and natural right on the sand. If you are planning a beach wedding I would defiantly recommend them. They were always there for me and everything came out perfect just by planning it over the phone. We are so happy, we feel like our wedding was so special because of Merry Maui Weddings. We were so blessed that everything came out so beautiful.

Angela

Married on 07/01/2011

Vincent and Ayesha were fantastic at making our destination wedding perfectly picturesque! Vincent had wonderful planning suggestions from the accommodations to our choice of beach. They made our wedding planning as easy as I can imagine it can be. We didn't have to worry about anything. They were always available by phone or email to answer questions and they were very well planned and professional with our ceremony.
Vincent took wonderful photographs to remember our special day and I will always cherish our Merry Maui wedding! Mahalo Vincent and Ayesha!!
The Kings

Cynthia

Married on 02/09/2008

Merry Maui Weddings was definitely Exceptional. They gave us an absolutely beautiful wedding. The venue was a botanical garden and the ceremony was sacred and like a dream. Their service was second to none. Vincent and Aisha went out of their way to make sure everything was perfect. They were prompt in returning all of my calls and emails all through the planning process. They were very patient and very sincere. They spent so much extra time making sure that they captured the perfect photos that we will forever cherish. They are true Christians and I think the best wedding planners you could ever ask for. I would recommend them to anyone wanting to get married in Maui. We had the time of our life. I give them an A+++++. 5 STARS.

Merry Maui Weddings's reply:

Dear Cece

Aloha. We just now discovered your kind and generous testimony. We don't look at this website often but were so thrilled to see this.

I hope that you two are doing well. God bless you abundantly.

Ayesha

Kelly

Married on 07/14/2007

We are from Indiana and wanted to get married in Maui, It would have been very hard to plan a wedding a million miles away without the putting our full trust in them. We are glad we did. The wedding was beautiful. I wanted a traditional "hawiian minister" and that is exactly what i got. the photos were amazing. the wedding was at sunset and vincent knew exactly what to do to get the pictures just right. I couldnt have asked for anything better. They were so nice and so easy to work with. The 5 hr time difference didnt even become and issure while planning either. they suggested a wonderful restaurant to go to after as well as the condo we stayed in. they were right on with everything. I cant stress enough how wonderful they are.

Timothy

Married on 04/08/2011

MERRY MAUI WEDDINGS Did a wonderfull job with everything that we asked for. Vincent & Ayesha are awsome. We had a small weather issue and they were very flexable and made it the best it could be. Again the wedding was awsome. We are so happy and cound not have started our marrage any better
Thanks so much
Timothy & Stephanie Courtney

We very much enjoyed our experience with Merry Maui weddings. We worked closely with Ayesha for our planning and the ceremony was perfect. Ayesha was quick with responding to emails and everything was handled very professionally. We changed the venue for our ceremony 2 days before and they were very flexible. We have not yet received our photos but the photographer showed us some as she took them and they were outstanding! We received our marriage license within three weeks. I would highly recommend merry Maui weddings to anyone looking for a wedding planner on the island. Great value and easy to work with!

We were just recently married in Maui and had booked our date with Merry Maui Weddings about a year in advance. Ayesha provided a lovely ceremony and the flowers, cake, etc, were everything we wanted. We had a wonderful day, perfect weather, and a great location.

I just recently received my photos and am terribly disappointed. When I chose a wedding planner photography was one of the most important things to us. We only had a few family members come to the wedding so we relied on beautiful photos to capture our wonderful wedding. The website advertised (and still does) a photographer that they do not work with any longer. We were told about a month before the wedding that another professional photographer would be at our wedding. I wasn't too worried because I figured "Who could screw up pictures of a beautiful sunset wedding in Hawaii", well, it happened. We ended up with several hundred pictures and I would not consider framing a single one. The lighting was off, the angles were bad,she included several photos with our eyes closed and they look very unprofessional. My friend took much better photos on her camera phone. I am still shocked at how bad these pictures turned out, and instead of looking at them and being reminded of what a wonderful, once in a lifetime day we had, I nearly burst into tears when I look at them. I am so embarrassed I don't want to even show them to my friends and family! It is pretty obvious that they did not provide professional photography.

It is unfortunate that everything else with the wedding went well, and the pictures ruined the positive things I have to say about Merry Maui Weddings. I think if you want to use them, I would recommend not using their photographer, you would be better off having your friends and family take photos. I am devastated that our special day was no captured well, and there is nothing that can be done about it.

I CANNOT recommend Merry Maui Weddings to my worst enemy!!
Your wedding is supposed to be the most special day, you are supposed to be crying because you are so happy, not because there is still a bride and groom and the exact location, with the same company, at the time your wedding is supposed to start and because your flowers, that you paid and extra $100 for to have the "premium selection" were rotting and disgusting!!

The flowers looked as if they were picked off the side of the road on the way to the wedding, they look like the kind you would pick on the side of a freeway that are covered in bugs and half dried out! (there were no bugs surprisingly)!!
The colors we chose were not represented AT ALL....
Half the guest leis were good, half were obviously a bit older...

Now, the worst part, the photography!!! My family that were there took much better photos with their point and shoot than were provided by this "photographer"..half the photos, not even kidding, have either his wife sitting in a double person red lawn chair with an umbrella in the background, his kid who was "learning to be a photographer" or had SUCH bad lighting or exposure!! We do not have even ONE of his photographs displayed in our house, they are too embarrassing!!
We paid extra for the "24 hour photo rush" which was NOT 24 hours, and then they were just put on a website that you can only access for a week! well we stayed in Maui for more than a week, so when we got home, we no longer had access to the photos! AND we are pretty sure NONE were edited!

The only thing worth the money was the extra we paid for a true hawaiian minister that played the ukulele and sung!! ( but again, Vincent and his "team" messed that up buy not playing OUR WEDDING DANCE SONG and instead played the song we specifically requested NOT be played for our first dance....even thinking about it I am FUMING!!!!)

DON'T DO IT!!!!!!

Julie

Married on 05/21/2012

Wedding was nice, follow-up was not what it should've been.

Merry Maui Weddings's reply:

This review is inaccurate, mean- spirited and distorted. This bride had a beautiful wedding that we worked so conscientiously on. There was one problem with a free video, that we worked diligently to correct the best we could but she was determined to hurt us. We will stay in business, and continue to provide quality weddings for many people. Please read our other reviews.
Ayesha

Scott

Married on 11/14/2009

We were married last year, and also found Merry Maui weddings to be well under the expected level of service. It seems that this company is better suited to small beach weddings wih only the couple. Highly organized weddings are not their forte! We had quite a large wedding, and felt that due to the higher costs involved that they would put in more of an effort to showcase their abilities. However we were mistaken, as we felt as if we were being more of a bother to them. Who is paying who anyways!?

Further, at our wedding the owners/ operators made an appearance to oversee the wedding, but did not stay until the end. We never saw them again, without so much as a congratulations. We felt that this was rude to say the least.

As well at our wedding we had asked our coordinators to move some items, but they declined saying that they were too heavy. As a result, my 65 year old aunt went and moved the items herself.

Following our wedding, we both reflected about how we had to arrange outside agencies such as a DJ, cake, etc with minimal assistance from our coordinators. It appears that Merry Maui Weddings has minimal knowledge of companies and individuals who provide services on Maui for weddings. Rather, they choose to promote those within the Maui Wedding Association(whom they are a part of), and no others.

As you can see, the effort and care that Merry Maui Weddings put forth towards our wedding was minimal at best, and we would not recommend them to any couple wishing to be married on Maui.

Do not trust these people with your wedding!

My (now) husband and I weren't married for several months because they messed up the paperwork, absolutely unacceptable. 2/3 of the flowers didn't arrive (the ones that did were incorrect) and I still haven't received a refund after 4 months. They're disorganized, they're unprofessional and you may or may nto be ACTUALLY married.


Merry Maui Weddings's reply:

I am sorry this bride is disappointed with our services and the beautiful wedding she received.

It is true that two guest leis were not present as there was a misunderstanding of what she ordered, which we should have verified. We sent her a check to refund the leis quite some time ago.

The minister did everything he was supposed to in regard to her marriage certificate but the State of Hawaii made a mistake and did not enter it. A new system is in place that ocaisionally has glitches, though not often anymore.

The day, the bride let us know about this problem, the minister set out to correct it and did, as soon as possible. They were always legally married. the health department simply failed to enter it, upon their new website. It was easily corrected and would have been sooner if they had let us know sooner. The website had informed the minister, that the wedding certificate was confirmed and he had no way to know it had not.

I am sad, that because of a couple of communication glitches, that have been corrected already, this new wife wants to cause people to think we won't do a good job, because we care very much and we do an excellent job. We are not always completely perfect and neither are computers but we do our best and most think it is wonderful.
Are you interested?
Send a message