155 Reviews
Recommended by 98% of couples
Quality of service

4.9 out of 5 rating

Average response time

4.9 out of 5 rating

Professionalism

4.9 out of 5 rating

Value

4.9 out of 5 rating

Flexibility

4.9 out of 5 rating
29 User photos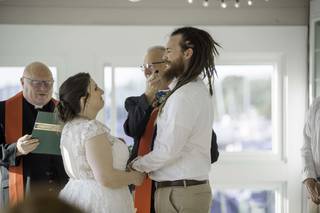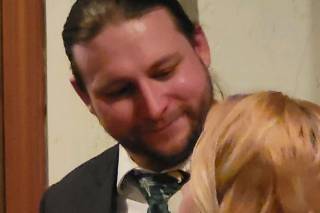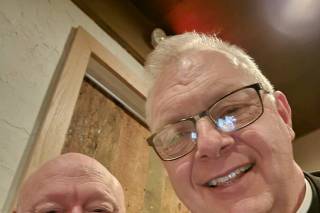 + 25

photos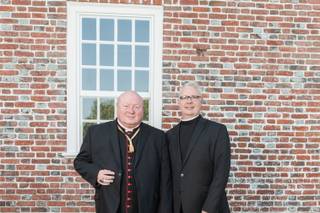 Marianne N.

Married on 10/22/2022

Beautifully done

The ceremony was lovely and moving. Both gentlemen were professional and kind. A perfect blend of sacred and humor. I was a little nervous before walking down the aisle but they put me right at ease by chatting with me before the processional started. Loved the teasing of my daughter with the remark of how she had to sing a song during the ceremony.

Men In Black Wedding Officiants's reply:

This couple was very easy to work with and were gracious. This wedding ceremony having close family and friends supported their commitment in their choice to be married for life. we try to calm a Bride and/or Groom before the ceremony, when they are nervous as to have them be comfortable in experiencing one of the most important moments in their life. Yes, our inter-weaving of the Sacred and humor, allows a couple to then touch the smile of God. We wish them well and many happy and healthy years ahead. Thank you Marianne and Richard. All the best, Ken and Michael and Men In Black Wedding Officiants



Meagan

Married on 10/15/2022

Wonderful all around

MIBWO was honestly the best choice for our wedding. They were just the kindest, most welcoming, calm humans. They are super detailed and didn't leave a single thing out, and not just for the ceremony. they offered so much help with every aspect of the wedding. I was planning all of it by myself so it was nice to have that. i am so beyond grateful for them and all the information they provided. As for the ceremony. We were definitely over the moon with everything. they truly were wonderful and provided such a sweet, heartfelt ceremony for us. Everyone raved about them throughout the night and even weeks after. it was such a great ceremony for us. and i would recommend them to everyone.

Men In Black Wedding Officiants's reply:

Getting a great review about our ceremony planning like this, means we married great people, like this. It was our honor to work with this couple and the Ceremony that we custom designed for them, did fit them really well. As time goes on, their relationship will mature like a bottle of Fine Wine, to be savored. We wish this couple well and many happy and healthy years of love in an awe filled relationship. All the best to this couple. Thank you, Revs. Ken and Michael of Men In Black Wedding Officiants

Veronica M.

Married on 10/01/2022

What Made Our Ceremony So Special.

My husband, Steve, and I are so grateful we decided to choose MIBWO to officiate our wedding. Michael and Ken went out of their way to make sure our ceremony had a personal and sentimental touch to it. They were incredibly helpful throughout the wedding planning process, from sending us examples/templates of how to orchestrate our ceremony to reminding us why marriage is such a beautiful occasion in the first place. Numerous of our guests commented that it seemed as if they've known us for a really long time, which is a factor that we very much appreciated. I would recommend these services to any who are considering. They absolutely assisted in making our special day as beautiful as it could possibly be!

Men In Black Wedding Officiants's reply:

We are most grateful for this couple's kind words about us officiating at their wedding ceremony. We do go the extra mile in crafting a unique wedding experience for each couple as Celebrants. No couple is alike, so to use a "canned wedding speech ceremony" that many officiants do, just takes the heart and soul then out of the wedding ceremony. Each couple has a unique relationship and each ceremony should be different to reflect that relationship of each couple. Critical to have in the wedding ceremony script are words chosen that indicates moments of wonder, awe and joy in the uniting of their hearts. It is this one abiding thing that we do as wedding Celebrants, custom design, that makes us stand out above all the rest. And yes, it takes a lot of time and work to have ceremonies of this high caliber carved out of the stone of language that we are to work with, to create a beautiful worded sculpture. Kudos to our couple, and may they enjoy many years of health, happiness and love. Thank you. Regards, Ken and Michael of Men In Black Wedding Officiants - https://www.meninblackofficiants.com/

Are you interested?

Send a message

Julie L.

Married on 09/03/2022

Men in Black Review

Men in Black were very easy to work with. They explained everything clearly & gave us script templates to customize our wedding. They helped ease our nerves at the altar by adding some comedic quirks. Our ceremony went smoothly, even with the skateboarders as background noise. LOL! They truly were an important part of our day, and we would recommend their services to anyone we know. They did an excellent job! Thank you, Mr. & Mrs. Lee

Men In Black Wedding Officiants's reply:

This couple way very easy to plan a wedding ceremony with. The ceremony flowed with ease and the rituals were specific to the couple. The setting was bright and the guests all thought the ceremony was inviting and engaging. Many told us how nice it was. We wish this couple many healthy and happy years together. All the best to Julie and Robert on their new journey as husband and wife. Thank you again. Regards, Men In Black Wedding Officiants - https://www.meninblackofficiants.com/

Annika J.

Married on 04/22/2022

Perfection

Second marriages are different: more thoughtful, calmer, full of hard-earned wisdom, but also so filled with love and laughter. MIB fulfilled all of the above. Guests (and bride and groom) were brought to sweet tears, but also wonderful mirth. During our vows, guest's eyes glistened, heads leaned together with their partners, hands reached for each other, shoulders touched. That is when you know it is real, and that our ceremony perfectly captured us as a couple, and the true meaning of love and companionship through thick and thin.

Men In Black Wedding Officiants's reply:


Thank you so much. What a nice review of us, from this couple regarding our Officiating their wedding ceremony that we custom designed for this charming couple! Yes, we blend the serious with a touch of humor at times throughout the ceremony when we officiate. Our goal is to be inviting, and engaging and add a sprinkle of being entertaining as well to the mix, to create a ceremony of awe and wonder. The wedding guests really paid attention to this a couple committing themselves to each other during the ceremony. Being more of a smaller intimate wedding ceremony, all the guests interacted well with each other as they attended this wedding ceremony to honor this couple. We wish this couple many happy and healthy years together, now as Husband and Wife. All the best, Revs. Ken and Michael of Men In Black Wedding Officiants - https://www.meninblackofficiants.com/ - meninblackofficiants@gmail.com


William C.

Married on 04/11/2022

Beautiful Service

Just wanted to share some thoughts on the wedding service of Pat and Ryann C. that occurred on Friday, November 20, 2020, and was officiated by Men in Black Wedding Officiants.
I have to say, we were thoroughly impressed with their sense of reverence, spirituality, and at times light heartiness during the ceremony. It was an absolutely beautiful day, with the sun setting in the background made you appreciate the natural wonders that God has created, it was an amazing afternoon. Rev. Msgr. Michael K. Carroll, USAFR and Rev. Mr. Kenneth R. Warne created an inspirational and scared atmosphere that was spiritual uplifting and comforting.
They performed an absolutely beautiful service and we highly recommend them for a wedding ceremony.
Bill and Theresa C.
11/24/2020


Men In Black Wedding Officiants's reply:

Thank you very much. What a nice review and compliment to receive. We are very happy that the family members and guests were happy with the ceremony we created and performed for this couple getting married. Many of the wedding guests went out of their way to approach us and tell us that this wedding was the best wedding they ever attended. Remarks like this confirm the position we take that when we custom design a wedding ceremony for each couple we marry, the ceremony will be over the top. We do put a lot of work in each ceremony we Officiate at. Our sense of spirituality when expressed properly in a ceremony allows us to touch the face of our God and to celebrate all of us together as one people. We wish this couple many happy years together in married life and we are most grateful for the many remarks and reviews given to us such as this review given to us here. It warms our hearts and brings a smile to our faces. All the best. Regards, Revs. Michael and Ken - Men in Black Wedding Officiants

Leslie

Married on 03/26/2022

Two Awesome Dudes For Your Special Day

Me and my husband was so happy when they called us back and told us they were available to officiate our ceremony. I'm catholic on my fathers side and my new husband just graduated boot camp and was only on leave for 3 days and we wanted to get married before he had to leave for training. Michael and Kenneth were very professional and easy to work with. They prayed over our marriage and gave us good advice for the future. Couldn't have asked for anything more. Very highly recommended!

Men In Black Wedding Officiants's reply:

We just loved officiating and being the Celebrants for this Bride and groom's wedding ceremony…not because they as a couple were sensitive and laughed at all my corny jokes, but because their wedding ceremony, although being simple, was powerful in touching the soul and heart and was beyond wonderful. Such a warm and caring Bride who was so nice and lovely as well as her handsome Groom who was a gentleman and will be a good spouse for her, launched their ship together for the journey of a lifetime. We loved our time with them as their Officiants…..and since this was all done last minute, our neighbors even stepped in to be their official witnesses and even supplied them with flowers literally at last for their wedding ceremony. The pictures and video taken, captured most of the ceremony, but being at this ceremony, was actually feeling the gentle hand of God being placed on all our shoulders…for their ceremony, made God smile!
Thank you,
Rev. Msgr. Carroll & Rev. Warne - Men In Black Wedding Officiants 302-945-6903 - meninblackofficiants@gmail.com


Sine G.

Married on 03/13/2022

Excellent professionalism and flexibility!

I don't know where to start; I found them with only a week and a half left until our wedding day die to an issue with our original minister. They responded to me instantly and we had things taken care of instantly. Very professional and they offer up a lot of good information for people that are going through a first marriage that may not know customs and how weddings work.

The day of was stressful due to several things not going as planned and being miscommunication but they definitely were part of getting things organized and done and everyone loved the entire wedding ceremony and luncheon. I recieved compliments from everyone saying our wedding was by far the best and most enjoyable wedding they ever attended; and we were definitely not a traditional wedding or organized.

You pay for what you get and these gentlemen are top notch. Don't hesitate!!!

Men In Black Wedding Officiants's reply:

We felt so so bad when the Bride-to-be had her scheduled Officiant cancel on her, 1 week out from the wedding date1 She called us literally 1 week before the wedding date. Yes, we did cancel personal plans as to be available for her to Officiate for this couple, literally on last-minute notice. This couple was very polite and gracious to us and selected us as her new Officiants to the rescue! Great venue but ceremony space was small and challenging….even had the property Ghost put in his 2 cents worth once they exchanged their Vows! A wonderful time and the guests and family were cordial and friendly. Well, the old expression is true . . . "when God closes the front door, he opens the back door and all the windows!" We wish them well and to have many happy and healthy years ahead together. Thank you again, Revs. Michael Carroll & Ken Warne of Men In Black Wedding Officiants

Wendy C.

Married on 08/20/2021

Such great officiants!

We really thought the Men in Black did a stellar job! They provided a template for the ceremony that was easy to use and they provided such great feedback throughout the process. We never felt like we were navigating the wedding prep alone - they were always there to guide and encourage us. The service itself was made so special by Rev. Carroll and Rev. Warne - so many special moments to cherish! We could not possibly be any happier with the service MIB provided!

Men In Black Wedding Officiants's reply:

"This couple has a gentle spirit between them and also a good sense of humor. They were gracious to us and so kind in their words about our officiant services that we performed for their wedding ceremony. We wish this couple, now pronounced as husband and wife by us their Officiants, many happy and healthy years of life ahead. May God stay ever so close to their hearts."
Thank you. Regards, Revs. Ken and Michael from Men In Black Wedding Officiants


Lauren S.

Married on 07/17/2021

Thank you for the Beautiful Ceremony

Lauren & Soham

Married on 7/17/21

The Men in Black (Rev Ken and Bishop Michael) were wonderful to work with right from the get-go. They were extremely helpful, responsive, and so kind throughout as we planned for our wedding. We felt more than ready for the ceremony weeks in advance thanks to their preparedness and active communication. They created a beautiful script weeks before the wedding, and we really appreciated this because it was nice to know what to expect and it gave us the ability to prepare for the actual ceremony. They were very sweet, jovial, and funny with an incredible sense of timing; made us feel very comfortable during the ceremony and brought us tears of joy with their recitation. Not to mention they were a blast to dance with at our reception. We were incredibly lucky and honored to have them marry us.

Ken and Mike were a great addition to our auspicious ceremony and would highly recommend them to everyone!


Men In Black Wedding Officiants's reply:

A very nice couple and family members as well. A great couple for us to work with in planning this wedding ceremony. It was a killer hot day in the roasting afternoon sun, so we kept the ceremony short as well as engaging & inviting of all the Guests, throwing in moments of cool humor. The ceremony had very moving moments with many tearful eyes of the guests attending. The ceremony reception dinner and dancing was a hoot and everyone celebrated the love of this couple, married by us, their Officiants, as they can now officially call themselves . . . Husband & Wife. CONGRATULATIONS to all! All the best, Revs. Ken and Michael of Men In Black Wedding Officiants

Eric P.

Married on 07/10/2021

Great Experience

Men in black are just all round great guys. From the beginning to end they were so great. With my fiancé nervous about the big day and not know much about wedding and helping keep her calm and not worry to keeping everyone on track. Great sense of humor, great passion, and absolutely wonderful. Would highly recommend these guys for anyone's big day.

Men In Black Wedding Officiants's reply:

A VERY nice couple that we married. As officiants, we marry many couples . . . these 2 were at the top of the list . . . very fun and easy for us to work with and be able to officiate a great ceremony for them. All the best to them from Revs. Ken and Michael of Men In Black Wedding Officiants

Frances J.

Married on 07/09/2021

Five Stars All The Way!

Before my daughter was even officially engaged, I had begun the search for a wedding officiant. We were not on the same page. My husband and I wanted her to have a traditional Catholic church wedding, which was not what she envisioned for her wedding ceremony. I wanted a priest, but I knew that a priest would not marry a couple outside of the church. So I was thrilled when I found Men In Black Wedding Officiants through a google search. I knew from the moment we contacted them that they were the perfect fit for what I wanted and for what my daughter wanted. They are very detailed oriented and always answer any questions very promptly. To say they are organized is an understatement!

On my daughter's wedding day, we were all very excited to meet Rev. Msgr. Carroll and Rev. Warne. They are both very friendly and have a great sense of humor. The ceremony couldn't have been more perfect. After the ceremony, guest after guest came up to my husband and me and commented on how beautiful the wedding ceremony was and how much they enjoyed listening to Rev. Carroll and Rev. Warne. We were also very honored to have them do a blessing before we ate, and they even made everyone laugh out loud with a funny joke!

I would highly recommend Men in Black. We couldn't be more pleased. Five Stars all the way!!



Men In Black Wedding Officiants's reply:

This couple and their families were a joy to work with. The setting for the ceremony was breath-taking. We custom-designed the ceremony for this couple as we do with every couple, to highlight the Sacred with humor, and the result was that we provided an inviting and engaging atmosphere for all who attended the wedding ceremony. The couple and their families were gracious and wonderful people. We wish the couple many happy years together. We are happy that so many of the couple's guests complimented the couple and parents, about the ceremony we officiated at. Such a beautiful family. Thank you. Regards, Revs. Carroll and Warne

Joseph R.

Married on 06/20/2021

5 Stars All the Way

My fiancé and I were very fortunate to find the Men In Black Officiants and book them for our beach wedding. From beginning to end, Ken and Michael were amazing to work with and helped us create a one of a kind ceremony by sharing comprehensive amounts of wedding planning materials. In addition to their excellent planning advice for the ceremony, they provided thoughtful questions and counseling discussion topics for us to connect with each other and the sacrament of matrimony. At the wedding ceremony both Ken and Michael were pros. Through our work, they were able to encompass our personal styles with the perfect mix of tradition, humor, and love to make our ceremony beautiful and meaningful. Many guests commented on the moving sermon our officiants gave, as well as their reverence, spirituality and at times lightheartedness. It was an honor having both Ken and Michael officiate and bless our marriage. We could not have imagined a ceremony that reflected our love and religious upbringing in a better way.

Men In Black Wedding Officiants's reply:

This was a very fun couple to Marry and they were great to plan and custom design their wedding ceremony script with.
The beach setting was great and the guests were all excited for this Marriage to occur. We were honored to be the Officiants marrying this couple, now husband and wife. We wish them much happiness, health, and laughter in their future years together.


Christopher A.

Married on 05/04/2021

Wonderful!

My fiancé and I decided to push forward our wedding and "run away" to the beach to make it official. Men In Black were able to accommodate us on such short notice. We literally called them for the first time two and a half hours before the actual ceremony took place! We met up with them and they were very professional yet fun and they really make your special day that much more special. The vows Michael wrote for us were just incredible. It's like he's known us our whole lives. While chatting with them before the ceremony they found out I've been unemployed and even offered to help me out with a job! All in all it was a very special experience and they were true professionals. I would highly recommend!

Men In Black Wedding Officiants's reply:

What a nice and fun couple. We were glad that we made their big day so so special for them. We only custom create ceremonies, so no canned scripts here used by us with a couple!

Yes, this was a RUSH order to work on and get ready…we only had 2 hours to pull it all together and we had to rearrange our prior scheduled day to accommodate this couple!!! And guess what? We pulled it off and even had a person come with us to take pictures and a video for this couple! We are most proud of our efforts on this event that we were the Celebrants for and are proud that we made this couple so very happy.


Mary G.

Married on 04/09/2021

Very caring and professional

I was privileged to attend A wedding where Michael and Ken officiated. They stepped in on very short notice and officiated at a beautiful bayside wedding. Ken had everything planned down to the last detail. The ceremony was absolutely lovely. Michaels sermon Was meaningful and personalized. The invitation to all people in a committed relationship to renew their vows to each other was beautiful. Many of the guests commented on the beauty of the ceremony. I would highly recommend them.

Mikeashuman@Comcast.net

Married on 04/07/2021

Perfect Wedding!

We knew from the first time we meant with Michael and Ken that they were perfect to perform our wedding ceremony. We were laughing and sharing our life stories within a matter or minutes. They made us feel like we had known them forever and a day!
Michael and Ken helped us plan our ceremony which was filled with religion, humor and inspiring readings that were perfect for today's world.
Michael and Ken could not have been more accommodating to our needs. We had planned to get married on July 15th; however, Dave woke up at 3AM that morning with a kidney stone. After spending four hours in the emergency room, we had a huge decision to make. Do we or do we not get married at 4PM? We had no idea what to do, so I reached out to Michael and Ken for some advice. They were wonderful and assured us that they would be there for us either at 4PM or whenever we were ready. We decided to postpone the ceremony until the next day. The next morning, Ken called me to see how Dave was feeling first thing in the morning.
Our ceremony finally took place the next day, Thursday, July 16 at Baywood Country Club, Rehoboth Beach. It was the perfect day! During the ceremony they had a surprise for us, which we know nothing about. It turned out to be something that we had mentioned during our first meeting several weeks before the wedding. We could not believe they remembered and made it part of our ceremony. What a wonderful surprise!
Our guests could not stop talking about how beautiful the ceremony was. In fact, they still mention how wonderful Michael and Ken were as we reminisce that day.
We want to thank Michael and Ken for making OUR day incredibly special and memorable.
Mike & Dave


Men In Black Wedding Officiants's reply:

"This couple was a pleasure to deal with. Having the ability to joke and have a sense of humor helps a lot in event planning esp. so in these challenging times. Yes, we do cater to and remember the small things, which we blend into our custom-designed ceremonies we create for each couple, "it's what we are known for"! We are very happy that everything turned out well and we thank this couple for their hospitality extended to us. The ceremony was inviting and engaging to all family and guests alike who attended the ceremony and they all were glad that they were there. May this couple have many happy and healthy years together in the future to take care of each other." Thank you again. Regards, Revs. Ken and Michael



Christina T.

Married on 01/06/2021

The Perfect Ceremony

In March 2020, my fiancé and I had to postpone our Grand Cayman wedding three days beforehand due to COVID-19. We set a new date in June, but we were notified in May that we would need to delay again. Wanting to keep our date, we cancelled our destination plans and started arranging a backyard wedding in our hometown.

We only had a few weeks, so our first search was for an officiant, which is how we came across the Men in Black. Their reviews were outstanding, and from the videos we watched of them, we could see why. We decided to reach out – and we are so happy we did.

From the very start, they were engaging and focused on making sure our ceremony was EXACTLY how we intended. We did not have long before the wedding, but they took what little time we did have to understand our vision and then provided us with options to choose from and/or personalize. They also sent us several useful ceremony tips and resources to help guide us along the way.

We could go on about how great they are. But if we had to give one reason why we highly recommend them, it would be the experience. They made everything simple, fun, and most importantly, they made it about the two of us. We cannot thank them enough for creating such a special and sacred ceremony.

Men In Black Wedding Officiants's reply:

Greetings Christina and John,
Thank you for your very kind words. We are so appreciative.

There is an expression . . . "When God closes the front door, He opens, all the windows!"

That is what we have dealt with Couples during this Pandemic, in having their wedding plans dashed and wedding ceremony rescheduled and yet rescheduled once again. We have opened the windows for them to see a wonderful alternative in having their wedding be special. We have a passion for officiating at wedding ceremonies. We have been doing this now (about 2200 weddings over the years) in us giving 120% in every wedding. It's really in our blood so to speak. We custom design every ceremony around the Couple. We do not use a "shelf canned ceremony" where 1 shoe fits all. This bride said it correct, couples choose us, they write great reviews of us and refer us to others . . . because of our many many years of experience and us acknowledging it's the couples BIG day, not our day. In the ceremony, we are inviting and engaging with the Couple, family members, relatives and guests to enter and be present in the ceremony with the Couple . . versus just being a bored spectator "hoping the reception starts soon". The event of a Marriage provides us all with Hope & Joy as love becomes the wondrous journey for 2 people to join together on, not just as Husband & Wife, but also as each other's confidant and true best friend. We insert humor in the right places during the ceremony and we also stand in Awe of the Sacred commitments occurring and being made in the exchange of Vows and Rings. So we are most grateful for the great review we have gotten from this Couple and we wish them God Speed on their new journey as Husband & Wife.

Thank you.
Regards,
Revs. Carroll and Warne

Clare M.

Married on 10/02/2020

Our Light During COVID-19

We came across The Men In Black when we decided to change our original wedding plans due to COVID. Planning a wedding during COVID was stressful and The Men in Black were our light in this dark time. They made our day absolutely perfect given the difficult circumstances. The Men in Black were very understanding, informative, and supportive. They provided us with a wealth of information and really listened to our wants and needs.
With COVID we had decided to get married in our parent's living room with no more than 10 people and the Men In Black made great suggestions with the room layout to make our ceremony more intimate and comfortable for our guests.
The ceremony was exactly what we hoped for and we would highly recommend them to our family and friends.

Rev. Ken and Msgr. Michael, we cannot thank you enough for helping us create such a special day and we look forward to our vow renewals with you both in the years to come!

Men In Black Wedding Officiants's reply:

Thank you Clare and Shawn for your kind and generous comments. What a cute and wonderful couple to officiate their wedding ceremony for. The ceremony went beautifully and the setting was superb. We wish this couple a lifetime of happiness.

Daniel

Married on 09/10/2020

Everything we could have hoped for

After being forced to postpone our wedding twice, my fiancée and I decided we were tired of waiting and wanted to do go simple. We just wanted it to be us 2 and an officiant. We were fortunate enough to find Michael and Ken, who were truly a blessing. They not only worked with us on short notice but proved to be a huge help while we scrambled to get things organized last minute.
On the day of our wedding they were in communication with me throughout the morning, even calling me with a reminder to bring the marriage certificate. Even though it was not the big wedding that we had originally planned for, the ceremony was everything we could have asked for and more. Ken helped us by taking pictures, and Michael gave a fantastic sermon that was so perfectly fitting you would have thought he had known us for years. They were nice enough to stay with us for a few hours to take pictures afterwards.
Honestly, it is difficult to put into words how thankful and blessed we are that things worked out the way they did. After the pandemic forced us to postpone twice, we never would have thought we could have been as happy as we were about the way our ceremony turned out. Thank you so much.

Danny & Amanda


Men In Black Wedding Officiants's reply:

We were happy and glad to assist this couple in planning for their wedding day on the beach in being their Officiants to Marry them. In addition to the usual and customary challenges that an indoor wedding creates, beach weddings have their own set of additional challenges for a couple, such as onlookers and beach-goer, the many outdoor noises, the waves sound in crashing on the beach, and don't forget, the circling Sea Gulls. However, we guided this couple through these obstacles and provided them with a most memorable custom-designed wedding ceremony just for them. The combining of the Sacred with humor, is an inviting and engaging approach. We are appreciative of all the positive comments we heard from them. We wish this couple many happy and healthy years ahead. We even got yells of good wishes and claps of approval from those watching and on the Ocean City, Maryland Boardwalk as well. Thank you Amanda and Danny. You are a beautiful and sweet couple.

Kiara

Married on 10/19/2019

Amazing!

First, I'd like to state that we were originally doing a destination wedding and due to COVID we had to change plans within 3 months! We were looking for officiants and came across the men in black and boy am I glad we found them! This is the bride by the way, when I was waking down the aisle I got a little emotional, for me that was bound to happen. As soon as I got to the alter these guys made me laugh! The ceremony was also so beautiful! We had a few jokes thrown in there and it make everyone laugh! I know it was my wedding but I think that was the most beautiful, funny, and well put together ceremony ever!

Men In Black Wedding Officiants's reply:

Kiara and Joshua were a wonderful young couple that we as officiants, married. The ceremony was moving with the awe and respect shown to the Sacred and while also engaging of family and guests for light moments of humor as to inter-weave the bests parts of humanity together. We wish this couple many happy and healthy years of love and health as their love takes them now into their new future together. Thank you both, Revs. Ken and Michael of Men In Black Wedding Officiants

Lauren

Married on 10/10/2019

Hands Down The Best! The Men in Black Wedding Officiants

A week before our wedding on the beach my fiancé (at the time) and I were faced with the possibility of bad weather. We were so upset because of all of the planning and decorations and the dream we had of our wedding was crumbling around us. We couldn't find a venue that wasn't already booked or that was close to a location that included food and hotels for our family. We spoke to The Men in Black Wedding Officiants and they immediately got to work looking for a venue and preparing our ceremony. It was unbelievable! Within 24hours they had found 2 venue locations. One of them we actually fell in love with and got it for a phenomenal deal. Ken didn't waste anytime coordinating, he called and spoke with the manager and setup a meeting for us to see the location and meet the owner. They even rearranged their schedule to accommodate the meeting so we could sit down and go over everything with us to get a game plan since we had less than a week to get everything together. The Men in Black officiated our wedding on 10/28/2018. They kept in contact throughout the whole wedding process, even offering advice about the ceremony table and chair layout, which we found super helpful! Ken and Michael are so great to work with! They will customize your ceremony script to make your day extra special! On the day of the ceremony I had forgot the easel for the "cord of three strands" ritual as well as forgetting to untie the braids before beginning the ceremony. It was the only ritual I wanted and it meant so much to me. I thought it was ruined but Ken and Michael turned without missing a beat and revealed their own cord of three strands that they had actually made for us as a gift. I was moved to tears. The fact that two people who had just met us could care so much about our wedding day. They were determined to make our day special and they made it absolutely unforgettable. They were absolute angels from God! At every step of the way we faced some obstacle and they smiled and had a solution. Thank you so much for everything! We look forward to seeing you at our 5 year vow renewal!

+ 3

photos

Men In Black Wedding Officiants's reply:

Lauren and Brandon, It was a great pleasure to work with you both. You both had great communications and responsiveness with us. Yes, we had some challenges . . . to even have a wedding occur at all. We do what we do best, and that is to take the ordinary and make it the extraordinary . . . and we did make that happen for you beyond your wildest expectations. We appreciate your very kind words of respect and appreciation for our efforts to help make this possible within 24+ hours. We look forward to celebrating with the Renewing of your wedding vows. We wish you only happiness and love. All the best, Men In Black Wedding Officiants

Pat J.

Married on 09/10/2019

Perfect wedding ceremony for us!!

Ken and Michael helped us prepare an intimate ceremony that we personalized with their suggestions along with special readings. They know wedding ceremony pitfalls and challenges better than any wedding planner. The hints they provided made our ceremony by the water perfect. They joined our reception like family, and all had a blast. Our friends are still talking about Ken and Michael. If you want a special ceremony, these two are the right ones. Thanks Michael and Ken!

Men In Black Wedding Officiants's reply:

This couple was a joy to officiate for! They, their families, and their guests were more than hospitable to us. They all made us feel very welcome at their reception. The couple chose a beautiful dock on a beach setting within the community they live in as the site of their wedding ceremony, and it was spectacular. The words we custom designed together with the couple for the ceremony made a strong impression on their family and guests, as many of them complimented us on officiating the ceremony and said to us, it was the best ceremony they EVER attended. We wish this couple years of happiness and joy and we hope they and their guests stay in touch with us as well. Thank you. Men In Black Wedding Officiants https://www.meninblackofficiants.com/


Danielle F.

Married on 08/24/2019

Thorough & Professional

I would highly recommend MIBWO to anyone getting married! They provided us with so much useful information that really helped make our wedding ceremony just the way we wanted. You don't realize how much goes into the ceremony! But Kenneth really helped break it down and was very willing to help us make things go just the way we wanted. Bishop Carroll was fantastic during the ceremony and kept it gracious with a bit of humor which everyone loved. Thank you both so much for helping make our day so special!

Men In Black Wedding Officiants's reply:

We both enjoyed officiating at this couples wedding ceremony. They were open to suggestions and discussion which then planned out the ceremony to be custom designed for them. The event went well and was memorable by all the planned out detail needed in making this ceremony specifically unique for this couple. We wish them health and happiness for years to come. Thank you from Men In Black Wedding Officiants

Geri S.

Married on 06/23/2019

They Made Our Vow Renewal Even More Memorable

Highly recommend Men in Black. We could not have been more pleased with the way our Vow Renewal turned out. Greatly appreciated the effort that MIB took to get to know us and work with us to tailor the ceremony so that it was unique and something everyone could connect with instead of just a standard service. Everyone enjoyed the light touches that were woven in making our beach ceremony memorable. Our guests keep complimenting us on having Reverend Msgr. Michael and Deacon Ken officiate. They helped make our 30th wedding anniversary truly a special occasion. Have no doubt about hiring Men in Black for your event.

Geri and David
June 23, 2019

Jamie J.

Married on 05/10/2019

Perfect Ceremony

We were a little unsure about how to go about wanting a religious ceremony outside near the beach. When we heard about Men In Black we thought it would be too good to be true. However, upon meeting Rev. Mike and Ken we knew we had the perfect duo. They're comforted us and put the tiny details into the ceremony that we would have never thought about, they're true professionals when it comes to wedding. We enjoyed the ceremony and recommend them to any friends who ask!
Are you interested?
Send a message