Reviews
4.6 out of 5 rating
Quality of service

4.7 out of 5 rating

Average response time

4.6 out of 5 rating

Professionalism

4.7 out of 5 rating

Value

4.7 out of 5 rating

Flexibility

4.5 out of 5 rating
93%
Recommended by couples
5 User photos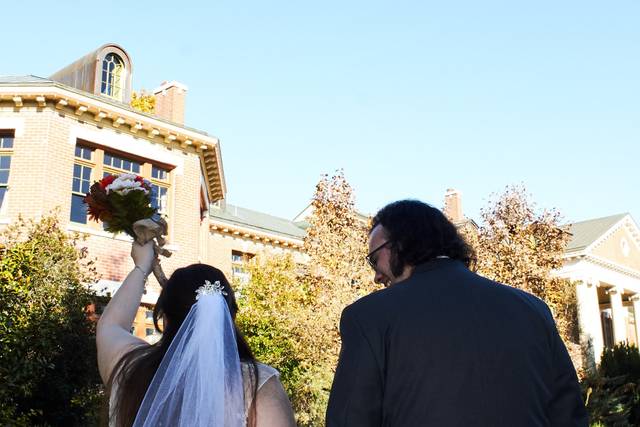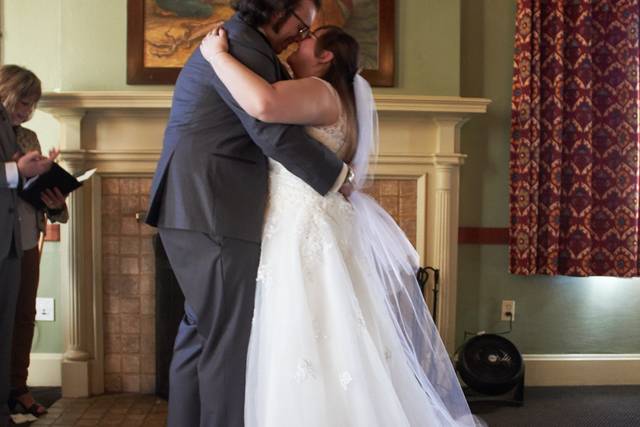 Katie

Married on 07/02/2022

The best experience

Thank you so much for helping make our day special! We had so much fun and heard great feedback from our guests on the venue, food, and overall experience. We feel like The Grand Lodge fit our needs perfectly. A few things that made this experience wonderful: beautiful outdoor setting, variety of rooms for guests, soaking pool, food & beverage were fantastic, everything went seamlessly. We loved working with Alex McMurry and The Grand Lodge, and highly recommend this venue!

McMenamins Grand Lodge's reply:

Thank you so much for the kind words, Katie! All the best to you and your family!

Cheers!

Paul Hansen
Sales & Events Manager
McMenamins Grand Lodge

Samantha V.

Married on 11/02/2019

Wonderful Wedding

McMenamins Grand Lodge was such a wonderful place to have our wedding. Our wedding had a small amount of guests and with being able to have the venue, catering, and drinks be taken care of in one place it definitely lifted a stress off our shoulders. Both my Husband and I love McMenamins and were glad we got to spend our special day here. The Staff was fantastic, answering our questions right away, and on the day of wedding helping us with giving us a break down of everything and helping us when guests may have been a bit unruly. They were a fantastic place. The only thing my husband and I are sad about, is not having it outside in the small enclosure of trees, but having it inside the Children's cottage was just as beautiful. I highly recommend, especially if you want a venue that is all-in-one, where you have the venue, and catering taken care of right in one place.

McMenamins Grand Lodge's reply:

Samantha,

Thank you for this review! I was so happy to work with you and Daniel; you were both so lovely. Thank you for choosing us and allowing us to be a part of your special day. Best wishes for your life together!

Cheers,
Sydney McMurry, Manager
McMenamins Grand Lodge

Taylor

Married on 09/07/2019

Wonderful experience

Armando was awesome, he went out of his way to make sure everything was exactly how we pictured it. The menu and bar options were super flexible and they worked with our budget. We stayed two nights at the lodge and they made sure our rooms were near the venue space and gave us some souvenirs at check in. The rooms were small but made up for it with large bathrooms and closets. I'm so happy with how everything turned out!

McMenamins Grand Lodge's reply:

Taylor,

Thank you for the review! I am glad to hear that you and Armando worked well together and that your big day was seamless! We hope to plan an anniversary with you in the future :-)

Cheers,

Sydney McMurry, Sales Manager
McMenamins Grand Lodge

Are you interested?

Send a message

Featured

Brianna N.

Married on 09/01/2019

Amazing staff, beautiful property and a great value

Sydney and her event team were amazing! They were so attentive and accomidating through the whole planning process and were quick to lend us assistance when things went wrong with our sound system during the reception.

Mcmenamins Grand Lodge was the perfect choice, nothing but positive comments from our guest about the food and space.

Thank you so much for making our special day perfect.

McMenamins Grand Lodge's reply:

Brianna,

Thank you for taking the time to leave this review and include a couple of images! What a beautiful day it was. We are so glad that you and Derek allowed us to be a part of it :)

Cheers,
Sydney McMurry, Sales Manager
McMenamins Grand Lodge

Hayden W.

Married on 08/10/2019

Wonderful place to get married

On the day of our wedding it started to pour down rain 30 minutes before we were supposed to start. We had already cancelled the weather pending canopy because rain was not supposed to happen. The staff at Mcmenamins Grand Lodge acted very quickly and gave me many options to deal with the rain. They were able to put up pop up canopies and move the ceremony underneath cover and changed all the linens. They did all of this very quickly and provided a wonderful place for us to do our ceremony.

McMenamins Grand Lodge's reply:

Hayden,

Thank you for choosing us to be the backdrop to your special day! Oh, Oregon weather... We are glad that the rain did not hinder the spirit of you or your guests. Best wishes to you and Michelle!

Sydney McMurry, Sales Manager
McMenamins Grand Lodge

Lara

Married on 05/31/2019

Amazing wedding with McMenamins Grand Lodge

We decided to go with McMenamins not only because is it a PNW staple but also because of how seamless the process is with them. McMenamins knows how to put in a wedding. They take care of all the details such from chairs and silverware to food and beverages. If you are a person that doesn't want to deal with a ton of vendors and just wants a beautiful set up with no fuss look no further than McMenamins Grand Lodge.
We got married in Catchings Grove and the reception was on the Iron Works Patio. The foliage is so beautiful you don't need any additional decorations for your wedding. The patio is comfortable and has beautiful lights strung along a wooden panels that cover the patio.
I would recommend McMenamins Grand Lodge to anyone getting married in Oregon!

McMenamins Grand Lodge's reply:

Lara,

Thank you for taking the time to leave feedback for us! Our gardening team works extra hard to be sure the event spaces are green and luscious. It was a pleasure to work with you and assist in making your vision a reality. Best wishes to you and your new husband!

Sydney McMurry, Sales Manager
McMenamins Grand Lodge

Mark

Married on 08/06/2016

Beautiful grounds. Great customer service.

Laura

Married on 06/24/2016

The event coordination staff was very professional and quick to communicate every detail of our ceremony and reception. The venue was very beautiful and the service was excellent! When shopping around for a venue we found the Grande Lodge's prices could not be matched. Our stay in the wedding suite was wonderful as well and the food during our entire stay was great!

Kaitlyn

Married on 06/20/2015

Everything was perfect! Thank you Nikki, Catherine and McMenamins Grand Lodge I only wish we could have had it even later. Everyone agrees it was the best wedding ever

Best wedding venue in the area and for the cost. Staff is so helpful and friendly. Great communication with sells department.

Jennifer

Married on 10/12/2014

I was so pleasantly surprised at how easy McMenamin's Grand Lodge (specifically Catherine) was to work with! She never tired of my seemingly endless questions, answered them all with a professional, positive attitude and was just super nice. We had an extremely tight budget, and after researching tons of other venues/catering options, McMenamin's was the only one within our budget. I just can't say enough good things about McMenamin's Grand Lodge. "Easygoing but professional" would be the best description!

Jen

Married on 08/15/2014

If you are looking for a venue with peace of mind and entertainment for your guests, then we recommend you look into McMenamins Grand Lodge. Our coordinator Nikki was always quick to respond to questions and worked with us through every phase of the planning to make sure we were happy. She also provided lots of wedding insight about planning the event as we were doing everything on our own. Our ceremony was outdoors and the grounds were very well taken care of and made a beautiful backdrop for our photos. The great thing about a venue like McMenamins is that it offers your guests an experience to explore if there is downtime during the wedding (like photos) and many guests who have not been to a McMenamins love the chance to take it all in. So much of the guess work is taken out when you book at McMenamins as they do all the set up, serving and provide many things you otherwise would need caterers and rentals for. For the cost, you can't get much better. I know the day of the wedding we were extremely happy we didn't have to deal with different vendors all day. Our ceremony even went shorter than planned and when we asked the wait staff to move up the cake cutting and appetizer service that they were quick to make the change. Our bartender was awesome also, he kept asking me if I needed anything and entertained our guests. Go Grand Lodge!

Mandy

Married on 06/22/2014

We decided to go with McMenamins Grand Lodge after searching through many other Oregon venues. We had a projected guest list of 300 and we wanted a venue that could accomodate our guest list. We chose the Willow Grove at the Grand Lodge. We worked very closely with a Sales Coordinator during the entire process! Nikki was amazing and I could write an entire review just about her! She was so amazing and helpful, such a pleasant person to work with through this process! I love the simplicity of choosing a McMenamins venue. They take care of the food and catering, linens, dishes, glassware, silverware, everything! We met the minimum food and beverage amount which meant that we were able to get our space with no additional fees, just food and beverage minimum. We were able to stay within a reasonable budget and did not end up spending an arm and a leg for our wedding. It was a beautiful day and we had zero stress! The only thing that I would recommend is hiring a wedding coordinator to help things run smooth for the day of. We thankfully had a day of coordinator and with a wedding as big as ours, I am so glad that we did! This is a great venue choice if you are looking for simplicity and hassle free!

Sara

Married on 06/22/2014

I don't think we could have asked for a more beautiful venue for our wedding ceremony and reception. The service was exceptional, everyone was very attentive and really went above and beyond to take care of us and our guests.

Nicole

Married on 06/07/2014

The Grand Lodge was the first place I called for a venue because I have always loved McMenamins. I thought it would be too expensive but it wasn't and it included an assortment of food and beverages to choose from. We booked The Children's Cottage for the reception and wanted to get married in the Cedar Grove if the weather permitted. The weather was wonderful, we had a plan B if it was not. McMenamins took care of everything from linens/napkins, toast glasses, cake cutting to lights for the ceremony and bench and extension cord for our pianist. We had changed our minds about a couple of the details and Nikki was understanding and supportive of every change. The bartender was awesome and made sure we always had full glasses. Everything from the planning to execution was wonderful. I'd recommend McMenamins to anyone getting married.

The staff at McMenamins was professional, generous and creative. I would definitely recommend holding any event out at the Grand Lodge. Our wedding was perfect and a huge part of the success is because of the knowledgable staff.

Amber

Married on 02/22/2014

Working with McMenamins took the headache out of the whole process. It was so nice to have the space, linens, staff, food, bar, set up and clean up all taken care of at once. The venue and staff, including bartender, are all included in the catering minimum, which was extremely reasonable. Each space has its own sound system you can just plug your computer in to. Best of all, we didn't have to worry about where our guests would be staying and how to transport out-of-town visitors to and from the wedding. They stayed in the Lodge and loved it.

Jacie

Married on 11/17/2013

Nikki was my coordinator, she was PERFECT! she gave suggestions, but also embrassed my uniqueness. My wedding day went off without a hitch! It was perfect. Mcmenamins was perfect, we even stayed at the hotel for our first night and the soaking tub was amazing. My experience could not have been better. They took a lot off my plate and it was such a great value!! GO CHECK IT OUT!

William

Married on 10/28/2013

We had a lovely wedding at the McMennamin's Grand Lodge in Forest Grove Oregon. We looked at about ten different venues and we were just going to have a small, almost courthouse style ceremony with a dinner at a downtown Portland Hotel but we thought the cost of venues in Portland were very high. Nicole at Grand Lodge made our wedding a stress free pleasure. They know what they are doing and are very efficient. The Compass Room is a beautiful and classy space. It is a great value and the food was great and I am picky about my food. We had prime rib for 28 people and I loved it. The bartender was skilled and when the whole thing was done and we closed down the Compass Room we were able to continue the party and play pool in the bar that is in the basement. We got married on a Monday which may seem unusual but it worked out great and it was like we had the whole estate to ourselves. Room service the next morning was really nice. We couldn't be happier with our choice and we like the idea of being able to go back there and have dinner and reminisce in the future.

Marisa

Married on 10/26/2013

McMenamins Grand Lodge was such an amazing venue to get married at! Not only was the space unique and special, every staff member we encountered was so attentive and helpful. From our coordinator (who was phenomenal!!), to our catering captain, to the maintenance staff; everyone did their best to make us feel so special and attend to our every request! I would highly recommend this venue. And the value for the price you pay was absolutely worth it!

Hilary was amazing! She was very organized and patient as we tried to figure out our wedding plans. The day of the wedding everything was ready to go. Shea and Jamaica took care of all of our needs throughout the day. I, as the bride, did not have one stressful moment. It was truly the most stress-free day and I enjoyed every minute of it. The best part was that we did not have to setup or take down anything. I would most definitely recommend the Grand Lodge to anyone planning a big event.

Eden

Married on 09/07/2013

Hilary and the staff was excellent. Thorough, attentive, and good at anticipating our needs.

Amber

Married on 07/21/2013

Fantastic service and food! And the location was beautiful.

Trena

Married on 07/20/2013

Hilary and the Grand Lodge crew were absolutely amazing. She made sure I got the best bang for my buck, and wasn't afraid to tell us what she did (and didn't) recommend. Our wedding went off without a hitch, or if there was one, I never knew! Hilary was always very responsive to me emails, even the week before the wedding. We had the Delia's Garden space, and it was perfect. It felt secluded even with the lodge still being open to the public. Or at least it felt that way to me!

The value was amazing too! If we hit the (easy) minimum in food/beverages, the venue is included. Easily the best deal we had seen for such a beautiful space. And since it's McMenamins food, you know it's good!

We also had the rehearsal dinner the night before, and had access to the garden for the rehearsal itself.

Even though the space isn't available late (you have to be totally cleared by 10pm), we just took the party to the Dr's Office Bar downstairs, which worked perfectly. The older people got to enjoy the entire wedding, while the younger ones got to party and have fun well into the night.

We would highly recommend the Grand Lodge to anyone. Truly. It was the perfect wedding for us.

Venessa

Married on 04/06/2013

My husband and I just held our wedding at the Grand Lodge and we couldn't have asked for a better venue. We had looked around approximately 8 venues, and GL was the best for the value. The peace of mind in knowing they took care of all of the necessities and not having to use a separate vendor for each aspect was a releif. The sales staff was very professional and worked with us to make sure everything was perfect for "our day". The catering manager Christina was awesome and went out of her way several times that day to make us feel like we were the most important couple. They were having multiple events that day, but it never was an issue and we didn't receive any less treatment. The food was great, the venue was amazing. If I had to do it all over again, I wouldn't make any changes.
Are you interested?
Send a message