33 Reviews
Recommended by 100% of couples
Quality of service

5 out of 5 rating

Average response time

5 out of 5 rating

Professionalism

5 out of 5 rating

Value

5 out of 5 rating

Flexibility

5 out of 5 rating
Awards
5 User photos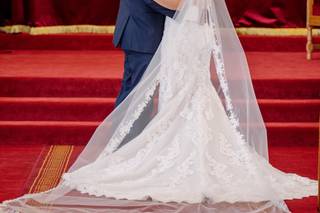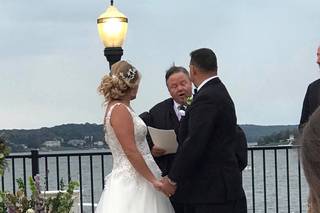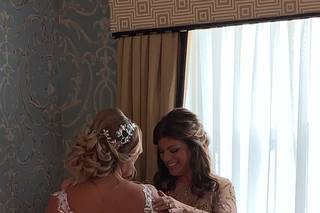 Karen D.

Married on 07/18/2021

Picture Perfect!

McKay did a great job accommodating our needs! Communication was excellent. Our photographer, Brandi was fantastic to work with. She understood our vision and executed brilliantly. Our pictures are stunning!

McKay Imaging Photography's reply:

Thanks so much for everything Karen and mark! You were a dream to work with! Brandi captured beautiful pictures that day! Beautiful people = beautiful pictures!
All the best to you both! Please keep in touch!
Bob + Liz McKay

Alexandra R.

Married on 04/10/2021

Above and beyond!

From start to finish Bob and Liz were amazing to work with. They went above and beyond for us, and their pictures were just as extraordinary. Even during the pandemic, Bob and Liz were incredibly understanding, accommodating, and helpful. Together they create a fun, welcoming, and exciting experience for the bride, groom, families, and everyone involved. We had a blast with them at our engagement shoot and minimony, and can't wait for them to shoot our vow renewal and large reception in 2022! Can not recommend them and their beautiful work enough!

McKay Imaging Photography's reply:

Alex + Stephen,
Your wedding day was a big love fest and we loved being there for you! Thanks so much for being there for us as well... ; )

Rebecca T.

Married on 09/26/2020

Simply the best!

I had an absolutely fabulous experience working with Bob and Liz! Their experience and professionalism from made us feel comfortable and stress-free from the planning stages (with a COVID postponement) to the wedding day. They helped to keep us on schedule all day and got all the shots that we wanted -- even the ones we forgot that we wanted! To top it all off, the photos turned out beautiful. Thank you Bob and Liz!!!

McKay Imaging Photography's reply:

Becky & Alex!
Thanks so much for this amazing review and most of all, thanks for entrusting your wedding photography to us! It was really a wonderful day and Liz and I were so glad to spend it with you both! All the best to you both as you enter this new chapter of your lives and please, keep in touch!
Sincerely,
Bob + Liz McKay

Are you interested?

Send a message

Alexandra O.

Married on 10/11/2019

The Otero Wedding

Bob and Liz were absolutely magnificent! Their energy and vibe together made our wedding experience so wonderful. They both made the whole day and evening run so smoothly and assisted the bridal party so perfectly. I could not have picked a better photography company to capture our most magical day. Their love and passion for one another truly shows and it was even more special to see and feel that throughout our entire day. We thank you endlessly!!

McKay Imaging Photography's reply:

Eric & Alexandra!
Wow! What an exciting wedding day you had! You totally lucked out with the weather and your friends and family were amazing but mostly, you lucked out by marrying each other! Thanks for treating us so wonderfully! We had a great time and can't wait to show you the pictures!

Harley

Married on 07/06/2019

Back-Lederer Wedding - Oyster Point

Bob & Liz were absolutely amazing! They were running around like crazy trying to get as many pictures as possible. They were always there when we wanted them, and were incredibly quick with the preview pics. Which were also amazing. We can't wait to see the final photos! Thank you, Bob & Liz, so much!

McKay Imaging Photography's reply:

You are very welcome!!! Thank you so much for entrusting us with this important task... It was an awesome day! : )

Kristine

Married on 04/06/2019

Our Wedding photos are amazing!

Bob & Liz are wonderful! They are very easy to work with and made sure we got all the pictures we wanted. Bob & Liz are really nice and helped us with anything we needed throughout the day. They made sure we were on schedule for the day. The preview pictures we got so far are absolutely perfect! We cannot wait to receive all our pictures. They did an amazing job.

McKay Imaging Photography's reply:

Thanks Kristine!
We have the best job in the world! : )
Thanks for sharing your wedding day with us!
Bob 'n Liz McKay

Liza

Married on 07/21/2018

Bob and Liz were wonderful to work with. Both the engagement and wedding photos came out stunningly!

McKay Imaging Photography's reply:

Thanks so much !
You are both so sweet and were a pleasure to work with! : )
Bob 'n Liz

Claire

Married on 05/19/2018

We decided to use McKay Imaging because they had done a wonderful job photographing my sister's wedding 7 years ago! They were just as amazing this past weekend. They arrived early to the venue to check out the different locations we had discussed (since it was a new spot for them), which made the actual day go so smoothly. They are very experienced, and had great advice to make sure we got every shot we wanted while not taking too much time away from the celebration. We love their eye for creative shots that are not just your usual stock photos. Bob and Liz were both very professional, on time and went above and beyond to capture every memory from our big day. I would definitely recommend them to anyone planning their wedding!

McKay Imaging Photography's reply:

Thanks so much Claire & Alex! Have an amazing honeymoon! We'll see you both soon!
Bob 'n Liz McKay

Lindsay

Married on 07/21/2017

Bob and Liz McKay made our whole wedding photography experience enjoyable. They know how to capture moments both posing and candid. Posing can get tiring after a while but they know the right amount before it gets to be too much. They have done all my sisters weddings, and now mine, and we are always pleased with the outcome. They have even done portraits of my nephews and niece and they always come out amazing as well. Even when we have worried that there weren't going to be good pictures out of a shoot, they always take us by surprise. I highly recommend them to anyone I can! You will be pleased just as we were... I promise!

Kirsten

Married on 10/22/2016

My husband and I highly recommend McKay Imaging for both engagement and wedding photography. Liz and Bob were a pleasure to work with during the entire process. The engagement photo shoot was so much fun and the photos were amazing! On our wedding day, they were extremely professional, easy to work with, and captured all of the moments we wanted!

McKay Imaging Photography's reply:

Thanks so much Kirsten! The feeling was mutual! We had fun too... Thanks so much for everything!
Bob & Liz McKay

Kaitlin

Married on 09/16/2016

Working with Bob & Liz was such an amazing experience. From our engagement shoot to our wedding day we felt so comfortable and confident in our decision to have them as our photographers. They were very easy to contact, and answered all of my questions throughout the entire planning process. Their work is absolutely amazing and we are so thankful to have had them photograph our wedding. Do not hesitate to book with Bob & Liz, they are wonderful!

Caitlin

Married on 07/02/2016

We couldn't be happier with our decision to have Bob and Liz photographer our Red Bank wedding. They were warm and insightful from our very first meeting, and they made us feel comfortable despite being stressed out on our wedding day. We weren't set on having a first look beforehand, but after discussing the idea with Bob and Liz, we chose to have one. We are so grateful that we were able to do that to not only calm nerves, but to get some great photos. Just from our wedding preview photos we can see that McKay truly captured the day with stunning quality. We promise that you won't regret booking Bob and Liz to capture your big day!

McKay Imaging Photography's reply:

Thank you so much for the kind words! It means so much to us! We will be seeing you both soon!

We cannot say enough to express how wonderful our experience was working with Liz and Bob on our wedding day! The photos that they captured are absolutely breathtaking and they were able to capture the feeling of each moment.

Our wedding morning was a bit stressful and way behind schedule, but Liz and Bob did not make us feel rushed or stressed as I am sure they were. Instead, we floated through our wedding day enjoying each moment with them, alongside our family and friends, capturing each moment.

It is wonderful to have a husband and wife team because you have two sets of eyes, but they are still able to work together so flawlessly. We cannot wait to see all of the pictures from our wedding and treasure them forever.

Ali

Married on 05/24/2015

We are thrilled to have Bob and Liz McKay as our photographers. When we took our engagement pictures, they made us feel extremely comfortable and we are excited to have them capture our big day. When you book with large photography companies, it's possible that they might send a photographer that you never met. This sometimes makes it awkward and uncomfortable when trying to pose for pictures. This is not the case with McKay imaging. It's just two photographers and you are able to get to know them before your big day! They take great pictures!

Katharine

Married on 05/15/2015

Bob and Liz were amazing to work with. Prior to the wedding they helped us work out the time line of our entire day, to make sure we were calm, cool, and on time. The day of the wedding, they were incredibly professional and unobtrusive. We didn't even know they were around half the time but they were certainly busy capturing the memories of that day. Our photographs are gorgeous, and our guests even commented on how great they were to work with too! We cannot recommend them enough to our friends and family, and we will definitely be going back to them for family portraits in the future.

Samantha

Married on 11/14/2014

Bob and Liz photographed my wedding in November 2014, and I wish there was a word for the way I feel about how truly beautiful our photos are. We picked them up this past Saturday, and I have not been able to stop looking at them, thinking about them, or hearing about them from others who have seen them.

From the very beginning, the McKays offered guidance and support for all wedding-related plans, and Liz even helped me tweak our "day-of" schedule, up until the day before the wedding. Their flexibility and proactivity helped make our day go off without a hitch!

In the last few weeks, I have tried to imagine what the pictures would be like, but was also a little worried because both Bob's and Liz's presence at our wedding was not overwhelming. My husband and I were even trying to remember seeing them buzzing around, but the day is a big blur. I swear, they are both super heroes, and their super powers are stealth movements and sharp eyes- maybe even invisibility!

What I mean to say is, the photos are breathtaking. I am at a loss. Bob and Liz were able to perfectly capture so many emotions and so many hundreds of special moments and I didn't even notice it as they quickly and seamlessly navigated through the ceremony and reception space! There are almost no pictures of me making weird faces, as I am known to do in candid shots, and My husband does not look at all like a menace to society (which he almost always does in pictures)!

I am in awe of Bob and Liz, both are magic photo genies. They were able to be everywhere during the day in such a fluid presence, and I will forever be grateful for the outstanding images of our most special day.

Now the hard part: picking images for our album!

I would absolutely, without any shadow of a doubt, recommend McKay Imaging for any and all photography needs.

Marissa

Married on 10/04/2014

They were the first vendor we booked after we set our date and got the venues in order. Bob and Liz were an absolute joy to spend the day with and even managed to get my husband into the whole thing. We haven't seen our photos yet but we have loved their work for a while and cannot wait to see how they look. Will update once received but we wanted to make sure to leave a note right away to say how wonderful they were for our big day.

Amanda

Married on 09/20/2014

If you are looking for a dream team of photographers, look no further than Bob and Elisabeth. From the first meeting, they were extremely professional and personable. They made us feel incredibly comfortable and answered every question we had. Our pictures were the one thing my husband and I agreed in were the most important, and we walked out of our first meeting knowing they were the people we could trust with our wedding pictures. Throughout the whole process, they would check in to see if we had any questions or concerns. On our wedding day, Bob and Elisabeth did a great job of helping my husband and I relax and enjoy the day/night. They were never pushy about getting a certain picture and honestly, we didn't even know they were there. They effortlessly glided around our ceremony and reception, always close by to get the perfect shot. Our guests loved them, and they had no problem taking candid or group shots of our guests, which was exactly what we wanted. Our pictures came out gorgeous. We cannot stop looking at them and reliving our day. We are so grateful for everything they have done for us and can't wait to use them again in the future. My husband and I would recommend Bob and Elisabeth and McKay Imaging to everyone we know and love. Thank you for helping to make our day one we will never forget.

Lisa

Married on 09/07/2014

Bob and Elisabeth were fabulous! They take amazing photos and spent the whole day capturing every moment! They put together a great package of prints, digital copies, and a mini album. Best part is they give you the rights to your photos which is amazing. They do beautiful work and we are so glad we trusted them to capture our special day!

Alix

Married on 05/03/2014

I absolutely love McKay Imaging! From the day we met Bob and Liz we knew they were the photographers for us. My husband and I had been interested in a photography couple because of the multiple perspectives they bring to the day and this couple was recommended to us by a colleague. Leading up to our big day they really got to know us as a couple and what kind of pictures we were looking for. They got to know who was who in our family and our wedding party so on the big day everyone felt like they knew the McKays! Just the couple of pictures we have seen so far have gotten us so excited to see all of the beautiful art that was created on our wedding day! Wonderful work!

Sarah

Married on 09/21/2013

Let it be known that Bob and Liz are incredible wedding photographers! They shot my sisters wedding in September 2011 and once we saw the pictures from that wedding, we knew we would book them for our own. Both Bob and Liz are extremely personable and they really get a feel for you as a couple before your wedding day. They took all of the pictures we had discussed at our pre-wedding meeting and A LOT more, which was amazing because all of the pictures they captured are incredible. A few wedding guests who saw the pictures after the wedding commented to us that they loved our photographers, not only because the pictures they took were great, but also because they never got in the way of the wedding itself. At some weddings, the photographers are in your face, demanding specific pictures because they want that "perfect" moment which somewhat takes away from the "magic" of the wedding day. Bob and Liz somehow capture all of those "magic" moments, but they're swift about it, to the point where you don't even notice they were taking pictures. We can't say enough incredible things about Bob and Liz and we highly recommend them for any event.

Sarah

Married on 09/21/2013

We just received our "sneak peak" photos and are already SO happy with the photos of our wedding day. Sara and Dave were so easy to work with and they were able to capture so many great moments. We can't wait to see the rest! I highly recommend McKay Imaging.

Carolyn

Married on 04/27/2013

We are so happy that we went with McKay! It was great to have one photographer with my husband while he was getting ready, and one with me and my bridal party. They were very professional and knew when to pull us aside to get some great shots. I can't wait to see the pictures!

Victoria

Married on 09/29/2012

ex·quis·ite
Adjective:Extremely beautiful and, typically, delicate.
Noun: A person who is affectedly concerned with appearance.
If this is what you are after for your wedding day you will find it in Bob and Liz Mckay. When choosing a photogragher for our wedding we were very particular on who we were going to use since this will be a true memory of our day and from our first meeting with the Mckay's we knew they were it! Mckay's just make everything perfect the pictures speak for them selves check out their blog and there will be no question there. If you are concerned about personality don't be Bob and Liz just make you feel as if they are your family , not ever getting in your way our your special but crazy day they have a way of making it seem like there not even there. I will forever be grateful of Bob and Liz for capturing every moment of the most important day of our lives so beautifully. If you are looking for the best it lies within in two of the most talented professionals I know the Mckays!
Victoria and Anthony Hajjar




Liz

Married on 10/08/2011

The McKays are wonderful to work with and their photographs are lovely. For a photo shy bride they did a great job of making the posed portraits fun and easy and they spend a great deal of time behind the scenes getting great shots. They even tried their best to help with the groom forgot the rings in the hotel! I can't wait to get our album! We had our engagement photos done with them as well and they were amazing.
Are you interested?
Send a message