Reviews
5.0 out of 5 rating
Quality of service

5 out of 5 rating

Average response time

5 out of 5 rating

Professionalism

5 out of 5 rating

Value

4.9 out of 5 rating

Flexibility

5 out of 5 rating
99%
Recommended by couples
1 User photo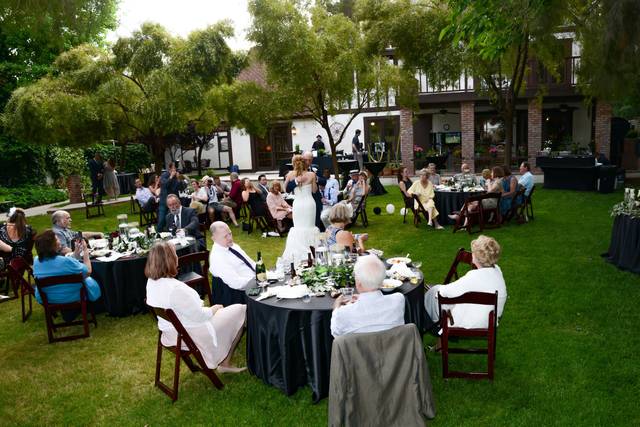 Terry C.

Married on 12/17/2022

Terry Cottle

Masterpiece Catering and Chris Lee do a real quality job with weddings. Chris is very professional, detailed, organized and very easy to work with. From the taste testing, to the pre planning, the walk thru at the venue down to the creation of the menu - everything was done in a competent manner.
The wedding dinner catering including the cocktail foods spanning the evening was magnificent! Their banquet captains, staff and servers were enthusiastic and friendly yet extremely proficient in feeding our 200 guests quickly and efficiently.
I recommend Masterpiece Catering for any event. They take pride in their delicious food options, their presentation and quick service without rushing. Excellent !
I have been involved in close to one hundred events, dinners, banquets, training tables and weddings, this company is top notch. Congratulations and thank you!

Terry Cottle
Longtime resident of Las Vegas

Sierra A.

Married on 04/22/2022

Highly Recommended!

I absolutely appreciated the professional, timely and friendly manner that Chris displayed the entire time. The menu is very affordable and offers a variety of dishes safe for any diet. Also, the willingness to cater anywhere in any setting (airbnb home) was such a great stress reliever. I highly recommend Masterpiece Cuisine to anyone in or out of state!

Dennis G.

Married on 02/28/2022

Great people

EVERYTHING WAS JUST THE WAY WE WANTED,
CHRISTPHOR WAS VERY HELPFULL, HE DID NOT TRY TO OVER SELL US. THE ASSOCIATE THAT SET UP THE FOOD WAS AWESOME. E\HE EXPLAINED EVERYTHING AFTER HE SET UP.

Are you interested?

Send a message

Lindsey N.

Married on 07/21/2021

Amazing experience

Our top priority at our wedding, was having amazing food and Masterpiece Cuisine DELIVERED. Planning a wedding during covid was SO stressful, but the food was NOT one of these stessors. Chris and his team were communicative, prompt, and went above and beyond for us. EVERYONE should book with Masterpiece Cuisine!

Soken C.

Married on 05/15/2021

Masterpiece is a befitting name to this company.

Masterpiece is a befitting name to this company. Everything was masterfully orchestrated. From the beginning the staff was attentive and accommodating to different dietary constraints and time constraints. The food was outstanding and is what would be served from any high end restaurant, from the quality of meat to the presentation. We ordered the food blindly without a tasting and it was thee best decision we could have made. I would highly recommend this catering company for any event. Before considering any other company give them a call or email it will be worth your time.

Julia

Married on 03/21/2020

Amazing food and service

I cannot say enough positive things about this company! Our point of contact was Chris Lee and he was always quick to respond, helpful and happy to answer all of my questions leading up to our wedding. On the day of our staff was awesome, friendly and helpful. Most importantly the food was so good! All of my guests were impressed. Get the donut flambe, you will not regret it!

Kayla Y.

Married on 10/26/2019

Absolutely Amazing!!!

You won't regret hiring Masterpiece Cuisine for any event. We hired them for our wedding, and they went above and beyond to make sure we were taken care of. My main contact was Chris Lee, and the level of customer service and professionalism was remarkable. He made sure that every detail was perfect, and that our vision was brought to life. They catered to my dietary needs no problem, and made all the necessary adjustments needed. The food was so delicious, and people are still calling me to tell me how good they thought it was. I'm really so happy that we went with Masterpiece Cuisine because they played a vital role in why our wedding was so spectacular!

Laura

Married on 10/26/2019

We just had our Vegas In-Suite Ceremony and Reception on June 23rd at Caesars Palace. We couldn't be more pleased on the entire turnout. We had so many compliments on our selections and bar service. Scott was amazing and granted all of my requests, even with short notice( thank you so much btw). Our bartender was Chris, and he even helped me set up last minute before our toasts. We went with the Gourmet Express and bar service and it was affordable and well worth every penny. Thank you again Masterpiece for making our Big Day so special!

Graham B.

Married on 10/25/2019

A wonderful experience

We are thrilled with how delicious our wedding reception was. The tenderloin tips and Madrid style-paella were hits with all our guests. I can't stop thinking about how flavorful the paella and potatoes tasted. Masterpiece coordinated flawlessly with our venue and communication was always prompt. Our favorite part of the entire wedding planning process was our food tasting at Masterpiece headquarters. We were treated like special guests! The only difficult decision was narrowing down our menu choices - everything was so good. Thank you to Chris and all the chefs for a perfect meal.

Suzi B.

Married on 07/20/2019

Exceptional experience from beginning to end!

Masterpiece Cuisine was exceptional to work with.

Every detail was considered and taken care of from the beginning of the research phase to the clean up.

Chris was my main contact in the planning phase and Mike executed with a team that was truly second-to-none.

Every person operated at a level that was above their job requirement, helping out in every and any way they could, to pull off a truly special backyard wedding that went seamlessly.

I'd hire them again in a heartbeat and would highly recommend them - Thank You Team!!!



Mallory G.

Married on 07/01/2019

Great Caterers!

I've used Masterpiece twice now, and both times they've delivered great quality for a reasonable price. I really appreciate how willing they are to modify their menus to fit a variety of needs and price points my clients have had. I would highly recommend them.

R Windfeld

Married on 03/20/2019

Excellent service, tailered to our needs, just a masterpiece experience

We used masterpiece cuisine for our wedding dinner in march 2019.
We are Very satisfied with everything. The service, quick replies on emails. And the possibility to have the food tailered to our needs. The food was amazing and as the name implies, a masterpiece. The woman who set it all up, was kind and helpful and did all of the work. Easy disposables so very practical.

Very happy with the whole experience.

Jacqueline C.

Married on 03/02/2019

Wonderful company, great customer service!

We hired Masterpiece for our in-suite ceremony and cocktail hour at The Cosmopolitan. Chris was great from the very beginning to deal with. Highly responsive and accommodating. Our bartender Veronica was great, everyone loved her. The food was amazing! Would recommend this company to anything looking for a caterer!

Leslie

Married on 12/23/2018

Masterpiece Cuisine was amazing!!! It's very hard selecting a caterer for a destination wedding. Masterpiece Cuisine took ALL of the worry out of the process. They responded quickly to emails and were honest about everything! The staff was OUTSTANDING!!! They made my daughter's wedding reception a HUGE success!!!

Matthew B.

Married on 10/06/2018

Absolutely Amazing! Made our Special Day Perfect!!!

Chris was very prompt with emails and communication, and answered all of our questions quickly. He was professional, and made the catering experience for our wedding stress free. The food was spectacular, and pleased all of our quests who made it to our wedding. I can't recommend enough for their outstanding service!

Christopher

Married on 09/20/2018

Masterpiece Cuisine exceeded all of our expectations! From the moment I contacted them requesting a proposal, Chris was on top of it. I received an email back by the end of the day addressing my concerns and tailoring the proposal to our exact needs. Chris stayed in contact, always making sure everything was proceeding as scheduled, and even after the event to get feedback and make sure we were happy (also, Chris is just a really great guy). Just before the event, I received an email letting me know all the details had been confirmed and who I could expect on site the day of the event. Brajnai, the on-site coordinator, worked her magic all through the event. The food was always filled on the trays, and she was close at hand to ensure everything flowed smoothly and we were completely satisfied. The food was excellent (guests were raving about the tiny tacos and shrimp skewers) and the bar service was top notch (Rick the bartender was extremely friendly and efficient, and just an all-around nice guy).
No matter what you are looking for, Masterpiece Cuisine will make it happen better than you could hope for. Seriously, thank you guys.

Kalena

Married on 09/18/2018

Planning an In-Suite Vegas wedding reception from the other side of the world was initially daunting until I made contact with Chris at Masterpiece.
He answered all of my questions promptly and was patient explaining how things worked/changing menus.
On the day everything went to plan. Food & bar arrived on time, set up with no fuss. The food was yum with huge portions. Excellent value and so pleased we went with Masterpiece.

Brian B.

Married on 09/09/2018

The Best Catering

Some of the best food we have ever had. They did a great job with the food tasting, very courteous, and even made us plates without us asking them to while we were attending to our guests. That's service!

Tatyana

Event on: 06/02/2018



We recently used Masterpiece Cuisine for our twin 5 year old girls' unicorn birthday party. and we couldn't be happier! Masterpiece exceeded our expectations from beginning to end. The food was creative, colorful and delicious, from the gazpacho shooters and mini-tacos for the adults to the rainbow-colored grilled cheese sandwiches for the kids. We appreciated the artful presentation and the friendly and helpful chefs, Lindsey and Cain. We will definitely use your services again for our upcoming events!



I ordered a cake for my niece's 9th birthday. She is obsessed with Harry Potter. When I tell you that not only the kids flipped out over the design and taste, but the adults as well, I am serious. Everything was hand painted and the "9" at the top was a lightning bolt. The cake artist is beyond gifted!!!

Danielle

Married on 05/12/2018

If I could rate more than 5 stars, I would! I worked directly with Chris Lee from start to finish and he couldn't have made the process more straightforward and informative. He was very communicative through the whole process and I never waited more than 24 hours for a response from him-usually I received a response the same day!

The day of itinerary went just as planned and all of my wedding guests raved about their service, food, and professionalism. Chef Iesha was very friendly and while I only worked with her the day of, I am lucky I had the catering staff I did. It was perfect! For the record, I selected Masterpiece Catering specifically for the great reviews and their experience catering in MGM Grand suites. It went off without a hitch and I didn't hear a thing from the hotel. Also, I was impressed by Masterpieces "low waste" philosophy, and, as they promised, they bagged up their own trash and it was less than one bag of trash which they fully bagged up and set aside for us. It couldn't have been simpler. They also sealed up all my left overs and labeled everything. The salad dressing was also separately kept to leave the salad itself as fresh as possible. After all was said and done, my favorite aspect was that Chris made sure to load up a plate for both my groom and I, which, even during all the hecticness of the event, really stood out to me as demonstrative of not only their professionalism, but their true care and compassion when providing their services.

Clearly I could go on and on but anyone debating on a caterer, look no further than Chris Lee and his Masterpeice team!! I wouldn't hestitate to use their services again!! Outstanding!!

Laura

Married on 05/05/2018

BOOK THIS VENDOR! I found MPC on WeddingWire and contacted them due to the amazing reviews I read...it was the BEST choice I made throughout the entire time. I previously lived in Vegas but since relocated to Seattle, so I was planning the entire wedding at a distance. I'm NOT a "planner" of ANY sort, so I was terrified at the thought of planning an entire event by myself. I had no need to worry. Chris Lee with MPC answered ALL of my questions, not only about catering, but in all areas of the planning process. It was like I had my very own TRUSTED "insider." He and I probably emailed back and forth over 30 times and each time he responded back to me within 5 minutes. He did everything he could to point me in the right direction and put me at ease. He is throughough, detailed, and organized.
This team (Chris, Ryan, Chef Cain and the crew) truly made our wedding spectacular. It was obvious that they cared about making MY wedding special. They wanted to be there. They were present. Chef Cain could have been hired directly from the Food Network, his presentation was fantastic! All of my guests, including the owner of the property, Judy, (who is quite particular) absolutely RAVED on and on about how wonderful they were...and the food, and the service, everything :) They said it was by far the best "wedding food" they've ever had.
Whether you're a seasoned event/ wedding planner, event coordinator for a company, or a total rookie like me...HIRE Masterpiece Cuisine, they are worth it and more!!!!!!!!!!!
I apologize I don't have a better photo yet, but the chef pasta bar and beverage bar are in the background...beautiful, clean, trendy set-up/display (I'm SUPER picky - - they looked PERFECT)!

Bruce

Married on 04/28/2018

Masterpiece cuisine catered our wedding in April. They couldn't have been easier to work with. Chris Lee was our contact and event captain at the wedding. He was professional and personable, quick to return phone calls or emails and ensure all our questions or concerns were addressed. They showed up early, set up an awesome display and provided excellent dishes. My wife is gluten free and, with help from Chris, we put together a menu containing no gluten but loved by all who attended. I've gotten nothing but positive feedback on the quality of the food.
I highly recommend this company for any event you are planning.

The entire team(Lorenzo was the lead contact) was great to work with and really made sure we didn't have to worry about anything.

All the feedback was extremely positive from our guests and the event went smoothly without any issues.

They even made some last minute adjustments to help us out with some coordination items. Thank you, Lorenzo and Chris!

Julia

Event on: 04/19/2018

Used this catering company for a recent corporate party and their service was excellent. Food was all amazing and devoured quickly. Delivery came early to ensure that they had enough time to get there a and set up. Very professional and a pleasure to deal with. Would highly recommend.
Are you interested?
Send a message