Reviews
3.4 out of 5 rating
Quality of service

3.3 out of 5 rating

Average response time

3.4 out of 5 rating

Professionalism

3.3 out of 5 rating

Value

3.3 out of 5 rating

Flexibility

3.4 out of 5 rating
67%
Recommended by couples
13 User photos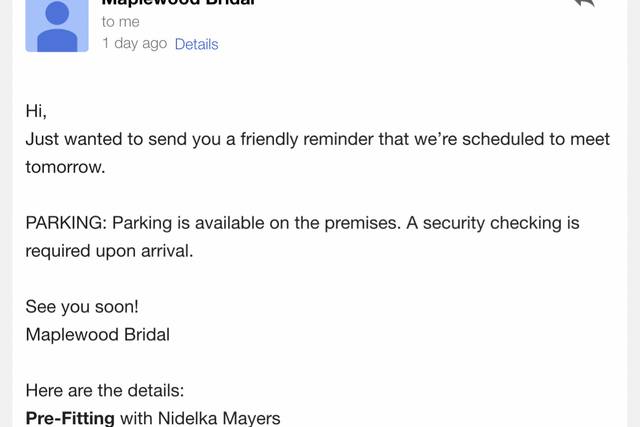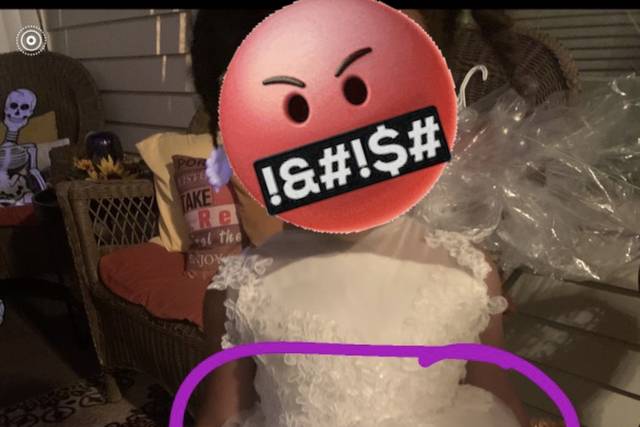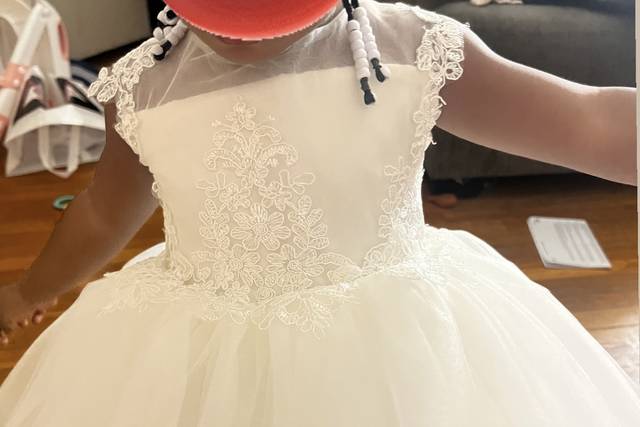 + 9

photos
Dana W.

Married on 04/10/2022

Amazing Experience!

I saw on Instagram about maplewood bridal and they had great reviews! I went to visit with my mom, sister and aunt-in-law, and Nicky was AMAZING! She put me at ease when deciding my wedding dress, so welcoming and personable with my family and I. Also the dresses had amazing price point!!! I will be going back to her trunk show next month!

Maplewood Bridal's reply:

Hi Dana, thank you so much for sharing your experience with our readers. Our mission is to ensure that your Bridal shopping appointment appointment is a memorable part of your wedding planning journey.

Looking forward to you next visit.
Regards,
Nicky

Sophia M.

Married on 01/29/2022

Great experience

I love how they treat every client with care and attention. the ladies, Nicky to name one, was very helpful to us. I love my experience so much!

Maplewood Bridal's reply:

HI Sophia -- thank you for sharing your experience, it was a joy working with you! We look forward to your wedding day styling.

Irene P.

Married on 01/29/2022

Amazing service

Valeria was amazing, super knowledgeable, attentive, patient and down to earth during our text message communications. We had a terrible 1st experience at a different store. When we arrive at Maplewood Bridal, Nicky made us feel welcomed and understood. I would give you more starts Valeria and Nicky if I could. Thank you and keep making beautiful brides dreams come true❤

Maplewood Bridal's reply:

Thank you for the feedback, helping you find your dream gown is a dream come to life!!

We are happy that your experience was memorable and look forward to wedding seeing you at your fitting appointment.

Are you interested?

Send a message

Leola S.

Married on 11/07/2021

Wonderful experience

We had a wonderful experience looking for flower girl and bridesmaids dresses with Nicky. I would definitely recommend this store for your wedding needs.

Tasha

Married on 09/26/2021

Absolutely Amazing

From the moment I walked into the bridal salon, I felt welcomed and supported!! Nikki, the Salon owner has made every moment of my experience special!! She has gone above and beyond to make my entire wedding party feel comfortable and beautiful for my special day!! #fredandtasha2021

Tashabias

Married on 09/25/2021

WOW!!!! Absolutely amazing

I said yes to the dress!!!! The owner was absolutely amazing! VERY PATIENT, very knowledgeable and best service ever!! I'm so happy that I found my beautiful wedding dress!! Very reasonable pricing. Also having my bridesmaids dresses done here!!

Maplewood Bridal's reply:

Hi Tasha,

It was a joy having you in the store. Thank you for sharing your experience with our readers!

Nicky

Aigner B.

Married on 12/10/2020

Great experience

She was amazing. Very attentative and super nice.

Kenya

Married on 11/10/2020

Amazing Experience

My experience at Maplewood Bridal was beyond my expectations. Nicky was warm and inviting. She listened to what I wanted and pulled beautiful gowns for me to try on. She gave me feedback and was able insight into different styles. I can't wait for the second fitting. Looking forward to it! If you're looking for a bridal shop that will cater to all sizes and shapes, please make an appointment with Maplewood Bridal!

Shanay C.

Married on 09/26/2020

Amazing!!!!

I love Nikki!!!! She's a the best! She goes above and beyond to help me and my bridal party! I would definitely recommend Maplewood Bridal to everyone!!!

Denise G.

Married on 02/09/2020

Maplewood Bridal

Nikelda and her team are absolutely the best. I came to her with a request of something very detailed. Not only did she customize the dress to my exact specific details but she went above and beyond to bring my vision to life in a short period of time. I don't think I would have been as happy as I was if I had went anywhere else.

Maplewood Bridal's reply:

My dream is to make dreams come true. You trust in me to create your dream gown, is a gift that I will always cherish.

Thanks,
Denise

Ngrieco90@Yahoo.com

Married on 09/28/2019

extremely helpful !

not only did nicky design a beautiful dress for me, she was also patient, flexible and generous through out my whole experience! i would highly recommend

Maplewood Bridal's reply:

Nicole, We loved meeting you and your family. Thank you for traveling to see us and trusting us to help you design your gown!

Allegra

Married on 06/08/2019

Beautiful Dress for a Great Price!

Nicky designed the dress I wore for my wedding reception based on a dress I'd found in a store. The dress came out exactly how I'd imagined it! It was light and breathable, exactly what I needed after my multi-layered ceremony dress.

Maplewood Bridal's reply:

Allegra, We are so happy that we could be a part of bridal experience in designing your second look dream dress!the pictures of you on your special day are beautiful!

Dee J.

Married on 05/10/2019

Amazing Experience

Nicky was AMAZING. She created the dress of my dreams. She was patient and professional. Not only was I able to get my dress made but I was also able to purchase all of my bridal accessories with Maplewood Bridal.

Maplewood Bridal's reply:

Thank you for trusting we to create your wedding dress, and provide you with the accessories to comple your look. Wishing you all the best! Nicky

Christine B.

Married on 07/06/2022

Wonderful dress selection and great service

We had a wonderful time. Nicky has a great dress selection and service

Maplewood Bridal's reply:

Hi Christine, We are happy that you had a great shopping experience with us, and loved assisting you with finding your dream dress!

Tabriya

Married on 11/04/2022

Horrible! Do not do it!

DO NOT GO TO MAPLEWOOD BRIDAL!!!!! I will say it again DO NOT GO TO MAPLEWOOD BRIDAL!!!! NIKKI IS A FRAUD / PERPETRATOR .
Unfortunately I have to write this review as a black woman against a black business which is highly disappointing.
My mother got her wedding gown from this place, amongst my mother choosing her wedding gown. Nikki asked my mother who was doing the flower girl / ring princess dresses/outfits? Myself , my mother , and my grandmother told her that we were going to look elsewhere. She extended her services to us saying that she would make their dresses in little kid form. Basically we went to multiple fittings for the children, along with my Nana getting her dress made there as well. When we had an appointment to get the dresses she pulled the "I am in the hospital " card which I am seeing is something repetitive that she does on these other reviews. We went the following week where my mother tried on her dress which was fine, but each little girl dress did not fit (even though we had multiple fittings before hand). She then said she was going to do the final touches and drop the dresses off personally since they were not done in time. She then assured us that they will be perfect and no need to try them on (as the maid of honor I texted each person and told them to still try on their dresses. Both flower girl dresses were A HOT MESS!!! (A week before the destination wedding). She then came back and picked them up saying she was going to "fix them" (I'm convinced they were not the same dresses as the fittings) (the dresses were choking the girls , had holes in the dresses , the lining look like a toddler cut it, hemming was HORRIBLE, missing buttons, etc). When picking the dresses back up my cousins grandmother offered her sewing machine / material so she can fix the dress right there. Nikki said no she wanted to take it to the shop. When she brung back the final dresses they were WORST!!!!!! After the bride and mother of the bride expressed their frustration, she said she will send a refund with no apology or no remorse for the actions/results. My Nana asked if she even knew how to sew? Nikki responded no that someone else did the dress and Nikki tried to make it seem like she did the dresses along with "fixed them". I will be warning everyone about this shop along with on the NJ Black Business page. MAPLEWOOD BRIDAL IS HORRIBLE ALONG WITH NIKKI HERSELF! Also the day of the wedding my Nana's dress had holes, the rhinestones were hot glued on to the dress and coming up and was too long after she stated she fixed the dress . I repeat DO NOT!!!!!!!

+ 5

photos

Deborah M.

Married on 09/23/2023

Worst experience ever

I will continue to give her 1 stars until she stopped doing this. Nicky literally is scamming people and capitalizing off of weddings. I have a dress that is paid for and had a pre-fitting scheduled and Nicky is now unresponsive and found out she lost her lease and is no longer at the location she is providing to her clients. The officers said I am not the first complaint they have taken within the past few weeks. I hope she is prosecuted, and all restitution is ordered for everyone that was a victim. Weddings are very expensive and for Nidelka Mayers to do this to brides is sickening. You try to support black businesses especially being a black woman and then you receive this sort of treatment. PLEASE DO NOT GO TO THIS PLACE I WARN YOU. Go to their Instagram they even turned their comments off because there is a client in their posting about Nikki not responding and having her dress.

Hodlyne D.

Married on 09/02/2022

No words to explain the experience with Nidelka Mayers

If anyone needs a full explanation of what we endured at the hands of this woman please reach out to me! All I have to say is 36 hours before my best friends wedding we had to go to David's Bridal to get the full bridal party dresses including the bride....😅😅😅. We are going on two weeks after the wedding and Nidelka Mayers hasn't even offered so much as an apology to the bride.

Sabrina

Married on 08/26/2022

Wedding party

My experience with Nicky began great. She makes you feel as though this is the best place to get your dress. She was going to be doing my wedding dress, my mother, mother-in-law and grandmother. She was also going to be doing two of my best friends weddings ( their wedding dresses and bridesmaid dresses). My wedding was allegedly ordered on October 6th 2021 and to be received in store 2/23/22. My one friend her wedding was on April 11, 2022. As of April 4th 2022, none of the dresses were completed. She stated "come tomorrow" the dresses will be done. The next day comes and all 5 of us receive a text message stating our appts will be rescheduled due to Nicky being in the hospital. Two people were rescheduled for Wednesday the 6th. We all go to the shop on Wednesday to find that the dresses are still incomplete, have holes, stitching is off, etc. completely unacceptable for a wedding that is going to be on Monday the 11th. MIND YOU SHE WAS NOT EVEN THERE TO MEET US, IT WAS HER ASSISTANT. The bridal party and bride had to scramble around to find bridesmaid dresses and a wedding dress for a wedding that was going to be in five days. Now wedding passes, Nicky never texts my friend a sorry or anything. I show up to the shop with my other friend that is getting married the week after me on April 14th, 3 days after the 1st wedding. Nicky simply looks confused as to why we are there, no remorse, just cold. She never apologized for essentially almost ruining my other friends wedding. We asked for refunds on all of our purchases, she stated she would refund us that night for the bridesmaid dresses but could not "cancel" our wedding dresses because they were already ordered. Now im still confused because my dress should have come since February and it still hasn't arrived. Friday comes I continue to text and email Nicky to let her know I did not receive refunds, I even contacted Allure Bridal who is the company she uses to order the dresses. Nicky at this point finally responds via email and states that she would need an additional $50 from be because I was getting a custom bow put on my dress so I needed to pay for the material. I sent her an email back stating that I would not be paying the $50 because first off she hasn't refunded me for the bridesmaid dresses I have already paid for which is a total of $330 and there's no guarantee that my dress will come. I let her know I have no problem paying the $50 once I have the dress in hand. This email was sent Friday and Ive yet to receive a response. Honestly please be very careful in dealing with Nicky at Maplewood Bridal, she will always have an excuse, and blame EVERYONE but herself for any problems that arise.

Ashley

Married on 05/29/2022

Don't do it

In order for me to post this review I needed to give a start, but Maplewood Bridal truly gets 0 stars from me. If you happen to be on Springfield Ave, and you see it, keep driving. If you're on google looking for bridal shops, skip their website. I had an appointment this Saturday at 9:00 am, when the store opens (it says so on the doors.) I booked my bridal gown appointment a month in advance, my mom spoke to someone on the phone named Nikki where she confirmed the amount of people we could bring to the appointment AND the appointment. I had my Matron of Honor and one of my moms drive up from DC to attend this appointment. I had my Mother in law schedule transportation to be at the appointment. The day before the appointment, I also received an email confirmation.

So this past Saturday I arrived for my appointment ten minutes early. The Bridal shop was dark, no one was there, doors locked. We must have called every ten minutes from 9:00 until 9:50 to find out what was going on with the appointment. Maplewood Bridal uses an answering service and never really attempted to reach out to the actual Maplewood Bridal employees until after the 5th call when my Mother expressed her disappointment, frustration, and anger. Finally almost an hour later, we got a call back from Nikki, stating that she didn't know we had an appointment. Then when we told her we got a confirmation the day before, she proceeded to tell us that she had no idea about the appointment and that the confirmation was automatic. Huh?! I don't understand.... She told my mom that she would be able to come in 20 minutes if we waited. In normal circumstances I would have left, but I had family members that were not able to leave at that time because of transportation, so leaving was not an option.

When Nikki arrived at 10:30 or so, she opened the door, and one would think she would be super apologetic. Instead, she opened the door and didn't say anything to us until a few minutes later when she explained that her assistant was supposed to be there and that she didn't know about the appointment and bla bla. (Sorry at that point I really didn't care what the reason was).

So I tried to just move on, and look for gowns. I did not find her very helpful or knowledgeable about the gowns or how to help a bride and potential client find the gown of her dreams. So because we were there, I had to try on some dresses, while trying them on, in comes the assistant. Atleast I thought she was the assistant. She did not appear to know or realize that she was an entire hour and a half late for my appointment. Anyway, she comes over with a phone and is like "Can I take pictures of your experience here gown shopping?" Um really?!

To top it off... I got an email later that day thanking us for our visit. But no apology for their unprofessionalism.

I would never recommend ANYONE to this bridal shop. I would not trust them to do anything with a dress that requires a deadline. I understand that emergencies happen, but there is no excuse for allowing a situation like this to happen to a client. A simple phone call, or call back would have alleviated all of this. Based on my experience, and other reviews I saw when I was waiting outside in the cold rain, Maplewood bridal is unprofessional, unreliable, and a hot ass mess.


Andrea H.

Married on 11/05/2021

Warning! Don't believe the hype of the consultation

OK so for the future brides that can see this post. Please!! if you go to Maplewood Bridal in NJ beware!!! Your consultation will be amazing, may find your dress, you will even feel welcomed. But you may not get your dress! Always have a backup, cuz its days left and i still haven't heard back from the owner regarding delivery of my dress she told me was done and ready for shipment. She said that weeks ago and still nothing (NO Tracking number, no photos, no completed product)..months of back and forth and lack of communication, and she never sent a refund. I feel cheated, lied to and bamboozled.This was heartbreaking... I had to find another dress elsewhere. No bride should have to worry about their dress! Beware or Stay away from Maplewood Bridal in Maplewood NJ.
Now I have to figure out how I can get my money back..this is ridiculous. Don't get your hopes up here..if u can help it go some where else or buy off rack as is and get alterations done elsewhere..

Laquesha C.

Married on 10/03/2021

Peep Poor , Unprofessional


So my best friend is getting married in October we went to NIKKi back in May. NIKKi told us from the gecko that she were going to custom make the dresses to fit our bodies , Month before the wedding she said that she is now getting the dresses from a distribution company. She never communicated with us or responded to any text messages.Always send a payment text message nonstop never scheduled a fitting so Sunday she told us to send a deposit and we will have the dresses on Monday never got a response on Monday so we got a response today which is Tuesday, September 15th Two weeks before the wedding we arrived at Maplewood bridal the dress was the wrong colors and different style and for me I was sadly 😢 Disappointment by the service of this establishment.

Niyah L.

Married on 10/03/2021

The worst experience ever!

I dont even know where to start! First off i want to express that having this experience with a black own business is disheartening to say the least! However THIS WAS BY FAR THE WORST EXPERIENCE EVER!!!!! So i'll start at the beginning, at first everything was very nice, beautiful establishment, great location, and nicki was very pleasing at first, Sold me MANY LIES, and made it sound so good. i went there to enquirer about bridesmaids dresses for my wedding in October. I went to her in MAY (keep in mind) i expressed to her what i wanted, the color which was an emerald green, and the styles of the dresses , and she ensured me that she could make my vision come true. She told me that she makes dresses and that she would MAKE ALL 6 DRESSES. Everything sounded so good until we started to approached the wedding date. SHE WAS SO UNRESPONSIVE, DIDNT PICK UP THE PHONE, TXT BACK DAYS LATER. She WAS NOT TRANSPARENT DURING THIS WHOLE EXPERIENCE, SHE TOLD SO MANY LIE , SHE OVER PROMISED AND JUST NEVER DELIVERED. The girls never tried the dress on,never scheduled them for a fitting , never seen a picture of the dress, NOTHING. She then tells me she waiting to get the dresses from the DISTRIBUTOR! (WAIT, DIDNT SHE TELL ME SHE WAS MAKING THE DRESSES!! SO WHEN DID WE GO FROM "YES IM MAKING THE DRESSES TO NOW IM WAITING ON THE DISTRIBUTOR....HOW!?!? !) so she tells me the dresses are going to be in on a Friday (LIE) Dresses didn't come in to the following week (2weeks before the wedding )AND THE DRESSES WHERE THE WRONG COLOR !!!AND WERE POORLY MADE!!! THEN HAD THE NERVE TO TELL ME THAT WHAT I ASKED FOR. She had no remorse, had no care in the world, literally said nothing ! And i literally left with no dresses for my bridesmaids and the wedding is in TWO WEEKS!!!!
LITERALLY MADE THE WEDDING PROCESS A NIGHTMARE
PLEASE SAVE YOUR SELF THE TROUBLE AND TAKE YOUR BUSINESS ELSE WHERE

Ardele J.

Married on 09/10/2020

Extremely dissastified customer

This was a horrific experience. Nikki made a dress for my daughter and it wasn't anything like they discussed. We had been dealing with her since August 13 . We went to pick up the dress on Oct. 7th and it was a HOT MESS, my daughter was devastated, and in tears, Nikki never apologized for the debacle. We had to go to another bridal shop that same night and purchase a new gown. My daughters wedding is Saturday Oct 10th. so we were cutting it close. Thank God that the other Bridal shop was able to help us in such short notice. You should be ashamed of yourself. :(

Maplewood Bridal's reply:

Thanks for the review. We are sorry that you had a poor experience.
We strive to provide excellent service and accommodate brides, even when the request becomes unreasonable.

The initial contact was in August for an October wedding, and a quote was provided to alter an existing dress.

The bride shop around for another three weeks before she contacted us again. At her follow up appointment, she wanted a completely different dress that our seamstress agreed to make.

The lace fabric initially approved was not to the bride liking once it arrived and required replacing, delaying production of the dress. In good faith, we replace the lace fabric at no additional cost to the bride.

At the final fitting, the dress was too tight, these adjustments were made at the bride's request, and the mother of the bride was not happy with the results.

Our mission is to make every bride happy, yet we have learned that it's not always possible.

Josephine

Married on 08/16/2020

Awful, Unprofessional, Worst experience

1. Pre-Covid she was unresponsive and rude.
2. When I made appointments with her she totally ignored me through out the entire appointment.
3. Poorly prepared for consultations.
4. I came with my family prepared to pay her for the dress (and my mom was prepared to add an additional blessing) and me and my family were completely ignored.
5. She made rude comments about my body at a fitting and I left in tears.
6. She voided my invoice for my dress BEFORE checking to see if I had cancelled my wedding (which I didn't) and she never told me or offered my family a refund.

I could go on.

I am not the only bride who has had terrible experiences with her. She intentionally intimidated brides on this platform so that her rating will be high. (Just wicked)

This woman is in the wrong business.


Maplewood Bridal's reply:

Maplewood Bridal strides itself to go over and above to assist every bride on their special day. However, there are times when a bride is just not going to be satisfied, and from our experience it normally comes down to money!

Miss Quaye purchased an Allure dress from the manufacturer through our store. She requested that the neckline be customized from a V-neckline to a Sweetheart neckline. I was able to get the manufacturer Allure Bridal to make the requested customization in a size 22 Dress, and I went ahead and paid for and ordered the dress. The dress was originally $2,000.00, and we were able to apply a manufacturer discount of $400.00, and therefore offered the dress to Miss Quaye for $1,600.00. Miss Quaye was not able to pay the full price at that time, and permitted her to pay a deposit of $600.00, and had a balance of $1,000.00, which was never paid.

While we waited for the dress to arrive, we accommodated her with 4 additional appointments. At every appointment we entertain her playing dress up. During these visits she confirmed that she wanted an additional customization to her dress. She now wanted the top of the dress layered in Rhinestones, along with an additional Ballgown Skirt, and a Cathedral Veil. The cost of the ballgown and rhinestone applications was not included in the original dress sales contract.

Miss Quaye's dress arrived in May, as we were open, and receiving dress orders and sending out dresses to clients during the height of the Covid-19 Pandemic. We sent multiple emails and left many voice messages for her, and did not receive any response. We assumed, like many other weddings that the day was postponed or cancelled due to Covid-19. When we finally spoke to Miss. Quaye, she indicated her wedding was canceled and she asked if she could get a deposit back. We indicated that the dress was made, and that we have it in our store, and that there was a balance of $1,000.00 still due, and that she was not entitled to a refund.

We did not hear from her for over a week, and when she came into the store without an appointment. She indicated that the wedding was back on, and that she still wanted the dress, and we played dress up again. We informed her that she had a balance and that we would need that paid immediately. On Monday, July 20th she contacted me asking what it would cost to pay for her dress, we informed her that her balance was $1000. I ask that she come into the store to make final adjustments to her dress, and please make an appointment online when she was available. She texted back that she had scheduled the appointment online.

On Friday, July 24th she appeared at our boutique during another bride's scheduled appointment. We informed her that we have another appointment, and that our calendar does not show that she had an appointment. While we have a large store, we only have one luxury dressing room, and therefore its almost impossible to handle two client's a time, and that is why we have an online calendaring system. We attempted to accommodate her, but she wanted to have the place to herself to play dress up again, and she stormed out of the store. A couple of hours later her Maid-of-Honor called questioning the events of her appointment, and we explained to her what had happened, and that Miss Quaye did not have a scheduled appointment, and that we had another bride here that was scheduled for this time slot. The Maid of Honor asked for a timeline for the alterations, and asked for an Invoice as to what was the balance. Again, we sent an invoice for $1,000.00 for the balance of the dress, and an add on of $200.00 to apply the Rhinestones. We informed her that the dress had still not been paid for and that we needed the dress paid for before we would alter it with rhinestones.

Miss Quaye responded and questioned the cost of the dress, and the fact that she had to pay to have rhinestones added to the dress. The reason she wrote this negative review is because Miss Quaye wanted to purchase a dress that with all of the customization should have cost her $4000, but she only wanted to pay $1600. We were only charging her $1,800.00, so for an additional $200.00 for the rhinestone treatment, she abandoned the dress. Miss Quaye contacted the boutique with less than a month from her wedding date, did not pay the full balance on her dress and the rhinestone detail she requested be added to her dress is not a customization or alteration, Is an added detail that requires additional cost for any dress, and of course this is a size 22 plus size dress.

In the end, Miss Quaye never paid for her dress, she still owes our store $1,000.00 for a custom Allure Bridal Gown. When most stores require full payment up front we try to help brides afford their dresses, and when we do so, this unfortunately is what happens to us for helping out!

While we understand the enforcing circumstance of COVID and the impact it has had on the wedding industry. Not getting a vendor to meet the unfair demands of a bride shouldn't earn us a negative review but it does!
Are you interested?
Send a message