50 Reviews
Recommended by 100% of couples
Quality of service

5 out of 5 rating

Average response time

5 out of 5 rating

Professionalism

5 out of 5 rating

Value

5 out of 5 rating

Flexibility

5 out of 5 rating
27 User photos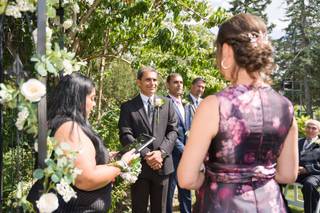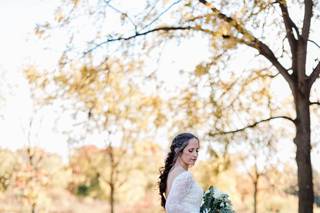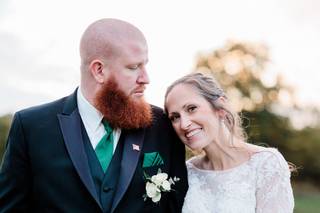 + 23

photos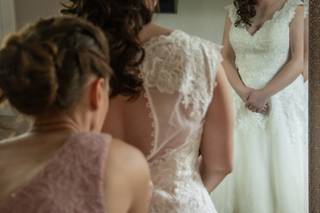 Donna S.

Married on 12/10/2022

Very professional

Jacquee did a fantastic job on me and my three bridesmaids. She listened to each of us on what it was we wanted. Two of my bridesmaids liked a more dramatic look than myself and the other bridesmaid and she made each of us look the way we wanted. Jacquee did both our hair and makeup and did a great job on both! I received so many compliments on my hair and makeup. I would highly recommend her!

Barbara M.

Married on 11/19/2022

Jacquee did a wonderful job for my wedding!

I would strongly suggest Jacquee to any bride looking to get their hair and makeup done for their big day. She was on-time and always very prompt when corresponding with her. She took her time and made sure I was happy with her work.

Shauna P.

Married on 10/29/2022

Perfect makeup

Jacquee did an amazing job with bridal makeup for me, my sister, and my mom. She showed up on time, was professional, made us all look great, and was really easy to work with throughout the whole process. She stayed in contact via email in the months leading up to the wedding, and she made changes as requested with timing for my wedding day and the people I wanted to include. I will definitely be contacting her whenever I need special occasion makeup in the future and won't hesitate to recommend her to friends and family.

Are you interested?

Send a message

Bridget D.

Married on 10/15/2022

So pleased

Professional & creative. Jacquee's skills & ideas were great - she took my suggestions and brought them them to life, making me comfortable for the long day ahead. Her work lasted all day & I still felt like me, even in the "extra makeup" for the day. So pleased with her work and her professionalism- would definitely recommend.

Jennifer R.

Married on 09/25/2022

Exactly what I was looking for!

Jacquee was amazing! She did my hair and makeup for my wedding. I'm very picky and Jacquee was very patient with me. At my trial with her i didn't like the hair style that I chose and she helped me through a few different styles until I was happy. My makeup though, was perfect! I'm not a young bride and didn't want a heavy look because I was afraid it accentuate my wrinkles. And Jacquee made me look flawless! Not only is she good at what she does but she is very personable and genuinely a sweet person. I highly recommend her!

Reem

Married on 08/21/2022

Bridal Hair & Makeup

I booked Jacquee for bridal makeup and hair as well as hair & mu services for my bridesmaids.
She was so diligent and organized! She kept us on track and did an amazing job on my hair and makeup. I had done a trial with her beforehand, and she did a wonderful job of listening and making sure I liked all the details for the big day.
I would highly recommend her for any services!!

Pauline N.

Married on 07/24/2022

Jacquee is Amazing!

Jacquee did my hair and makeup for my wedding last month. I felt absolutely beautiful and was very pleased with how well my hair and makeup stayed all day! I received many compliments with how "flawless" I looked by the end of the night despite much dancing and sweating! My sister and SIL were also very happy with their HMU. Jacquee was a joy to work with, very responsive, punctual, and such a nice lady!

Vy Nguyen

Married on 07/16/2022

A Great Makeup/Stylist to Work With!

Jacquee was AMAZING to work with for our wedding. I was a Covid bride and rescheduled multiple times and Jacquee stuck by me! Jacquee was incredibly profressional and asked all the right questions to ensure I got the look I wanted for my big day. Jacquee was also very Covid-conscious which we appreacited because my mother and niece are both high-risk.

Jacquee was also conscious about makeup colors and hairstyles for a BIPOC bridal party. I've had makeup artists who thought adding more bronzer would be enough to match by skin tone because they didn't bring enough varied foundation but Jacquee put in forthought and brought all the necessary supplies.

Last, Jacquee had cute touch-up kits for all the bridesmaid which was awesome as the day progressed into night.

Thank you!

Makenzie M.

Married on 07/03/2022

Everything I Wanted!

Jacquee was amazing! During my trial she listened to exactly what I wanted and made sure everything was perfect, even when I changed my mind. She made everything seamless and was so organized with her timeline and communication. The day of my wedding was perfect - everyone loved their hair and makeup! Highly recommend working with her!

Makeup by Jacquee's reply:

Thank you Makenzie. You and your bridal party were a dream to work with and you looked gorgeous in your dress!

Elli P.

Married on 07/02/2022

Jacquee is AWESOME!!!

Jacquee did my hair and make up for my wedding, as well as my bridesmaids and my mom. She did an amazing job, and everyone looked GREAT!

Amanda R.

Married on 04/30/2022

Amazing experience!

Working with Jacquee was such a wonderful experience! I actually started before the wedding seeing her to do lash extensions because I wanted to wear them on the wedding day instead of strip lashes. She recommended starting a few weeks before with the lashes to make sure I didn't have any weird reactions. So I got my set before my bridal shower and got so many compliments! I sent Jacquee pictures of what I was looking for in my hair and makeup for the big day and she nailed it. My trial gave me the perfect picture of what to expect on the day of and it was beautiful. Jacquee is such a calming presence. She made the morning of the day calm yet still fun. She gave us each little makeup bags with touch up items which I thought was such a sweet touch. I would use her again in a heartbeat. My mom and my bridesmaids looked amazing despite having no real direction or vision from them. She was able to take a small amount of suggestions and turn it into something so beautiful!

Andrea D.

Married on 11/12/2021

Best makeup artist... Ever!

Jacquee did an amazing job with my wedding makeup and hair. Not only did she nail my look, but also those of my bridal party. Jacquee is a true professional and I am so grateful for her hard work and making me feel not only pampered but stunning for my big day ❤

Lisa B.

Married on 10/08/2021

Amazing Artist

Jacquee was fantastic to work with! She responded quickly to anything I asked and provided all of the information I was looking for. For our wedding she did hair and makeup for me and my two girls. (There was supposed to be one more but COVID had other plans!) Jacquee was easy to talk to, highly organized, and professional. She listened to what we wanted and did an excellent job. I highly recommend Jacquee for your event!!

+ 3

photos

Gabriella

Married on 09/25/2021

Excellent Experience

I can't recommend Jacquee enough for your wedding. She did mine (the bride's) hair and makeup and hair for the rest of the bridal party. She captured everyone's vision and everyone looked stunning. Everyone's curls lasted the whole night.
Jacquee was very helpful during my hair trial and offered great advice on choosing a hair piece and extensions. She continued to be responsive to emails to help me out as I was deciding on extensions and hair accessories after the trial. She was flexible with squeezing me in for a second hair trial close to the wedding when I had second thoughts (to be clear her first trial was excellent, I just totally changed my mind on the style I wanted). Not only was everyone's hair great for the wedding but she stuck to the schedule and everyone was ready on time for pictures. Cannot recommend her enough!

Mary A.

Married on 07/31/2021

This was the first time I had my makeup done and hair done for one of my children's weddings. I was very, very delighted that I did so.

I was delighted I was with my makeup and hair. This is the 4th wedding from my children. I've never done makeup before or a full hair style. I was very, very pleasantly surprised at how beautifully my makeup and hair were done. I really can't tell you how delighted I was with how my own style and makeup turned out. As well as the brides and bridesmaids. The bride received many, many compliments at how gorgeous she looked, as did I.

Jessica

Married on 06/05/2021

Great experience!

Jacquee was amazing! She did wedding makeup for my bridal party and me, she also did wedding makeup for my friend as well. She was very progressional and easy to work with. Definitely recommend her services to anyone!

Maggie C.

Married on 05/23/2021

Excellent Service

Jacquee was very nice and easy to work with! She genuinely wanted everyone in my bridal party to look and feel beautiful! I would highly recommend using her for any of your make-up needs!

Leah

Married on 01/08/2021

Highly recommend!

Jacquee did the makeup at my wedding and we all looked great! The makeup lasted all day, and she even gave out these cute selfie kits with extra lipstick, etc to help with touch ups. She was very professional, efficient, and helped everyone stay calm on the wedding day. I highly recommend her services!

Erin C.

Married on 12/12/2020

Amazing job by Jacquee!!

Jacquee and her team did an amazing job on our wedding day. We had to postpone our wedding one year, and she was super flexible in working with us on our new date. Additionally, she made both my mom and I feel at ease with our hair (we are both picky!) with our trials, and on the day of they both came out perfect. Jacquee and her team also did my 9 bridesmaids, and mother in law so it was a large group. They were perfectly prompt (even when I accidentally gave her the wrong room), stayed on schedule, gave us items to touch up just in case and were overall the easiest to work with. Jacquee and her team also did my friend's wedding a few years back and we all had a similarly wonderful experience. If you are looking for hair and makeup for your wedding day, Jacquee is your girl!

Robin U.

Married on 08/28/2020

Amazing makeup artist!!

Jacquee was amazing!! She listened to exactly what I wanted and was able to make my makeup look perfect! She used airbrush instead of regular foundation and that made my face look so natural and it didn't feel cakey at all. My bridesmaids were all super happy with their makeup too and they're usually very picky! Jacquee was also so helpful and flexible when I had to reschedule my wedding due to covid, she was able to switch my booking dates with no problem. She kept all of her products super clean and we all felt super safe and didn't have to be worried about passing germs! Jacquee was so easy to work with, the pricing was very doable, and most importantly she made me feel beautiful on my wedding day! I would recommend her to anyone!!

Lisa

Married on 07/18/2020

Excellent!

acquee was amazing to work with for my wedding! Our wedding was postponed due to COVID and Jacquee was so accommodating with all of the changes. I loved my makeup and hair for my wedding and would recommend Jacquee for your hair and makeup needs!

Sarah

Married on 06/20/2020

Jacquee was so wonderful! She was a great makeup artist, and she was such a fun addition to our wedding party. She got along great with all the bridesmaids, and she and her assistant got all the makeup done so quickly! I'd absolutely recommend her!

Michelle M.

Married on 05/16/2020

Jacquee is Awesome!

I really enjoyed my experience with Jacquee. She did a great job on hair and makeup for my mom, my sister, and me. My family were all commenting on how good it looked. She is also very nice and personable. I was extremely nervous while she was working on me that morning and she just talked to me and it helped alot. She also, gives you a schedule of times for each person's hair and makeup and she was so efficient she never got off of the schedule. She gives you a little kit with some touch up supplies as well. My hair looked great all night and never fell down even after dancing. I really appreciate that she comes to your house too! I'm very glad I found her and I would use her services again for future events.

Makeup by Jacquee's reply:

Thank you Michelle! I hope the day went to plan and you enjoyed celebrating your marriage after COVID made you wait so long! You were a lovely bride! Can't wait to see the photos!

Raelyn K.

Married on 03/10/2020

Excellent experience! We all felt beautiful on the big day!

Jacquee did my bridal makeup, my bridesmaids, and my mother's makeup for my wedding and she did an excellent job! We all loved our makeup! She is friendly and helpful. She asked questions and guided me in determining what I wanted - I asked for a natural but noticeable look (see pictures). I do not wear makeup that often and did not have any specific color or application preferences. I showed her pictures which she was able customize to suit me. She is professional and good with time management and set a schedule with the hairstylist that worked well for us all to be done on time. We had an overall great experience with Jacquee as our makeup artist and I would highly recommend her!

+ 3

photos

Elexes W.

Married on 12/31/2019

Highly Recommended

Jacquee did my makeup for my wedding along with 8 other people! I did a trial with her prior to the wedding and knew I had to have her on my big day! She is professional, personable, and kept a tight schedule to ensure we were all ready to go earlier then we thought! I had a few changes from my trial I wanted to do and she was able to change up on the fly giving me a flawless wedding look! I highly recommend her for your makeup needs. She also gave everyone a little bag with makeup remover, extra eyelash glue and enough lip applications for the night. Plus a few other goodies!! Above and beyond great service!!!!
Are you interested?
Send a message