124 Reviews
Recommended by 100% of couples
Quality of service

5 out of 5 rating

Average response time

5 out of 5 rating

Professionalism

5 out of 5 rating

Value

5 out of 5 rating

Flexibility

5 out of 5 rating
36 User photos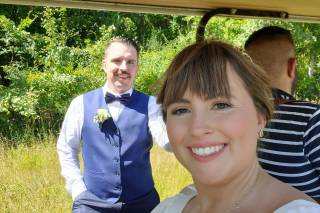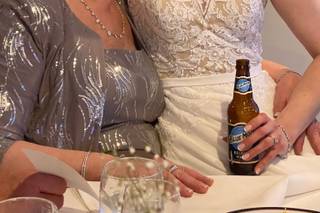 + 32

photos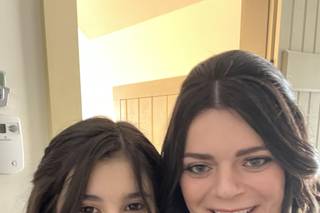 Kacie

Getting married on 09/21/2023

Exceptional and Unique!

I reached out to Dana last minute to help with an engagement photo session crisis. She responded within hours and was able to make my appointment for the day of the shoot, which was a week later. Prior to the shoot, she inquired about my vision and inspirations. I told her my biggest fear was looking "basic". Dana did not disappoint! She stayed within my guidelines and brought lots to the table. Very friendly, accommodating, and professional. Will definitely been booking her for the wedding!

Meaghan

Married on 10/15/2022

Amazing, as always!

I have used Dana's services many, many times over the years and she is THE BEST. We have done an array of work together and I am always so excited to be sitting in her chair. From collaborative photo shoots, special events, as a wedding guest, and now as a bride myself, her work is impeccable. She always makes me feel flawlessly beautiful and natural at the same time. Thank you so much for everything!

Erin R.

Married on 07/03/2022

Natural Beauty

Dana was wonderful to work with and came with raving reviews from friends who had used her services. She was super accommodating with both my trial and wedding day logistics. She has a talent for making you look like the best most elevated version of yourself. She understood my color pallette and worked with what I liked. Most importantly she made me look like me. All the bridesmaids loved their makeup and looked stunning all night. 10/10 reccomend

Are you interested?

Send a message

Helen R.

Married on 05/21/2022

Flawless makeup

I had a fabulous experience with Dana and her team. Dana was responsive and easy to work with. Killian did my makeup, along with my mom and bridesmaids. She was such a blast to work with and listened so well to each of our preferences. We all LOVED our makeup; it looked flawless, and lasted all day/night through the 90 degree heat. Highly recommend!!!

Maria C.

Married on 04/30/2022

Fabulous Make up Artist!

Dana is professional, talented, and listens to what you need and want. She works quickly to produce the best quality work. I excessively sweat and have used her for 3 events. My make up never moved or smeared, and lasted through 12 hour days. I will use her for make up for any event I have for the rest of my life!

Ela P.

Married on 04/30/2022

The Best Makeup

Dana is an artist that creates beautiful make up for her clients. The entire family looked perfect and beautiful. Everyone was unique with a different style. Thank you Dana!

Toni A.

Married on 04/23/2022

Wedding makeup

Myself and family were very happy and pleased with Dana marie/Holly. I found her through a friend who she did her makeup for and knew i needed to book with danamarie myself. What sold me was the Natural real look and feel of the makeup. I looked like myself just professionally done! Aside from the makeup Dana was very responsive and answered all questions before booking from the start til the day of event!My mom bridemaid and aunt loved the makeup too and keep saying holly was professional fun and got along with us all. Definitely would recommend them for any wedding or parties etc!

Alanna C.

Married on 04/15/2022

Beyond amazing!

I recently got married June 4th and had Christine and Holly with me. They were fantastic! It was like spending the day with my girlfriends that made me look beyond beautiful! Leading up to the big day, Dana was so comforting and accommodating answering my millions of emails.

Jacqueline M.

Married on 03/26/2022

Flawless Wedding Makeup!!

I booked Beauty Atelier by Dana Marie for my wedding and it was the best decision I could have made. Dana is extremely communicative and easy to work with. Holly was my makeup artist on the day and not only was she very talented she was such a joy and breeze to have with me on my big day. The makeup was utterly gorgeous, I still looked like myself but just the most beautiful, flawless version. (She even made my rosacea totally look like it disappeared!) Book Beauty Atelier by Dana Marie and you will not be disappointed!

Stanford

Married on 03/19/2022

Great experience! Great communication!

Everything was great! Timing worked out perfect. Originally the artist who I was supposed to have couldn't come so Dana came with her assistant. Everything worked out very well and everyone was very happy!!

Catherine F.

Married on 11/14/2021

Wonderful!!!

Keri & Holly were so wonderful!They came to David's and were so wonderful and I couldn't have been happier with the final look. They were perfect and I HIGHLY recommend them. I was so comfortable and relaxed but knew I was in good hands.

Katie P.

Married on 11/13/2021

Dream hair & makeup

Dana Marie's team was excellent! The artists were early, were extremely friendly and followed each person's hair and makeup visions. We loved our big day hair and makeup! Thank you! 💕

Michele V.

Married on 06/26/2021

Dana Marie is awesome!

Dana Marie did an amazing job helping my girls and me get glammed up for my 6/26 wedding! She catered directly to our needs and tailored her flow to what we needed. Dana Marie was efficient, incredibly personable, and knew precisely what we needed to match the looks we were going for!

Lauren P.

Married on 06/13/2021

Professional & Accommodating

Dana (and Holly) were absolutely incredible to work with. Having postponed my wedding twice, they were so understanding and very responsive to help make my new wedding date(s) work. It had been over a year since I had my makeup trial and they still held onto the sheet of what my wedding makeup look would be! They were so considerate of everyone's preferences and comfort level and everyone's makeup came out AMAZING. I would use Dana over and over and over again.

Alisha V.

Married on 06/05/2021

Dana is absolutely amazing! I recommend her to everyone! She is truly so talented!

I cannot recommend Dana enough! Dana truly has such a gift and is so talented, and on top of it she is such a sweet person! Myself, my mom and my girls all loved the way our makeup turned out. Dana took our inspiration and added special touches to make it even better than what we invisioned. I personally was nervous because I have acne prone skin and was nervous about any blemishes or scarring showing but Dana put those worries to rest. Even though I had makeup on it still looked so natural and it actually felt so light weight. And all of our makeup held up the entire night. I was so impressed all around with Dana and her services she provided. I truly am so thankful that I had such a great makeup artist on my wedding day who made us all feel comfortable! I felt so beautiful on my wedding day and Dana was a huge part of making me feel that way! I am telling you she is wonderful and you will be so glad you hired her!!!

Wonderful!

Melissa was great! Had so many complements. Felt good all day. My makeup and hair lasted never needed a touch up. Thank you for making me feel good on my son's wedding day!

Kelsey W.

Married on 05/15/2021

Makeup was great!

I don't usually wear a lot of makeup and Dana knew exactly what I wanted. My makeup lasted all night. My bridal party loved everything about there makeup and everything looked very natural. But just enough

Sarah R.

Married on 04/15/2021

Amazing makeup artist and person

I had postponed my wedding 3 times over the course of a year and realized 2 months before my wedding that my makeup artist was no longer available. They referred me to Dana Marie and I was even happier with her than my original artist! I sent reference photos to her email and she was able to match my foundation perfectly and was even able to cover my horrible acne! She used only high end products and my makeup lasted all night, I had an after party until 7 am and it was still perfectly applied. She listened to my criticism and did what I asked and even provided input when I was unsure about which lipstick or lashes to use. Super professional, helped me feel beautiful on my wedding day, and even helped my mother feel beautiful. I will definitely be using her in the future for holiday cards and photo shoots. High quality work! The picture posted is the only selfie I took and that's after two dress changes and 4 hours after she left!

Dana D.

Married on 04/11/2021

Flawless and professional💝

Both Dana and Christine were fabulous! Myself and all of bridesmaids felt beautiful. the makeup was flawless,and hair as well. we were all super impressed! I'm actually now a customer of the hair dressers on a regular basis. they were both so personable and sweet.

Cathy E.

Married on 04/11/2021

Mother of the Bride

Dana Marie did a wonderful job on my makeup for my daughter's wedding. My husband said I looked as beautiful as I did on my wedding day which was 46 years ago.
Christine did an amazing job on my hair. When I looked at the back of my hair, I couldn't believe it was my hair.
I got so many compliments. I would highly recommend them both.
Everyone in the wedding party was pleased with their hair and makeup.

Heidi R.

Married on 04/04/2021

Dana Marie was a professional and responsive make up artist

I was a wedding guest on April 4th wish was Easter Sunday I couldn't find anyone for that day because it was a holiday , I am very thankful with Dana Marie even it was a holiday she made the time to do my make up , i had So Menny Complements That day thank you

Jessica G.

Married on 12/12/2020

Wonderful experience!

The hair and makeup services that we received by Makeup by Dana Marie was absolutely perfect! They arrived early, were incredibly kind and helpful, and were extremely accommodating. A few girls decided last minute to get hair and makeup and it was not an issue at all. Each girl showed a picture of what they wanted for hair and it was incredible how close the final product was to the picture - some were exactly the same! Personally, I was hesitant about makeup because I don't wear any and was worried that it would look unnatural. However, Dana started with very little and stopped throughout so that I could check and feel comfortable with the makeup that was applied. The final product was exactly what I wanted - enough to accentuate my features but still very natural! Everyone who had their hair and makeup done recieved countless compliments throughout the night. We had a small ceremony and will be having a larger reception in July and I am thrilled that we will have Dana doing our hair and makeup for a second time! I cannot recommend her highly enough!

Guadalupe G.

Married on 11/07/2020

Excellent!!!

Dana Marie and her team did an amazing job with my hair and makeup for my wedding!!!
They arrived on time, always asked for my opinion, were very nice and did a fantastic job ❤️.
I deeply recommend them for any special occasion. I like a natural look and was afraid to have a too heavy look for a small afternoon weeding but the makeup was just perfect 🌹😍.
I have a lot of hair but they did the perfect hairdo too. Everything on time, great quality.
Thank you Dana Marie team.

Allison

Married on 10/25/2020

Awesome work!

Dana Marie and Melissa did amazing hair and make up@ my wedding. Because of COVID I had to change my plans a few times leading up to the actual day of the ceremony, but they were so flexible and patient that it alleviated a lot of the stress. On the day of the wedding, everyone's hair and makeup came out beautifully (one friend last minute decided she also wanted her makeup done after seeing how good everyone else looked!) Thank you so much Dana Marie + Melissa!

Kate M.

Married on 10/03/2020

Cannot say enough good things about Dana!!

Dana has done my family's makeup for years now - every prom and wedding. It was a no brainer to book her for my wedding. She does such a great job of highlighting your beauty and making you feel your best. I won't go to anyone else to get my makeup done!!
Are you interested?
Send a message