175 Reviews
Recommended by 98% of couples
Quality of service

4.9 out of 5 rating

Average response time

4.9 out of 5 rating

Professionalism

4.9 out of 5 rating

Value

4.9 out of 5 rating

Flexibility

4.9 out of 5 rating
195 User photos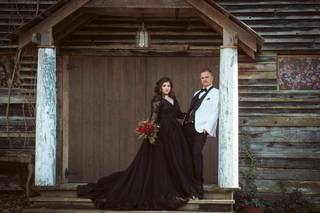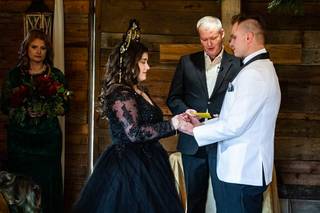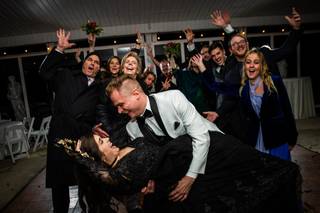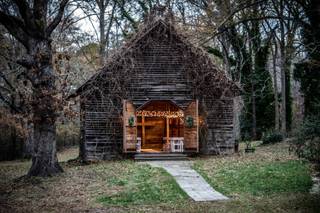 + 191

photos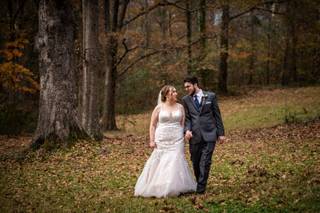 Featured

Wesrepokis

Married on 05/16/2021

Excellent Service

My daughter had the most beautiful wedding I could have ever imagined! The grounds are extremely beautiful being at the foothills of the beautiful Blue Ridge Mountains! And the entire staff made all wedding bridesmaids and groomsman very comfortable! And they made sure all wedding guests were treated so kindly! And my daughter and fiancé were just blown away by the whole experience! My daughter and I were so very comforted by staff who gave constant personal attention to both of us! And the walk down the isle was made so we felt totally at ease through the whole wedding! The over all flow and feel was just a total blessing! It was BEAUTIFUL and FUN. This is our families third wedding there and all we're equally amazing. And this was our biggest of all with over 225 very happy people. They accommodated every person with ease. My son in law and daughter are now on their honeymoon still talking about how beautiful their wedding was.:):)

Magnolia Manor Bed & Breakfast's reply:

Thank you Wes! Shannon and Perry are awesome people and inspiring to all they meet! Our team member, Christy Babb, was their wedding director and helped it all come together as ceremony time approached and Shannon took your arm for that special walk down the aisle. It was the most heartfelt moment for everyone there. It was a total joy and honor to host their wedding!

Lina

Getting married on 07/29/2023

Beautiful place and the owners are just wonderful to work with. They will do everything to make your celebration very special.

Ireland P.

Married on 12/17/2022

Relaxed, but still Regal!

Magnolia Manor took care of all the details you wouldn't want to worry about on your wedding day. Coordination with the vendors, timing, and communication could not have been better. Joann walked me through every step of planning, and even sent me a list of to-dos for the legal side of being married ( As someone who had no idea where to start, that was such a big help!) Day of could not have been smoother, I just had to sit back and enjoy my day.

Thank you MM for such an awesome wedding !!

Are you interested?

Send a message

Dawn W.

Married on 12/10/2022

Wonderful Venue, Excellent Staff & Highly Recommend

We live in Charleston and planning a wedding can be quite daunting and very expensive. So our daughter and son-in-law found Magnolia Manor on The Knot -- it was so worth the trip to the Upstate! JoAnn made this long distance planning so easy for our Bride and Groom. They didn't have to worry about anything. MM is all-inclusive -- beautiful venue, great food, charming decorations, fun DJ, intuitive planner, gifted photographer, and attentive staff! Kenny Fey is a phenomenal photographer and when Christy put her ear piece on ... you didn't have to think about what to do or where to be; she very calmly guided you along - she is a great planner! And for our guests with walking limitations, staff went above and beyond driving them to and fro the chapel by golf cart. So from the rehearsal, rehearsal dinner thru the whole wedding day, we were extremely blessed with Magnolia Manor providing so much joy for one of the most important days of this young couples' lives. Thank you very much!

Andrea W.

Married on 10/29/2022

Just Wonderful!

This was honestly an amazing experience! You would do yourself a service if you hire them for your wedding. Joann was always keeping me in the loop and made me feel listened to. She made this wedding process that can stressful for some into an easy and wonderful day for my husband and I and all of our guests. I cannot begin to thank everyone enough at Magnoila Manor for making my wedding what I dreamt of. Thank you all so much!!

Kris M.

Married on 10/15/2022

We could not ask for anything more!

We used Magnolia Manor for a wedding with approximately 120 guests. The couple were unable to take part in much of the planning so everything was done long distance by other family members. Joann was extremely responsive and helpful and provided insight and guidance that was invaluable. One the big day everything went off with out a hitch and was nothing short of perfect. We could not have asked for a better day. Highly recommend.

Hailey B.

Married on 10/01/2022

Very organized and beautiful location

Beautiful location and everything runs smooth. Just a wonderful place.

Christy B.

Married on 10/01/2022

Beautiful venue!!

This is the best place for an all-inclusive wedding. My son got married here on October 1st. This was the weekend that Hurricane Ian was heading our way. Joann and her staff worked with us on changing the location spot of the ceremony and rehearsal dinner. Then the day of the wedding, since the hurricane turned out to sea, Joann and her staff stepped right into moving the chairs one more time in order to have the wedding in the beautiful garden area (original spot). It was the perfect day!!
This venue offers a one-stop shop. Tables, chairs, catering, DJ, and photographer are all included, and easy monthly payments.


+ 2

photos

Candace B.

Married on 09/23/2022

Candace and Aaliyah

This place was awesome. Waking up at the manor was a dream come true. The wedding venue was beautiful. Before the wedding we planned Everything to perfection. I felt at ease when we finally got married. The staff was easy to work with and all of our needs were met on our wedding. I would recommend this venue to anyone.

Ashley P.

Married on 09/17/2022

Perfect Day

We couldn't have asked for a more perfect day for our wedding! Joanne and her team made sure everything was perfect for us. It was so nice to have someone else take care of all the fine details. From the food, the decorations, the photographer, the music, the servers and bartenders, everything was perfect! And I can't say enough about the absolutely beautiful chapel. It is truly a gem and exactly what I envisioned for our big day. I would recommend Joanne and her crew at Magnolia Manor to everyone!

+ 13

photos

N. B.

Married on 04/02/2022

All inclusive with charm

This venue is amazing. All inclusive options so you don't have to stress over hiring separate people for food/dj/photography etc. Experience was great and they made us feel special on our special day.

Denise K.

Married on 12/31/2021

Lovely experience with sweet staff!

Wonderful wedding weekend filled with warmth and happiness. Owners are kind and professional. Hope to comeback as this place will always be special!

Lizann M.

Married on 12/11/2021

Spectacular Wedding Experience

It was such a pleasure to work with JoAnn in planning the wedding for our son and daughter in-law. Her recommendations and the resources she offered were very helpful in making the planning process fun and stress free. She provided excellent references for the florist, photographer and videographer. The venue is absolutely beautiful. Our guests all remarked about how memorable this wedding experience truly was for all who attended .

Kelsey A.

Married on 11/13/2021

A wonderful experience

I highly recommend this venue for your wedding if you are looking for a stress-free and fun experience. JoAnn was great and easy to communicate with every step of the way.

Samantha B.

Married on 11/06/2021

Our experience was perfect!

The staff and owner were easy to work with and helped with anything I needed.

Ashley B.

Married on 11/06/2021

A wonderful fall wedding

JoAnn was fantastic and the venue was absolutely gorgeous! As an all-inclusive venue, you'd have to search hard to find a better place (and the prices are incredibly reasonable!). Your family/friends can stay at the BnB, several ceremony sites available at the property, and a perfect covered outdoor space for the reception along with an indoor space for the rehearsal dinner. Seriously, you can't find better in the upstate!

Gabrielle A.

Married on 10/16/2021

Beautiful!!!

It was beautiful!!! The venue owners were extremely helpful and patient and made verything go smoothly!!

+ 10

photos

Christina A.

Married on 10/12/2021

Absolutely Wonderful !!!!

From start to finish JoAnn and her team made the whole process easier and fun. JoAnn has the best team set in place to help her coordinate any size wedding. And they really have thought of everything to make sure our day was magical. It was as close to a Disney wedding without actually being in Disney. Absolutely wonderful!

Paige W.

Married on 10/04/2021

Joanne is so sweet.

The venue is beautiful but Joanne really made our special day that much more special. She's patient and kind and understanding. Thankfully they bear the brunt of the stress and leave the bride and others helping to plan the wedding to enjoy the process instead of being overwhelmed with swatches and sample menus and choosing cakes and finding a DJ and so on and so forth. So much goes into planning the wedding and they take you through everything, step by step. If there's anything you want to provide for yourself (for example, we had a cake lady we've known for years and we wanted to have our cake done by her) they will happily allow you to do so. They have all kinds of things you can borrow, as well. I won't be planning any weddings any time soon, but I'd definitely use Joanne again if I was!

Chelsea

Married on 10/02/2021

Beyond my wildest dreams

Thank you for the beautiful wedding. It was beyond all my wildest dreams and my hardships. Your DJ literally was the best and most entertaining man I have ever seen and your staff was very sweet to me and my crazy son!

Lemons W.

Married on 09/17/2021

Wonderful to work with!

I am a wedding planner and I had the pleasure of planning a wedding for one of my full service couples at Magnolia Manor! When I tell you that JoAnn made my job a million times easier, I mean it!! This venue is a one stop shop - from venue to catering and DJ to decor, they have it all covered! Everything was perfect and the entire staff at the Manor was so extremely helpful and incredible to work with. I can't wait to do another wedding together soon!

Shannon C.

Married on 07/09/2021

Charming And Elegant

Love this place! Stunning venue with so many photo ops. The rooms are authentic tic and warm and each has a canopy bed. The outdoor area is perfection!

Ital M.

Married on 06/19/2021

Magnolia Manor is all inclusive making the planning simple!

My daughter and son in law had their wedding in June 2021 at Magnolia Manor. As a mother, with a daughter who had a very hectic schedule left quite a bit of the planning to me. The staff at the MM made it very simple and easy - they had it all there for me and all of their vendors they work with had great reviews. This is basically a one stop shop - they have the master of ceremony, DJ and staff, pastor, and the photographer, Kenny Fey was AMAZING! Captured every moment - certainly exceeded our expectations. The Director for the event has tremendous experience - everything moved as planned and even with a few bumps in the road she was able to get us back on track without any hesitation. This team brings experience to wedding planning and takes the stress out of planning such an event. The food was awesome, the venue was breathtaking! I would highly recommend this venue and its amazing staff to individuals that want every detail reviewed and planned for.

I was very concerned about a few of the attendees who were handicapped. The venue made plans for them and ensured me that they would be taken care of and they were!

Great job Magnolia and Manor! You made my daughter's wedding day one for the books!

Madison H.

Married on 06/12/2021

Dream Come True

Book here! You will not be disappointed! Everything was absolutely perfect! It was stress free with everything being offered through the venue. The historic chapel and amazing grounds were beyond gorgeous in photographs! I have absolutely nothing but great things to say! The owners are available to you on a very personal level. The food was delicious. The cake was adorable. The DJ was great. And the Bar service was on top of it. I could not have asked for a better venue or team to help me plan and execute my dream wedding. 💕

Magnolia Manor Bed & Breakfast's reply:

On behalf of our entire team, we thank you, Madison! You are a great communicator and decision maker and so were a delight to work with throughout the planning process! May the blessings continue!

Shannon R.

Married on 05/15/2021

Incredible Venue!!!!

Perry and I are still overwhelmed with so much joy!! Magnolia literally made our dream wedding come true. I remember our first meeting there. Jo-Ann was so calming, engaged and made me feel very comfortable. Throughout the entire process she was available when I needed her .. she was interested.. very helpful and just so sweet and amazing. Joyce handled our flowers. She went out of her way ( as did Jo-Ann ) to accommodate everything we needed. Joyce was so sweet and so talented. The wedding day was so perfect. Anything we needed .. they got. Everyone went out of their way to make sure everything was perfect. Christy ( the wedding planner ) was also incredible. She did such an amazing job helping me and everyone.. we literally didn't have to worry about ANYTHING!!! Kenny did great with the photos and was very clear and helpful in telling us what to do .. Ben, the DJ was AMAZING!! The music and flow was so perfect. The food was incredible.. everything was incredible.. there were 200 plus people there and everyone was happy. We are so grateful for everyone at Magnolia. I would do it there again 1000000000 times. I could go on and on .. I think what stood out to me the most was out much they went out of their way to accommodate what we needed .. they didn't have to do that, but they chose to anyway. They truly cared about what we wanted and made it all come true.. no matter what it took. They were kind, patient, direct, fun, very attentive, full of joy .. they were perfect. Thank you so much Magnolia!!! I'll always remember that you guys made my dream wedding come true 😊.. and you all helped me be stress free which is a miracle!! I love you guys!!
Are you interested?
Send a message